The itch to travel doesn't hibernate. Cooler weather keeps us indoors, but that doesn't mean we can't get out and explore during the cooler seasons. Take advantage of the sunny days and hit the Kansas roads with your friends and family. Your soul will thank you for it. Here are over 50 places to experience in Kansas during the winter season.
Just as a quick reminder, make sure to check with your destination before you hit the road to ensure visiting hours and safety requirements.
Southwest Kansas Winter Road Trip
Dalton Gang Hideout Museum - Home of Eva Dalton Whipple, sister to the famous Dalton Brothers Gang. It is restored as it was in 1887 and consists of the outlaw hideout, escape tunnel to the barn, museum of western artifacts and a western souvenir shop. The Weherle House, which was owned by John Weherle and built from a Sears, Roebuck and Company mail order kit in 1900, is also located on the grounds.
Boot Hill Museum - Boot Hill Museum is located on the original site of Boot Hill Cemetery and highlights the glory days of the Queen of the Cow towns with creative, lively, interactive displays and activities the entire family will enjoy.  Boot Hill Museum is open all year long where you can belly up to the bar for a cold sarsaparilla, enjoy some of grandma's homemade fudge in the General Store or take home a lasting memento of your old west experience from the Boot Hill gift shop.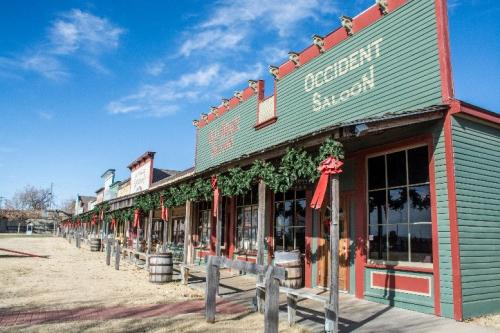 Parrot Cove Water Park- The only indoor waterpark between Kansas City and Denver. The entire family could use a warm pool day after weeks of freezing temperatures. Escape to this Midwest oasis for a perfect family getaway.
Big Well Museum- Completed in 1886 as the town's original water supply, The Big Well is 109 ft. deep and 32 ft. in diameter.   Visitors can go down in the well and view exhibits about the history of Greensburg, the 2007 tornado, and the sustainability of Greensburg as is it to date.
Fort Larned National Historic Site-   Fort Larned is the most complete and best-preserved military post of the Indian Wars era on the Santa Fe Trail. The Fort consists of nine authentically restored and refurnished buildings including the barracks, commissary, officers' quarters, blacksmith shop, quartermasters storehouse, and more. The Visitor Center offers a museum collection of artifacts and exhibits related to the Indian Wars and an audiovisual orientation program. While the Visitor Center is currently closed due to COVID-19, the non-climate controlled historic buildings at the site are open for viewing. The park grounds and the History and Nature Trail also remain open.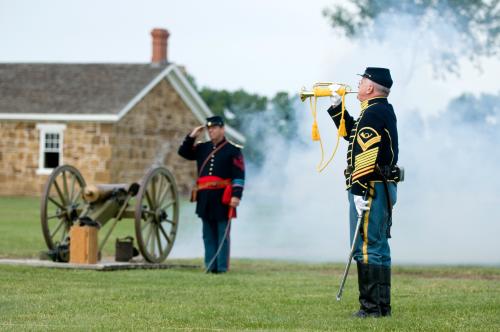 Cimarron National Grasslands - 23 miles of historic Santa Fe Trail cross the 108,000 acres of the Cimarron National Grassland. Today you can still see ruts and the site where freight wagons camped at Middle Spring and used Point of Rocks as lookout point from 1821-1880. With a beautiful view of the surrounding area, Point of Rocks is just one of the many stops in the Grassland that will take your breath away. Tours can be arranged or the adventurous can don hiking boots and head out on their own and experience nature at its finest.
Dorothy's House and the Land of Oz - Dorothy's House was built in 1907 and has been carefully restored to replicate the house shown in The Wizard of Oz. After visiting Dorothy at home, take a journey down the Yellow Brick Road and into 5,000 square feet of animated entertainment in the Land of Oz.
Lodging Suggestions: Trail City Bed & Breakfast, The Cottage Inn Guest House, Sunnyland Bed & Breakfast
Food + Drink Suggestions: Bear Creek Coffee, Pho Hoa One, Cowboy Capital Saloon & Grill, Loaves N Fishes, Brick House Barbecue & Brew, Flat Mountain Brewhouse, Boot Hill Distillery, Black Bison Pub

Northwest Kansas Winter Road Trip
Sternberg Museum of Natural History - Sternberg Museum of Natural History displays live animals, fossils of 80-million-year-old sea-monsters, & interactive exhibits.
Hike at one of Kansas' 28 State Parks – While there are state parks located throughout the state, northwest Kansas is home to some stunners! Some are amid steep, timbered slopes ringed in bus-sized boulders. Others are where prairie grasses and wildflowers stretch towards 10-mile horizons. It's no wonder some rank in the top one percent nationally for scenic beauty. Hundreds of miles of trails can take you places where the steepness of the grade, as well as the view, can literally leave you breathless. There are family friendly and A.D.A. trails so all can enjoy "look at that!" sights.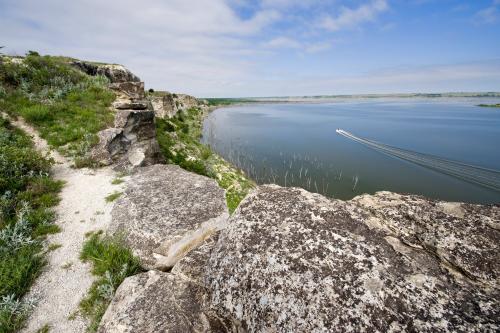 Prairie Museum of Arts & History - Enjoy the World-Class Kuska Collection, including over 28,000 toys, glass, ceramics, silver, souvenirs, musical instruments, coins, clocks, stamps, dolls, furniture, clothing, quilts and art.  Visitors will experience early prairie life in a sod house, a one-room school, the largest barn in Kansas, a country church and a 1930s farmstead.
Wakeeney; Christmas City on the High Plains - Since 1950, WaKeeney has held the title of "Christmas City of the High Plains." Each November WaKeeney is magically transformed into a holiday wonderland from the Saturday following Thanksgiving through New Year's. A magnificent handmade, 35-foot tree of fresh pine greenery rests under a canopy of heavenly blue lights in the middle of the main downtown intersection at Main and Russell Avenue. The canopy of blue lights radiates from the four ivory stars that crown the tree. In addition, a four-square block area around the tree is draped with greenery, handcrafted wreaths, bells, and stars, and, of course, more lights. The entire downtown business district is also outlined with LED color-changing perimeter lights which remain lit year-round. The entire display is made up of approximately 3 miles of electrical wiring, 1400 lbs. of fresh greenery, and 1100 yards of greenery roping.
Nicodemus National Historic Site - This is the oldest preserved black settlement west of the Mississippi River. While the Visitor's Center is currently closed, you can still take a walking tour to view the historic buildings that represent the five pillars of the African American community: church, self-government, education, home and business.
Arikaree Breaks - This area of extremely rough terrain, with its deep ravines and gullies is a marked contrast to the plains generally associated with the area. The breaks were formed by wind deposited sand, silt, and clay particles, called loess. The breaks are 36 miles long and approximately two to three miles wide. They extend into Rawlins County and several miles into Colorado. There are several public roads through the breaks, giving visitors some outstanding viewing sites of this rugged wonder.
Mount Sunflower -   Where the prairie and the sky meet your eye. Highest point in Kansas, Mt. Sunflower is on privately owned land, but all visitors are welcome.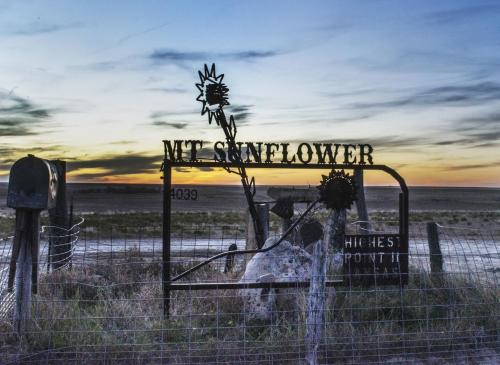 They also Ran Gallery -  The gallery features Presidential candidates who were defeated, but not forgotten.  Located in the First State Bank in Norton.
Lodging Suggestions: Mount Sunflower Bed & Breakfast, Country Barn Loft B&B, Country Corner Bed & Breakfast, Logan House Hotel, Cathedral on the Plains Airbnb
Food + Drink Suggestions:  Fresh Seven Coffee, Gella's Diner & LB. Brewing Co, Chubby Pickle, Gutierrez Cocina Mexican Restaurant, Teller Room Restaurant, Shiloh Vineyard & Winery, Destination Kitchen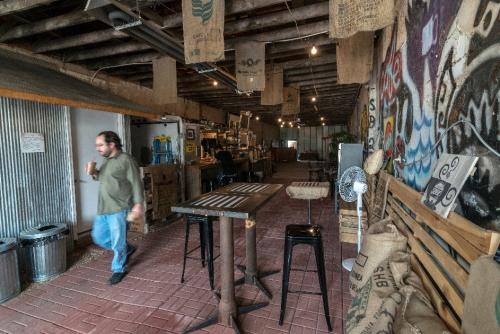 South Central Kansas Winter Road Trip
Keeper of the Plains  - The Keeper of the Plains is a 44-foot tall steel sculpture standing at the point where the Big and Little Arkansas rivers join together in downtown Wichita. This land between the two rivers is sacred ground to the Native American people and is also home to the Mid-America All-Indian Center.
Karg Art Glass - Watch hand-blown art glass in a picturesque cedar and stone building in the heart of Kechi. Browse through the gift gallery and find unique wonderful gifts in all mediums. Watch glassblowers Monday, Tuesday, Thursday and Friday 8:30 a.m. to 3 p.m., Saturday 8:30 a.m. to 11 a.m. Gallery hours: Monday through Saturday 8:30 a.m. to 5 p.m., Sunday 11 a.m. to 4 p.m.
Coronado Heights - Coronado Heights is the southern-most bluff in a series of seven, known as the Smoky Hills. The hill is located northwest of Lindsborg. It is believed that Francisco Vasquez de Coronado and his men viewed the prairie from this lookout point 300 feet above the valley floor. Native Dakota sandstone was used to build the castle and picnic areas in 1936 as a project of the Works Progress Administration, creating the perfect opportunity for a picnic, flying kites, hiking or riding the off-road bike trails.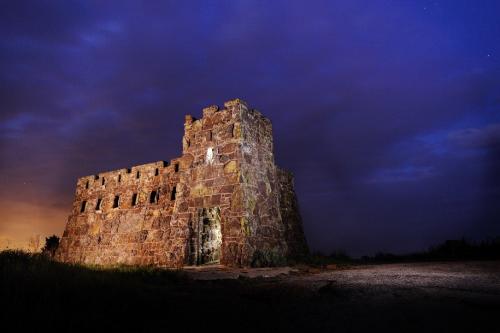 Cosmosphere - Featuring the largest combined collection of U.S. and former Soviet space artifacts —the Cosmosphere International Science Education Center & Space Museum in Hutchinson, KS—tells the story of the Space Race unlike any other museum! As Kansas' only Smithsonian-affiliated museum, the Cosmosphere is the only place in the Midwest to boast a flown craft from all three early manned spaceflight programs (the Mercury Liberty Bell 7, the Gemini X and the Apollo 13 Odyssey).
Botanica - Enter a true winter wonderland with a stroll or drive through Kansas' most grand Christmas light display. Botanica's Illuminations features more than 2 million lights glittering throughout the garden. Visitors will enjoy more than 300 lighted trees and feel the warm glow of 8,000 luminaries and 18 themed lit gardens.  Since opening in 1987 with four gardens and a horticultural library, Botanica Wichita has added more than 30 additional themed gardens and exhibits. This botanical paradise on the plains has over 18 acres of stunning gardenscaping that features over 4,000 species of plants both native and new to the region.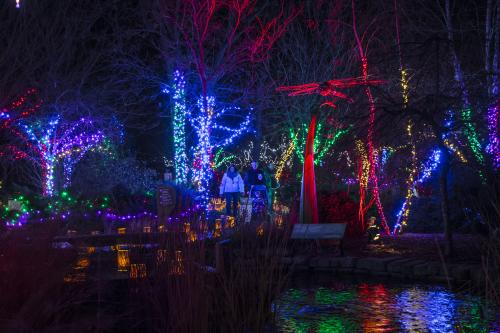 Fulton Valley Farms - Create new holiday traditions with your family at Fulton Valley Farms A Country Christmas starting on November 27th. The 2020 Holiday schedule offers 12 full nights of Christmas cheer and plenty of chances to make holiday memories! Fulton Valley Farms has been entertaining families with their holiday activities for many years and is one of Kansas' top family holiday destinations. Stroll the wooded paths while enjoying over 800,000 lights dancing to music. Every evening includes a Live Nativity Vignette and we have many activities for the family to enjoy. Santa and his Reindeer will be at the Farm, where you can take pictures and enjoy seeing the kid's faces light up as they see the live Reindeer in person! Hot chocolate, hot cider, decorated cookies and popcorn are available for purchase. The Farm is beautifully decorated throughout the entire property with lights, decorations and trees. There are plenty of photo opportunities for Holiday cards and social media posts.
Brant's Marke t- Specializing in homemade and fresh meats since 1922. Named one of the "8 Wonders of Kansas Commerce", their specialty meats are made from recipes passed down for four generations.
Strataca - Strataca/The Kansas Underground Salt Museum is one of the 8 Wonders of Kansas. Located 650 feet beneath the earth's surface in a salt bed formed 275 million years ago during the Permian Period, Strataca is a truly unique destination. Experience the Dark Ride, the Salt Mine Express Train and the new Salt Safari Mine Adventure Hike, all in over 300,000 square feet of mined out caverns in an active Salt Mine. Reservations strongly recommended! Minimum age - 4 yrs. old.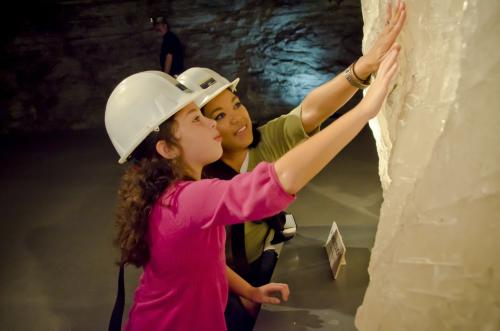 Wichita's Old Town District - Nestled in the heart of Wichita, just east of downtown. Among the brick-lined streets and historic lampposts are a collection of converted brick warehouses dating back to the late 1800s. Built with brick and native limestone accents, these distinctive architectural features define the character of Old Town. With more than 100 businesses, Old Town has become a destination sought out for its restaurants, shops, clubs, theaters, galleries, museums and stores. It's a popular nightlife district you will rave about exploring.
Maxwell Wildlife Refuge-   A great Kansas adventure to visitors year-round. The refuge features roaming buffalo and elk, over 100 species of birds identified, bluebird trail, observation tower and tour center with displays and gift shop. All tours are by reservation with optional campfire buffalo dinner. Step back in time to the 1800s for a unique prairie tour aboard our modern day covered wagon (tram). The tour features buffalo up close and personal, native wildflowers, and native grasses.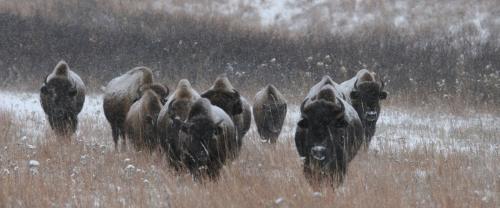 Mid- American All-Indian Center- Housing a museum, a gallery of nations and a gift shop, the Mid-America All-Indian Center educates and preserves the heritage of the American Indian. Experience a powwow, see traditional American Indian artifacts and contemporary artwork, shop for authentic clothing, jewelry, gifts and much more.
Lodging Suggestions: Clover Cliff Ranch, Grand Central Hotel & Grill, Prairie Oaks Inn, Drom Sott Inn, Delano Bed & Breakfast, The Barns at Timber Creek,  Gyp Hills Guest Ranch, Historic Elgin Hotel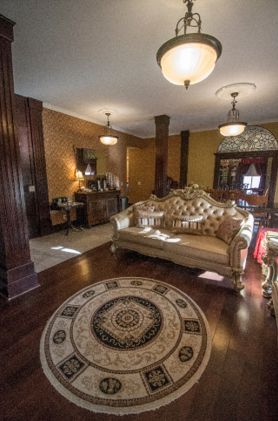 Food + Drink Suggestions: Reverie Coffee Roasters & Founders Bakery, College Hill Coffee, Jenny Dawn Cellars, Blacksmith Coffee Shop & Roastery, PourHouse, Wheat State Wine Co., Salt City Brewery, Parlour 1886 ,Doo-Dah Diner, Turner's At 421 Main, Scotch & Sirloin, Ol Stuga, Rosewood Ranch & Winery , Elroy's Pizza
North Central Kansas Winter Road Trip
Flint Hills Discovery Center - The Kansas Flint Hills protect the last remnants of unbroken tallgrass prairie. Once, the tallgrass prairie dominated the heart of North America, but now only 4 percent remains, most of it in the Flint Hills. The Flint Hills Discovery Center is an interactive, science, history and cultural museum. In-depth exhibits explore all layers of the prairie and the Immersive Theater will keep your senses entertained with simulated fire and ice. In the Prairie Garden Terrace and Trail you'll find spectacular views, native wildflowers and informational panels highlighting important topics to the Flint Hills eco-region. Enjoy Blue Earth Plaza, right out the doors of the Discovery Center, complete with an outdoor fire pit and fountains.
Abilene Mural Tour- The arts are alive in Abilene! A five-star community that embraces the arts, Abilene offers many unique attractions for art lovers.
World's Largest Collection Of The World's Smallest Versions Of The World's Largest Things Traveling Roadside Attraction & Museum -   Artist Erica Nelson travels the United States looking for "monsters of the road" (things like the world's largest ketchup bottle or ball of yarn). She then photographs them and makes a World's Smallest Version of said World's Largest Thing. Once Nelson researches, visits, and photographs a World's Largest Thing, she then makes a miniature replica of the "thing."  When possible, Nelson will bring the tiny version back to the enormous structure that inspired it and snap a photo of the two items together. The little replicas and photographs are then displayed in the museum and online.
Sculpture Tour Salina - an outdoor exhibit of sculptures that changes each spring. Artists from across the country, and beyond, submit work to be considered by a jury for each exhibition. In May, Salina celebrates with an "UNwrap Party" featuring music, entertainment and a simultaneous unveiling of the 26 new sculptures that comprise SculptureTour. All pieces are for sale, and artists are eligible for various awards, including the People's Choice Award. Ballots are included in exhibit brochure/maps (available downtown). Everyone is encouraged to vote for their favorite sculpture. The piece receiving the most votes is purchased by the City of Salina to remain in the community as part of our growing public art collection.
Rock City Park - A national natural landmark comprised of over 200 huge concretions. Rest in the shade of the gazebo, picnic under the trees, and shop the hand-crafted items in the gift shop. The interconnecting mowed trails wander through native grasses and wildflowers. Kids can climb on rocks the size of houses.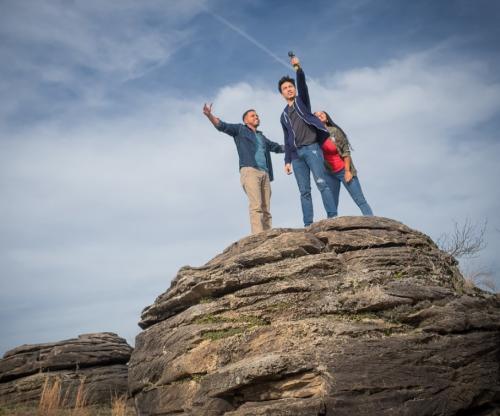 Explore an abandoned Atlas Missile Silo - Explore a decommissioned Top Secret underground Military Base. The Atlas F Missile Silo once held an Intercontinental Ballistic Missile with a 4 Megaton Nuclear Warhead. You will descend multiple flights of stairs, past an entrapment area, and two large blast doors before entering the former "Ready Room" where the Missileers had a kitchen, bathroom, and bunkbeds. Next you will go down another flight of stairs to the Launch Control Room, where the original launch desk still sits abandoned by the Air Force over 50 years ago. For the adventurous explorer, we will go through a tunnel to access the 176 ft. deep Missile Silo, which was half filled with water upon decommissioning. We will walk along paths I've created which go to the two wells and the foundations for the water treatment plant, and two Quonset Hut building which were removed years ago.
National Orphan Train Complex - Contains informative exhibits depicting the history of the Orphan Train Movement. Photos and memorabilia offer insight into the mass relocation of over 250,000 children across the US from 1854 to 1929. The Research Center houses the archives and artifacts from this era and can provide the public with research assistance to help them learn more about a particular Orphan Train Rider. A visit to this museum will amaze and touch your heart like no other museum.
Lodging Suggestions: Engle House, The Volland Store, The Cottage House Hotel, The Banker's Inn,  Shady Grove Cabins, Acorns Resort The Bluemont, Clyde Hotel, Midland Railroad Hotel   
Food + Drink Suggestions: Ad Astra Books & Coffee House, Pretty Boy Floyd's Steak & Shine   Friendship House Bakery & Restaurant, Blue Skye Brewery & Eats, Kansas Territory Brewing Company, Tallgrass Tap House, Cozy Inn,  Mr. K's Farmhouse Restaurant, Linger Longer Soda Fountain & Sandwich Shop,  Munson's Prime Steakhouse, Hays House Restaurant & Tavern,  Las Cabanas Mexican Restaurant, Fly Boy Brewery And Eats,  Liquid Art Winery & Estate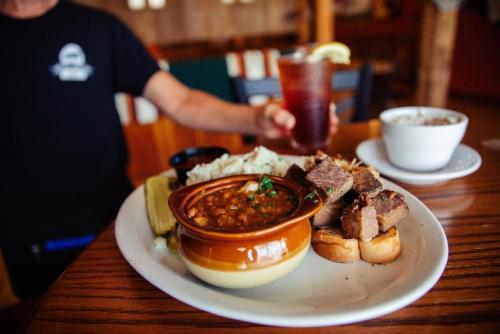 Southeast Kansas Winter Road Trip
Lowell Milken Center for Unsung Heroes - Learn about Unsung Heroes who have made a profound impact on the course of history. Located in downtown Fort Scott. The Lowell Milken Center for Unsung Heroes has many projects on display. Exhibits include Life in a Jar, the Irena Sendler Project, which inspired a National Award-winning book "Life in a Jar" and Hallmark Hall of Fame DVD "The Courageous Heart of Irena Sendler" (www.irenaseldler.org), and many more. The Lowell Milken Center for Unsung Heroes works with students and educators across diverse academic disciplines to develop history projects that highlight role models who demonstrate courage, compassion and respect, regardless of race religion and creed. Through our unique project-based learning approach, students discover, develop and communicate the stories of Unsung Heroes who have made a profound and positive impact on the course of history. By championing these Unsung Heroes, students, educators and communities discover their own power and responsibility to effect positive change in the world.
Little House on the Prairie Museum -  Replica of Ingall's 1870 cabin at the original site. Discover the pioneer way of life of the Ingalls family at this reconstructed log cabin made famous in the series of children's books written by Laura Ingalls Wilder. Historic site also includes an authentic one-room school from the 1870s and the original, turn-of-the-century post office from nearby Wayside.
Erie Dinosaur Park-  A free park of dinosaur theme sculptures made from auto, farm and other scrap metal. Open the 2nd Saturday and 3rd Sunday, noon to 4 pm or by appointment.
Big Brutus - Big Brutus put the oooohs and aaahs in the backyard of the Heartlands. Miles before you reach this retired giant — you can see it on the horizon south of West Mineral, Kansas. Standing beside it makes one aware of how fragile he or she is. The statistics give the hard-cold picture — Bucyrus Erie model 1850B second largest electric shovel in the world 16 stories tall (160 feet) weight 11 million pounds. Big Brutus is not just a symbol of the past, but an eternal tribute to the mining heritage of Southeast Kansas and to miners across this nation who toiled to support their families.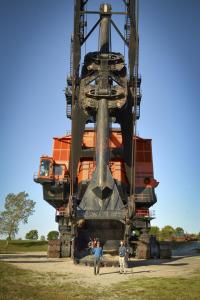 Fried Chicken War -  When you find yourself in southeast Kansas there is one thing you must do - Chicken Wars! Here chicken is king, and regardless of whether you choose Chicken Annie's or Chicken Mary's, you will be satisfied. Both are institutions in the area (and in fried chicken), and each restaurant carries a storied past that - of course - includes the rivalry.
Martin & Osa Johnson Safari Museum -  The Johnsons were the first to send back photos and film of areas of Africa and the South Seas in the 1920s and 1930s. The Safari Museum (as it was originally named) has grown and flourished through the years. The museum started with a core collection of the Johnsons' films, photographs, manuscripts, articles, books and personal belongings donated by Osa's mother. Over the years a number of related collections have developed to broaden the museum's ability to achieve its mission to "collect, preserve, and make available the life work of Martin and Osa Johnson, while continuing their work of sharing the knowledge of natural history and cultural anthropology with the global community.
Drive the Route 66 Historic Byway - Opportunities for visitors to enjoy a variety of experiences to "get their own kicks" while driving the original Kansas portion of Route 66, found in the "Ozark Plateau" or Southeast corner of the state. Drive over many of the original structures of "The Mother Road," including the only remaining Marsh Arch Bridge on Route 66, or stop at the Nelson's Old Riverton Store, known as one of the most authentic, still working 75+ year old stores of its kind on all of Route 66. Take your picture with the tow truck that was the inspiration for the character "Mater" from the "Cars" movie or discover Schemerhorn Park and the Southeast Kansas Nature Center.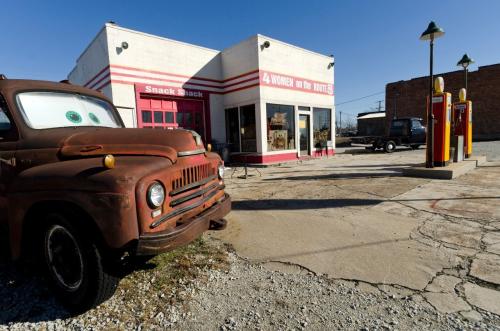 Lodging Suggestions: Cedar Crest Lodge Bed & Breakfast, Rose Cottage, Murphy's Landing, Gufler Mansion Bed & Breakfast     
Food + Drink Suggestions: Frontenac Bakery, Rita's Roost Bistro & Sweet Shop, Signet Coffee Roasters,  Gravel City Roasters, Boiler Room Brewhaus, Indy Brew Works, Jolly Fox Brewery, McCune Farm to Market, Brick + Mortar Social House, Pho Bannlou, Jim's Steakhouse & Lounge, Ising Glass Vineyard & Winery, Ernesto's Mexican Restaurant
Northeast Kansas Winter Road Trip
Explore and shop Mass Street - Lawrence boasts one of the most beautiful Historic Downtown districts in the country. Massachusetts and surrounding streets generate a hub of activity day and night. This pedestrian-friendly area is home to more than 100 shops, galleries, restaurants, cafes, pubs and much more. In the spirit of our well-preserved downtown, most of them are unique and locally owned, offering one-of-a-kind choices you won't find anywhere else.
Hazel Hill Chocolate Traditions - Hazel Hill Chocolate Traditions makes their own handmade, delicious chocolates right in their store. They opened up in 2006 and are now shipping their treats throughout the nation. Hazel Hill offers tours for you to see the ins-and-outs of making their treats. They make all sorts of goodies, from fudge, truffles, turtles, and even caramel apples. Hazel Hill sells gift baskets, gift boxes, and of course, just individual treats for those stopping in.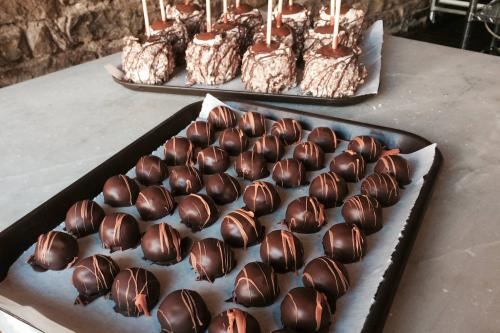 Joe's KC- Joe's Kansas City Bar-B-Que has earned local, regional, national, and even international attention for the quality of its barbecue and the uniqueness of its original gas station location.  It has been featured in local and national papers and magazines including TV shows such as Anthony Bourdain's "A Cook's Tour" and "No Reservations", the Travel Channel's "Man vs. Food", among many others.
Moon Marble Company- Unique store features handmade art glass marbles, marbles for play and collecting, and specialty toys and games. Marble-making demonstrations occur several days each week.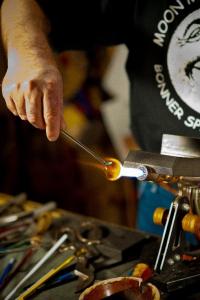 Presidential Suite Chateau Avalon Hotel-  Nestled on a hilltop in the middle of it all is the Chateau Avalon. Here you will discover a hotel where boutique meets unique. From its concept suite accommodations to state-of-the-art intimate meeting and event space, Chateau Avalon is as inviting to small groups as it is to romance. All rooms have over-sized jetted tubs, LED TV's, and offer made to order breakfast served in the privacy of your room. Schedule spa services and visit the d'Nile Wine Bar located inside the hotel.
Mahaffie Stagecoach Stop & Farm Historic Site- Living History: 1860s Style! Mahaffie Historic Site is the only remaining stagecoach stop on the Santa Fe Trail preserved for the public. Discover for yourself what life was like for the Mahaffies, their neighbors and westward-bound travelers in the years following the Civil War. Take a stagecoach ride, explore the 1865 Mahaffie House, lend a hand with farm chores, visit the animals, and listen to the blacksmith hammer iron.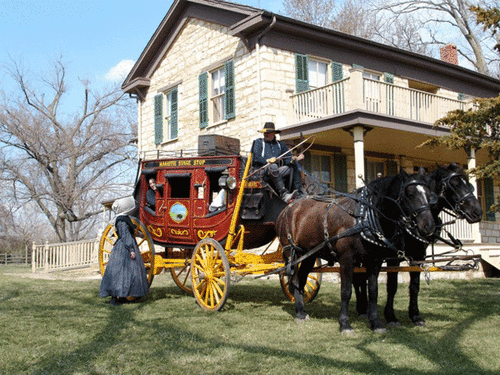 1950's All Electric House - In 1954, Kansas City Power & Light constructed a five-bedroom ranch house to show off the latest, most futuristic gadgets like a garage door opener, hidden TV and even an electric curtain opener. A family home for more than 40 years, the 1950s All Electric House is of great interest to visitors who want to experience life in the 50's.
C.W. Parker Carousel Museum-   Tour a museum of carousel artifacts and history. This particular carousel is unique in that the animals are hand carved and each is one-of-a-kind, and, is the only Parker Carousel created with 2 hand-carved rabbits as major features. There's a gift shop, workshop area, an aluminum 1950s Paul Parker Carousel and a static display of a primitive Flying Horse Carousel thought to be the oldest carousel in America dating back to 1850-1860.
Ad Astra Alpacas-   Ad Astra Alpacas is home to about 60 alpacas. Alpacas are famous for their luxurious fiber. The alpaca shop is open on Saturday mornings from 9 till noon, and Sunday afternoons from 1 till 4 from October through March. Visitors may come view the alpacas by contacting us for a tour at 785-594-6767.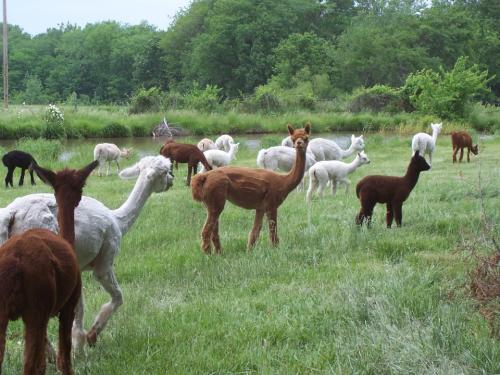 NOTO Arts District- The NOTO Arts & Entertainment District is the vibrant heartbeat of North Topeka that offers fine art experiences, unique shops, and all the mouth-watering food you could ever need! The development of an arts and entertainment district in the historic North Topeka business district is dedicated to stimulating the cultural and economic life of the surrounding area and throughout the Midwest.
Lodging Suggestions: Circle S Ranch, Red Rock Guest Ranch,  Casa Somerset Bed & Breakfast,  Hotel Josephine,   The Barn Bed & Breakfast,  Eisenhower Yurts,  Eldridge Hotel, Great Wolf Lodge,  Prairie Band Casino & Resort,  Cyrus Hotel 
Food + Drink Suggestions: Popculture, 1900 Barker Bakery | Cafe,  Josey Baking Co., Black Dog Coffeehouse,   Brew Haha Coffeehouse, Crooked Post Winery Union Horse Distilling Co.,   Free State Brewing Co.,   Not Lost Brewing Company,   Ladybird Diner,  John Brown Underground,  The Depot,  The MIXX,  715 Restaurant,  Emery's Steak House,  The White Linen, El Bonito Michoacan, Mad Greek Restaurant,   Prairie Fire Winery,  KC Wine Co.