For fans of the CW show "Supernatural" the road so far has ventured quite a bit into the Sunflower State. And after 15 seasons, the Winchester brothers, of Lawrence, have hung up their machetes, put their salt into shakers instead of bulk canisters and pulled the jet black '67 Chevy Impala into the garage. 
Ultimate Supernatural Road Trip
As a lover of all things Kansas, there's nothing quite like the thrill of knowing my home state is so intricately tied to this juggernaut of a tv show. It's always been so much fun hearing the name of a small town that I've traveled through and watching how it's portrayed on screen… Sometimes the locations they use are more believable than others. (Spoiler alert, you're not going to find ton of brooding forests or looming mountains in Kansas.)
To celebrate this pop-culture icon, I've assembled a Supernatural Road Trip in Kansas so the SPNFamily can enjoy Kansas just like Team Free Will. While the locations in the show are (mostly) based on real towns, many of the establishments mentioned are fictitious, so I've gathered some of the most popular stops in the area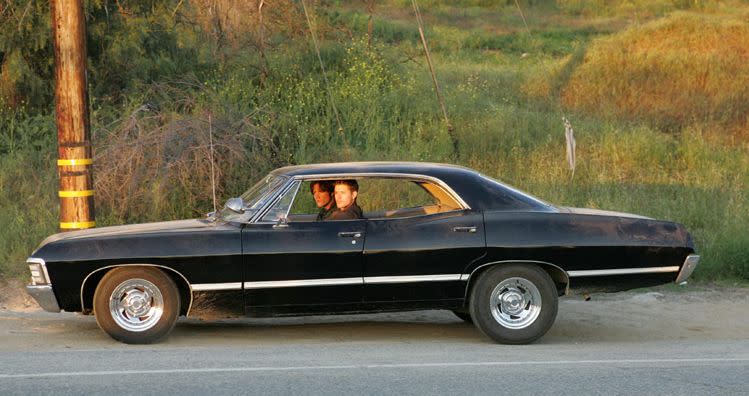 Lawrence
Lawrence is the hometown of Dean and Sam Winchester and where Mary Campbell and John Winchester first met. While the fictional 'Jaybird's Diner' may be the place that Dean meets his father after traveling back in time, Ladybird Diner is an amazing substitute. Ladybird Diner serves pies that Dean would LOVE, and visitors should also check out Free State Brewery and John Brown's Underground.
In the leadup to the battle at Stull, it was revealed that Sam and Dean drove two days for a Jayhawks game. The bad news for me as a fan of the K-State Wildcats, is that some of my favorite characters root for a rival team. But the good news is that you can also immerse yourself in the KU Basketball experience. The University of Kansas campus is also home to James Naismith's (the inventor of basketball) original rules for the game. You can dig into the history of the sport, and KU's basketball legacy at the DeBruce Center, as well as with the Jayhawk Experience Tours which takes you through a walking tour of the university's athletic venues.
 
Stull
The Stull Cemetery was the location of the first apocalypse that Sam and Dean defeated (and was originally intended to be the series finale). With its haunting urban legends and world-wide acclaim as a supposed devil's gate, it's no surprise that the series built up to this epic showdown in this infamous cemetery. In reality, the Stull Cemetery is a small, local burial ground that deserves some peace from onlookers hoping to catch a glimpse of something…. supernatural. We would highly recommend not making this a stop on your trip. The locals and sheriff's department are very serious about letting their loved ones rest in peace, and after countless vandalism incidents on the property, we can't blame them.
Instead, I suggest heading to the Clinton Lake just south of town. The Clinton Lake State Park is a 1,400 acre island of unspoiled nature and a perfect place to pull over and watch the stars for hours without talking, just like the Winchesters.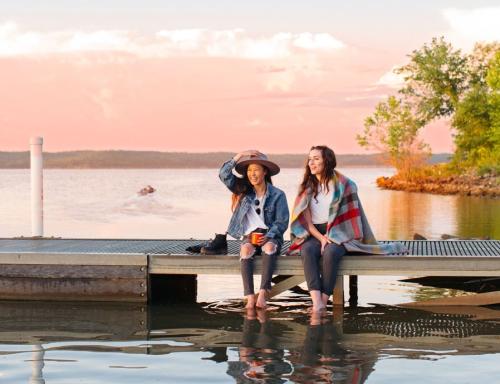 Lebanon
The Men of Letters Bunker at Lebanon is my absolute favorite Supernatural location. Lebanon was selected to be the home of this bunker because it is the center of the 48 contiguous states. While there's sadly no nuclear powerplant and bunker for you to explore, they do have a great stop north of town called Geographical Center Park. There's a cute little white chapel for you to explore and a great historical marker in the spot that was long accepted to be the center of the contiguous U.S.
In town you can find a renovated gas station that now serves as the community's visitor center, a great place for a pit-stop! Another spoiler alert for you, you are able to see the 'Lebanon Post Office' and the surrounding neighborhood in some episodes, but I can assure you, you're not going to be seeing any high rise apartment buildings in the real Lebanon! All you'll find are the skyscrapers of the plains… Local grain elevators.
While there are currently no restaurants or lodging in Lebanon, I would suggest grabbing a bite to eat in Smith Center, also home to several lodges and bed and breakfasts your road trip buddies may enjoy! Another must-see is the World's Largest Ball of Twine, located about a 30-minute drive away in Cawker City. If you're interested in spending some time in nature, Glen Elder State Park, near Cawker City is a great option. Long before the U.S. was founded, native people came to be healed within the sacred waters of Waconda Springs. While the springs are now in the Glen Elder Reservoir, the Waconda Springs Replica pays tribute to this ill-fated site. Geocache Glen Elder Kansas is home to tens of thousands of geocaches, and the area in and around Glen Elder State Park is ripe for the high-tech treasure hunting.
 
Wichita
Wichita is Kansas' largest city, so it naturally was the focus of several episodes, including the Season 7 episode – Plucky Pennywhistle's Magical Menagerie. While Plucky's is a fictional business (thank goodness) there's a ton of cool stuff to do in Wichita! We recommend a few days in Wichita to really explore the great food and attractions! Some of the most popular stops in Wichita include Exploration Place (a children's discovery museum that the entire family will enjoy), Botanica (the local botanical garden that is absolutely stunning, also an amazing stop during the winter for their Illuminations event), the Keeper of the Plains, the Horizontes/Beachner Grain Elevator Mural (the world's largest mural painted by a single artist) and fantastic shopping. I also recommend dining at Doo-Dah Diner and Public, two restaurants that I make sure to enjoy whenever I'm in town.
But Wichita is also home to some of the spookiest spots in Kansas. The Old Cowtown Museum hosts several Ghost Tours a year (no Ghostfacers allowed) where you can try to get a glimpse of a young girl (supposedly the daughter of the founder of Wichita Eagle newspaper) whom people say plays around her family home and other buildings in Cowtown. Another of Kansas' most famous urban legends is Theorosa's Bridge, found in Valley Center, a few miles north of Wichita. While there are many variations of the story, the common thread is a woman named Theorosa who haunts the waters under the bridge after a tragedy occurred. Some say that the tragedy was a Native American ambush, others say that Theorosa drowned her baby in the creek. Believers in the tale claim that they hear mournful voices or a baby crying, see a woman standing on the bridge, witness unexplained balls of light, experience cars stalling and maybe even feel attacked by an unseen entity that attempts to push them over.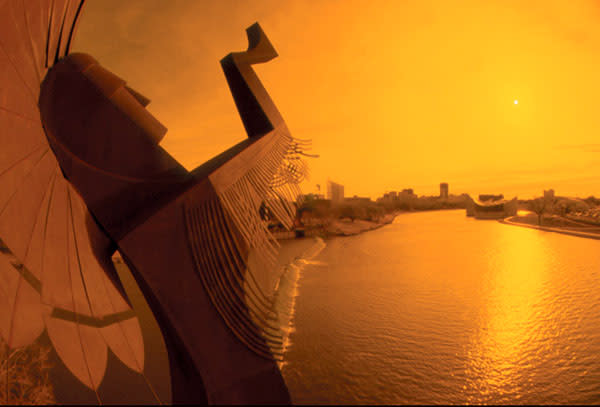 Dodge City
Dodge City saw its fair share of action in the series, as well. We first see it in Season 7, it's plagued by Vetala who prey on folks who use a truck stop. It pops up next up as Dean's western dream come true in Season 13 with a ghoul who takes the form of legendary gunslinger Dave Mather. The history of the wild, wild west is still very much alive in this legendary town, so there are a ton of reasons to get the heck into Dodge.
The Boot Hill Museum will take you back in time to the days of outlaws, lawmen, gunslingers and cowboys. You can find an immersive gunfight reenactment, saloon variety show, country-style dinners and the Kansas Cowboy Hall of Fame at Boot Hill. You'll also find life-sized sculptures of Matt Dillon (from the tv show Gunsmoke) and Doc Holliday, Boot Hill Distillery (a seed to sip distillery), Dodge City Brewing, a historic trolly, the Depot Theater and so much more during your time in Dodge City.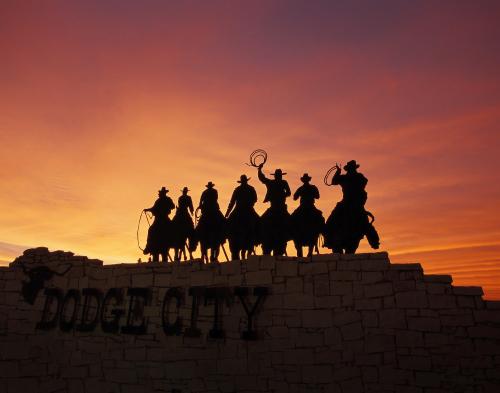 Junction City
One of my favorite episodes of Supernatural takes place in Junction City with the Japanese Shojo. Still not ringing a bell? That's the creature that you can only see when you're drunk. The one thing that I'll give writers credit for is they actually (although I think accidentally) got something right with this one! I appreciated the inclusion of the chef from the local restaurant that helps translate (and later gives a Shinto blessing to a sword). Junction City does have a ton of great international food in town! Fort Riley, home of the U.S. Army's 1st Infantry Division, or Big Red One, is right next door to Junction City. Many of these soldiers will be deployed overseas to places like Japan, Germany and the Middle East, and these soldiers get used to the international cuisines offered where they are stationed, so some really great restaurants pop up in Junction City to cater to these newly discovered palates.
While you're in town you'll want to visit the Custer House (yes, former home of THAT General George Custer who supposedly still haunts the quarters to this day.) 
There's also some great nature to enjoy around Junction City. Just south is the Geary State Fishing Lake, home to one of the most picturesque waterfalls in Kansas. Be sure to visit after a rain to ensure the water is flowing, but not immediately after so you can avoid slogging in the mud. You also should check out the Acorns Resort north of town, with camping, cabins, yurts and boat rentals, to enjoy a relaxing day by the water.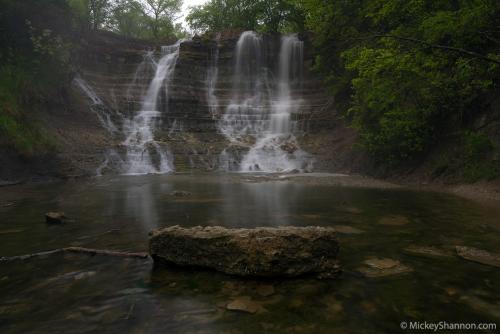 Topeka
Everyone's favorite computer hacker/geek girl Charlie is originally from Topeka. We see her mother at the fictional Shawnee County General Hospital, and we know that her family was struck by a drunk driver in Topeka when Charlie was young. This is also the city that the band Kansas (you know, of 'Carry On My Wayward Son' fame) was formed. Topeka is the capital city and is full of sites you don't want to miss.
Make sure to head by our beautiful capitol building which has been recently renovated and is the home to the world-famous mural of abolitionist John Brown. You'll also find the Brown v. Board of Education National Historic Site in Topeka. You'll walk through the halls of history as you learn about the civil rights movement in America.
You will also want to check out the NOTO Arts District, filled to the brim with great eateries and unique art shops. Don't forget to take an outdoor mural tour around Topeka, a city well known for its public arts initiatives, and to enjoy the brand-new Japanese Gardens at the Topeka Zoo.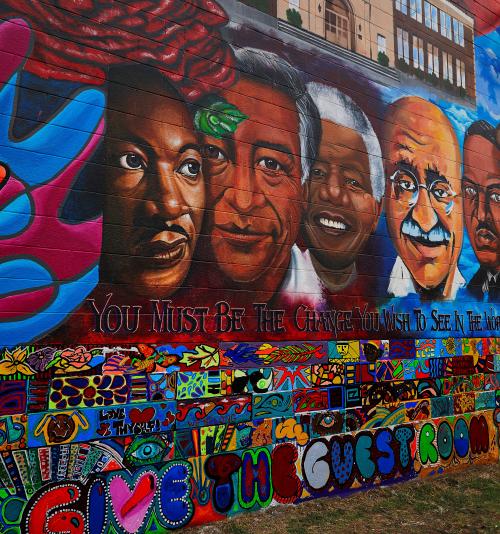 Kansas Supernatural Road Trip Facts
While this is a crazy long article, there are many more stops around the state that Sam and Dean have traversed in. Other real towns that are featured or are mentioned in the state include Salina, Concordia, Colby and Conway Springs (another town that is VERY different than its onscreen counterpart). In fact, not including the 120 episodes that feature the Lebanon Bunker, the Winchesters mention or visit Kansas cities 31 times over the course of the 15 seasons! One thing is for sure about this Kansas road trip… There'll be peace when you are done.