Atchison, Kansas is known as the most haunted town in the United States. I recently visited the town and explored some of the haunted sites. Here's what I found and what you need to know if you're planning to visit Atchison, Kansas. Atchison is a small town on the Missouri River, located about 50 miles west of Kansas City. Here's a rundown of the haunted houses in Atchison, Kansas, what it's like to visit, and what else there is to do in town.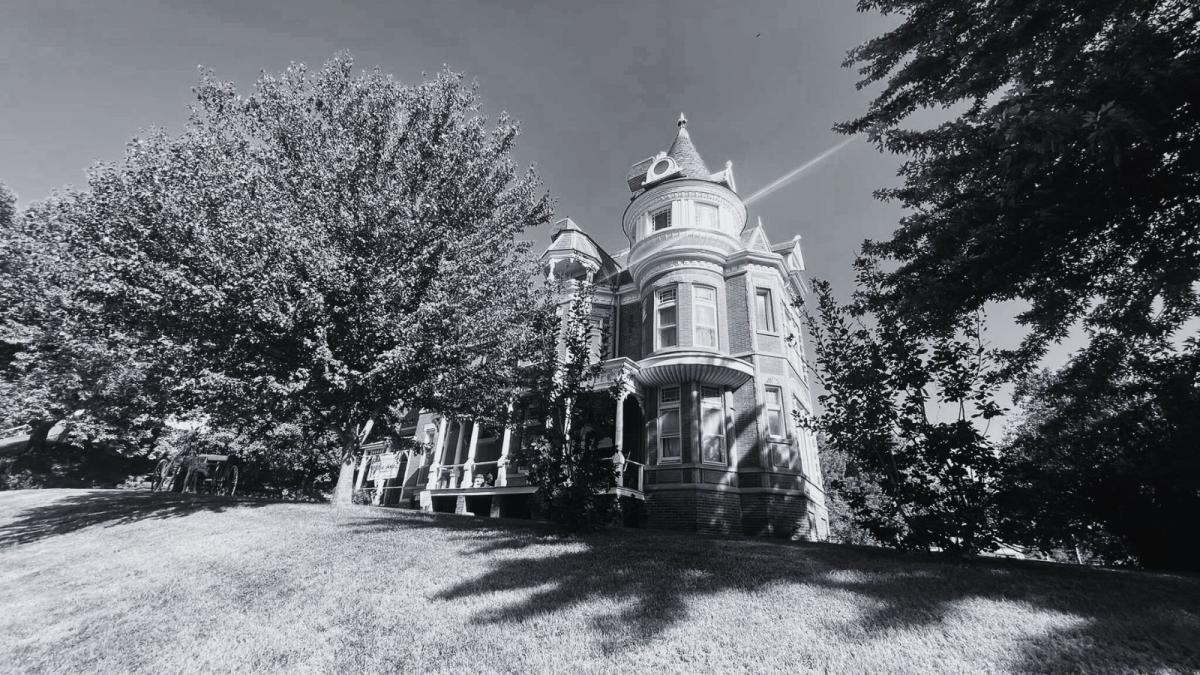 Atchison is one of the most haunted cities in the Midwest. Image credit: Jill Robbins.
I've never been super into ghost stories. My friend and I decided to stop and explore Atchison as part of a Kansas road trip and since this small town is on the map for all the haunted, spooky things, we decided to go all in and make haunted Atchison the focus of our visit. Aside from the ghost stories, this small, rural town is quaint and picturesque, with stunning Victorian and Gothic homes lining the quiet streets. 
The Sallie House
508 N 2nd St, Atchison, KS 66002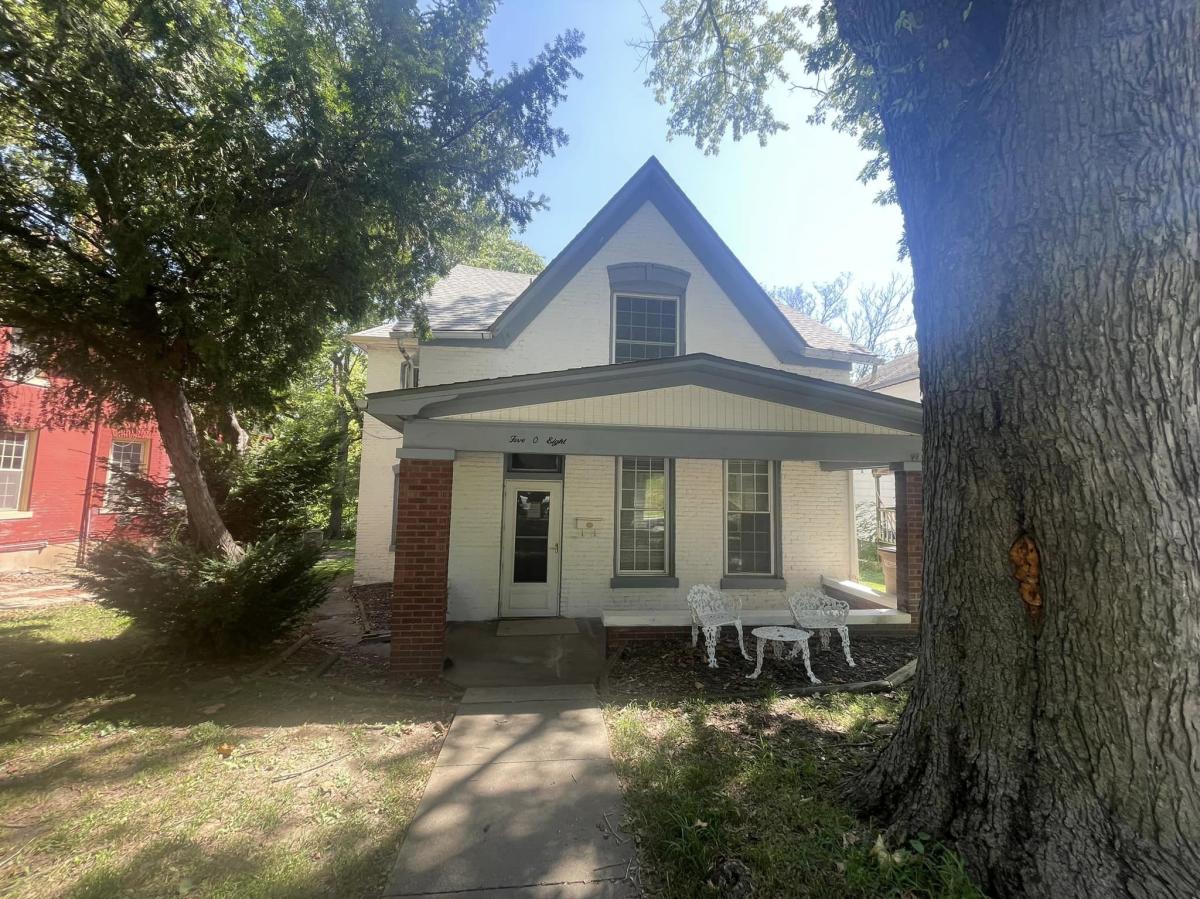 Sallie House in Atchison Kansas. Image credit: Jill Robbins.
The Sallie House has been touted as being the most haunted house in the United States. This unassuming-looking home should be at the top of your list of haunted houses in Atchison Kansas. The house was built between 1867 and 1871 by Michael C. Finney. 
The house is named after a young girl named Sallie, who is said to be the ghostly presence haunting the residence. According to local lore, Sallie never actually lived in the house but died there after a failed operation for appendicitis. The home once belonged to an Atchison physician who had an office and examining room on the first floor. Sallie's mother brought her six-year-old daughter to the doctor's house and the doctor subsequently diagnosed little Sallie with appendicitis and decided to do emergency surgery on the spot. The doctor allegedly began operating on six-year-old Sallie before the anesthesia took effect, making her last moments before she died on the operating table very traumatic. 
The paranormal activity that made the Sallie House famous started in 1993 when Tony Pickman and his wife Debra rented the house and moved in. The young couple was expecting their first child and it wasn't long before they noticed strange and sometimes ominous things happening in the house. 
The spirits that haunted the house – there are believed to be more resident ghosts than just little Sallie – physically attacked the husband and set fires in the house. Other paranormal events  and strange phenomena witnessed by the Pickmans and visitors to the house include: 
Video and investigative equipment that stopped working
Batteries that are full immediately and completely draining
Moving objects
Unexplained scratches or bruises on their bodies during/after visits
Physical touches
Mysterious coldness
Trained guide dogs refuse to enter the nursery
Visiting the Sallie House
Visits to the Sallie House are managed by Visit Atchison. Day tour reservations can be made online. Twenty dollars per person gets you a one-hour, self-guided tour. Visitors who sign up for a tour will receive an email with a door code before their visit. There are signs located throughout the house that give a little bit of the haunted history but the signs only reveal the most basic information, so I recommend reading up on the history of the Sallie House before you go, although if I had read much more than I did, I probably would have declined to visit!
My friend and I did a self-guided tour in August 2023. I'd read a little bit of the house's history before going and I was a little underwhelmed by the house's modest appearance. The Sallie House is located in a neighborhood of impressive gothic homes and I expected the "most haunted house in the United States" to have creepier curb appeal. On our drive through Atchison, we observed stately Victorian mansions with towers and Juliet balconies that fit my idea of a haunted house. The Sallie House was ordinary in comparison. 
I punched in the code I'd received via email when I made my tour reservation and opened the door. There was an old-school-style pram with a creepy baby doll sitting in the front hallway that made me jump. There was another couple already on the tour and we all laughed at my skittishness.
The house was sparsely decorated in the style of the late 1980s and smelled moldy. We wandered around the first floor for a couple of minutes before heading upstairs. 
We briefly looked in all three upstairs bedrooms and didn't touch anything. There are lots of children's toys in the bedroom that used to be the nursery – also rumored to be one of Sallie's favorite hangout spots –  and there are reports of the toys moving around on their own or battery-operated or mechanical toys activating by themselves. My friend said she had a funny feeling in her stomach and said she was ready to leave. I quickly agreed. The house had an unsettling energy, that's the best way I can describe it. I got a feeling of anxiousness on the upper floor, at the top of the stairs, between the nursery and the bedroom next to it, and dismissed it but I was more than willing to leave the house at my friend's suggestion. 
Overnight Stays at the Sallie House
Staying overnight at the Sallie House would be a big, fat no for me but if you're truly brave, you can pay to spend the night at the Sallie House. The price is $125 per person with a two-person minimum to stay in the house – if you can last – from 3:00 p.m. until 9:00 a.m. The price jumps to $150 per person during haunted season, September and October. The maximum amount of people who can spend the night in the Sallie House at one time is 10. Guests must bring their own sleeping bags and pillows. 
There's a long list of things overnight guests are not allowed to do inside the Sallie House, including sleeping on the beds, attempting to "cleanse" the house, using an Ouija Board, or going into the basement. 
1889 McInteer Villa
1301 Kansas Ave, Atchison, KS 66002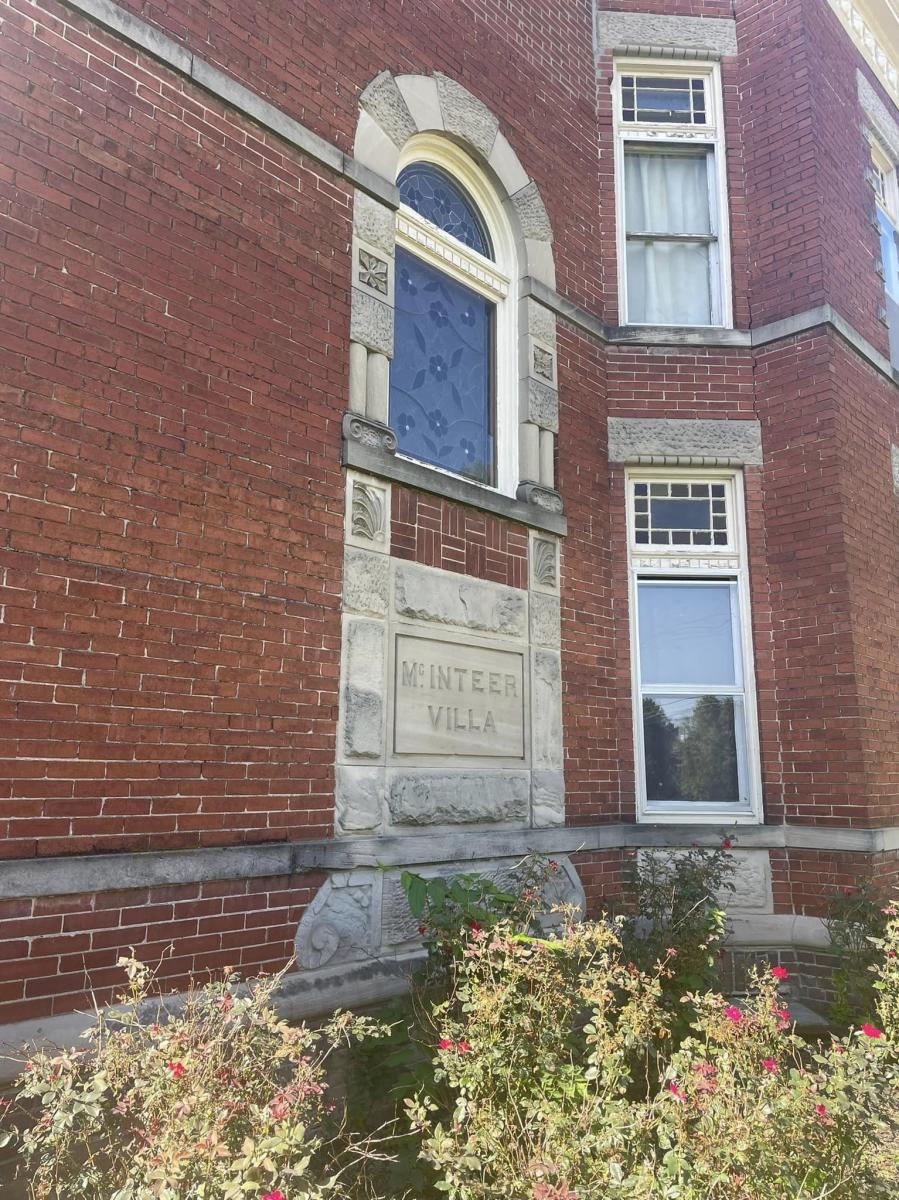 The rear of the haunted 1889 McInteer Villa. Image credit: Jill Robbins.
The McInteer Villa is one of Atchison's most unique residences and has the outward appearance of a true haunted mansion.  Built in 1889-1890 by John McInteer, an Irish immigrant and pioneer businessman of Atchison, this large, impressive brick residence was constructed at an estimated cost of $14,000.  It's a gorgeous house and can be appreciated solely for its curb appeal, even if you have no interest in going inside.
John McInteer's first wife, Alice died in the house in 1892.  He married his second wife, Anna Conlon, a widow with three sons, in 1895.  After McInteer died in 1902, Anna continued living in the home until she died in 1916.  During her ownership, the house was home to large numbers of her Conlon relatives, including many children.  From 1916 until about 1925, her brother, Judge Charles J. Conlon, a prominent Atchison lawyer, and his family made it their home. 
The McInteer Villa was also a rooming house for 25 years. There have been nine documented deaths inside the McInteer Villa, including one suicide. Reported paranormal activity includes:
Lights flickering, figures are seen in the window when no one is inside the house
Disembodied footsteps
Doors opening on their own
The scent of a woman's powdery perfume and cigarettes
A feeling of unease on the second floor, as if they were being watched. 
One of the creepiest reported phenomena is the rocking chair that one of the residents died in rocking by itself. I have been in the house and saw the rocking chair but it remained still. Overall, I didn't find the McInteer Villa to be all that scary, however, it is styled to appear as haunted as possible. There are skeletons outside – it was summer when I visited and a pair of skeletons wearing kid's pool floaties were lounging on the back patio. There's also an impressive array of macabre-looking wall art, menacing baby dolls, and framed obituaries of people who died in the house. If the house hadn't been styled so intentionally, I'm not sure if it would have had the same dramatic effect. 
Daytime self-guided tours can be set up via this website. I couldn't get the online booking to work when I tried to book my tour but the owner, Stephanie Neal, responded promptly to the message I sent via the message form. Day visitors have full access to the house for an hour for $15 per person but may not go into the basement or take part in any serious ghost hunting. That's for the overnight guests.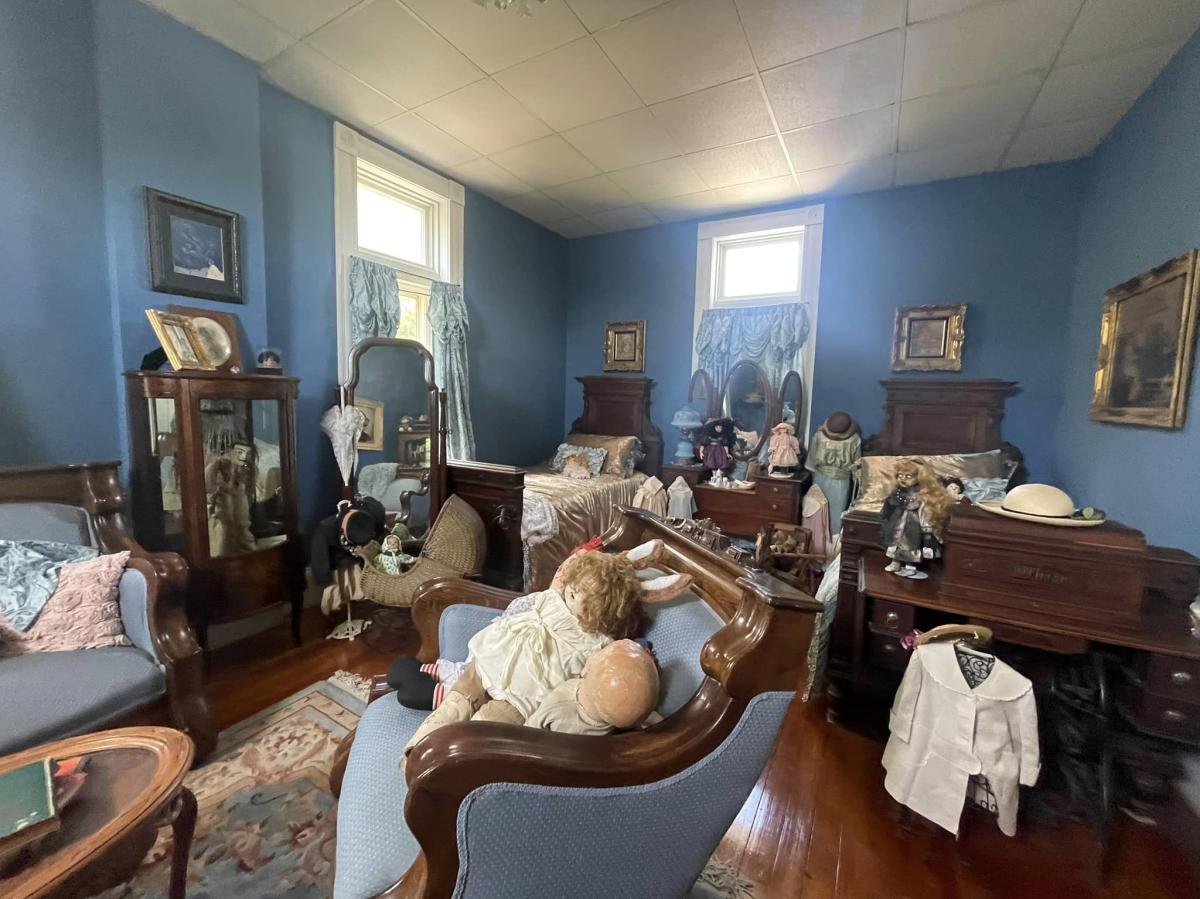 This bedroom, at the far end of the hall on the second floor of the McInteer Villa, is home to a seemingly endless number of unsettling-looking dolls. Image credit: Jill Robbins.
Overnight Stays at the McInteer Villa
As with the Sallie House, the truly fearless can spend the night in one of the most haunted houses in Atchison Kansas. The price is $300 per weeknight for up to 10 people and $400 on weekends. There's an extra $25 per person fee for extra guests, with a max of 15 guests per stay.  Guests can sleep on the beds but not in the beds and must bring their own bedding or a sleeping bag. Serious paranormal investigators may bring their video cameras and other recording and ghost-hunting equipment to see what they can discover. Ordinary folk who just like a little bit of scare are welcome, too. 
Haunted Trolley Tour 
200 S 10th St, Atchison, KS 66002
 
If you're visiting Atchison during September and October, sign up for one of the Atchison Haunted Trolley Tours and see all the haunted houses in Atchison, Kansas. This ghost tour is a great way to explore the haunted places in Atchison and get the lay of the land in Atchison. Haunted or not, there are some gorgeous homes to admire. The Haunted Trolley Tour starts and ends at the Santa Fe Depot at 200 S. 10th Street and lasts about an hour. The tour is $10 per person and is not recommended for kids under 6 years. Book quickly – spots go fast. 
Stops on the Haunted Trolley Tour include Oak Hill Cemetery, Jackson Park, the Gargoyle Home, and, of course, the Sallie House. Other stops and ghost stories are rotated in and out each year to keep things fresh and exciting. The Gargoyle House is a stunning private residence a few blocks from the Sallie House that has two gargoyles perched atop the roof. It looks like something that belongs on the grounds of Hogwarts and is a truly unique site you don't expect to see in rural Kansas. 
The Green Man Theater
220 N 9th St, Atchison, KS 66002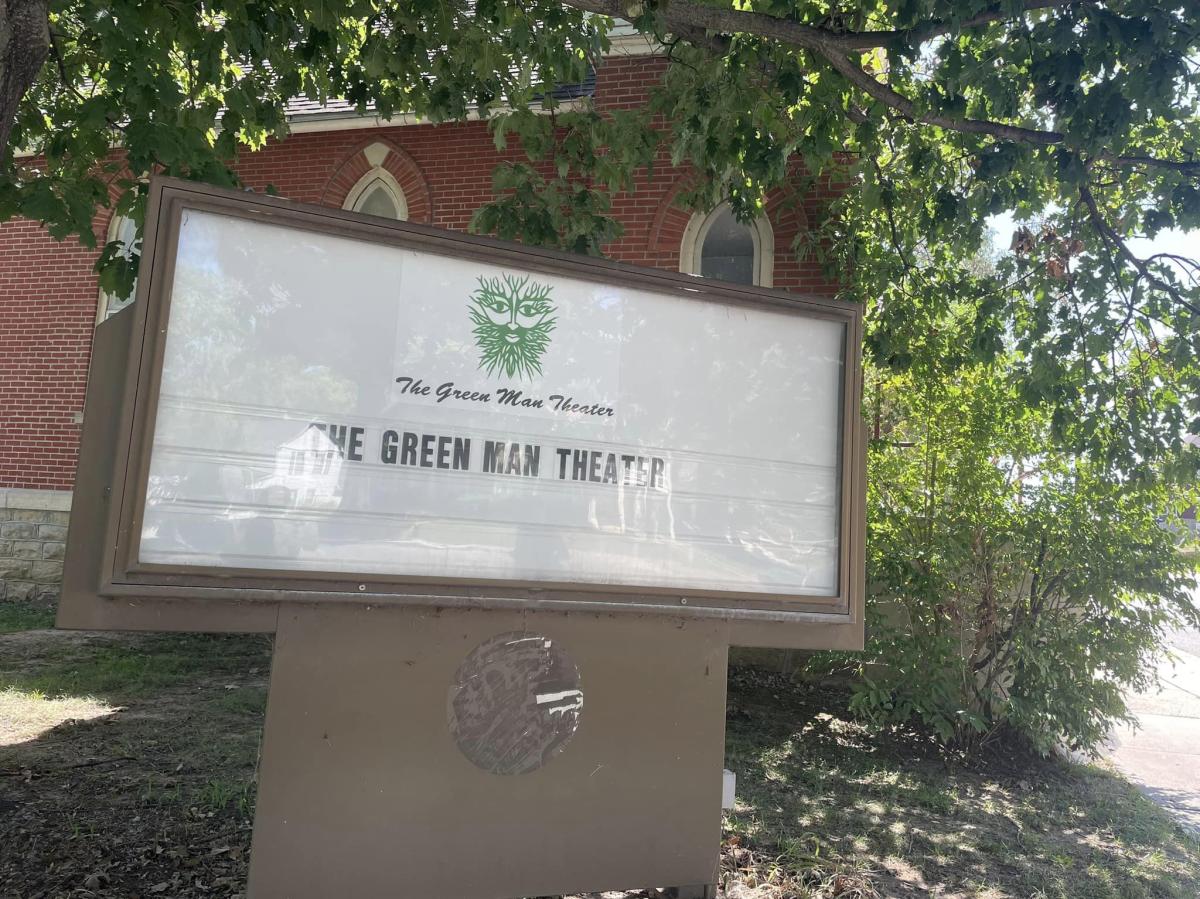 The Green Man Theater, formerly a church, is inhabited by a few poltergeists. Image credit: Jill Robbins.
The Green Man Theater is the new kid on the haunted block in Atchison. The Green Man Theater was a church up until a few years ago. According to owner Charles Prokopp, who purchased the church and now runs it as a community theater, he discovered he was sharing the theater with poltergeists during renovations. He claims his tools would unexpectedly disappear while he was working and that he'd find them days later in a completely different place.  
For $100 per person, you can spend the night in this 120-year-old haunted church. The Green Man Theater allows groups of two to six people. The owner, who lives on-site in the church's basement, prohibits Ouija boards, seances, and any attempt to cleanse the facility of the spirits he is on good terms with. As with Sallie House and McInteer Villa, overnight visitors must bring their own bedding, sleeping bags, air mattresses, etc. 
There Are lots of Options for Haunted House Stays in Atchison Kansas
If you plan your adventure out right, you can stay overnight in the Sallie House, the McInteer Villa, and the Green Man Theater in one visit to Atchison, Kansas. If you visit in late September or October, you can snag a spot on the Haunted Trolley Tour, but you have to be on the ball and plan ahead – the trolley tour is very popular and sells out every year. 
If you're interested in lesser-known haunts in Atchison, the tour is definitely the place to be. The staff at the visitor's center are also great sources of information on local ghost stories that don't have the same level of following and hype that the more well-known Sallie House has. Visit Atchison also has other spooky-themed seasonal events, such as "Shocktail" parties and medium readings. 
Where to Stay in Atchison Kansas
If you're traveling through the Midwest and want to spend the night in Atchison but not at a haunted house? You have options!
There's a centrally located Holiday Inn Express and a Quality Inn if you're looking for familiar franchises. Atchison also has a sprinkling of B&B and boutique-type hotels. 
On my recent visit, I didn't stay overnight in Atchison. We spent the night in Leavenworth, Kansas, which is about 25 miles northwest of Atchison. If you don't mind a bit of a drive, Leavenworth is a bit of a larger town and has more amenities, restaurants, and choices of hotels. We stayed in the Leavenworth Local, which used to be a Catholic high school. The rooms were well-appointed and comfy but the touches like the trophy case and gym were still intact and made for a fun, whimsical atmosphere. 
Food in Atchison
If you're going to tour haunted houses in Atchison Kansas, you've got to keep up your strength! I recommend coffee or light bites at The Sunflower Cafe. They serve coffee made from local beans, teas, and a variety of pastries and smoothies. On the day I visited, they had giant cinnamon rolls and some seriously delicious-looking quiche. The Sunflower Cafe also serves cocktails and wine and has a fun selection of gifts. 
For a heartier meal, visit Pete's Steakhouse, which has delicious Greek food as well as steaks, seafood, pasta, and a variety of handhelds and salads. Do not miss the Saganaki flaming cheese appetizer, which is flambeed tableside and served with pita wedges. Everyone you talk to in Atchison will recommend Pete's and there's a reason for that.
Other things to do in Atchison
While Atchison is most well-known for ghost adventures, it is also on the map for being Amelia Earhart's birthplace. Pay a visit to the Amelia Earhart Birthplace Museum. Visit in July and there's an entire festival dedicated to this aviation pioneer. 
If you're looking for other non-ghostly activities, check out the Muchnic Art Gallery or the Evah C. Cray Historical Home. The Cray home is a beautiful old mansion with a gift shop in the adjacent carriage house for gifts and Atchison souvenirs. The Atchison County Historical Society Museum in the Atchison Visitor's Center is also worth a stop. The museum operates by donation only and has books on the town's haunted lore and other souvenirs and locally-made items for sale. And, there's a bar! I've always been a big fan of visitor's centers but this is the first one I've ever seen with its own Whiskey Depot.
If you have questions about any of the haunted houses in Atchison, Kansas, the Visit Atchison staff is fantastic, well-informed, and fun to talk to. Whether you're looking for haunted mansions and ghosts or simply a fun adventure, don't write these small, rural towns off. 
Check out this guide for the best things to do, places to stay, and eat in Atchison!
Hunt the Haunted in Atchison!