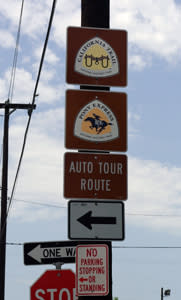 The information highway got its start the hard way through Northeast Kansas.While Missouri's St Joseph gets the credit as the jumping off point of for the Pony Express, the real adventure started in Kansas. The town of Elwood marks the spot where rough and ready Pony Express riders took on the first leg of a 1900-mile journey through eight states.[[endteaser]]
About 139 miles of this trip went through Kansas.The Pony Express was developed as a way to quickly get news and information from the eastern border of Kansas to the western edge of California. It was no 4G network to be sure, but between April of 1860 and November of 1861 it WAS the information highway, linking our nation's wide expanses across the wild western stretches of our country.
It worked by using a series of riders carrying a single bag of letters from St. Joseph, Missouri to San Francisco, California in what was for those times a breakneck speed of 10 days - or about 10 miles an hour 24 hours a day.
While short-lived in practicality, (It was discontinued after the telegraph line went through.) The Pony Express and its riders became an icon of the American West as well as the ingenuity and determination that built our country.
In Kansas you can celebrate the Pony Express with an annual re-ride held by the members of the National Pony Express Association. Each year in the middle of summer, you can find them in Elwood as well as every stop along the way to Hollenburg station west of Marysville in Hanover during what takes about 20 hours to ride by horseback through the Kansas leg of the route.
Though President H. W. Bush designated the original route a National Historic Trail in the early 1990s, much of it is on private land. If you are looking for the re-enactment of the ride it is best to catch it at one of the designated short stops, which tend to be in towns, like Elwood. About 600 riders take part in the re-ride each year, which has been going on since the late 1970s.
If you don't happen to be in Kansas during the re-ride another great way to get a feel for what riders faced during their journey would be to drive on the auto tour – designated by the national parks service. Here are the directions that take you roughly along the original route:
From St. Joseph, MO:
1. Take U.S. Route 36 west to State Route 148.
2. Turn north onto State Route 148.
From Atchison, KS:
1. Take U.S. Route 73 west to State Route 9.
2. Turn west onto State Route 9.
3. Take State Route 9 west to State Route 63.
4. Turn north onto State Route 63.
5. Take State Route 63 north to U.S. Route 36.
6. Turn west onto U.S. Route 36.
7. Take U.S. Route 36 west to State Route 148.
8. Turn north onto State Route 148.
The parks service has a nice printable brochure with historical information to guide you along the route printable brochure. You can also use this map to guide you to points of historical interest along the way.Another great way to experience the Pony Express is to stop at Hollenburg Station, a state historic site. This is a preserved stop along the trail, and site of another re-enactment every year in August. This year the Pony Express Festival will be held, Sunday, August 26.

Karen Ridder is a freelance writer living in Topeka. A former News Producer for KSNW-TV in Wichita, her work can also been seen in print publications including: Topeka Magazine, TK Magazine and the Topeka Capital-Journal. She has written for several national blogs and was recently recognized as one of the 2011 winners in the Annual Kansas Factual Story Contest. Karen has lived in Kansas for 15 years and married a native Wichitan. Together they are raising three little sunflower boys and a dog named George.