Downtown Sculpture Tour
Downtown Salina is home to 22 new sculptures, that is until next year rolls around. Each May, Sculpture Tour Salina unveils the new art instillments for the self-guided walking tour encouraging their community and visitors to explore downtown and appreciate public arts.  From Mr. Hatter's Arthropodal Pursuits in becoming Human, Ratatouille, to Clarence the Catfish, the 2022 sculpture lineup brings surprise, quirkiness, and a whole lot of extraordinary talent from artists in Kansas and around the country.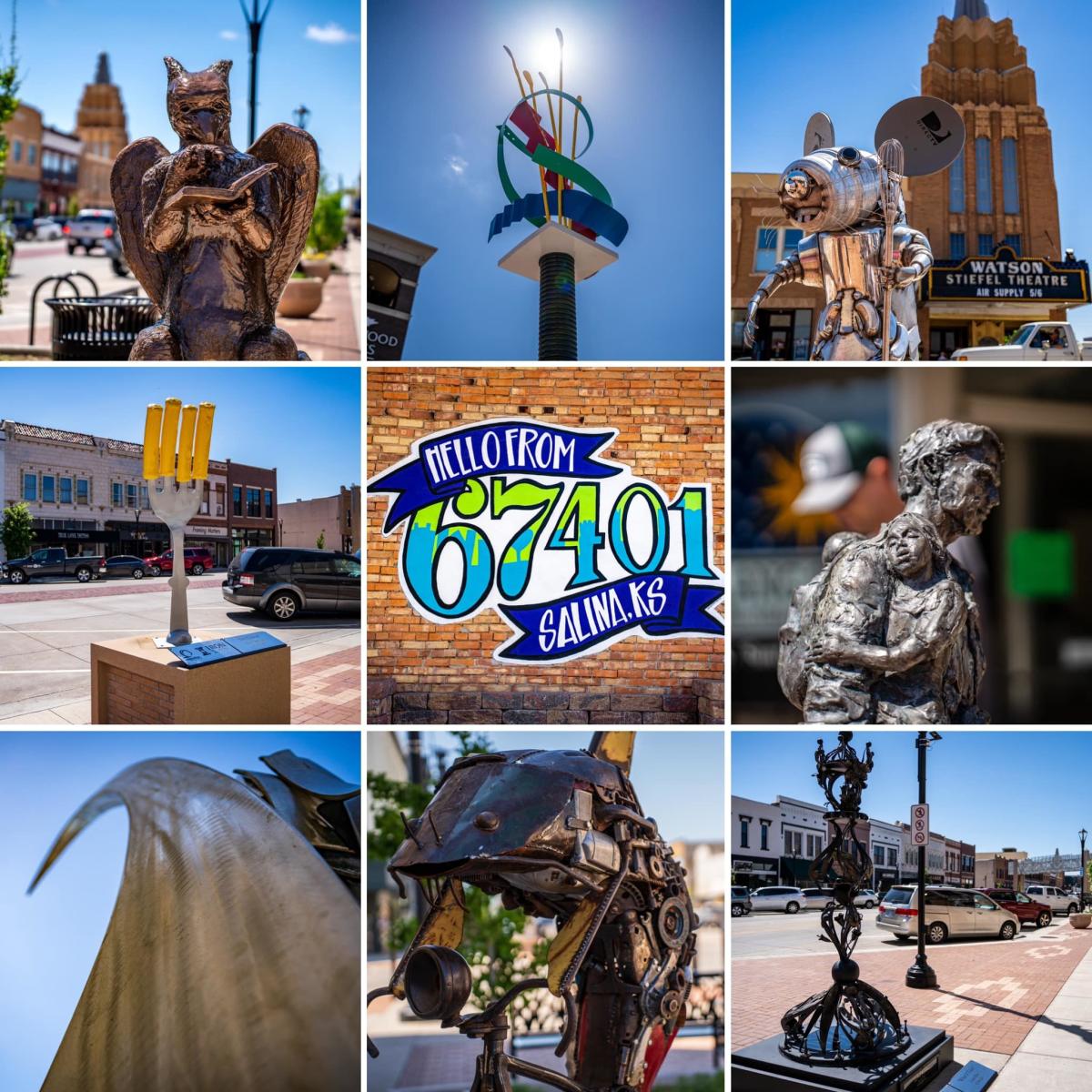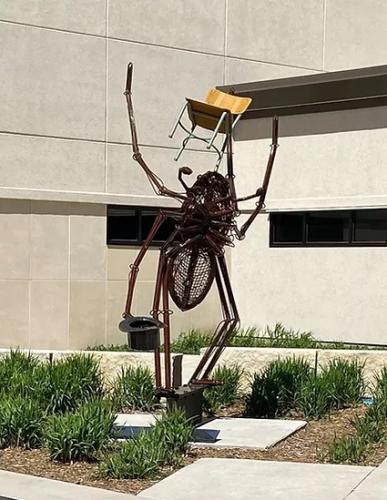 (Title image and collage courtesy of Boone Cumberland)
You can pick up the Sculpture Tour Salina Walking Tour Maps in silver boxes on the sculpture pedestals located near most mid-block crosswalks,
as well as many area businesses. This is also where you can return your ballot for the People's Choice Award.  The sculpture with the most votes by December 31st will be purchased by the City of Salina to become part of Salina's permanent art collection. You will see many of the previous year's winners downtown and throughout the city.
Salina is a vibe. Their impressive art scene is vibrantly celebrated and cherished by the community and visitors alike. Their newest mural, Mural at the Mill, is my absolute favorite in the state. The newly restored Stiefel Theatre is handsomely grand any time of day but seeing it all lit up at night brings a Broadway ambiance to Santa Fe Avenue. Friday Night Live brings entertainment downtown every Friday night and coincides with First Friday Art Walk. The Salina Art Center features contemporary art exhibits and operates the Art Center Cinema featuring independent films in an intimate setting.
Smoky Hill River Festival: June 9 - 12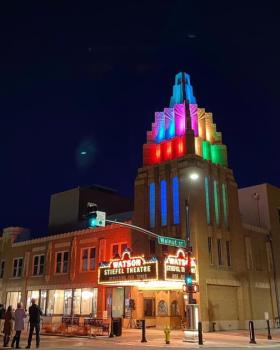 Salina is gearing up for their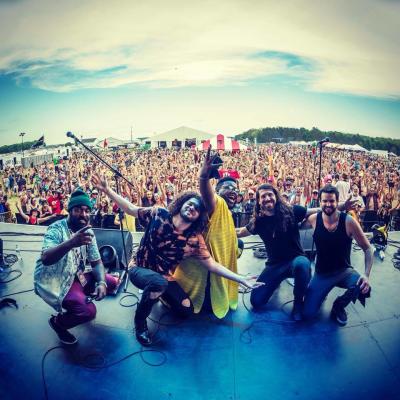 biggest festival of the year - the beloved Smoky Hill River Festival from June 9th to the 12th, 2022. For 4 days you get the experience the culture and essence of the city through art, music, food, and best of all, the people. Featuring over 30 food vendors, 130 artists, and 75 performers, this is one of the largest celebrations in Kansas each year. I love the festival's guide on "Ways to Save' the event which includes many free activities as well as budget-friendly ideas. They also have the Festival Families First program that covers festival admission for families or individuals who might otherwise be unable to attend.
The Garage - Salina's Newest Attraction!
Ready to turn this into a vacation? Check out my blog about Salina's newest attraction, The Garage,  showcasing other things to do in the area. Check out Visit Salina's website for travel inspiration such as places to eat, the best local shops, and where to rest your head after a day of travel and adventure!