The sometimes controversial, more times than not comical, and most certainly quirky art collection left behind by M.T. Liggett was acquired by the Kohler Foundation and is open for visitors to explore.
About M.T. Liggett
Myron Thomas Liggett was born in Mullinville on December 28, 1930 to sharecroppers, Wilber & Edna. In his early adult life, M.T. served in the Navy for three years and retired from the Air Force after serving 20 years. He obtained his bachelor's degree from Fort Hays State University and went on to law school at the University of Nevada, Las Vegas. Throughout his military career and educational endeavors, M.T.  still found time to spark up love interests all over the world, inspiring some of his most iconic artwork.
His Artwork
His first public display on his property was a gargoyle meant to ward off evil spirits after a fatal poisoning of one of his horses. This launched what would become one of Kansas' most unique, self-taught grassroots artists with a collection totaling over 600 pieces of work. Totems and whirligigs, some towering nine feet tall, line the pasture fence line along US Highway 400 and Kansas Highway 54.
Donned an equal opportunity offender, many of M.T.'s sculptures, totems, and signs (when the artwork itself just couldn't express his passionate opinions) take aim at local and national politicians, many ex-lovers and wives, and acquittances. Not all of the artwork took provocative nature, there are also references to Greek mythology, the Opera, and pop culture. Just as soon as the whirligigs started popping up, so did visitors stopping along the highway to see the installations for themselves.
His Legacy
Liggett's demeanor often reminds me of other denim overall-clad characters I have come to know and love in my own life. He spent much of his time collecting "junk" and tinkering in his dirt floor barn-turned workshop. His installations were made from an arc welder and plasma cutter with metal found from tractor parts, farm machinery, road signs, and other equipment he could get his hands on.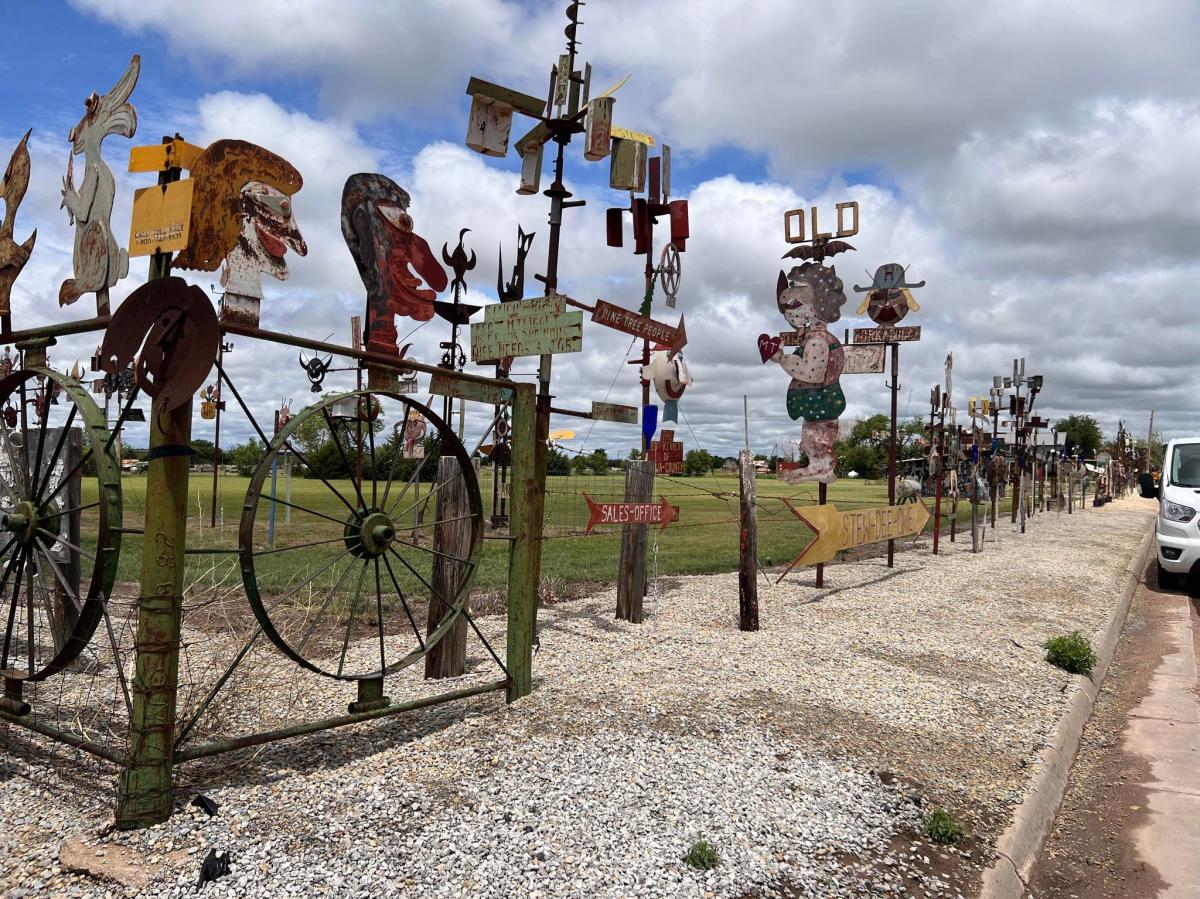 Liggett was an artistic provocateur, loved by many, but probably disliked by just as much. In an interview with Roadside America, he says "most people, they ain't got no guts. You gotta have a strong opinion or you're nothing." In his infamous blunt manner, he goes on, "When I put up a piece of art, I don't ever ask anybody if they like it or they don't like it. If you like it, that's fine. If you don't, I don't care."
Stop & marvel at these kinetic art displays made by local character MT Liggett. Unique art pieces from discarded metal that line Hwy 400 in West Mullinville.
M.T. Liggett Art Environment & Visitors Center
Whether you agree with his imaginative and highly opinionated scrap metal art, you will appreciate a visit to the new Art Environment & Visitors Center. Watch the whirligigs come to life, turning and spinning from the infamous wind gusts of southwest Kansas bouncing off the prairie. You'll have yourself a chuckle as you meander through the signs, as one or two are sure to catch you off guard.
The visitors center gives you an up-close look at M.T. and his incredible life. Who knows, you might leave with a better understanding and appreciation of M.T. and his larger-than-life persona. Or, you'll leave with some inspiration for the junk you have collecting in your own barn. Either way, you'll enjoy yourself at one of Kansas' most exceptional roadside attractions.