Marysville, Kansas played a significant role in the history of the Pony Express. It was one of the original stations along the Pony Express route, which ran from St. Joseph, Missouri, to Sacramento, California. The Pony Express was a fast mail delivery service that operated during the mid-19th century, and it is often remembered for its daring riders and their remarkable feats. The Pony Express Museum stands as a tribute to the brave riders and their remarkable efforts to deliver mail swiftly across vast distances during a crucial time in American history.
A Brief History
The Pony Express was only active for 18 months from 1860-1861, however, 160 years later, the history of the famous route still fascinates history lovers all over the world. Marysville has the last remaining original home station from the route, a beautiful limestone barn that was used as a livery stable during operation.
The barn is now part of the museum and features exhibits on the Pony Express as well as local history around Marshall County. The Museum has educational programs tailored to different age groups, including presentations, demonstrations, and activities designed to engage visitors and provide a comprehensive learning experience.
Express Mail was always Expensive
Before visiting the museum, I was under the impression that the Pony Express was the postal service for the time, but it was a very expensive service used mainly by businesses, the government, and the wealthy. The original charge was $5.00 an ounce and 5 cents for every additional ounce. Most Americans used mail coaches to deliver their letters which could take up to a few months depending on where the mail needed to travel.
Small People - Big Money
The Pony Express service only took about 10 days with riders traveling day and night through all types of conditions. Riders would change horses every 12-15 miles and usually went 75 to 100 miles before passing the letters to a new rider at one of the home stations on the route. The riders made $100 a month which was great money for the time, but it was dangerous work. Due to the type of travel, riders had to weigh less than 125 pounds, so many riders were young and orphans willing to take risks for the money they would earn.
Then Came the Telegraph
The Pony Express route ended after the completion of the transcontinental telegraph line, but the lore continued with the likes of Buffalo Bill and his Wild West Show portraying tough and rowdy Pony Express riders. You can learn about all this and more with a visit to Marysville!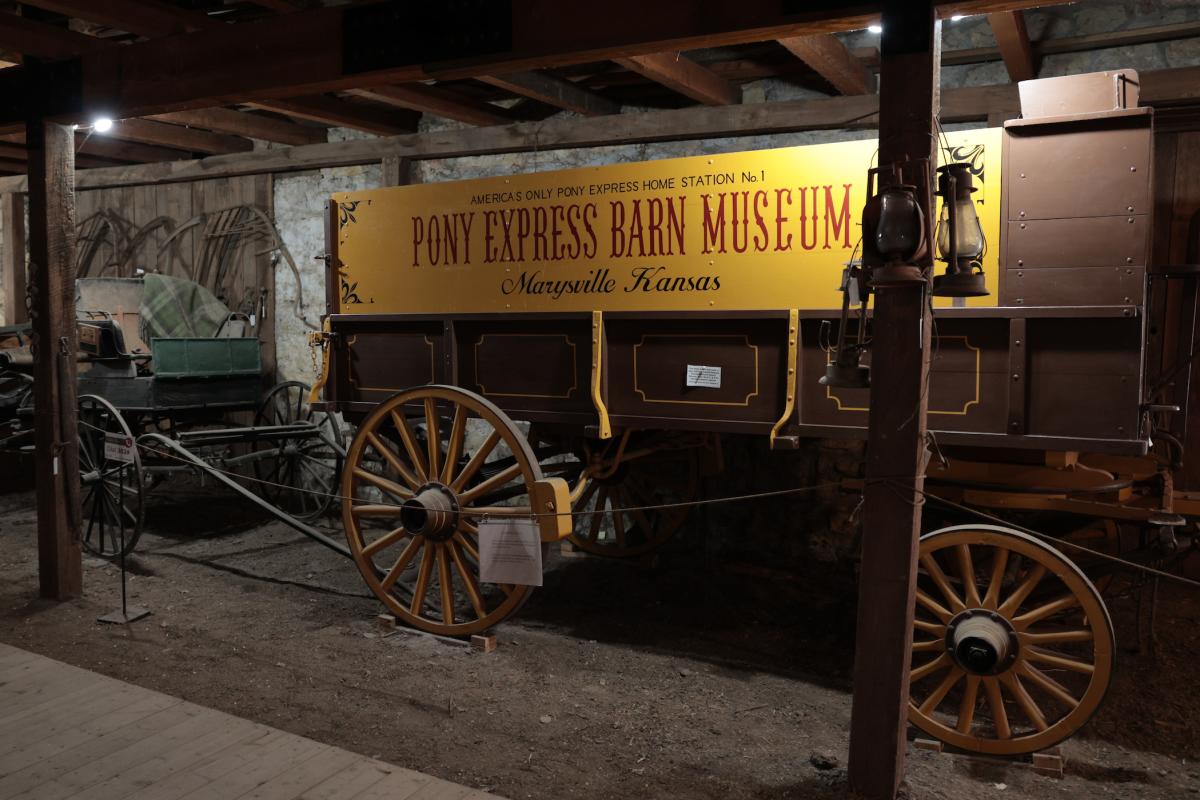 Marysville is a beautiful and prosperous town located near the Big Blue River in North Central Kansas. We are home to the Black Squirrel…