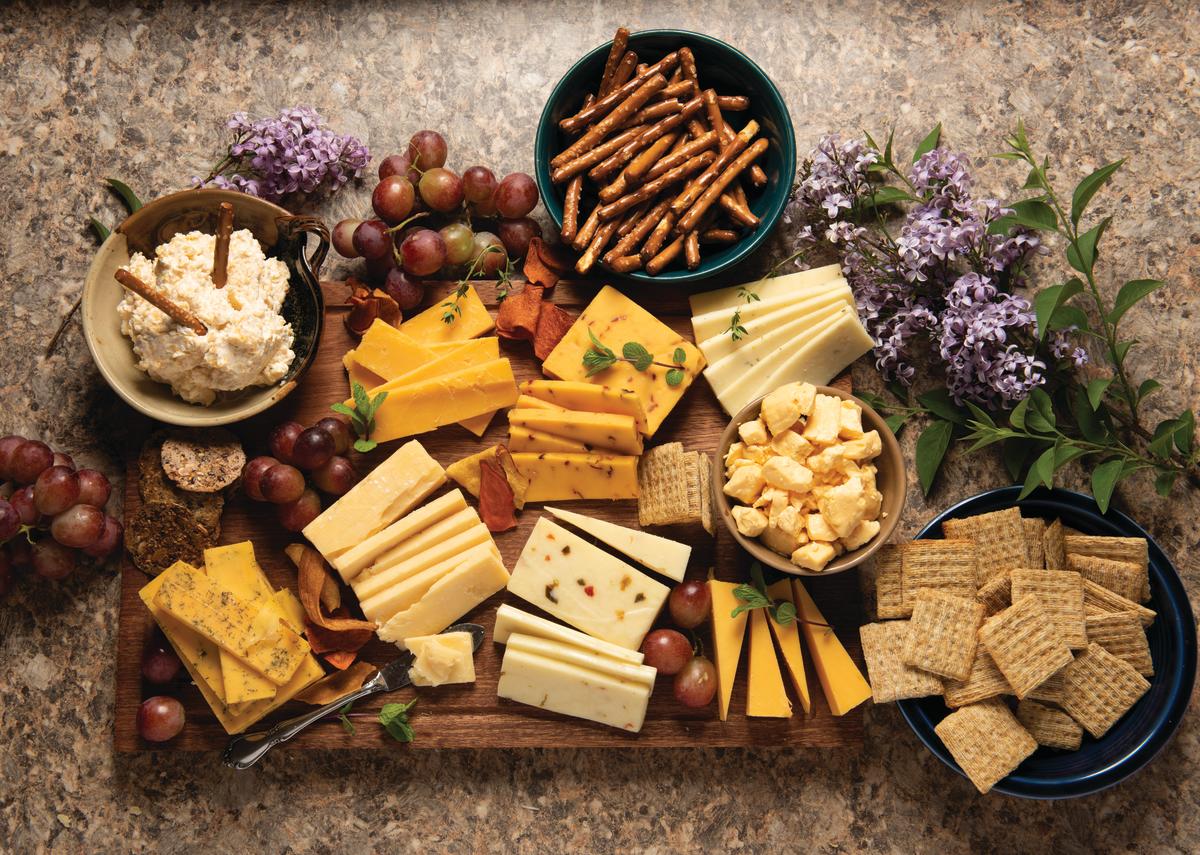 Photography by Dave Leiker
Cheesemakers across the state are putting Kansas on the map with their locally-made artisanal varieties
Alma Creamery
Founded in 1946, this family-owned creamery makes all their cheeses by hand from locally produced cow's milk. Best known for their cheese curds, mild and aged cheddars and their New York sharp, Alma Creamery sells cheese from their cheesemaking facility in Alma and will soon offer cheese in a new retail outlet on I-70 where fresh curds will be available daily.
509 E. 3rd St., Alma, or Exit 328, I-70 | 785.765.3522  almacheese.com
Elderslie Farm
Specializing in fine cheeses produced by traditional methods, this farm north of Wichita uses milk from its goats and from Ayrshire cows raised on Faye Farms in Udall. Cheeses are available at the farm-to-table restaurant Elderslie, Bramble Café, and Creamery & Cheese Shop, all located on the farm.
3501 E. 101st St. N., Kechi | 316.226.8862 eldersliefarm.com
Sawatch Artisan Foods / KDI Cheese Company
Hugoton's recently expanded cheese facility now offers an extensive line of small-batch artisan cheeses, including fresh curds, assorted gouda and cheddar flavors, and several jack cheeses. The plant is SQF (Safe Quality Food) and organic certified; it's certified to produce halal and kosher butter and has recently expanded its cheese line to include queso fresco, cotija, and panela.
1010 E 10th St., Hugoton | 800.454.8013 sawatchartisanfoods.com
Goddard Farm
In the cheesemaking business for 13 years, Goddard offers chévre (French goat cheese) and feta made from Grade A pasteurized goat milk. Feta in olive oil is a relatively new addition to their product line; packed with dried tomatoes and green olives, it can be ordered with or without garlic.
1801 E. 335 Rd., Lecompton | 785.304.7044 goddardfarm.com
Grazing Plains Farm
This 5th-generation dairy farm turns rich Jersey cow milk into artisanal cheeses including cheddar, cheddar curds, cow's-milk feta, fromage blanc (a spreadable cheese), soft and buttery Havarti, and their own unique creation—Elbing cheese, a soft and mild slicing cheese.
1532 S. Grace Hill Rd., Whitewater | 316.461.3243 grazingplains.com
Holy Goat Creamery at Arch Angel Farm
Using milk from the farm's herd of Nubian goats, Holy Goat Creamery produces a premium selection of handcrafted pasteurized cheeses including a line of hard cheeses and the more traditional chèvre and feta that may be infused with apricots, strawberries, blueberries, bacon, honey, or garlic and herbs. The creamery has also added lines of soft-ripened cheeses with a mild intensity and a creamy flavor profile, such as double cream Brie and Camembert.
5535 Manhattan Tuttle Creek Rd., Manhattan 785.565.8590 | holygoatcreamery.net
Skyview Farm & Creamery
This micro-dairy creamery in Pleasanton offers a bountiful range of artisanal raw-milk cheeses. To age the cheeses, owners Bill and Sheri Noffke custom-created a 20x20-foot concrete box set into the ground and covered with bermed earth; it is designed to maintain the requisite 55-degree temperature and includes a cooling system that counteracts intense summer heat. It's divided into two parts, a dry side and a humid side. Pressed and formed cheeses are first placed on the dry side where they remain until a protective rind forms on their surface; then they are moved to the humid side and cave-aged for a minimum of 60 days, often up to four to five months. Choices include gouda, fontina, Asiago, fromage blanc, mozzarella, feta, Montasio, and several varieties of cheddar. Custom-created cheeses, made by tweaking traditional recipes to create slightly different tastes and textures, include Fairmount, Skyview Prairie, and Himmelsburg.
22722 E. 800 Rd., Pleasanton | 913.352.8727  skyviewfarm.net