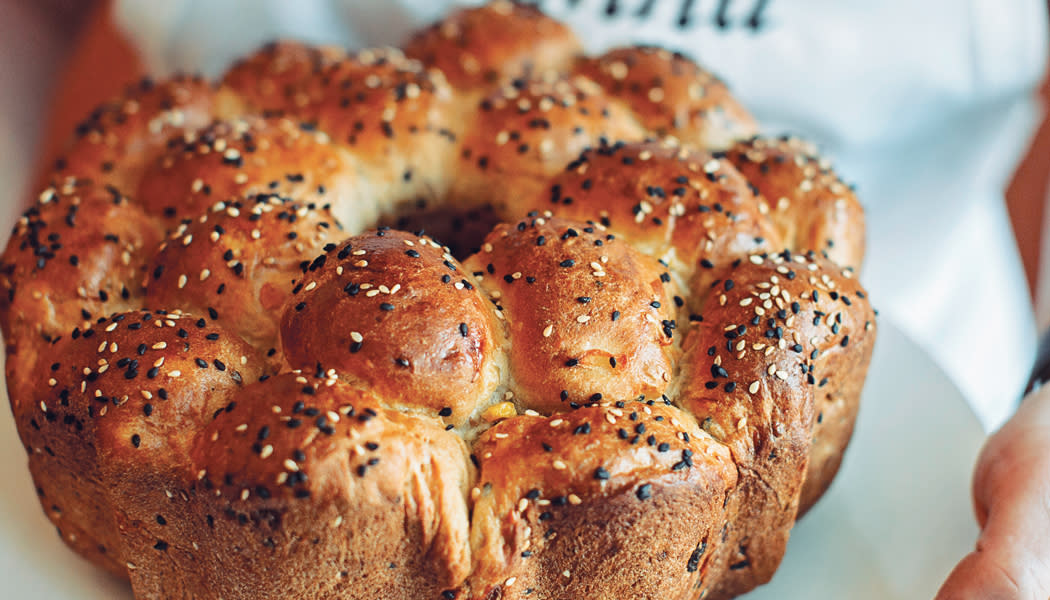 If a baking event is begun by a group with the name "The Kansas Wheathearts," then it has to be good.
In 1990, this women's wheat-growers auxiliary group proposed holding a statewide baking contest and quickly turned it into a reality by working with the Kansas Wheat Commission and the Kansas Department of Agriculture. Then in 2009, the farmer-members of the Kansas Wheat Commission decided to raise the stakes and make the contest into a national competition, eventually bringing in national sponsors such as King Arthur Flour and Red Star Yeast.
Now, the National Festival of Breads has grown into one of the nation's top amateur bread-baking competitions. Held every other year, the competition brings food bloggers and top chefs to Manhattan in June. At the center of the event is the bread-baking competition. Entries for this round of competition closed on January 1, 2019, the date by which hundreds of original yeast bread recipes, representing almost every state in the U.S., arrived online at the Kansas Wheat Commission and were assigned a number. Between the submission cut-off and the competition, a panel of judges reviews each recipe and selects semi-finalists. From mid-January through March, two or three recipes are test-baked each day, and a panel of judges evaluates the breads to determine the eight finalists. Judging is based on clearly defined criteria including recipe creativity and originality, ease of preparation and detailed instructions, nutritional value, eating quality, flavor and aroma of each baked product.
On the day of the competition, the finalists will proceed in a grand march through the venue's ballroom to present their breads to the judges. This year, the final round of judging moves from behind closed doors to center stage. "The biggest selling point about this contest is that it is a good, old-fashioned cook-off," says Kristina Vänni, culinary expert, food writer and owner of Cooking Contest Central.
 
PHOTO GALLERY

But the event will include much more than the cook-off. More than 60 volunteers will help set up and decorate, serve bread samples, and assist finalists and baking demonstrators. Volunteers from the Kansas Wheat Commission's "Speak for Wheat" spokesperson program, K-State Research and Extension, Kansas Agri-Women and community partners will make sure the festival showcases baking skills and creativity in the Wheat State. According to Cindy Falk, Kansas Wheat nutrition educator and festival co-director, "The National Festival of Breads is also a tribute to wheat farmers, millers, home bakers and ingredient companies." Falk also notes that because the event is held during the summer wheat harvest, sponsors such as John Deere can provide "field-to-flour" tours of abundant Kansas fields.
Julene DeRouchey, assistant nutrition education educator and festival co-director, says that these type of farmer-to-baker connections help "show appreciation for agriculture and milling industries and stimulate interest in home baking across the nation." An array of baking experts will be onstage to entertain and educate, featuring dynamic cookbook author Stephanie Petersen, best known as "Chef Tess Bakeresse"; Charlene Patton, TV celebrity from the Kansas Soybean Association; a representative from Red Star Yeast; and a King Arthur Flour "Bake for Good: Kids" instructor.
For those wanting to get their hands on some dough, Sharon Davis, Home Baking Association program director and family and consumer sciences educator, will be providing workshops. Kansas-made products will be available from the many vendors that line the hotel hallways, including wheat weavings produced by the Kansas Wheat Weavers and stoneware from Elk Falls Pottery. There will be displays of bread sculptures, recipe handouts, door prizes and book signings. Other happenings include music, food trucks and children's activities.
Since Kansas provides a considerable portion of the nation's wheat, it is only fitting this festival makes an effort to feed those in need. Proceeds from the "Popular Choice" voting and a silent auction will be donated to Harvesters Community Food Network, an initiative to help feed the hungry in northeastern Kansas. In addition to the national sponsors, state and community sponsors, such as the Kansas Soybean Commission, the Manhattan Convention & Visitors Bureau, and Manhattan Hy-Vee, continue to play an important and vital part in the festival's success. Overall, the event is a day to celebrate a staple food as well as an appreciation of healthful eating and the people who make it possible. As Patrice Hurd, a finalist in the last two contests, says, the festival becomes "a technicolor view of the love and pride that Kansas wheat fields bring to the world."
 
Featured Recipe