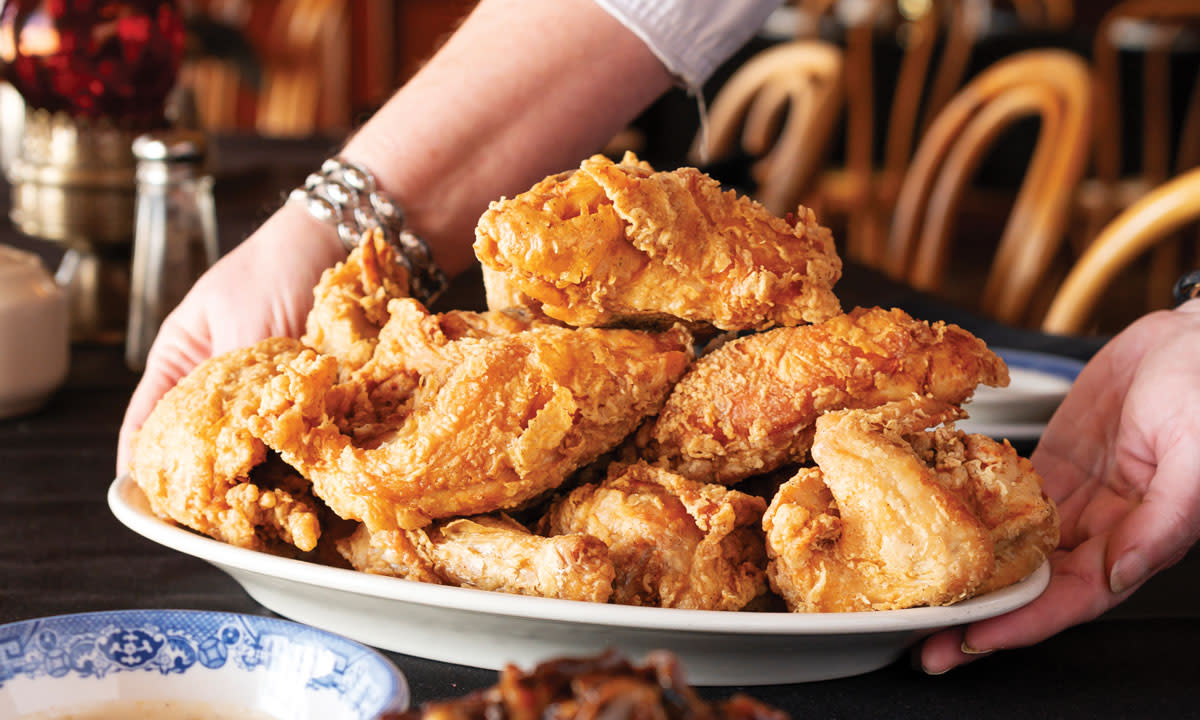 Photography by Jason Dailey  
Abilene's new Legacy Kansas restaurant builds on century-old Kansas hospitality and ranching traditions from two families
 
Editor's Note: After this article was published, family patriarch Chuck Munson passed away. Our thoughts are with the Munson family. Mr. Munson made quite an impact on several communities and Kansas. His legacy will continue to live on. 
When Deanna and Chuck Munson opened Legacy Kansas in the summer of 2022, they were combining the best traditions of two iconic restaurants—Brookville Hotel and Munson's Prime.
Brookville Hotel began serving chicken dinners in the 1870s and continued to do so when the restaurant moved to its Abilene location in 1999. For over a century, the Martin family owned and ran the restaurant. They made famous their heaping platters of original-recipe pan-fried chicken, made from scratch with all the fixings. It was the quality of this food, as well as the ambiance of the restaurant, that earned Brookville a James Beard Foundation Award in 2007.
The Junction City restaurant Munson's Prime grew from the ranch operations of the Munson family. Chuck's great-grandfather, who owned the first livery stable in Junction City, began buying land and cattle in the late 1800s. By 1924, his son, Chuck's grandfather, bought his first purebred Angus herd from Andy Schuler Sr. and walked the cattle from Schuler's ranch in the eastern part of Dickinson County (on the Geary County line) to the Munson's ranch in western Geary County. Since then, the family has continued to raise purebred Angus, and the meat they produce today is directly descended from the original herd.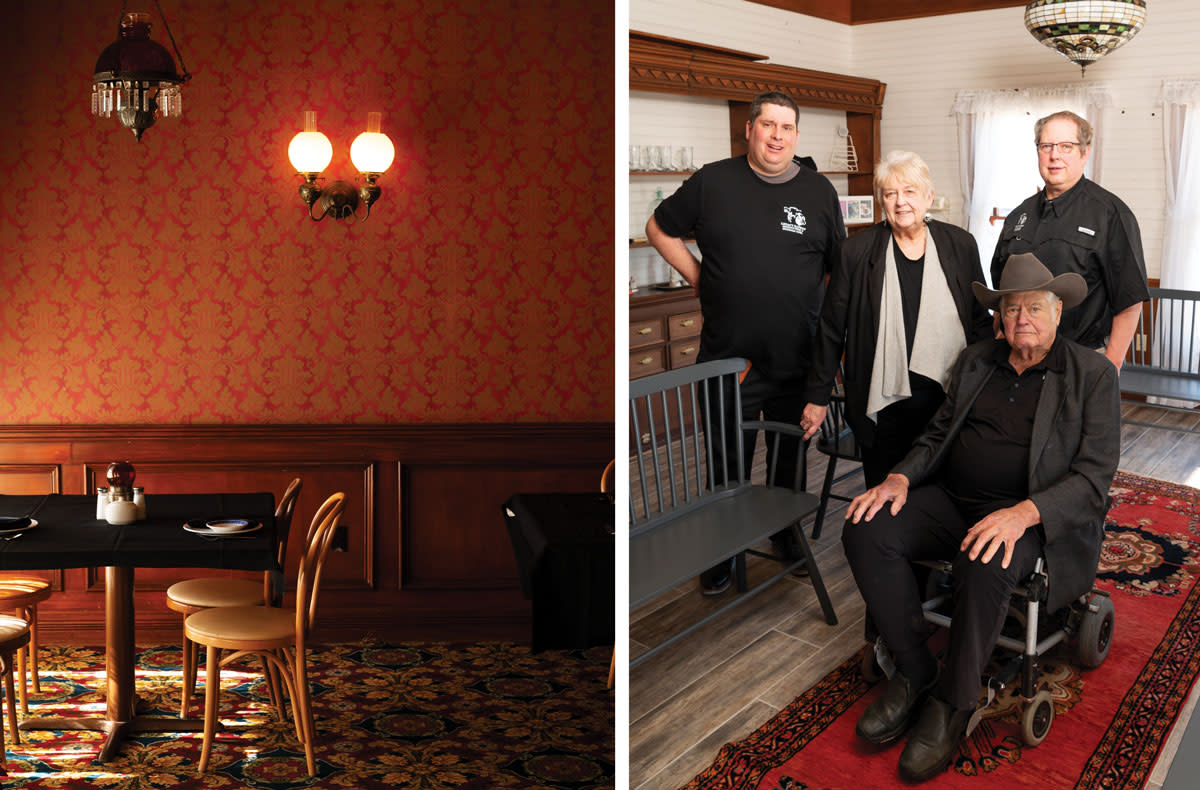 In 2013, Munson Premium Angus Beef's rib eye steak was named grand champion for grain-fed categories at the American Royal. The judges told a reporter from the Wall Street Journal that the steak could be described as "buttery, having roast notes and possessing a nice juicy finish."
Deanna says the win gave their ranch national recognition and led to numerous restaurants contacting them to place orders for steaks.
The success of their steaks also inspired the Munsons to open Munson's Prime in Junction City, where they offered a range of dishes featuring meat from their herd. In 2021, the Munsons lost their restaurant to a fire; when they looked at reopening, they realized they now had the experience and confidence to take over the Brookville Hotel, which had closed in 2020.
But taking over the Brookville meant becoming the curators of the award-winning restaurant's famous dishes.
"We began with a soft opening, testing out recipes and training our staff," Deanna says, adding that the signature pan-fried chicken is a direct continuation of Brookville's recipe, "exactly the same, cooked in lard, and with the same secrets" of the traditional method that made Brookville famous.
The Munsons have brought their own expertise to the business—which they named Legacy Kansas—including steak and beef dishes. But all meals begin with an assortment of relishes and made-from-scratch sides, including creamy coleslaw, mashed potatoes, creamed corn, biscuits and gravy, and ice cream served in old-fashioned tulip glasses. Family-style dinners are served in one of four spacious and lavishly decorated dining rooms.
Renovations are ongoing, and eventually, the establishment will have 17,000 square feet of space with a separate dining area and bar seating for a total capacity of 225 guests.
Currently, one of the most popular dining attractions is the ice cream room where diners can watch an old-style four-bucket churn crank out rich, creamy ice cream. Each White Mountain bucket can freeze five gallons of ice cream in about 18 minutes with buckets geared to run independently or as a unit.
The Munsons are also planning an on-site soda shop where guests can order ice cream, sodas and floats.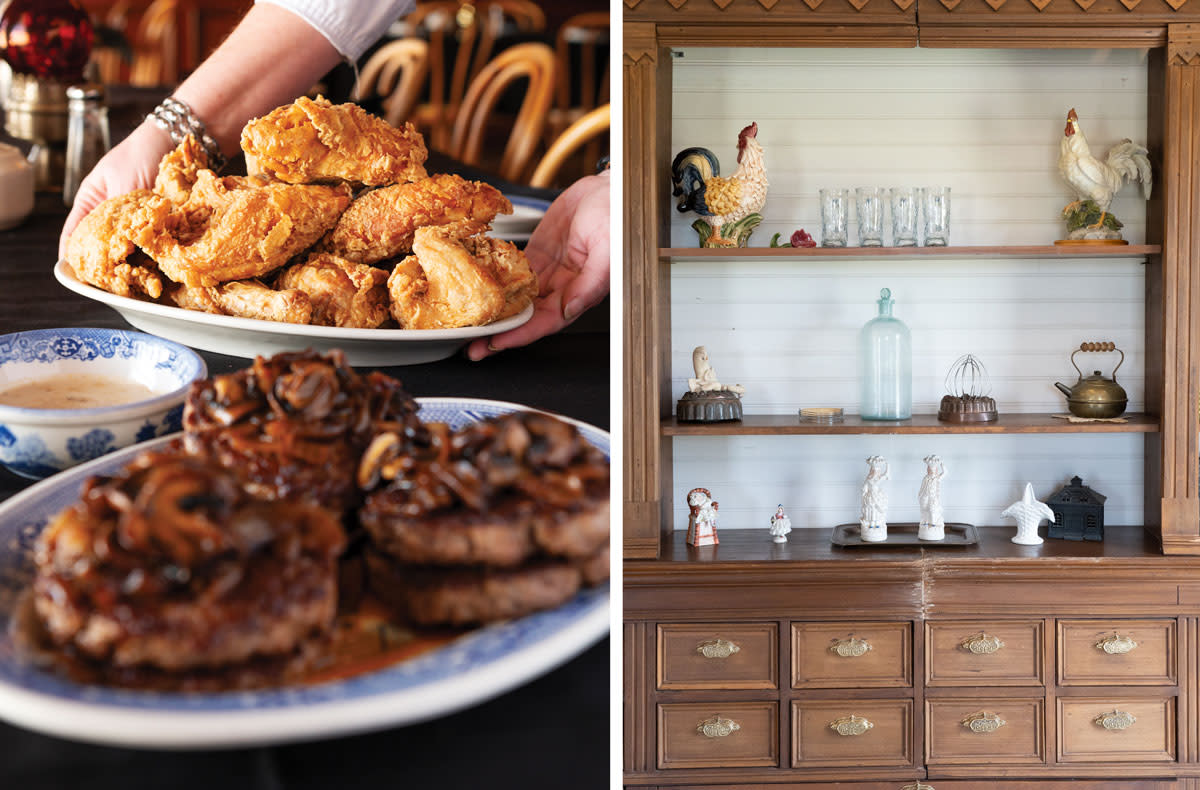 Back of the house consists of large, well-planned spaces for prep work, cooking and storage, and a walk-in refrigerator and freezer. The kitchen also includes what Deanna calls another new "toy"—a Convotherm oven that steams, roasts and smokes.
The Munsons continue adding details, finishing renovations, and hiring more staff to run at full capacity, but they are already serving guests and hosting reunions, groups and gatherings.
For the Munsons, giving new life to the Brookville offered the chance to revive a Kansas legacy and introduce even more people to steaks and other beef dishes from their ranch.
"I was up for a challenge," Deanna says. "What I have enjoyed the most about opening the restaurant is the diversity of what we must do every day and that we have an opportunity to showcase two great family traditions."
Legacy Kansas: Munson Prime & Brookville Hotel
Abilene
Hours are seasonal and expanding. Contact the restaurant or go online for the latest information.
legacykansasabilene.com | 785-200-3973