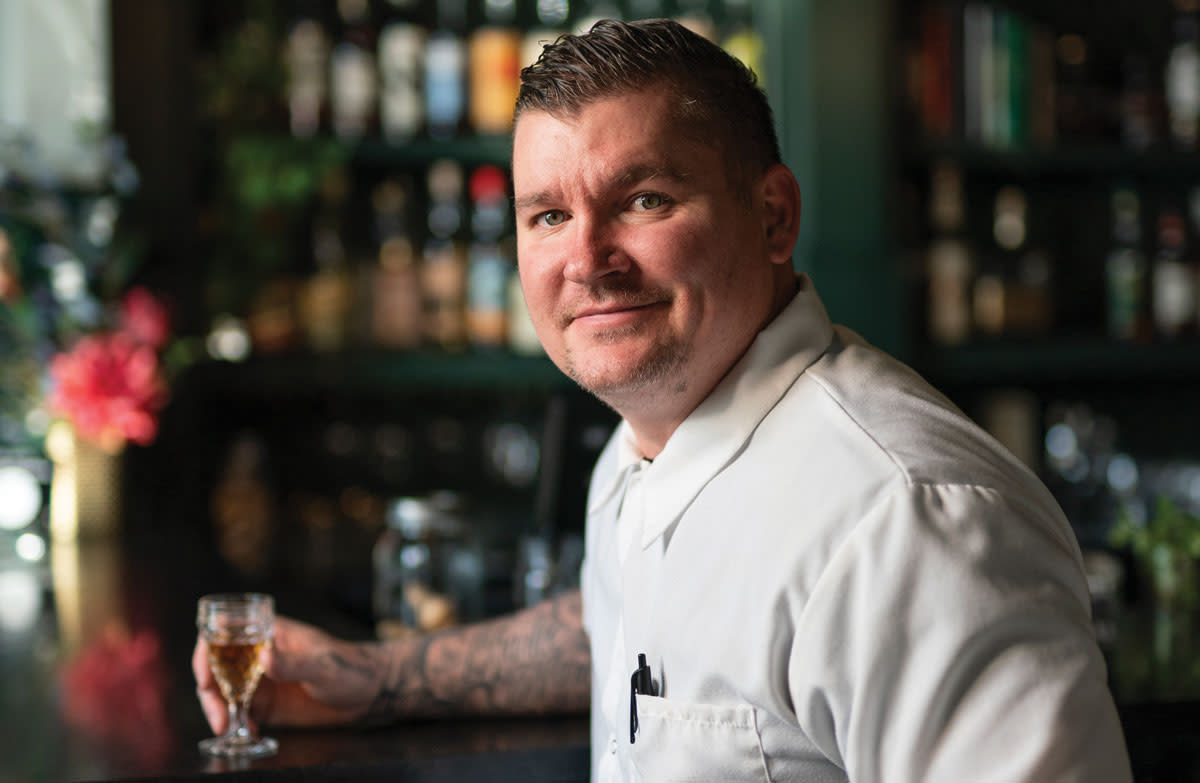 Photography by Nick Krug

Topeka restaurant owner brings fine-dining experience back to home state
With a new locally inspired menu each month, chef Adam VanDonge of The White Linen in Topeka brings contemporary French and American cuisine straight into the hands (and stomachs) of Kansans.
VanDonge, a 2023 James Beard semifinalist for Best Chef in the Midwest, has an appreciation for hospitality.
"Hospitality is the best part," VanDonge says. "It's my true love. I want to give people an unforgettable experience."
Working out of one of Topeka's oldest downtown buildings at 112 Southwest Sixth Avenue, also known as the Columbian Building, VanDonge and his wife, Kasie, partner with staff to deliver the best experiences.  
"I jumped on the opportunity, and it's taken off," VanDonge says. "The pandemic threw a wrench in things for a while, but we're now busier than ever." 
Six months ago, the VanDonges also opened a high-end cocktail bar for patrons with an expansion called The Knox Cocktail Lounge.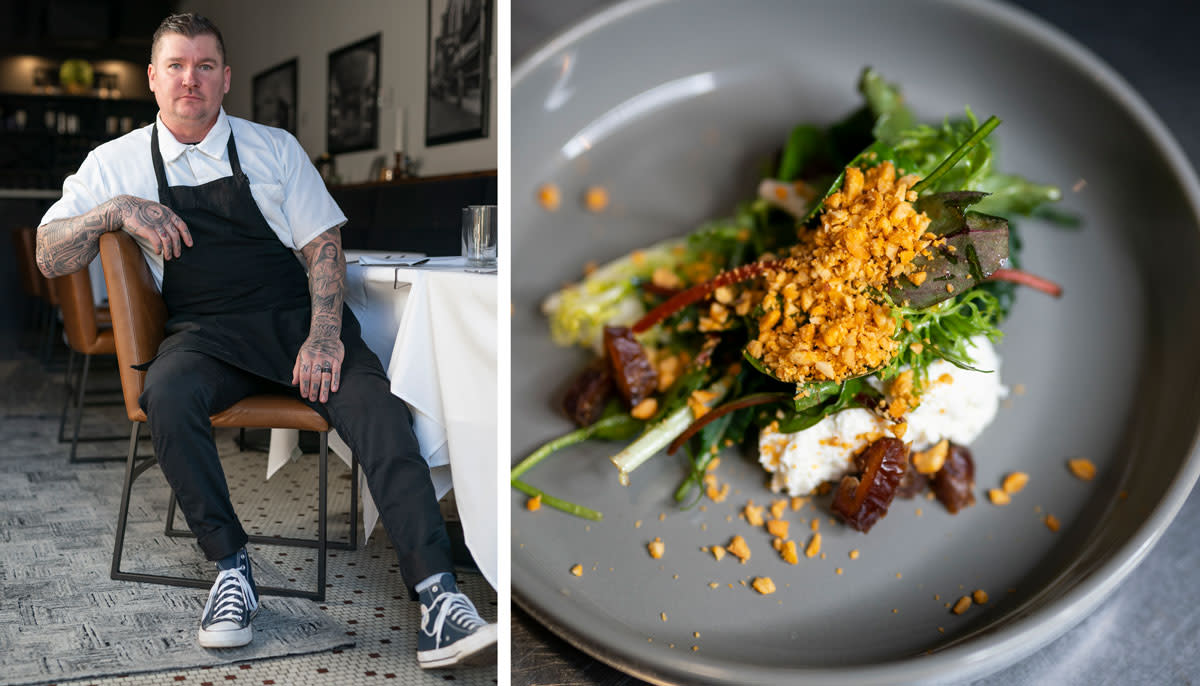 "The name came from our building, the Columbian [Building], built in 1888 as the old Knox Bank," VanDonge says. "Our logo came from the knockers on the doors. It blows my mind to think that Carry Nation was in this building back in the day."
Carry A. Nation, a women's rights activist and devout supporter of Prohibition, arrived in Topeka on January 26, 1901, according to the Kansas State Historical Society. Nation was known for her strong and controversial stance on prohibition and sought to destroy saloons across Kansas. During her visit to the capital (another stop on her anti-saloon crusade), it is believed that Nation held a secret meeting with an attorney at the Columbian Building, but was forced to flee out the back door to avoid an angry mob.
Despite all of the building's history, VanDonge struggled to choose a name that encapsulated the fine-dining restaurant.
"The name of our restaurant was one of the hardest things. I knew the chairs, table cloths and all—but the name was the last thing I could think of," VanDonge says. "My wife coined it, and as soon as she said it, I knew it was what I wanted: a clean and nice, well-known restaurant." 
Surrounding themselves with an excellent staff, the VanDonges were easily able to convey their goals and standards.
"We want to be the best in Kansas, and it all starts with my staff, who are the face of the restaurant, and folks remember them," VanDonge says. "They bring the customers back."
Gwendolynne Colgrove serves as the pastry chef on the The White Linen team.
"I came to know Adam through friends," says Colgrove, a self-taught artist. "I had my own business with wedding cakes and more, but now I'm inside a real restaurant, and it legitimized everything I worked so hard for."
Chef VanDonge and his team create monthly menus with entrees like roasted quail, creamed fennel, saffron and vanilla cream or blackened bistro filet, duck fat mashed potatoes and bone marrow au jus. 
"Collaborating with Chef Adam, I've learned new things [in order] to understand fine dining," Colgrove says. "This week, I'm making actual marshmallows. I continually get to add more to my wheelhouse." 
The dessert of the week I visited was warm cocoa soup with sweet croissant croutons, cinnamon whipped cream, house-made marshmallows and edible gold.
"We continue to grow together as we collaborate with input on the menus and to be part of the family," Colgrove says. "We all feel like we're a valid and important part of the team." 
Chef VanDonge looks forward to coming up with new menu items.
"After a month, I'm excited to flip through magazines or come up with new flavors to refresh my memories on creating the best [food for guests]," he says.
Journey to the White Linen
Time in the kitchen has always been part of Adam VanDonge's life.
"I grew up in Soldier [Kansas], on a farm, and always [worked] gardens out on the farm," VanDonge says. "[When I was] growing up, my dad always said that I'd pull up a chair to help bake, cook and can in the kitchen with my grandmother while the others went out for chores. It was embedded at a young age." 
With old singers like Nat King Cole on a record player, VanDonge emerged with a vision to share food with others. He graduated from Onaga High School in 2002, Allen County Community College in 2004 and Emporia University in general studies in 2006.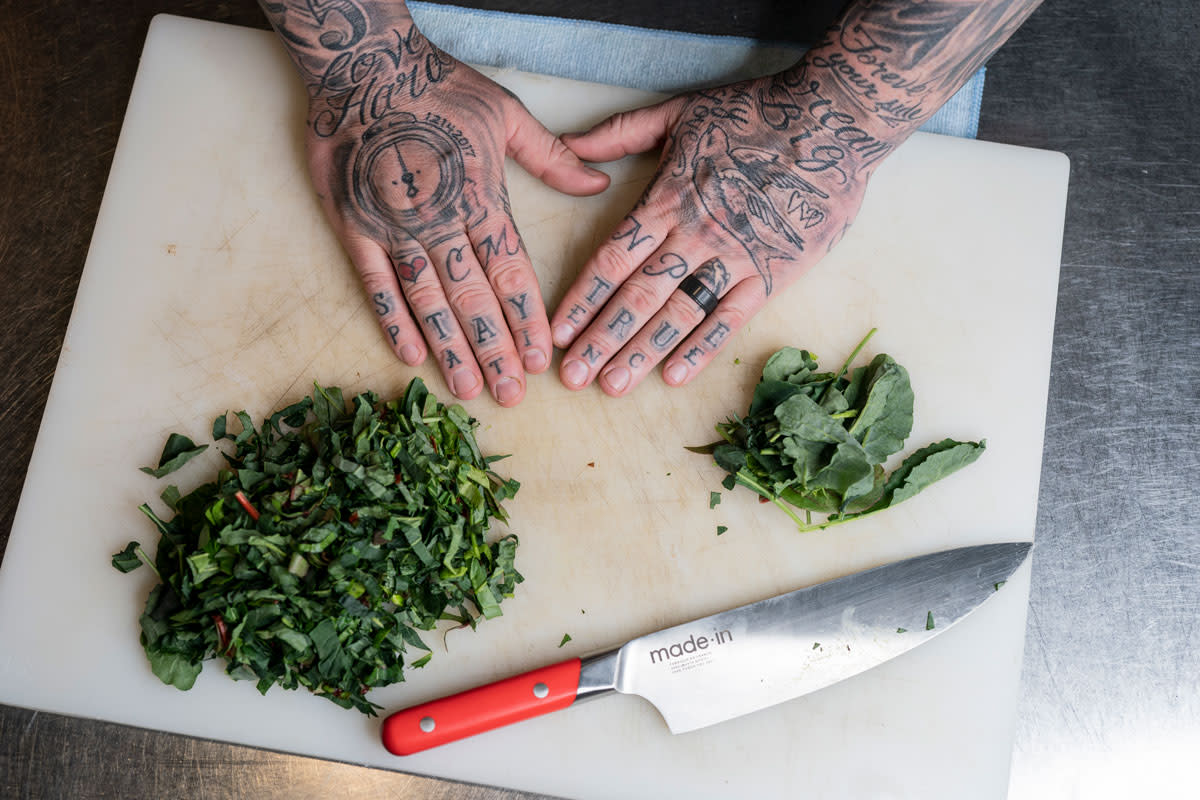 "All this time [spent in] school, I played around with food, but I had never heard about culinary school," he says. 
While working at Security Benefit in Topeka, seated in his cubicle, VanDonge learned about the Art Institutes International of Kansas City in Lenexa. 
"Four minutes after submitting my online application, I got a call to take a tour," VanDonge says. "It was a really cool school with a powerful national reputation."
He commuted to Kansas City for two years to complete the program in 2010. 
"It was a long two years, but it was awesome," he says. "It was like growing up on a farm with so much hard work from the strict discipline of the instructors."
VanDonge remembers teachers locking the door at 7:01 a.m.—a minute after class had started.
"It's one of the hardest industries out there, and the teachers taught us to have things prepped and show up on time," VanDonge says. "We got to cook everything with all sorts of [ingredients] and try new things." 
Young and eager, VanDonge initially sought a high-end job in Chicago.
"I drove to Chicago to work with one of the best restaurants for the last 20 years called Alinea," VanDonge says. "I worked for them for two days, and they offered me a job, but I declined it due to being too much like a boot camp and hardcore. I come from a small farm town, and I didn't need that every day, but I got that experience to see fine dining up close for a few nights." 
He found a better fit with his first culinary job at the Oklahoma City Quail Ridge Country Club in Oklahoma City.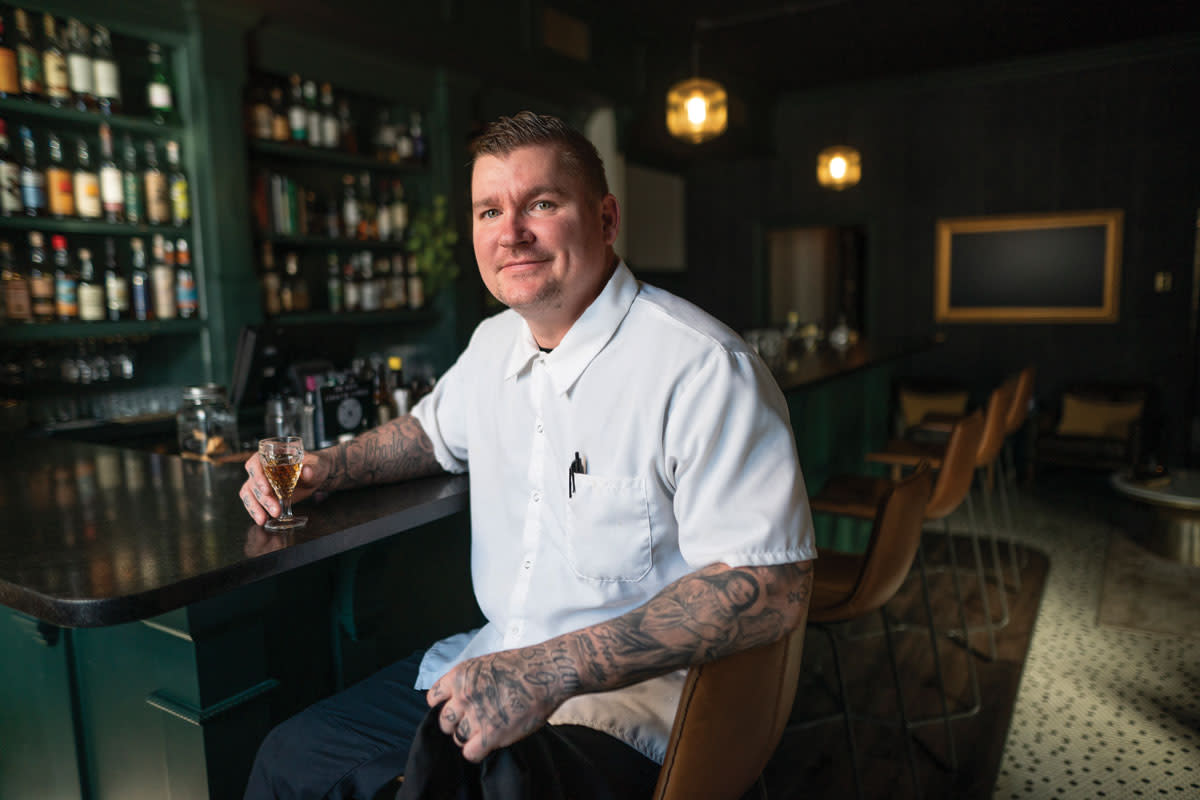 "I worked as the daytime sous chef for two years," VanDonge says. "It was common to have weddings for a thousand people and daily private events." 
However, VanDonge's dad became ill, and he felt it was finally time to return closer to home. He moved to Holton, Kansas, between his parents, who lived in Soldier and Topeka. 
"Family is the most important, so I moved back. I told myself that this was the time to start up my own thing," he says. "I opened 5th Street Sandwich Shoppe with five new sandwiches each month and new soups each week for five years."
During that time, he started doing private dinners with ten seats in the back of the sandwich shop, one weekend a month, for $55 a person. 
"I was nervous to do fine dining in a steak-and-potatoes farm town," VanDonge says. "They started to sell out faster and faster to people from Kansas City, Topeka, Lawrence and Manhattan." 
His wife, Kasie, served as the waitress at the time. He cooked and they both did the dishes. 
"For two years, it was a little extra money and made me go back to my culinary roots," VanDonge says. "People loved it. Then, my wife applied for law school at Washburn, and I really wanted to have fine dining with French cuisine in Topeka." 
At the same time, he got a call from the leader of Visit Topeka. 
"Apparently, I was the talk of Topeka, and I was like, 'Yeah!," he jokes. "Over a whole sequence of events, I found a deal on a building and started something with The White Linen." 
When it opened five years ago, the downtown scene was scarce. 
"My dad pointed out the risk of the downtown location without a lot going on in Topeka," VanDonge says. "But I told him that farmers go to sales barns to buy livestock from total strangers all the time, and they make it work. This is my whole mentality to try something in life and to know that I succeed with hard work. I have no regrets."
The White Linen
Topeka
Hours are Tuesday through Saturday, 5 p.m. to 9 p.m.
www.thewhitelinen.com | 785.350.2500
The Knox Cocktail Lounge
Hours are Tuesday through Thursday 4 p.m. to 10 p.m.,
Friday and Saturday, 4 p.m. to 12 a.m.
www.thewhitelinen.com/knox | 785.350.2500