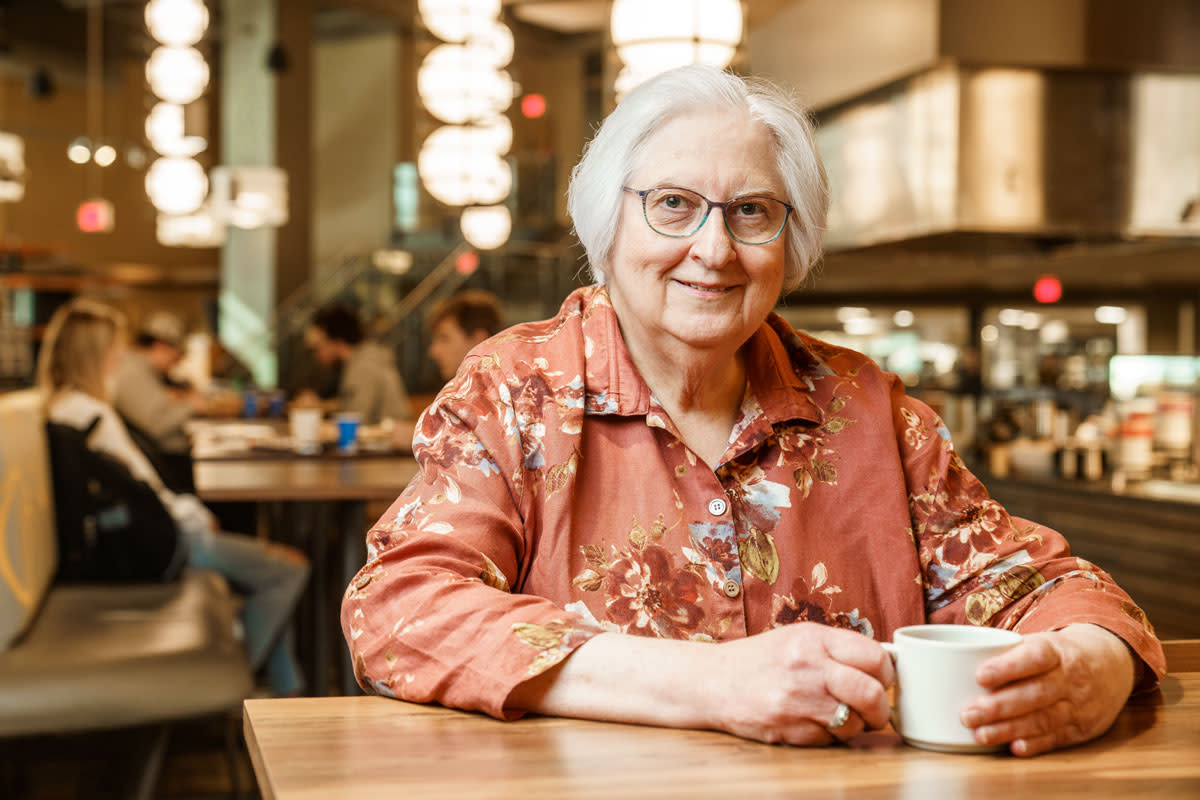 Photography by David Mayes
Kansas State University's national reputation for tasty food in pleasant settings owes much to the work of Dr. Mary Molt
An educator and culinary innovator for nearly a half-century, Dr. Mary Molt not only has amassed a collection of personal awards and distinctions but also is a driving force behind the award-winning dining halls at Kansas State University.
Thanks largely to the guidance of Molt, The Princeton Review placed K-State's campus food at number eight in the nation and number two among public schools in its 2022 edition of The Best 388 Colleges. That national ranking was five positions higher than K-State's previous position in the 2021 report.
Accolades for the dining services have also included a ranking of "Best in Kansas" in 2018 from Niche, a website that ranks schools, companies and neighborhoods. Niche's 2019 food category rankings caught the attention of Foodservice Director magazine, and K-State's dining services made their list of "The Best College Dining Program in Each State."
Molt, who works as associate director of housing and dining services, played a key role in the 2016 opening of K-State's Kramer Dining Center and in 2021 renovations of the Derby Dining Center. Both are state-of-the-art facilities that provide a wide range of offerings, from classic comfort foods and grilled options to Asian, Italian, American deli, and Southwest choices, plus a range of allergy-aware options.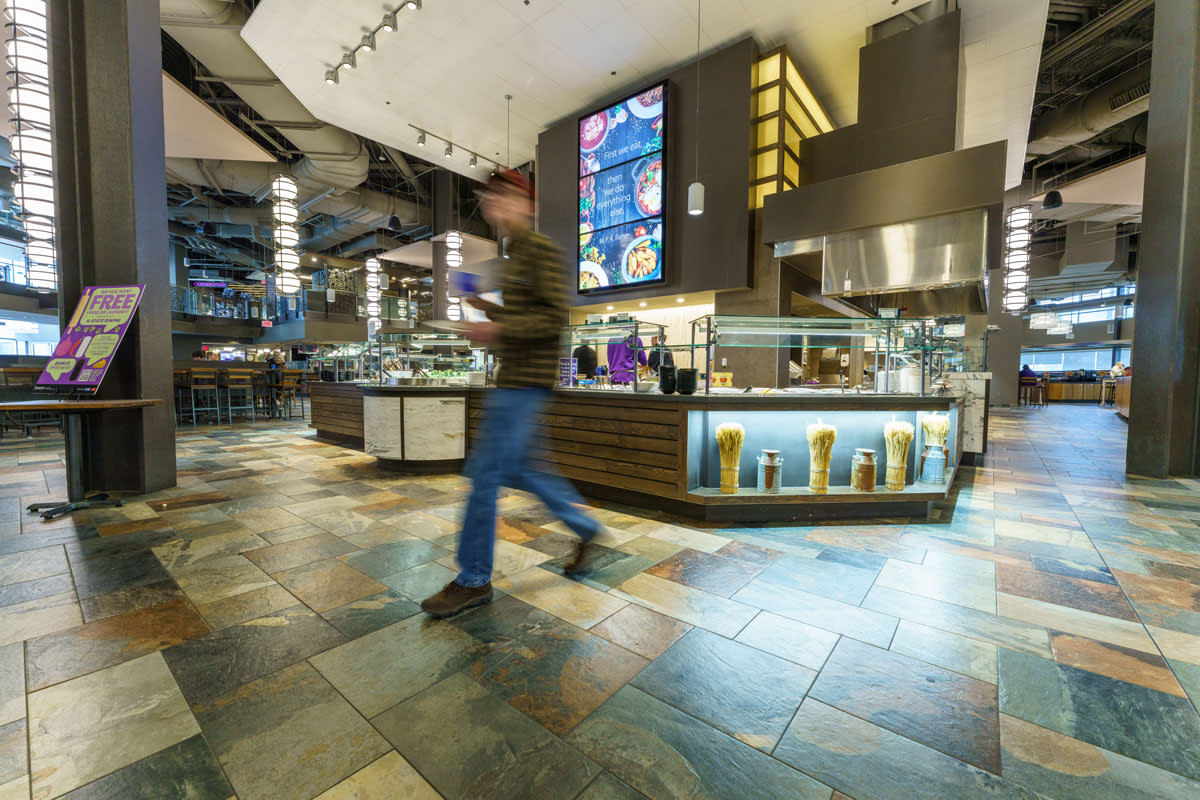 Dining halls are open all day. Molt notes, "Students on an all-you-care-to-eat plan can enjoy unlimited food anytime throughout the day, and many stop by between classes to have a quick meal, drinks, snacks or an ice cream cone."
Yes, Molt believes in ice cream, and dipped and soft-serve ice cream round out K-State's dessert options. But even with the sweets, Molt believes in innovation and sticks to her fundamental approach that preparing for large groups does not mean sacrificing quality or craft.
"Our goal for the dessert platform was to get away from the cafeteria-style trays of cake on a plate," Molt explains. The platform, supplied by a commissary bakery on Derby's first floor, features a work counter where finishing actions and just-in-time plating can happen as needed. A crepe station is one of the favorite sections of this dessert platform. Molt notes, it's "almost too popular."
Molt also takes pride in some of the more healthful food platforms, such as the allergen-aware station that is set apart with frosted glass panels and a cozy kitchen environment. "We purchase some gluten and allergen-free products and store them in refrigerators and freezers within the station," Molt says. "Students can choose what they like." Dedicated toasters, a microwave, dishes, plus a dishwasher, sinks, and other dedicated cooking equipment make this area fully contained.
This attention to detail and service has earned Molt numerous personal awards.
In 1995, Molt received the National Association of College and University Food Services' (NACUFS) highest honor, the Theodore W. Minah Award. It paid homage to her help in developing their first Professional Standards Manual, designed to help college foodservice departments follow best practices in the areas of menu management, marketing, purchasing, food safety and security, capital improvement and sustainability.
In 2012, Molt was awarded what is considered the foodservice industry's highest honor, the International Foodservice Manufacturers Association (IFMA) Gold Plate. The award recognizes exemplary and enduring contributions to the foodservice industry and supports further the value of Molt's innovative work throughout her career. She joins legends such as Wolfgang Puck and Charlie Trotter, who have also received the Gold Plate award.
Molt says she is honored to work as a teacher at K-State, where she has mentored students and taught food production management classes. "The students we teach, mentor, and help make successful," she says, "are the ones that will lead our world in the years ahead." Always a champion for students' success and aware of their need for financial aid, Mary chaired the Clark DeHaven Scholarship Board of Trustees for many years. Currently she helps select scholarship awardees for the NACUFS Foundation.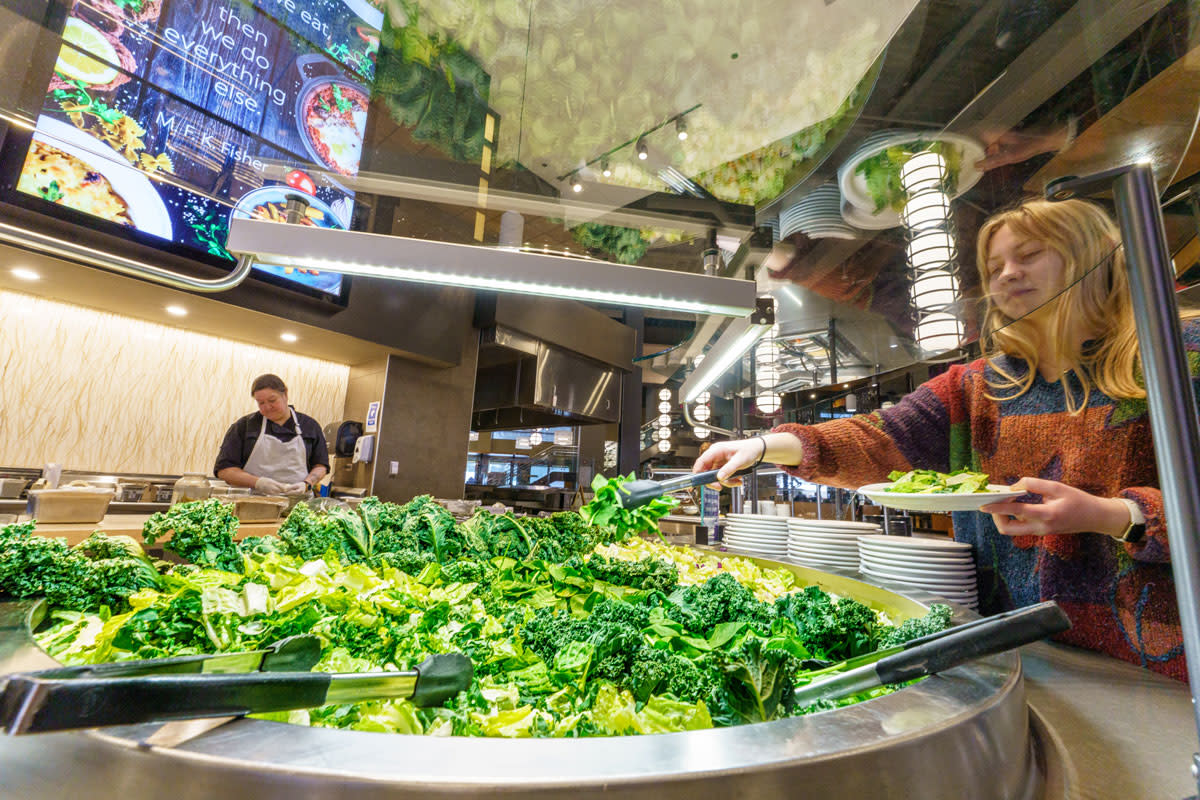 Colleagues and former students recognize the profound effect Molt has had at K-State and on their lives. Former student Nona Golledge wrote, "Mary Molt is remarkable. Her unwavering dedication to collegiate dining, commitment to excellence, and passion for the industry are unparalleled, making Mary one of the most respected women in the field. She is truly the epitome of a leader and mentor!"
Golledge, past president of the National Association of College & University Food Services and former director of KU Dining at the University of Kansas, currently works for the Bakergroup, a comprehensive foodservice consulting and design firm.
Accolades abound from across the nation for her work with the book Food for Fifty, yet another Kansas treasure. Well known among food service professionals and those who cook for crowds, this book dates to 1937. Author of the current 14th edition, Dr. Molt believes it is the oldest book in continuous print at Kansas State University that was authored by K-State faculty. Bessie Brooks West and Grace Shugart were earlier authors, and, by the 1980s, Molt's name appears as the co-author. Her name began appearing as the sole author with the 10th edition.
Considered by many the bible for quantity food production, Food for Fifty is recognized as the most comprehensive quantity food resource and can be found in church kitchens, school foodservices, long-term care facilities, hospitals, and college dining halls, as well as on the bookshelves of caterers and home cooks.
This easy-to-follow classic provides recipes and basic food production information covering all categories of food and menu planning, from appetizers through desserts. Hundreds of standardized recipes have been painstakingly designed to produce consistent and high-quality results.
Charts and tables assist cooks/managers in controlling costs by providing precise guidelines that help avoid over production and waste. For example, it takes 18 pounds of potatoes AP (as purchased) to provide 50 four-ounce serving of mashed potatoes. That same chart, listing a wide range of foods from A to Z, reveals there are 4 cups in every pound of all-purpose flour, allowing any cook to easily calculate the amount to buy for an oversized recipe of cinnamon rolls. Other charts in the book provide U.S. weights and their metric equivalents, substitutions, guides to how many relishes are needed on a relish tray, and how many appetizers guests will probably eat at a reception; there are sections on food safety, sanitation and management.
"Each new edition does add updated information and recipes that are in tune with current eating styles and preferences," Dr. Molt adds. Most notably the recent edition includes a broader base of international and ethnic cuisine as well as more plant-based and vegetarian recipes. While some recipes are removed, seasonings and methods are updated in others.
For nearly 50 years, Molt's focus has been updating and improving recipes for more healthful and more enjoyable eating in group dining situations. She's proof that quantity can also be quality—at least when you sit down at one of her tables.