Lurking off in western Kansas are two of the state's most fascinating attractions ... the rocks (as I like to call them). Igniting the scientific curiosities from within, these rock formations are some of the state's most bizarre and beautiful natural landmarks.  [[endteaser]]
As the prairie plays host, Monument Rock and Castle Rock, both just south of Interstate 70, will entertain a variety a visitors. Hikers will appreciate the varied nooks and crannies of Castle Rock, while geologists and land historians will find complexity in the Monument Rocks.
While my trek was made specifically for the site of these rocks-I was spellbound by the sheer nature of these mountainous rocks ... in Kansas.
Monument Rock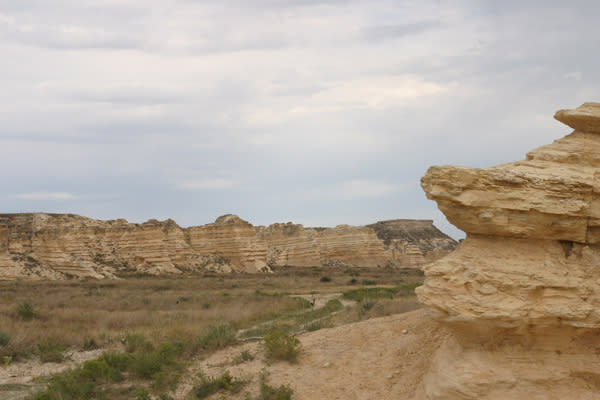 I arrived at Monument Rock as the sun was setting. While I hadn't necessarily planned it this way, it was a beautiful site. Traversing private farmland in Gove County, the rocks appear in the distance, almost as if they are tiny little peaks in the land. Nearing closer and closer, eventually on a dirt road, I was headed straight for their epicenter, which was truly a breathtaking experience.
I snagged a quick picture from afar, thinking there is no way I can explain the magnitude of these rocks. Spread the length of a football field, the chalk formations reach almost 70 feet high.
As cows moan in the background and a few visitors pass through the area, the rocks invite oohs and ahhs. Made of Niobrara Chalk, the formations were created 80 million years ago when the Kansas prairies were considered part of an inland sea. In 1968 the rocks were officially named the first National Natural Landmark in Kansas by the Department of Interior (not too shabby!).
While it might be considered a popular place to fossil hunt, many advocates warn against it to help preserve the formations. The nearby Keystone Gallery includes a fossil museum with many artifacts on display from the area (links to: www.keystonegallery.com).
Monument Rock is possibly best served for the adventure seeker who wants to be puzzled, or the young kids who will let their imagination run wild. Either way, it's worth a stop.
Castle Rock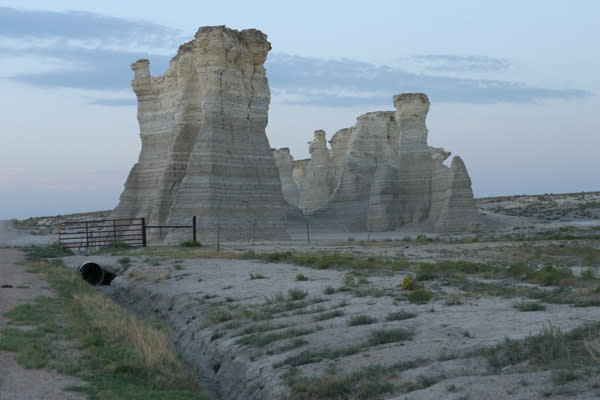 Not far to the east of Monument Rock rests another surprising chalk formation, Castle Rock, just south of Collyer. I arrived at Castle Rock as the sun was coming up and was surprised to see a few other cars poking around.
What is enjoyable about the ride to this particular landmark are the established ranches and farms; not to mention the old limestone post marking the 1865 Butterfield Overland Despatch, a historic route that crossed Kansas for the delivery of goods from Missouri to Denver.
Castle Rock and the surrounding badlands almost appear to be a break in the land, dropping off to a new expanse of prairie. Chalk formations once stood in the area as they do at Monument Rock, but as harsh weather conditions have threatened the landmark, only one tall spire remains. The chalk is also engrossed by ogallala formations (also from underwater deposits).
A small road curves around the entire location, as do a few taking visitors to the peaks (I recommend an SUV or truck here as some of the roads are underdeveloped). The best way to experience the rocks is simply by climbing all over them.
Both landmarks are ideal for hobby photographers, those interested in the geology of the land and a picnic-a perfect way to honor Kansas' rocks!
How to get there
(Directions borrowed from the Kansas Sampler Foundation, who named these rocks one of Kansas' 8 Wonders.)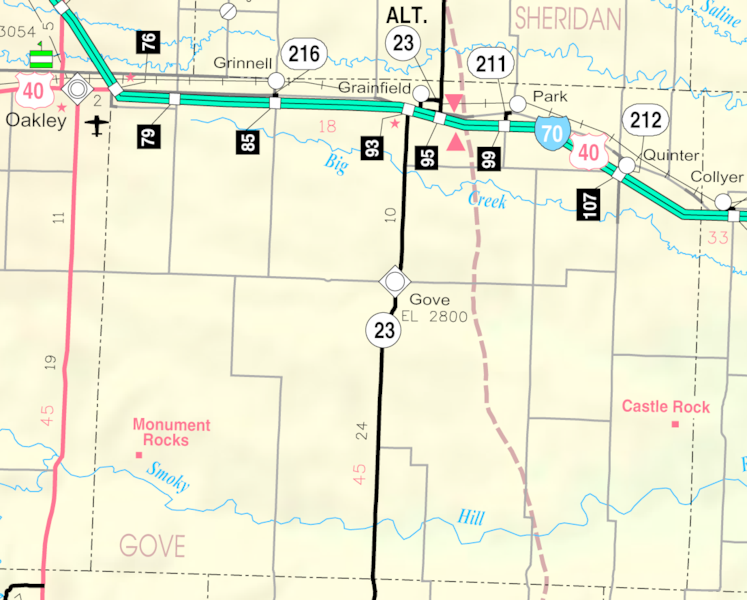 Monument Rock 20 miles south of Oakley on U.S. 83, then 4 miles east on Jayhawk Road, 3 miles south, and 1 mile east (dry weather road only). Or, 18 miles north of Scott City, east 2 miles on Dakota Road, 1 mile north, 3½ miles east, and 2½ miles north.
Castle Rock Take Interstate 70 exit 107 (Quinter and Castle Rock Road), go 15 miles south to the intersection of GO 80 and GO K, then 4 miles east to Castle Rock sign, and north across a cattle guard (dry weather road only).

Katy Ibsen is a writer and editor living in Lawrence. When she's not blogging, writing or serving her community, she's embarking on the outdoor life among Kansas' picturesque landscape.