A Faces & Places Roadie Blog  
When I set off on the Faces & Places tour to the Morton County Fair, I felt the welcome thrill of unknown territory. Okay, so I was traveling on highways through Kansas.  But I was going out there. My uncle warned me, "Keep an eye on the gas gage. Don't want to get stuck between stations." We were headed to the High Plains. My kids automatically packed their red bandanas. I threw some extra sandwiches into the cooler. This was serious.[[endteaser]]
I was especially excited because this was our last bit of summer before the new school year (for all of us), and my husband and two young boys decided to come along. We agreed on a leisurely trip that would somehow meet everyone's "travel needs" (except Charlie didn't get to stop at every historical fort). During our drive time, we'd sometimes sing, sometimes look at license plates. At one point, my younger son asked a rather complex question about a phrase he'd heard on a cartoon movie involving a panda. "Mom," he asked, "what is inner peace?" My husband and I struggled to give him examples of things that provide our individual "peace." I find peace in wide open, quiet spaces, I told him. 
The sign off Highway 56 promoting the "Underground World," of Ellinwood met with unanimous approval. Rick Casagrande, owner and tour guide, took us down into the tunnels that crisscrossed downtown Ellinwood during the late 19th and early 20th centuries. The underground businesses (at one time the tunnels housed eleven saloons), offered men traveling along the Santa Fe Trail or working the railways opportunity to spend some of their hard-earned cash.
Our next stop was Dodge City, where my kids did not want to miss the evening gunfight at Boot Hill. After driving along Wyatt Earp Boulevard and reading the restaurant signs, my attention was solely on our next meal. The cashier at Boot Hill recommended Tacos Jalisco, and we took her advice. My husband and I taught school in Mexico years ago, and I've learned to associate the smell of a particular, common brand of cleaning product with amazing authentic food. This sounds strange, but when I walk in the door of a restaurant and I'm greeted by smells of grilled meat, garlic and synthetic gardenias, I'm happy. Tacos Jalisco met my specs. I lost myself in a gordita filled with marinated pork. We shared strawberry paletas, Mexican popsicles, for dessert.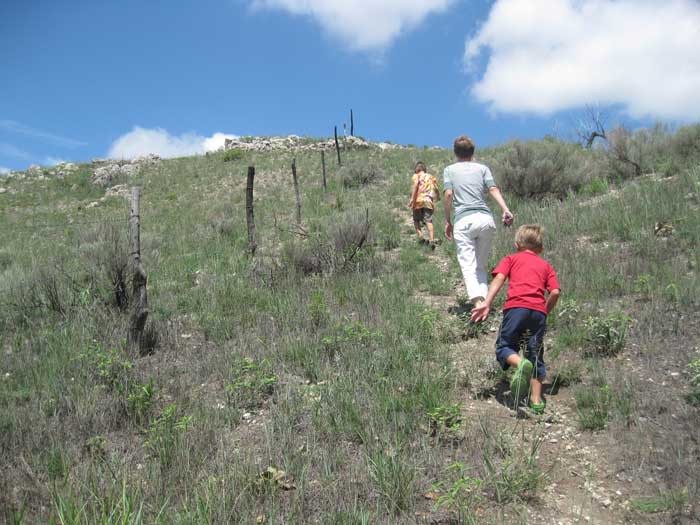 We woke to raindrops on an unseasonably cool, cloudy day with two kids ready to hit the Elkhart fairgrounds. Traci Bitner and a great group of fair board members gave us a warm welcome. Traci said laughingly "We won't apologize for the rain!" Certainly, for this area impacted by drought conditions, the inches are a blessing. As Elkhart native Taylor Rankin explained to me later, rainfall is critical to farmers and ranchers, and the effects of the drought have been far-reaching. Residents pointed us to the nearby Cimarron River, which was flowing for the first time in 14 years. We drove out to the river and celebrated the brown water and the green grass just like locals.
I am always impressed by the kindness and generosity of the people I meet on F&P tours, and Elkhart was no exception. Myrna Barnes, a local historian, shared a particular story that helps demonstrate that point. In a letter to the editor published in 1988, professor Jerry Hough from Duke University relates a conversation he had with a German Ambassador who had passed through Elkhart on his way to a POW camp in Colorado:
"When the train stopped in Elkhart, a group of people were on the station platform.  One came over to the window that was opened a few inches and asked who the passengers were.  He was told that these were German POWs; the group looked suspicious and went away.  The Germans thought this was just the result of anti-German propaganda, but then suddenly the group came back with coffee and things to eat and passed them through the window."
From Elkhart we drove to Ulysses to spend the night. Cruising through downtown, my husband spotted the colorful marquee of "The Movies," a local cinema, and we made plans to catch the evening movie. We arrived with very firm directives to try the popcorn, and as we made our way past the entryway, we approached an impossible popcorn line (which, in hindsight, was part of the appeal.) We had a fantastic time taking in the retro décor, the wiggling, giggling kids, and the thrill of a packed theater in a Kansas town on a warm summer night. The popcorn was amazing. My husband claims he saw the butter in a slow cooker, drizzled on the corn with a soup ladle.
If you've ever driven through southwestern Kansas, you probably know you can find space there. In my mind, space defined this tour. While my kids napped during the long stretches, I took in the vast expanses of unseasonable, recently rain-soaked green. Interrupted occasionally by historical markers or small town cafes, I concentrated on the progression from flint hills, to crop lands to rolling prairie. From county to county the view was never the same - but equally breathtaking. I certainly didn't expect this road trip meditation, but I suppose you could say I found inner peace on the way to Elkhart.

Jessica is a teacher, librarian and mom who lives in Holton. She loves all things summertime: Gardening, lazy days at the lake, farmers' markets, and family vacations. Some of her favorite Kansas places include the Art Lab at Washburn University, the Topeka Shawnee County Public Library, the Konza Prairie and Main Street in Newton. She joined the 2013 Faces & Places Tour because it is an exciting opportunity to explore and write about her home state - and drive a really cool van.