Head west to a land of craggy canyons, towering rock formations and sprawling sand dunes. Bring your hiking shoes—or a dune buggy—and explore.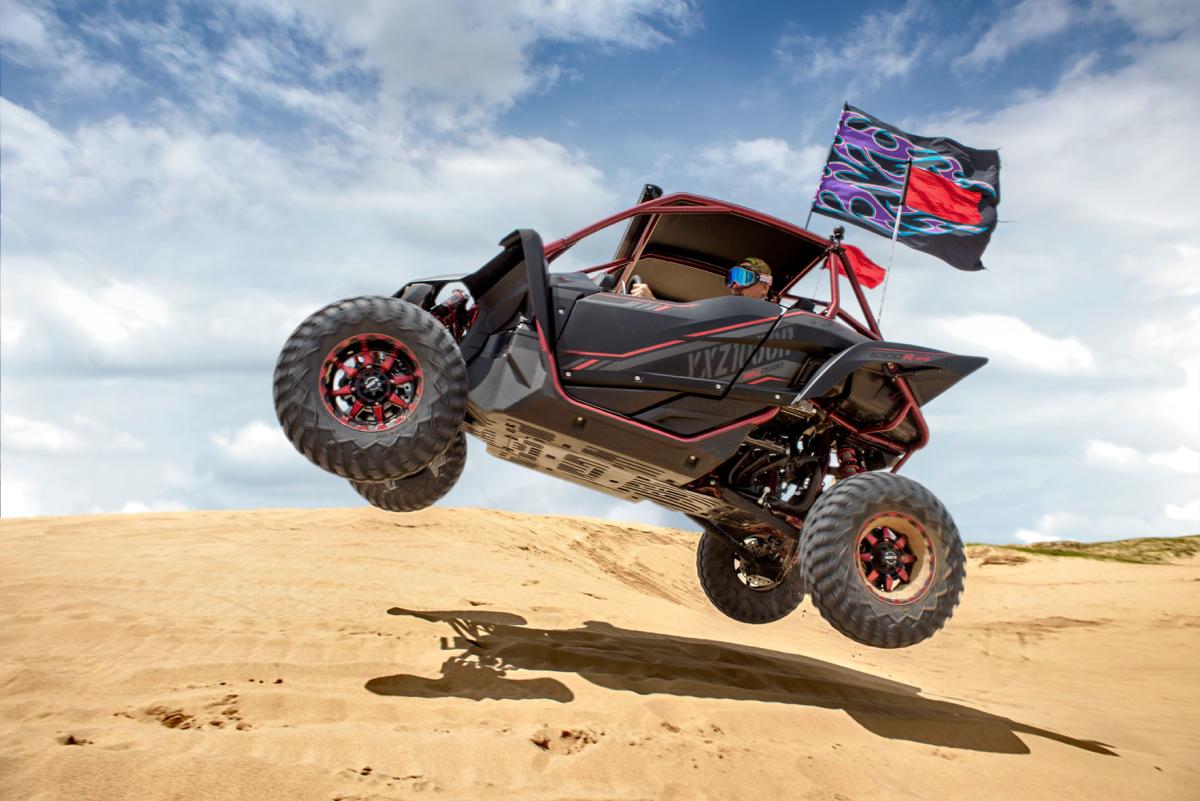 Credit: Doug Stremel
Most people wouldn't expect 1,300 acres of sand dunes to sit within sight of grain elevators, with cattle ranches dominating much of the landscape. But that's what makes it all the more epic. Opened in 2007 as the nation's first new public sand park in more than 45 years, this roller-coaster playground features more than 10 miles of sandy paths for owners of ATVs and dune buggies (no rentals). During the summer season, riders get huge air-time on the hills and reach speeds exceeding 60 mph as they snake through the course, which includes plenty of open areas for freestyling. The city-owned property also offers camping and fishing, with a stocked pond of catfish and trout.
PLAN A GETAWAY If the sand has you feeling coastal, head to the local Black Bison Pub for a platter of beer-battered cod fillets, fantail shrimp and calamari. Things get downright tropical at Parrot Cove Water Park in Garden City (50 miles east on US-400). Faux palm trees dot the indoor playground of multistory water slides with names like Screamin' Tsunami and Pineapple Express. The Sandsage Bison Range and Wildlife Area (a half-mile south of Garden City) offers the chance to see bison in a setting of native prairie. Call ahead to schedule a tour.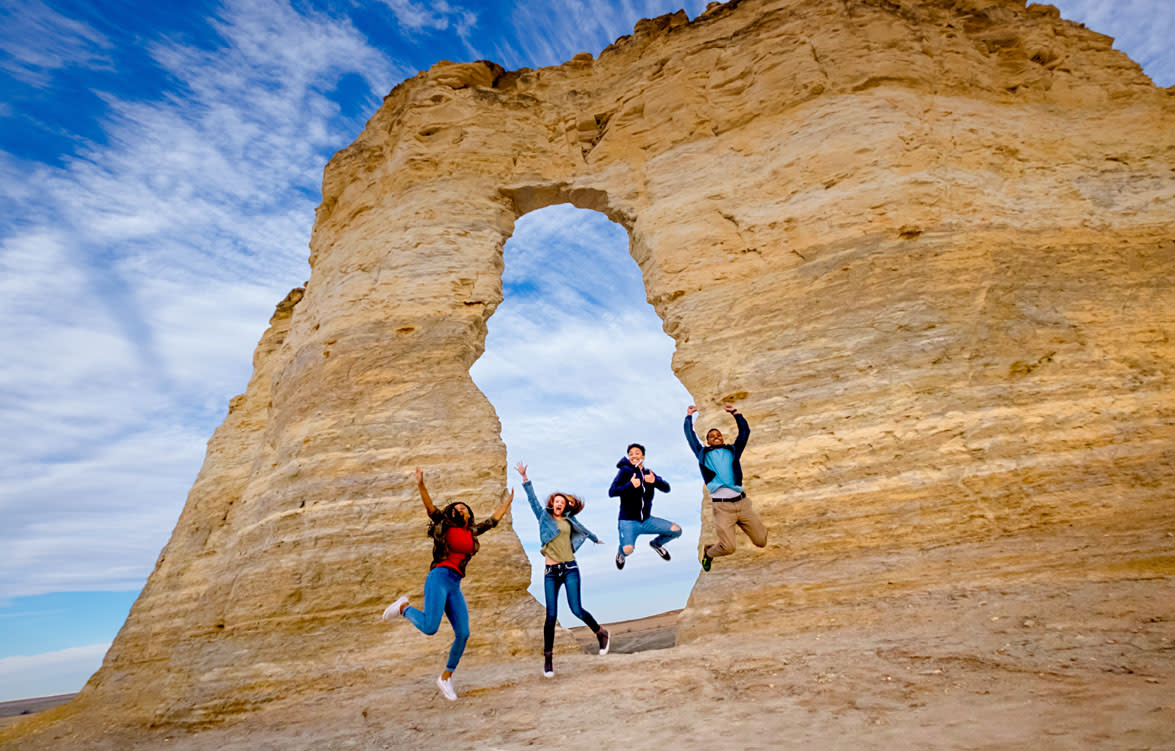 Credit: KDWPT
You can thank wind, water and river ice erosion for creating these Seuss-like Niobrara Chalk formations south of Interstate-70 between Quinter and Oakley. The star attraction at Castle Rock south of Quinter is a turret-like tower that juts from the plains. Use the GPS to navigate a 90-minute maze of country roads to Monument Rocks, a striking pair of formations across the road from each other. Visitors love the creative photography angles through open gaps in the rocks—plus the occasional photobomb from a cow.
PLAN A GETAWAY Learn about western Kansas' rich geologic, Native American and pioneer histories at El Quartelejo Museum in Scott City (28 miles southwest of Monument Rocks). The connected Jerry Thomas Gallery and Collection displays hundreds of original Western and wildlife paintings by the Kansas native. Experience perfect waterfront vistas at Historic Lake Scott State Park, featured as one of the country's 50 must-see state parks by National Geographic.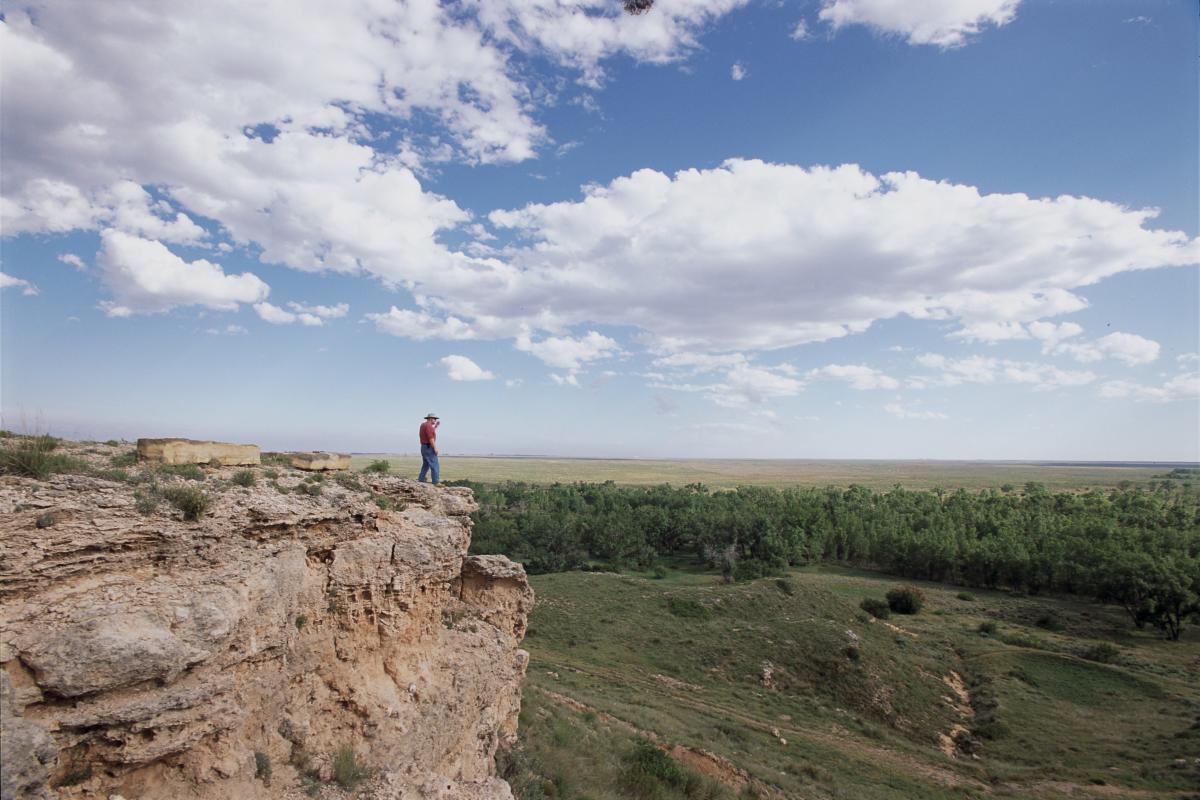 Standing atop Point of Rocks, hikers can sense—and see—the human history that passed through the extreme southwest corner of the state. A well-worn path cutting through the prairie is a remnant of thousands of covered wagons that traveled along the fabled Santa Fe Trail. Limestone posts mark the original route for hikers, and a mowed path parallels the trail for mountain bikers. Drivers can follow the 50-mile Sea of Grass tour that passes original trail ruts, a prairie-dog town and a scenic overlook on the sweeping 108,000-acre grassland.
PLAN A GETAWAY With the "Pancake Hub of the Universe" situated 40 miles east of the grasslands, you can bet on breakfast in Liberal. Start at Pancake House, known for its varieties of flapjacks, such as an apple variation with cinnamon glaze. Then explore the International Pancake Day Hall of Fame, chronicling the history of the town's annual February celebration that involves a race and flapjack-flipping rivalry with the British town of Olney. The Mid-America Air Museum showcases more than 100 aircraft inside a hangar near downtown. Travel back in time at the Coronado Museum, home to artifacts from Liberal's early days, including a masterfully restored antique organ.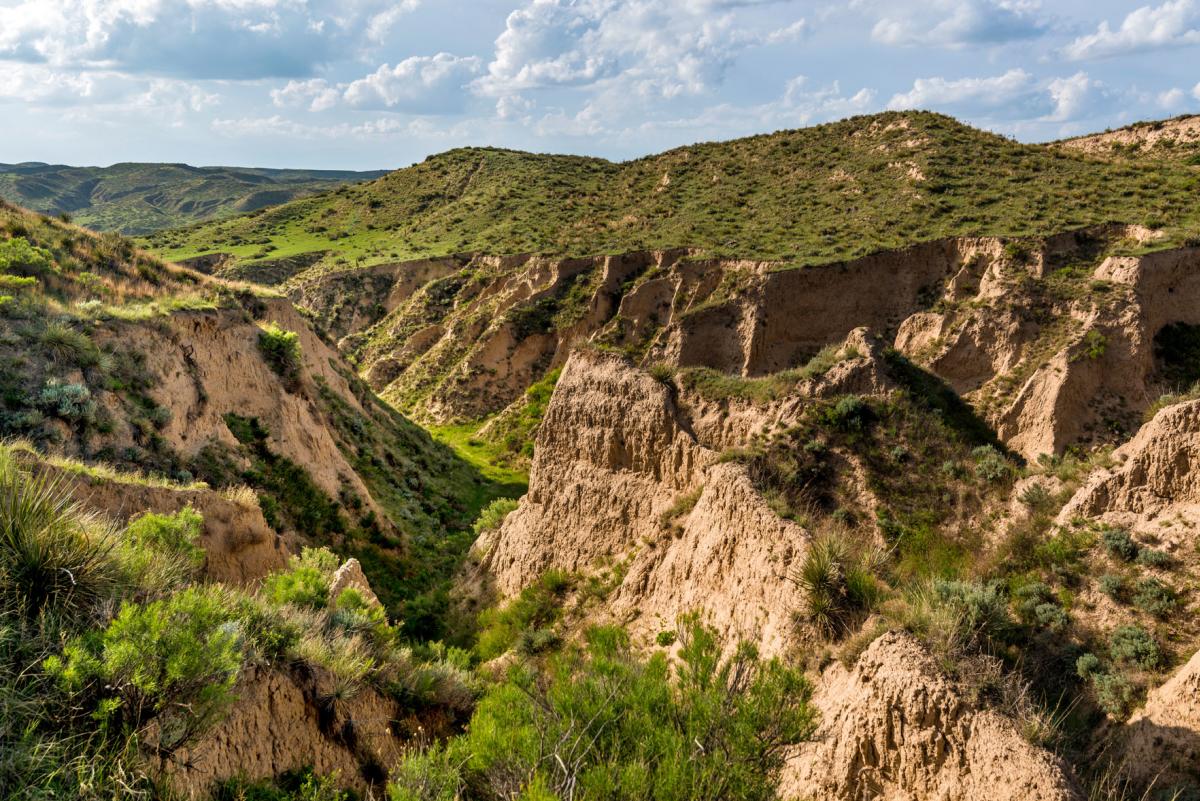 Credit: KDWPT
Aptly named for creating a dramatic "break" formed during the ice age in an otherwise rolling landscape, these yucca-studded gorges and gullies sprawl for more than 30 miles in the far northwestern reaches of the state. Pick up a self-guided driving tour brochure at the Sherman County Convention and Visitors Bureau in Goodland and head 35 miles north on K-27 to start your expedition. Numbered signs correspond with stops mentioned in the brochure. While you need special permission to hike within the breaks, stop at Lookout Point for the most Instagrammable views. On dry days (it gets muddy when it rains), take a nearby stretch of marked dirt roads to the Three Corners and look for the concrete footings that mark the intersection of Kansas, Nebraska and Colorado.
PLAN A GETAWAY The Arikaree Breaks tour begins a few miles north of St. Francis, a small town packed with character. Add a shot of "Whoop-Ass Cream" to your cup of joe at Fresh Seven Coffee, where baristas work inside a retrofitted trailer. The St. Francis Motorcycle Museum displays more than 100 vintage motorcycles, including one of only two known 1902 Orient bikes in the world. Fuel up at Big Ed's, home to a 30-ounce prime rib on Fridays and Saturdays in nearby Bird City. The Spencer House Bed and Breakfast in St. Francis features themed rooms and five-star breakfasts served on fine china.
COMING SOON: Little Jerusalem, Logan County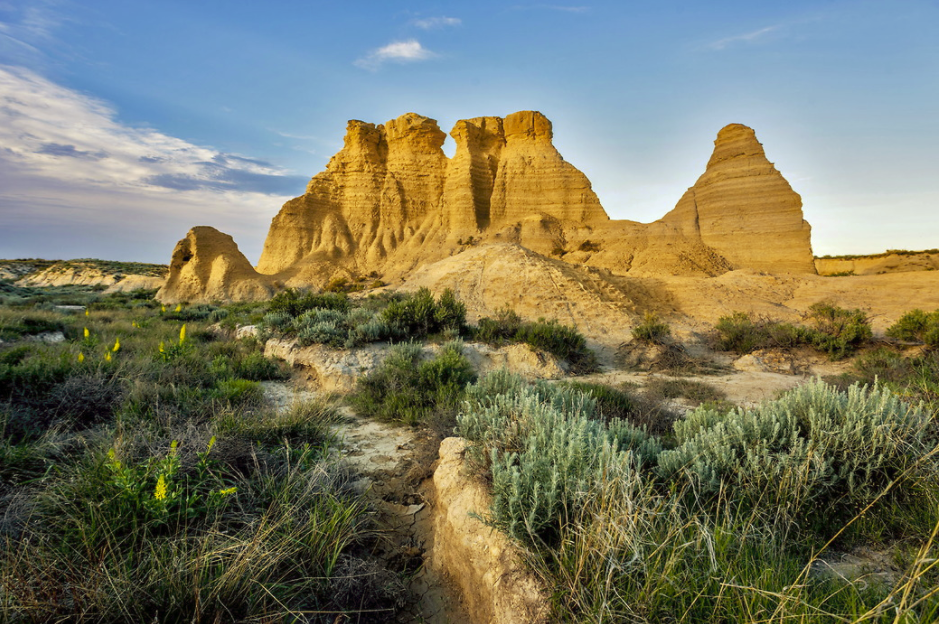 Credit: Doug Stremel
The state's largest Niobrara Chalk formation hides like a giant treasure in a valley near US-83 between Scott City and Oakley. This mile-long stretch of 100-foot-tall spires and cliffs at The Nature Conservancy's Smoky Valley Ranch will eventually be open to the public, with trails that beg for you to use the panorama setting on your camera. Meanwhile, explore two grass and dirt trails on the west side of the historically rich property (it's seen the likes of Wild Bill Hickok, "Buffalo Bill" Cody and more than 100 families of African-American settlers). A 5-mile loop trail passes a buffalo jump used by Native Americans (bison were reintroduced to the area in 2000).
Plot your Western adventure with the interactive Map Explorer, and check out the 2018 Kansas Official Travel Guide for more marvels across the state.