A Wabaunsee County couple prepares old-style meals for modern-day ranch hands
The Old West comes alive as Geff Dawson tends the campfire and his wife, Dawn, chops vegetables and stirs up cornbread on the worktable of their chuckwagon. Clad in cowboy regalia and working with iron pots and pans, the duo's cooking is a throwback to the way things were done in the late 1800s when cattle were being moved from Texas to Kansas.
According to the Dawsons, the mobile chuckwagon can be seen as a forerunner of today's food truck. A practical and efficient way to feed the cowboys, it was the heart and soul of late 19th-century cattle drives. In those times, the cook had to be self-reliant, resourceful, flexible, creative and practical. "I've worked all aspects of ranching and cattle work—and chuckwagon cooking is the hardest job in the outfit," says Geff. "The chuckwagon cook would put in the most hours. He would be up working before the cowboys got up in the morning and he would stay up cleaning after they went to bed."
The original chuckwagon meals mostly featured basic trail cuisine—sourdough biscuits, beans, beef and occasional fresh garden vegetables acquired from homesteaders. Dawn explains that their chuckwagon meals include these traditional dishes but also incorporate contemporary flair. "Biscuits and gravy are favorites, but we also prepare eggs and burritos for breakfast," she says. Stews, grilled meats and Dutch oven desserts are dinnertime favorites, and recently they've been experimenting with hickory-smoked meatloaf and smoked salsa.
The Dawsons have served these meals to wranglers in the Flint Hills, cowboy poets at the National Cowboy Poetry Rodeo and guests at private parties. Always up for an adventure, the couple have even bartended a wedding from one of their chuckwagons. The couple also perform original cowboy tunes, with Geff playing guitar and Dawn playing bass.
 Chuckwagon cooking fits right into the litany of the Dawsons' Western pursuits. They are both ranchers and cowboys at heart. Dawn is also a co-host with the Better Horses Radio Show out of Topeka. In 2012, Geff was inducted into the Kansas Cowboy Hall of Fame, and in 2009 he won two championships at the National Cowboy Poetry Rodeo, the Best of the West and the Shoot-Out Champion. They are both accomplished musicians, and their Western music, poetry and comedy routine regularly earns them invitations to perform throughout the Midwest. Branson, Missouri, is a frequent destination, and the Dawsons recently performed at Silver Dollar City's Salute to the Great American Cowboy. They have been featured performers at the Story Circle, held after the main concert during Symphony in the Flint Hills, and they travel throughout the year doing private parties, theater shows, cowboy festivals and livestock events.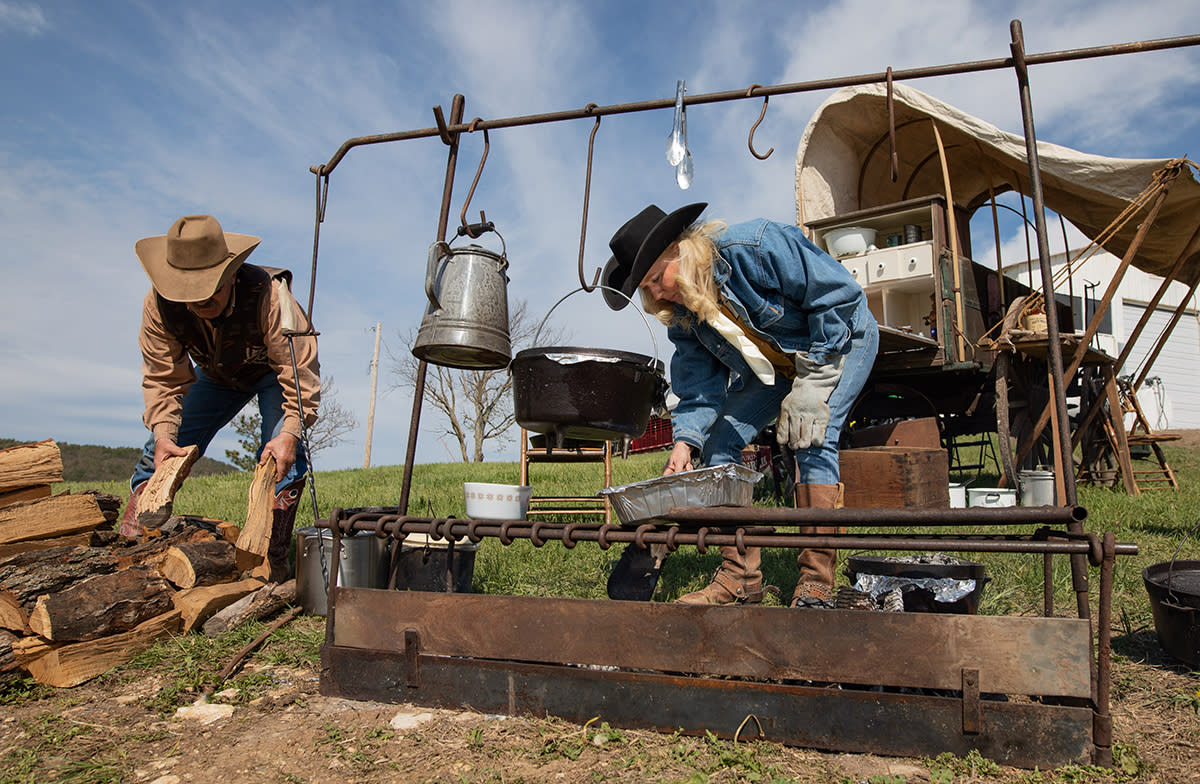 The couple now own three chuckwagons that they have either restored or rebuilt. Those projects, in turn, led to the addition of several other wagon projects housed at the Dawson's 2 Bar D Ranch north of Alma, Kansas. When ready to convert a wagon into a chuckwagon, Geff uses Charles Goodnight's original plans with a few custom additions to meet modern needs. He points out that Goodnight, a cattle rancher, built the first chuck box in 1866. Prior to that time, a cowboy's daily food provisions included what he could carry in his saddlebags. Understanding that a cowboy could best withstand the rigors of the trail on a full stomach and knowing that a trail drive could last up to five months, Goodnight added a box filled with cooking utensils and supplies to the rear of an army wagon. By adding a few other essentials, he created a mobile food wagon that was soon emulated by other trail bosses. Eventually, companies started selling chuckwagons, but Geff points out that cattle drives and chuckwagons of the Old West did not last long, just about 20 years. "However, today there are still big ranches that use Goodnight-inspired chuckwagons to feed their cowboys," he says.
Dawson's chuckwagons also attract attention at parades, horse and trade shows and other Western-themed events. During the 2017 Symphony in the Flint Hills, hosted by John and Mary McDonald on their Deer Horn Ranch, Geff and Dawn guided one of their chuckwagons pulled by a powerful team of draft black Percherons. Following a breathtaking re-creation of an original longhorn cattle drive across the tall grass prairie, it was a sight to behold.
Dawn jokes that Geff was born in the wrong century since the Old West inspires about everything he does. But he contends, "I think there is a little bit of cowboy in all of us." While chuckwagons have become a business sideline, the underlying reason for the Dawsons' enthusiasm is best expressed by Geff. "It is a way to preserve the Western heritage we all dream about."
 
More Stories You'll Enjoy