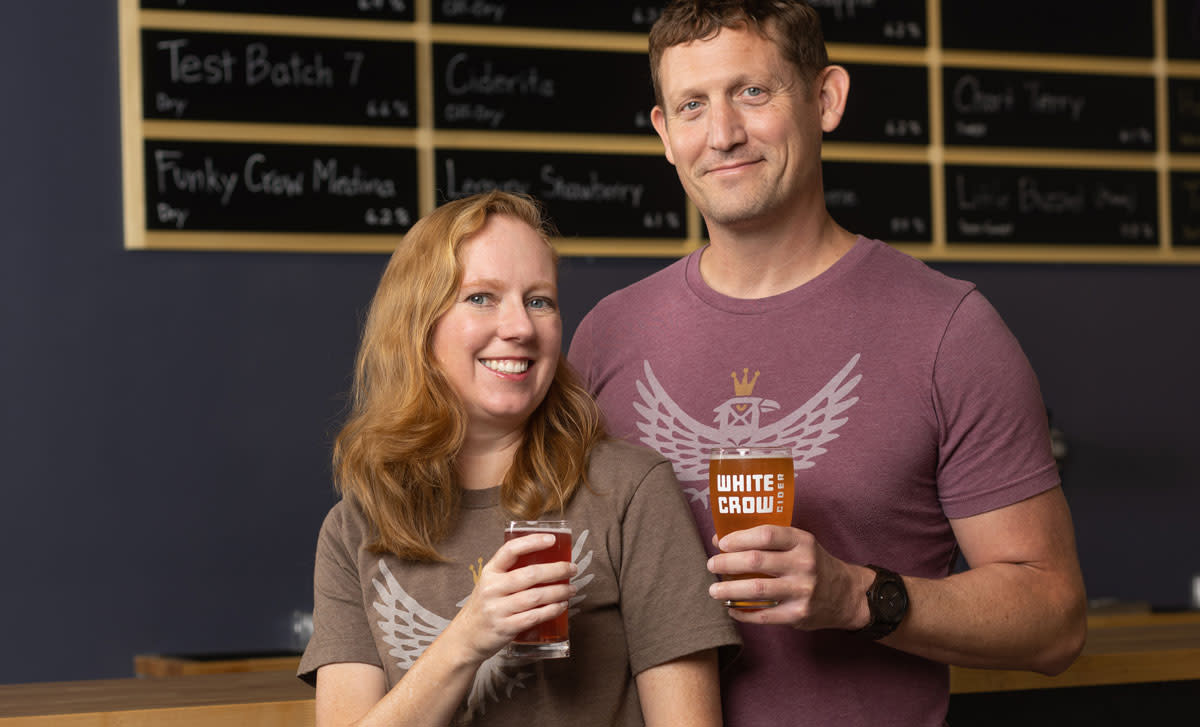 Photography by Aaron Patton
Kansas farms and cider masters perfect the taste of a traditional drink
Kenneth and Denise Gardner developed a love for dry hard cider while spending a summer in England. When they couldn't find similar dry cider after returning home, the couple purchased a one-gallon cider-making kit that planted the seed for their resulting business, White Crow Cider Company in Wichita.
"All the cider over there is much drier," Denise says of their experience sampling ciders in England. "We were going, 'Hey, these are actually pretty good, and you can drink more than one of them and not feel terrible afterward.'"
Like wine made from fermented grape juice, hard cider is apple juice that has gone through a fermentation process in which its sugars have turned into alcohol. Also like wine, there is a sweetness scale of dry, off-dry, semi-sweet and sweet.
Kenneth says most Kansans only have access to commercial cider varieties on the sweeter side.
"You can't really drink many of them at one time because they are so saturated with sugar," he says. "I'll have half a glass and I'm done with it, I don't want any more."
The couple's goal is to make their ciders sessionable, meaning they are suitable for drinking over an extended period of time, in small batches using fresh-pressed apple juice mostly from Kansas orchards.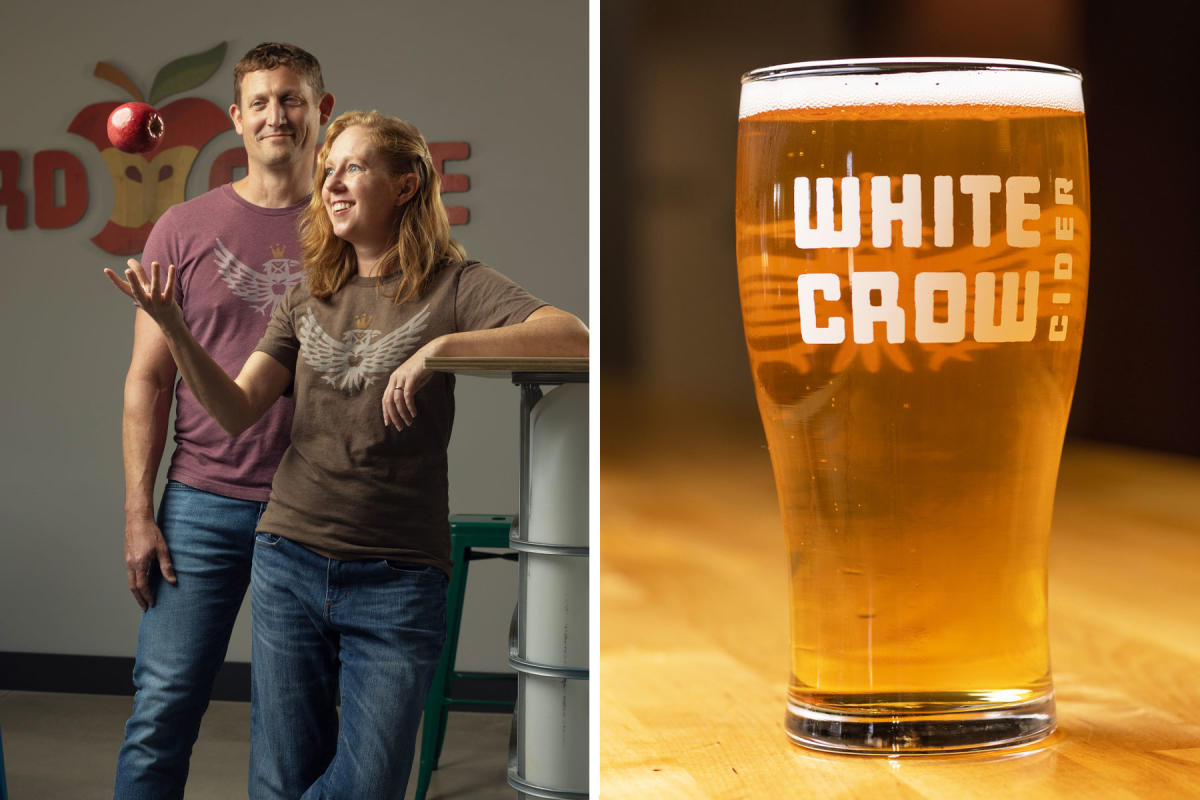 "We do make ciders that range from dry to sweet although most people seem to think the sweet are not as sweet as other brands," Kenneth says.
Denise adds unusual flavors to the sweeter ciders.
"I'll do a tart cherry cider or a hibiscus lime cider that is sweet," she says. "Most of the sweet ones you get in here will be something different you can't get somewhere else."
Their Hibiscus Lime Cider is popular year-round, while Cinnamon Oak is well-liked in autumn and a Chai tea version is trendy in the winter.
For the classic dry version, Kenneth suggests a variety that closely resembles the type of cider that inspired their journey.
"Our Discord is just a plain dry; it's like a light apple wine," Kenneth says.
whitecrowcider.com  |  316.202.8191
Dave and Dani Craft Cider
Manhattan
In their Tasting Room at Liquid Art Winery in Manhattan, Dave and Dani Tegtmeier have built a cider tap bar that serves pints of cold cider from a converted—but still playable—upright piano. On tap are the couple's Dave and Dani Craft Cider experimental flavors such as Mango Chili or Blueberry Lemonade. Bottled ciders available at the winery and in retail liquor stores across Kansas include Apple and Apple Pie, and seasonal Bourbon-Barrel Cherry, Cranberry Hopped, and Cranberry Almond flavors. All are made from real ingredients blended into the base after fermentation, are 6.2% to 6.5% ABV, naturally gluten free, celiac friendly, and produced with minimal sugar.
davedaniciders.com | liquidartwinery.com
785.370.8025
Meadowlark Farm Orchard and Cidery
Rose Hill
After picking your own fruit, sip on a bottle of cold, lightly carbonated hard apple cider produced by Meadowlark Farm Orchard and Cidery, a 35-acre farm near Rose Hill. Choose from a sweet hard cider with lots of apple flavor named Meadowlark Red, the semi-dry and crisp, subtle apple-flavored Meadowlark Gold, or the very dry, citric Meadow Hopper. Or try Meadowlark Peach, a hard cider blended with peach wine crafted from the orchard's peaches. The farm's store, open year round with hours varying with the seasons, sells jams and salsa alongside fresh vegetables and fruits such as apples, pumpkins, peaches and strawberries. Every Saturday night from the end of July through October features Orchard Music.
316.518.8907