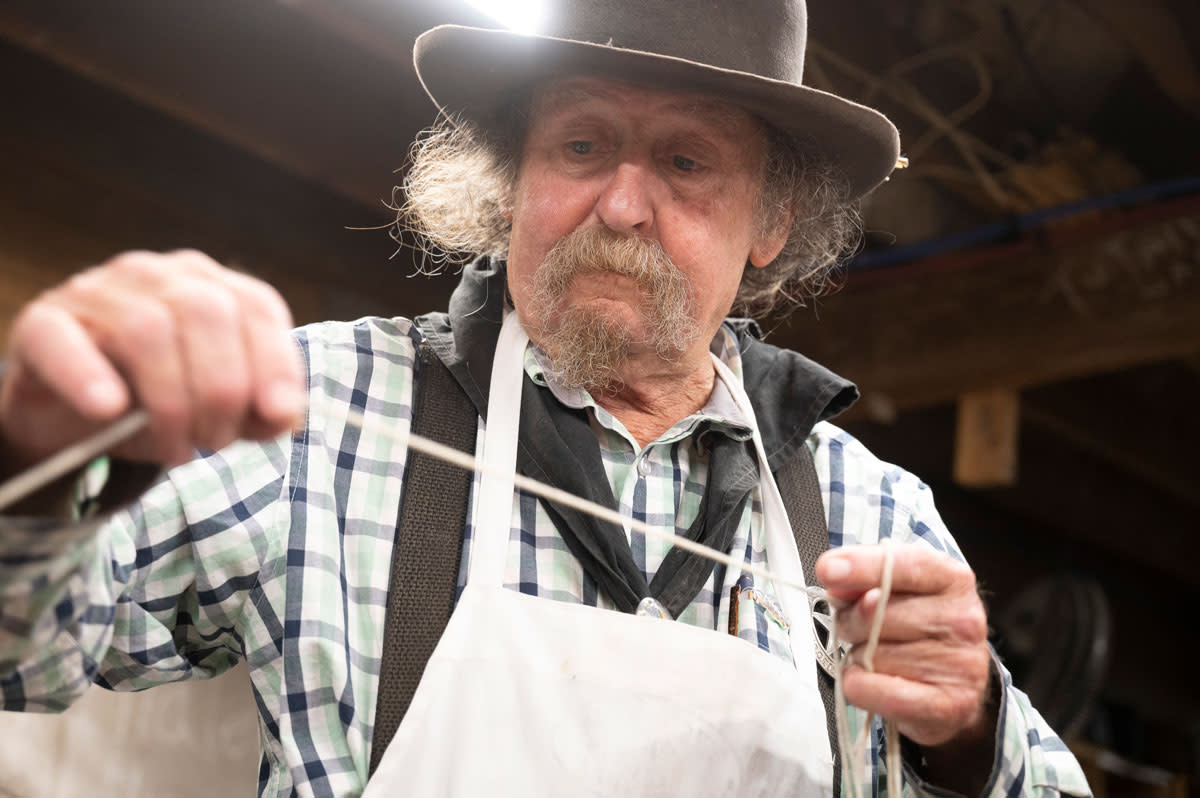 If you plan to visit Lil Grizz or Joy (who goes by "Mizz Grizz"), you are instructed to just come on in the front door and stomp on the floor a few times. That is because they spend most of their time working in the basement and can't hear you knocking at the door. One of them will come to the bottom of the stairs and invite you to come on down.
This basement is where all the haberdashery occurs. For more than 50 years, Lil Grizz has been creating felt hats, most in Western style, though also fedoras and customized varieties. Over the years, he has gathered and perfected his collection of old-school tools that could have been used at any point in the last two centuries and continue to serve him well.
The only electrical tools of his trade are support items—the overhead lights and a computer for communicating with clients and for updating Lil Grizz's social media accounts, including his sassy Instagram account where he might demonstrate how to shape the brim of a hat one day and how to dance like Mick Jagger on another. But, ultimately, the focus comes back to the pride in his pre-industrial craftwork.
"We don't use any mechanized tools here," Grizz proudly explains. "The shears are manual, the water is heated over our gas furnace's burners; flat irons rather than electrical irons are used to shape the hat brims. Even the finished stitching is done by hand," he adds.
Lil Grizz says his fascination hats began at an unexpected moment, but one that will probably make sense to most Boomers who grew up around a television set in America of the 1950s. While watching Captain Kangaroo, Grizz became fascinated with the Captain's hat rack that sat in the background, and the fact that the Captain or his guests could transform themselves or their world simply by putting on one of the hats from that rack. That might have just remained a childhood fascination if he hadn't begun riding for his high school's rodeo team in Shongaloo, Louisiana, and also began working part-time in a Western clothing and gear store whose owner dabbled in hatmaking. Soon, Lil Grizz—who had developed an interest in Western history after seeing the early photographs of Matthew Brady—gave the craft a try as well.
Grizz estimates he has made over 10,000 hats in his half-century of work. Though he worked in the lumber business and has oil field experience, he has always been interested in hats and considers hat construction his true calling. Once he began to earn enough money from selling them directly to clients, he focused all his work on them and has shipped his handmade designs to every continent except Africa and Antarctica.
New Almelo, a Norton County town of less than 200 in the state's northwest pocket, might seem like an unlikely place for a global fashion designer and distributor, but it's been home for Lil Grizz ever since he relocated from Hill City (a short half-hour drive to the southeast) eight years ago. Here, he finishes approximately one hat a day, working beside Mizz Grizz and their advanced apprentice Maudina Palmer, who goes by the trade name of Lander Red.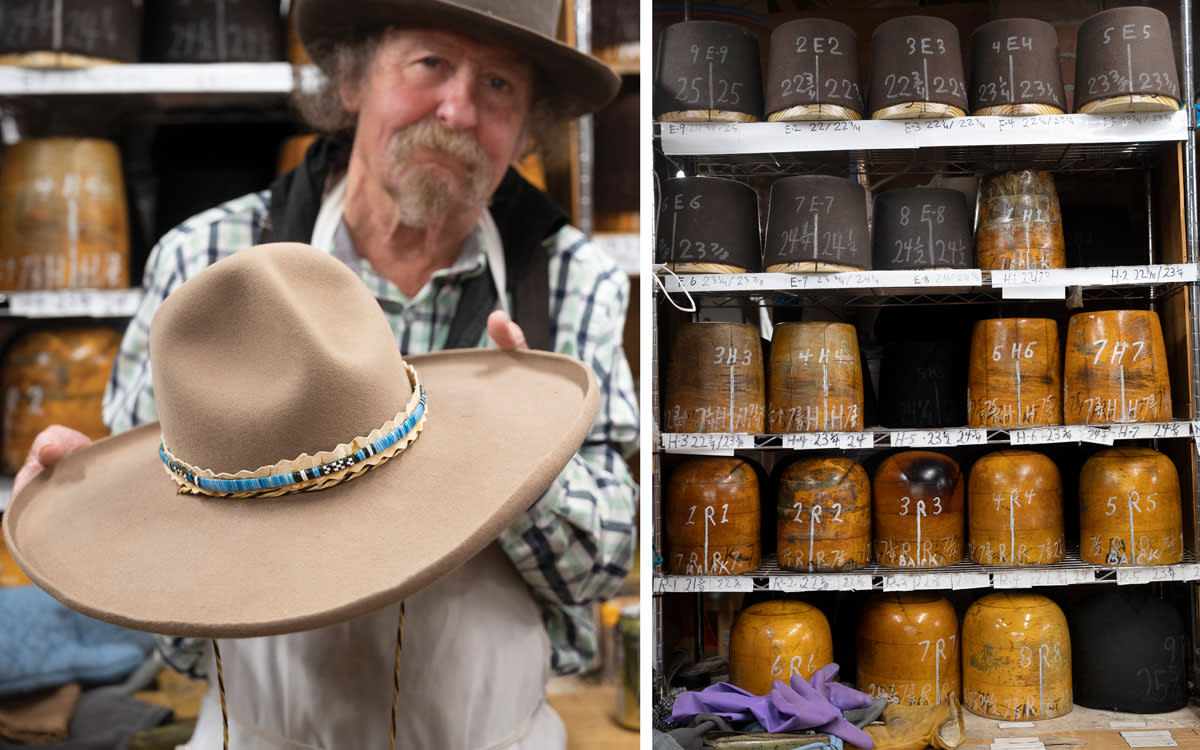 The rural location hasn't kept Lil Grizz from reaching his clients, including global names such as Whoopi Goldberg, Nicholas Cage, and Patrick Gorman. These stars, like all Grizz's clients, receive hats measured to fit their heads, including extra room for hair preferences. Goldberg's hat, for example, was one of the largest Grizz made because it was designed to be worn comfortably over her hairstyle at the time, thick dreadlocks. 
While individual film stars have placed orders for hats, sometimes Hollywood calls in one large order. Recently, Lil Grizz completed a batch of hats for the 2022 Nicolas Cage film, Butcher's Crossing. Based on the novel of the same name by John Williams, the film is set in the early 1870s and begins and ends in a small Kansas community at the edge of the fading Western frontier.
"We did hats for all of the main characters and their doubles," Joy explains.
Being able to create hats that would be authentic to the time and place is an important aspect of Lil Grizz's work and a reason he also has a client base among historical reenactors who attend events such as mountain man rendezvous and festivals.
"The majority of our hats are worn by working cowboys and other outdoor workers. Some of the hats are purchased for the fashion conscious, but mostly they are used by folks needing good head covering," Grizz notes. And these customers add up. "At any given time, we will have 30–50 hats in the queue, being stretched, trimmed, formed and conditioned," Grizz explains.
Lil Grizz creates a variety of styles, most of which can be described as variations of cowboy hats, mountain man hats, derbies, or historical models. But he has created and continues to create customized variations.
"There's a lot of leeway in what we can do with a hat," says Lander Red, "as long as we have a reference photo for the hat, we can create it; or people can send in examples and say they want a crown that looks like that, a brim that looks like this and so forth."
Whatever the style, the process cannot be rushed. Shaping the felt mass into a hat requires repeated stretching, pounding, and crimping, as well as applying copious amounts of steam obtained by covering the hats with hot-water-drenched towels and applying additional heat from heavy irons and elbow grease. Between these steps, the felt hats have to rest, dry, and absorb the new shapes that have been applied to them.
"Usually we have an 8–10 week turnaround time from when we receive the order until we ship out the final product," Grizz adds. 
When finished, hats are sometimes taken to festivals or living history events such as Wild West Days at Cowtown near Wichita, but the majority are sold online. In addition, Grizz has put together a two-week course in hat making skills that is teased on his YouTube channel.  The course explains the techniques used in making the hats out of felt blanks. Mizz Grizz says that during the pandemic, many new hatmakers got their start with these videos and some, such as Amy Margerax of Malaysia, have gone on to start new careers as advanced hatmakers after being inspired by Lil Grizz.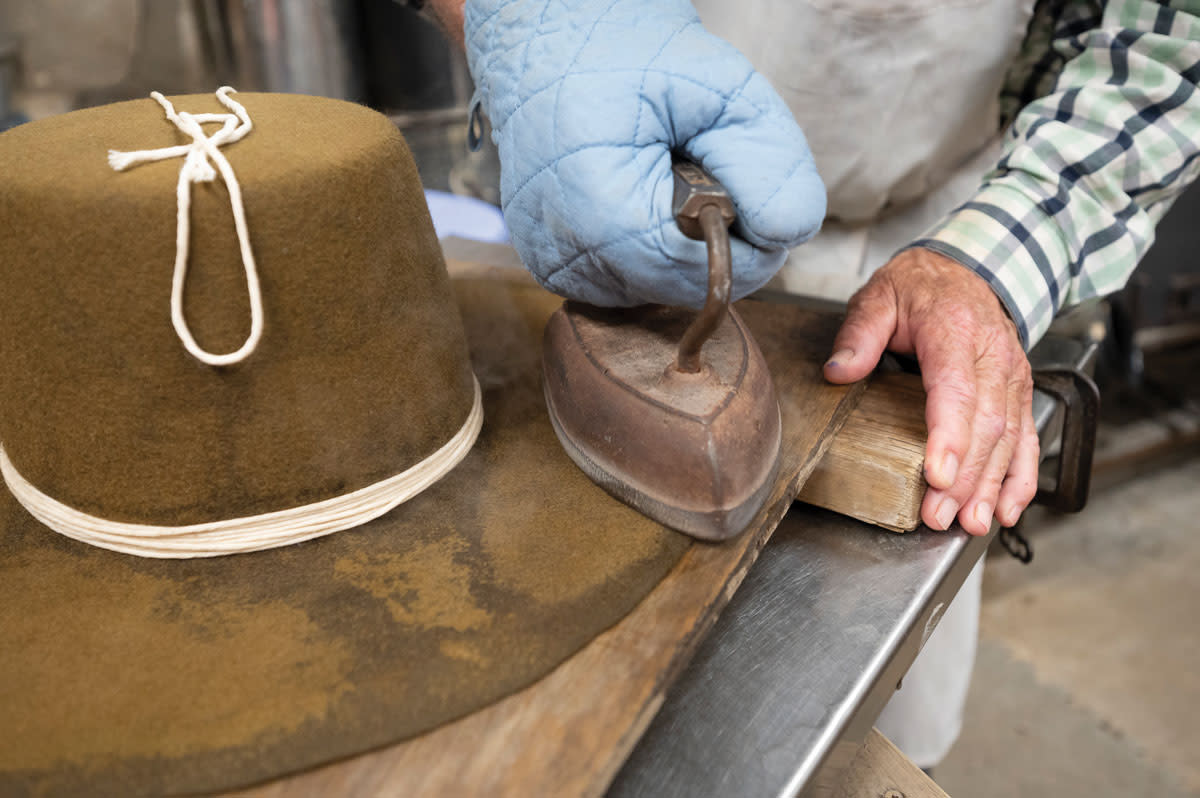 But back in the basement studio of the Grizz place, the pace continues with a sharp focus on one hat at a time, well, with a break every now and then to put a new Lil Grizz dance jam up on TikTok. It's all in a day's work for one of the world's top historically authentic hatmakers.
The Captain & the Cowboy
Lil Grizz says he developed a love for hats competing in rodeos and working at a Western school as a high school student. But one other experience sparked his love of hats early in his life—watching the children's show Captain Kangaroo. The Captain had a hat rack with various helmets and hats behind him. Lil Grizz realized that simply by putting on a different hat, the Captain and his friends could become different people in different times and in different places. For little Lil Grizz, it was a magical realization that helped lead to his lifelong career.
Connecting with Grizz
Though he specializes in authentic fashionwear from the past, Lil Grizz is all over the internet.
You can find him and look over his hats at:
•      Facebook: hatsbygrizzmadewithjoy 
•       Youtube: Hats by Grizz — Made with Joy
•       Instagram: @hatsbygrizz
•       Tiktok: @hatsbygrizz on TikTok for Lil Grizz techno dance moves
•       Etsy: @HatsByGrizz