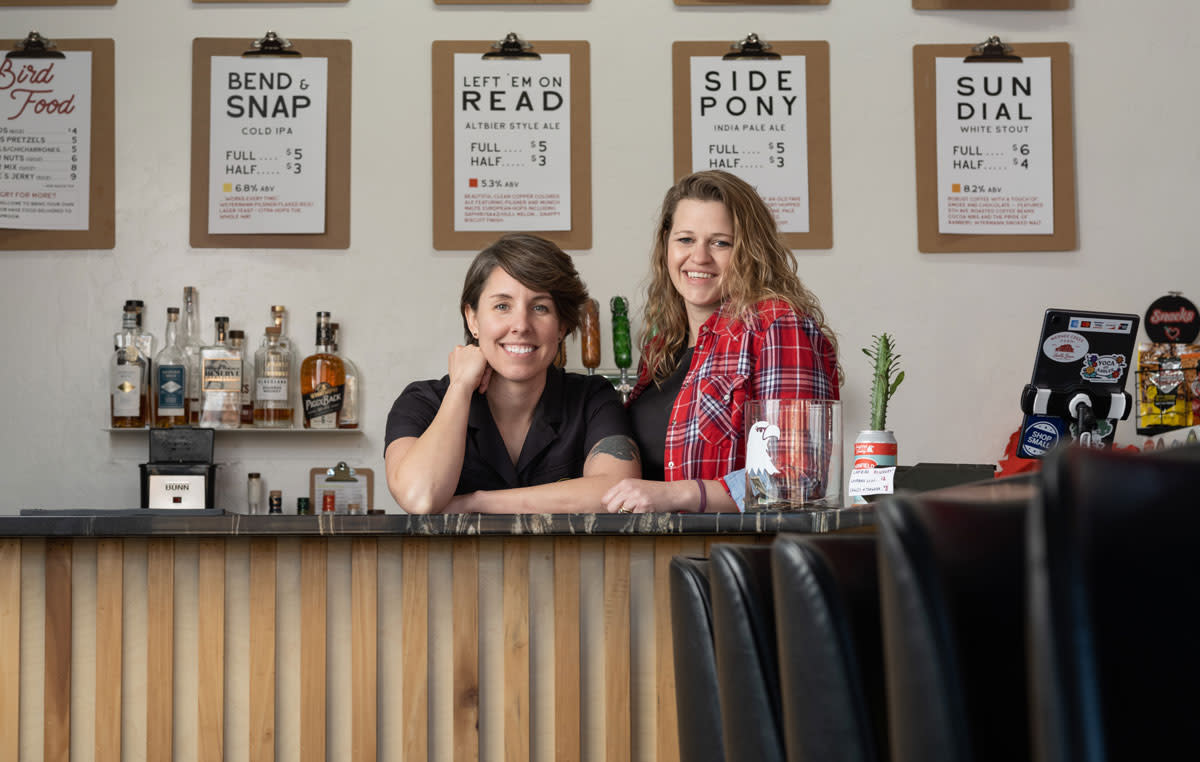 Photography by Aaron Patton  
These Kansas venues feature on-site beers created by a new generation of female brewmasters
For the most part, the brewmaster profession in the United States is dominated by men, even though there is a rich history of female brewers going back to the medieval period. But in Kansas, a new generation of women brewmasters is perfecting the craft.
Ladybird Brewing
"It's interesting that brewing was originally the work of women, and society kind of migrated away from that," says Kaydee Riggs-Johnson, who owns Ladybird Brewing in Winfield along with her wife, Laura Riggs-Johnson. "If you look back into ale wives, women in Europe would ferment beer in their homes, and it would become popular with the neighbors on their street, and they would start selling it. Women deserve a lot of credit for beer."
As homebrewers, the Riggs-Johnsons tested their creations in 2018 at the Walnut Valley Festival in Winfield where they quickly sold out. That led to talk about opening a brewery, and what type of brewery they would want to create.
"We wanted to build a space where people could connect, create shared experiences that were meaningful and have good conversations because we wanted that in our community," Kaydee says. "The beer is just a good excuse to get together. Of course, it's important to us to make really high-quality beer, and we work really hard at that, but it's almost equally important that we created a space that was inviting and conducive to wanting to hang out and make new friends."
In 2019, they purchased a building constructed as a gas station in 1953, refurbished it, and opened for business in late 2021; the venue includes a taproom and outdoor seating as well as production space.
"I think when they come to our space they might feel like this environment, this approach, may be slightly different from  a lot of breweries, and I think it's just because of … who we are, our attention to various details in the business is different from others. I think women have a lot to contribute to the beer industry, and it's exciting for us to be a part of that."
Ladybird Brewing predominately features different types of ales, and one of the most popular beers is Cool Mom Pom, a hibiscus, pomegranate saison.
"It's a beautiful beer," Kaydee says. "It's kind of pink in color, and it has a floral note from the hibiscus and then sort of a spicy note from the saison yeast and then the pomegranate brings in a really nice tart fruitiness. It's a layered beer, but it drinks really easy, so for someone who is really into craft beer, it is fun to pull out all the different nuances of it, but then for those who just want to enjoy a beer, it is super enjoyable. It's not crazy challenging for your palate, so a lot of people like it."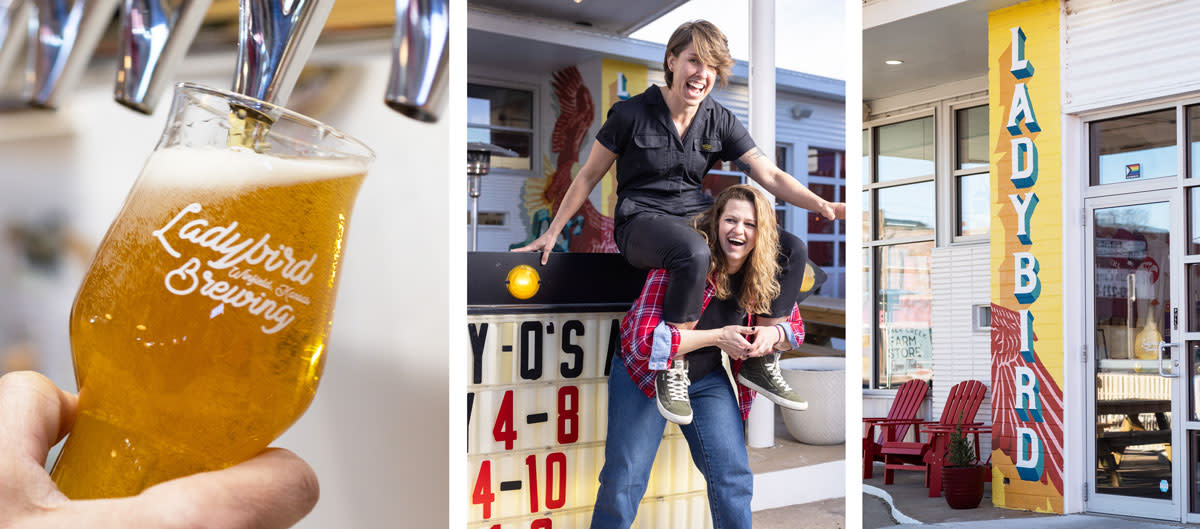 Other favorites include Winfield Pale Ale and Moon Dial, a dry stout.
Kaydee says the work is meaningful, fulfilling, challenging and fun.
"There's no time better than now for women to move back to our roots and for women to have a place in the industry and to be creating in this way," she adds. "Making beer is an incredibly creative outlet."
 
Servaes Brewing Company
Whole pumpkin pies. Entire boxes of cake mix. Sweet potatoes. Courtney Servaes creatively adds unusual ingredients like these when crafting beer at Servaes Brewing Company in Shawnee.
Servaes' initial interest in brewing beer began by casually listening to podcasts, reading books, and buying some home-brewing equipment. Thoughts of opening her own brewery led to a small business loan and a successful crowd-funding campaign that resulted in Servaes becoming the first female brewer in the Kansas City area and one of the few women in Kansas to own and operate a brewery when she opened in 2019.
The brewery offers 15 to 18 beers on tap at any time, but in contrast to standard brewery practice, Servaes Brewing Company always rotates its entire selection of beers and does not keep even one signature brew constantly on tap.
 "We don't have what people call flagship beers, but we do have some flagship-base styles," Servaes explains. "One of the beers we brew a lot of, the base is a Berliner Weisse, which is a sour beer. We have that beer on tap all the time; it's just different every time, so one time it is a cranberry of that beer and another time it's a strawberry rhubarb version."
Her most popular beer, and the one most often on tap, is Purple Pineapple, a sour beer featuring pineapple and vanilla; a pea flower tea creates the beer's purple color.
"I started putting odd things in beer because not a lot of people were doing it when I first started," Servaes says of her unusual ingredients. "It's all about figuring out how to complement the beer. I try all kinds of things … but we still have some more traditional beers. I try to balance it out so there is some sort of easy-drinker on tap for people who aren't adventurous."
Also unusual is the brewery's colorful taproom filled with children's toys and games.
"We created it in a way that allowed for a lot of family-related activities. I wanted it to be a place where you can take your kids."
While adults try different beers, the children can try different sodas. As Servaes was fine-tuning her craft beers, her son, Aaron, became inspired to create craft sodas.
"He wanted to be involved when I was first learning how to brew, and so he wanted to learn how to make root beer, and that evolved into cream soda and butterscotch cream soda," she says.
Typically, six different flavors of soda are kept on tap, with root beer always available. Lemon-lime, fruit punch, bubble gum, orange and seasonal peppermint and candy cane are some of the flavors.
LADYBIRD BREWING
Winfield
Ladybird.beer  /  620.222.7558
Servaes Brewing Company
Shawnee
Servaesbrewco.com  /  913.608.5220