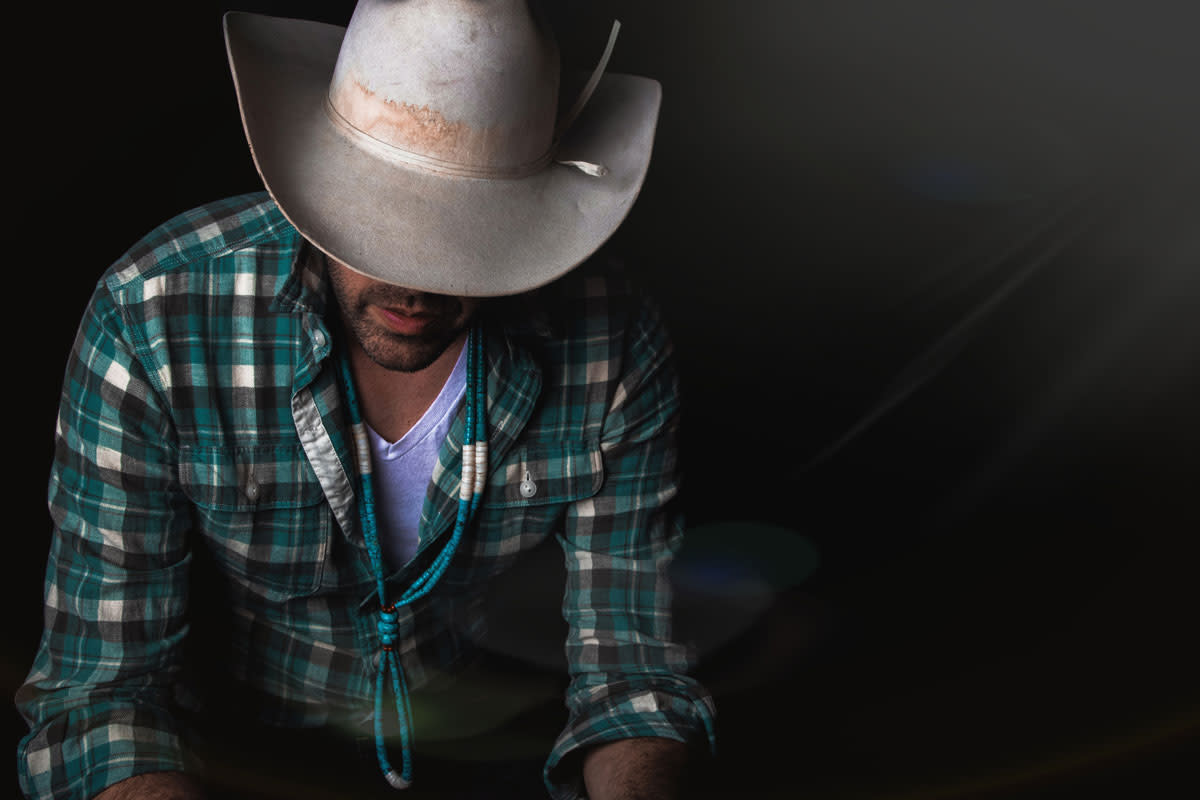 Photography courtesy of W.H. Ranch Dungarees
Authentic, Kansas-made Western wear from the Dungaree Dude
For many, the name "Kansas" evokes images of the West: cattle drives, ranches, sunsets over the trail. Some of those images might be nostalgia, Hollywood, and myth—but the stories and the lives behind them are also a true part of our state's history and living heritage. This holiday, or any special occasion that calls for a gift, you can celebrate and share Kansas' Western heritage by giving someone a gift that taps into true Western traditions and that is made by artisans who honor traditional styles and standards of their craft.
Since galloping onto the jeans scene in 2011, Ryan Martin has stitched his way to fame, fitting famous actors, musicians and a fan base with his award-winning, vintage-inspired W. H. Ranch Dungarees.
But from his home in Olathe, Martin doesn't seek to claim the title of "a big deal."
"I'm not even a big deal in my own home. There's a stack of dishes waiting for me in the sink," he jokes.
With a low-profile, one-man–shop approach, and working solitary to the hum of his 1942 Singer cast-iron sewing machine, Martin continues to piece together artisan jeans so good that customers pay $375 to $1,000 per pair.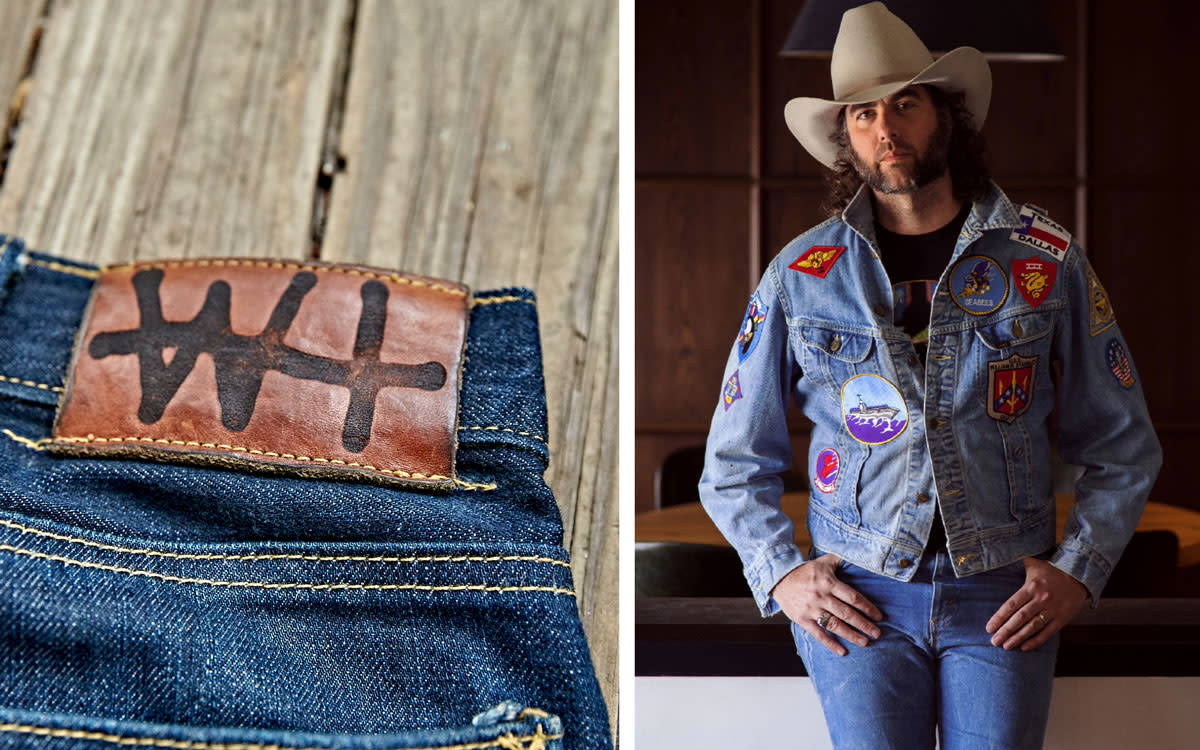 A sixth-generation sewer and pattern maker, Martin started sewing at age 7, soon after his family moved from his birthplace of Salina to Overland Park. His mom was a professional sewer and his dad an architect and illustrator. "Those things rubbed off on me," Martin says, especially his mom's skills and love for her sewing machine. "Honestly, I just thought sewing was fun as a child. I could step on the pedal like a car, and it had that sharp needle that was cool, too. And, you made something in the end."
In summers, he took sewing lessons in the morning, had art classes in the afternoon and played baseball at night. "I had a pretty well-rounded childhood. But admittedly, I probably was the only teenager with a subscription to GQ in the neighborhood!" he recalls.
"No one thought it was cool that I could sew. I was the only guy in home-ec class making stuff. I'm sure they thought it was weird," he recalls. "I had a reputation for being well-dressed and marching to the beat of a different drum."
But at that age, he wasn't thinking of apparel design as a profession. "I watched The X-Files and thought I'd be a great FBI agent," Martin says. But in 2000, when he enrolled in his first design class at his dad's alma mater, Kansas State University, he began to reconsider. "I walked in the lecture hall with 300 people, and I was the only guy. I liked those odds."
Martin first became enamored with old-style jeans in college but had little access to the small lots of fabric to make them himself. Nonetheless, he continued to study fashion both at K-State and abroad in London his junior year. By his senior year, he was set on his profession and other plans, marrying Kim, also a Kansas State University apparel and textile student. "We had our professors at our wedding," he recalls. Martin continues his K-State ties as a guest lecturer and member of the Fashion Design Program Advisory Board. Kim is an interior designer at Nell Hill's home store in North Kansas City, Missouri.
After graduating, the couple moved to Colorado, where Martin began successfully selling men's ties on Etsy under the name White Horse Trading Company, an homage to Johnny Cash's biblical references to "the pale horse" in his 2002 hit "When the Man Comes Around."
But Martin still dreamed of working in denim, so he sold all his best cowboy boots to buy a 1942 Singer, along with a few spools of vintage-style thread, zippers, metal notions and denim. "I set up an Instagram page and had maybe 100 followers, posted photos of jeans and me making them, and said I could make 10 pair. They sold out in a week. The business took off like a rocket ship and never looked back."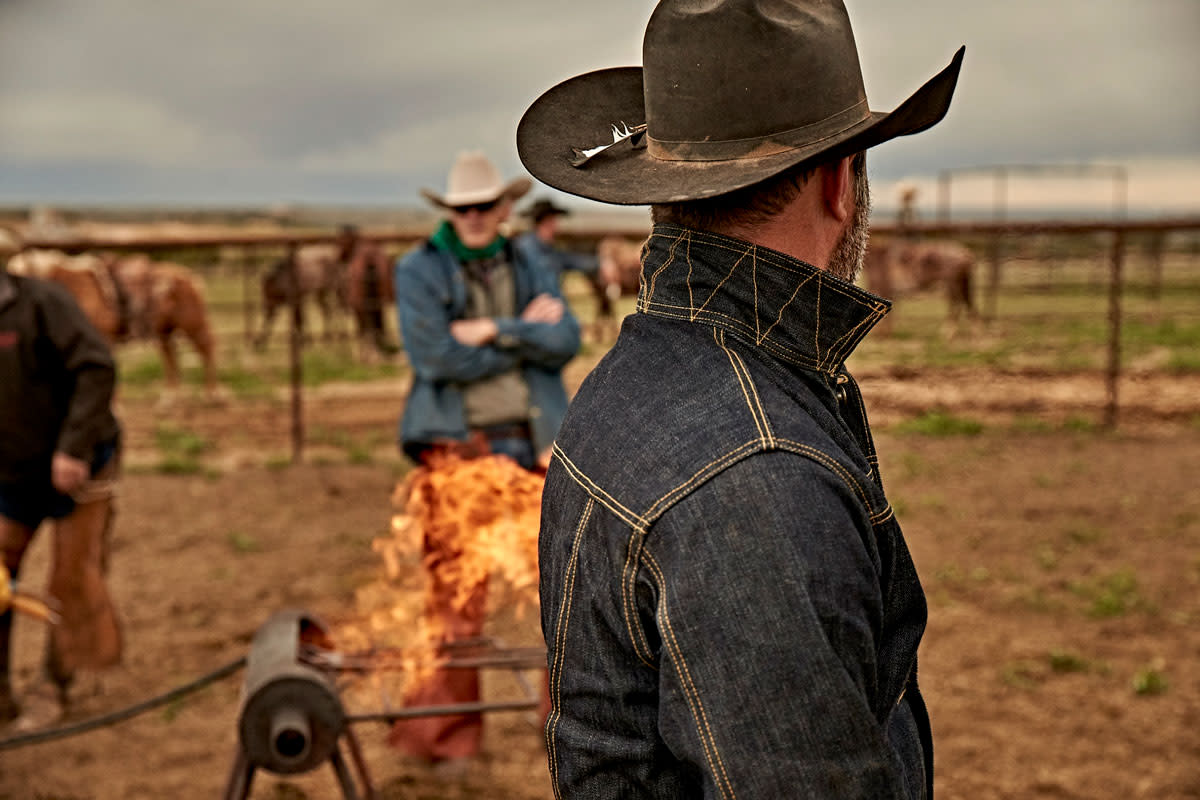 Renamed W.H. Ranch Dungarees, the business has stayed true to Martin's roots on the Kansas plains. "There's this romanticism to replicate what my forefathers wore on the farm during Dust Bowl days—the denim they went to the feed store to buy. It's important to me to have that vintage fit and durability. It's amazing how well-built those garments were."
Ryan, Kim and their five children returned to Kansas in 2017. In his Olathe studio, he displays posters and memorabilia from stars he's outfitted for denim jeans or jackets, clients such as Kevin Costner, Harrison Ford and Lyle Lovett, who has a standing order. Martin's studio also holds vintage jeans in progress, patterns and about 20 pairs of his cowboy boots. He flows from the cutting table to his five vintage sewing machines and rare Reese buttonholer while listening to political podcasts or music of his favorite indie band, Calexico (whose lead singer Martin styled for the Grammys).
Martin makes a dozen different fits of men's jeans, all custom-made to client specifications, and six styles of jackets, including a line for women. But don't expect a speedy turnaround—orders are added to the stack and could take two years to receive, and the jeans cost a minimum of $375.
Why the hefty price? Jeans are tailored to each client and constructed with specialty denim and thread, along with pure copper rivets, heavy-duty brass zippers, triple stitching and leather hand-branded WH pocket patches. "It's all these components that make a superior pair of jeans," Martin explains.
The versatile Steer Ryder is Martin's most popular style because its slim leg fits over boots and also looks good with loafers.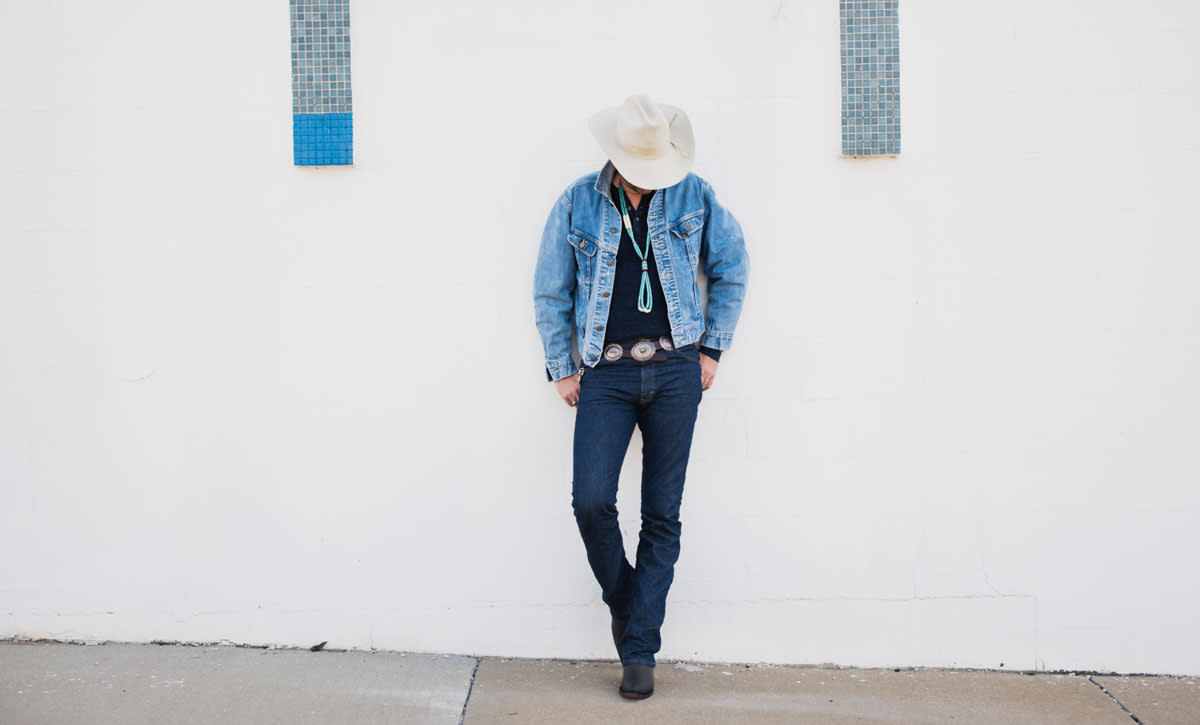 In Colorado, Martin's company was named one of the state's top 25 manufacturers in 2015. Two years later, industry specialists Denimhunters proclaimed Martin the "World's Best Jean Maker" after awarding his W.H. Ranch Dungarees top prize in the "Artisan Challenge" that required that someone to wear the same pair of a designer's jeans every day for two years to test endurance. Martin found a friend to do the wearing!
More recently Martin has started an apparel consulting firm, Ranch Brand Productions, and was named senior designer for Tecovas handcrafted boots in September 2022.
Two of his daughters take sewing classes, and his 6-year-old son says he wants to do what Daddy does when he grows up. But, don't look for Martin's one-man show to expand. "If I brought in someone else, I feel like people would say 'it's not the same as when you were making them. We sort of want this crotchety guy who gets upset when we email to ask when our jeans will be ready!'"
Ordering Tips
Want a custom-made pair of W.H. Ranch Dungarees? Start the process with an email request for a phone consultation with Martin. Once connected, he'll get your specifications:
•       What do you plan to wear these jeans for—work, play, church, with cowboy boots?
•       What type of denim do you prefer, such as shrinkable, dark wash, 13-ounce? (He says the most popular is the 1950s-era denim from Japan.)
•       Pick your price: a standard order for W.H. jeans is $375, "but your order goes in the stack, and I can't tell you how long it will take. The last order I pulled off the top to work on was from 2½ years ago," Martin explains about his workload. But, he takes four rush orders each month: for $225 extra (total of $600), he'll get your jeans made after-hours within six weeks.
•       For the proper fit, W.H. sends you photos illustrating how to measure at home for waist, thigh and knee width and length.
•       Once the order is finalized and your invoice is paid, "It's hurry up and wait! You're in line in the queue. Just don't email me and ask for updates!" Martin laughs.