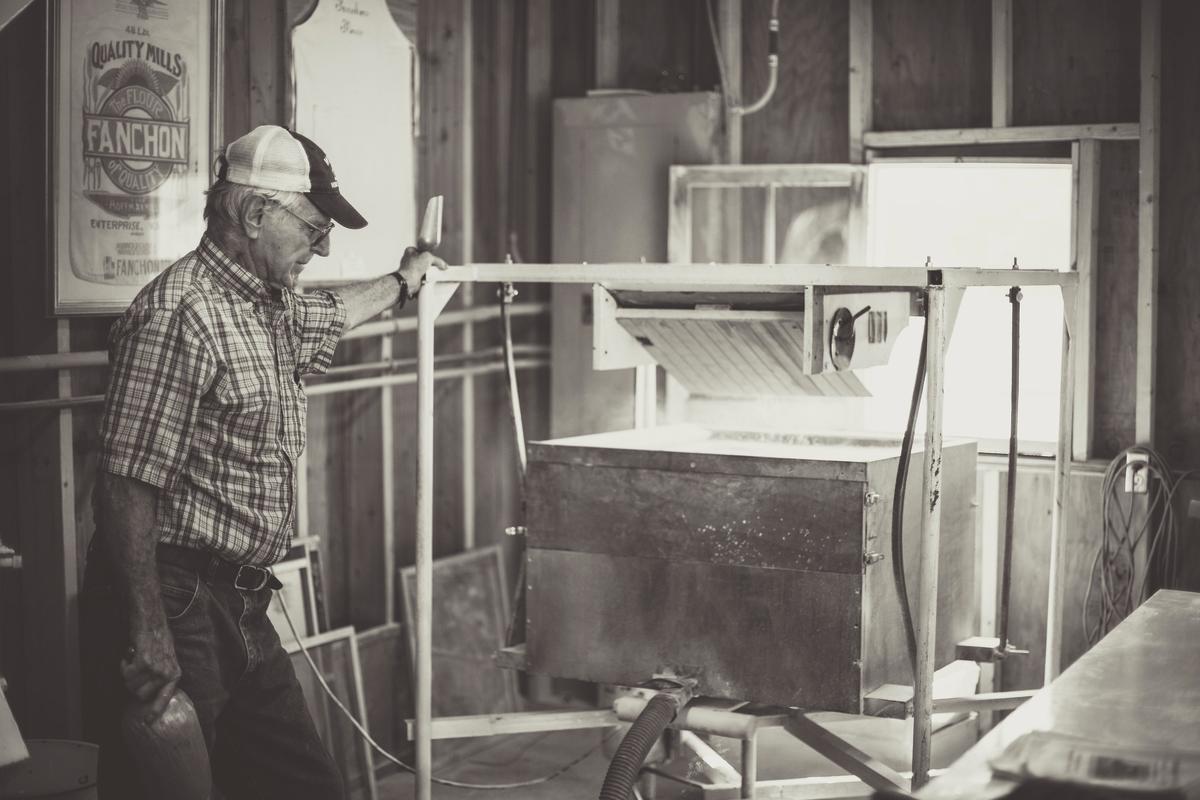 (Updated November 3, 2021)
Enterprise's Hoffman Grist Mill offers visitors a glimpse into a historic Kansas industry—turning wheat to flour.
If Joe Minick, a Dickinson County native, has his way, today's Kansans will not only realize their state is one of the leading wheat producers but also understand the old-time process involved in turning wheat berries into flour. It's the same process that was used in the late 1860s by Christian Hoffman in his mill on the south bank of the Smoky River, near the site of what would eventually become Enterprise, Kansas.
A smaller version of that mill has been replicated in Enterprise by a group of community-minded volunteers headed by Minick. Known as the Hoffman Grist Mill, it is located at the turnaround point for the Abilene & Smoky Valley Railroad's tourist train.
Minick has been instrumental in numerous undertakings in Dickinson County including the relocation, restoration, continued maintenance and expansion of the Abilene & Smoky Valley Railroad train.
GALLERY
"My mind is always busy and I'm always thinking about a current or future project," Minick says. After reading a railroad magazine about a tourist train that stopped at an old gristmill, the ideas began to flow. He shared those thoughts with a coffee group that included Reed Hoffman, grandson of Christian Hoffman. Thrilled by a venture that would bolster both his hometown of Enterprise and the tourist train, Reed agreed on the spot.
The two-story Hoffman Grist Mill was erected during a "mill raising" on a fall day in 2015. Minick provided the "cut list," including drawings and ready-to-cut directions for the size and length of each board for every wall, floor and ceiling, along with assembly directions by section. About 30 people completed the tasks in one day. 
When it came to finishing the inside of the mill and outfitting the building with equipment, Minick referred to original ink-on-linen drawings by Ehrsam Company from the 1900s, conferred with other vintage mill owners, and searched the internet for period machinery. In the process, he purchased an antique scalper/bolter, a piece he considers to be one of the mill's prized acquisitions. Minick, who likes to find a deal, found the machine on Craigslist and bought it from a man in Kansas City for about $400.
"The guy was using it to separate sawdust from woodchips, but this is the type of machine first used in the early mill to separate finely ground flour from the farina and bran," Minick says. When the Enterprise site closed in 1933, its equipment was sent to mill headquarters in Kansas City. Although there is no proof, Minick likes to speculate that the scalper/bolter he purchased in Kansas City was returned to its original home in Enterprise.
According to Mary Jane Oard, manager of Abilene & Smoky Valley Railroad, Minick has an uncanny ability to fix or build just about anything. He rebuilt much of the equipment on the first floor of the mill from original bits and pieces. He designed and built most of the equipment on the second floor to resemble machinery used by the original mill.
The mill's story is one with some interesting twists and turns with people and places interwoven throughout. In 1869, Christian Hoffman recruited Jacob Ehrsam to build his gristmill. Years later in 1956, J.B. Ehrsam & Sons Manufacturing Company recruited Minick, a diesel mechanic by trade, to design and install equipment. Then, during what he calls his "not-so-retirement years," Minick designed and constructed a replica of the gristmill originally built by the founder of the company that trained him as a draftsman.
But the twists and turns don't stop there. The success of the early mill was due, in part, to the railroads that built tracks through Enterprise. Those same rails that shipped flour out of Enterprise now transport visitors into that small town, making the Hoffman Mill an attraction at the end of the Abilene and Smoky Valley rails.
Today's mill shows visitors how grain was once ground into flour using granite stone wheels. It produces only small quantities of flour and cornmeal, but the millers do some custom grinding for customers and clean wheat berries for others who have their own smaller mills. The mill is open most Saturdays and during the annual Enterprise Fall Festival held annually in September.
RECIPE FEATURED WITH STORY
More Articles You'll Enjoy