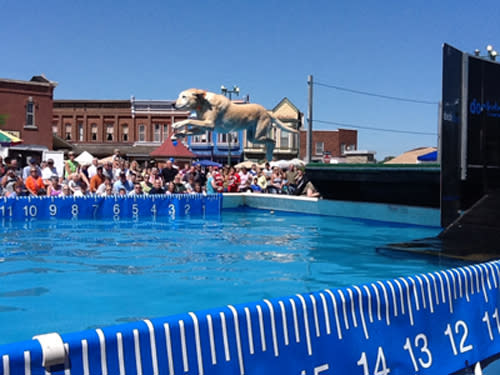 A Faces & Places Roadie Blog
My latest Faces & Places travel plan was to spend the weekend visiting community festivals in Wichita and Fort Scott. Although different in scale, both festivals represent long-standing community traditions. Both highlight the special nature of Kansans dedicated to preserving the character of their communities.
Our schedule included driving the TravelKS van in the Sundown Parade at Wichita Riverfest, and, frankly, I was a little nervous. Parades in my corner of Kansas involve local 4-H clubs, lots of candy from firemen and some tractors followed by the horses. I had read a report by KAKE News, Wichita, that two years ago 45,000 people attended the parade. That's a lot of people – especially driving a borrowed van with two kids I'd kept waiting in the "staging area" for nearly two hours.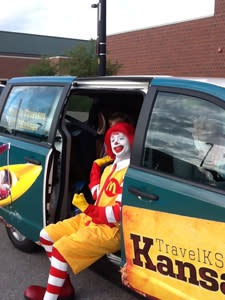 And this is where the community part of my story begins. Where, exactly, do you find community in a crowd of 45,000? At Riverfest, you just step out of the van. We were placed between the Ronald McDonald House float and a group of Roller City skaters. Ronald McDonald kept enthusiasm levels high as he passed out toys and posed for pictures up and down the rows of participants. We roamed among our float neighbors, getting to "drive" a Humvee, learning about a new app from a fellow facebook user, and collecting travel tips from the skaters to our north.I wouldn't say I ever got over the fear of rear-ending the Ronald McDonald House in front of thousands of parade-goers, but, as I became acquainted with the clubs and associations in my parade neighborhood, I did feel the energy of a 40-year-old community tradition.
The next morning we traveled east to the 31st annual Good Ol' Days Festival in Fort Scott. The idea for a Fort Scott "street fair" harks back to its days as a major rail center. In 1899, Fort Scott historian Don Miller describes the first community fair parade where individuals, merchants and lodge clubs came together, packing the streets with decorated horses, mules, and bicycles. And, at first glance, this year's festival didn't appear far removed from one held at the turn of the century. Driving through the tree-lined streets into town or walking past the brightly colored Victorian buildings downtown, it was easy to imagine the festive Fort Scott of Mr. Miller's time.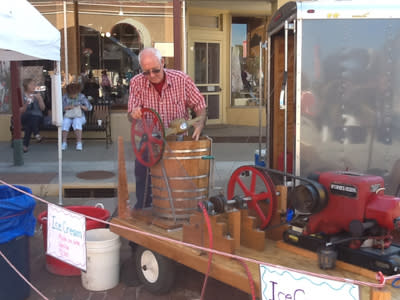 Getting a prime parking spot for the TravelKS van is imperative, and, at times, the most challenging aspect of being a Faces & Places roadie. Navigating crowded streets and traffic barricades might be easier done on a mule. Approaching downtown, we eased carefully past the barriers and directly into the antique tractor display. Any escape was halted by the construction of a giant rock climbing wall and a well-staffed visitor's center. From where I stood – right in the middle of the action - Good Ol' Days appeared a fresh take on the old-fashioned street festival. Tractors shared space with rockclimbing, lemonade stands lined the paths to the dockdogs aquatic antics. Millie Lipscomb, acting chairperson, and her dedicated committee and volunteers maintain a genuine, small-town atmosphere, but with special attention to the diverse interests and different ages of festival-goers.
As a guest, these summer festivals offered a special glimpse into the heart of two communities. I appreciated seeing dynamic leaders bringing out the best in their communities, adapting to meet the interests of new generations and keeping traditions alive.

Jessica is a teacher, librarian and mom who lives in Holton. She loves all things summertime: Gardening, lazy days at the lake, farmers' markets, and family vacations. Some of her favorite Kansas places include the Art Lab at Washburn University, the Topeka Shawnee County Public Library, the Konza Prairie and Main Street in Newton. She joined the 2012 Faces & Places Tour because it is an exciting opportunity to explore and write about her home state – and drive a really cool van.