Explore canyons, badlands, mesas, and buttes on this perspective-shifting tour through the wild Kansas West.
Land And Sky Scenic Byway 
88 Miles 
Towns | St. Francis, Goodland, Sharon Springs 
Canyons blanketed with rare plant species contrast with the plains on this agriculture-theme byway showcasing big vistas and a giant van Gogh. 
Yucca plants, prickly pear cacti, and buffalo grass cover Arikaree Breaks, a 36-mile-long stretch of deep ravines and gullies unusual to Kansas. Head northwest to the portion of the breaks known as Devil's Gap for a chance to see a rare white bison. Cattle graze in pastures on the road back to St. Francis, where Fresh Seven Coffee roasts beans daily and serves farm-to-table eats from a food truck parked inside a brick warehouse. In Goodland, a 24x32-foot replica of Vincent van Gogh's Three Sunflowers in a Vase sits on an 80-foot-tall easel. Detour Mount Sunflower, the state's highest point, for infinite pastoral views.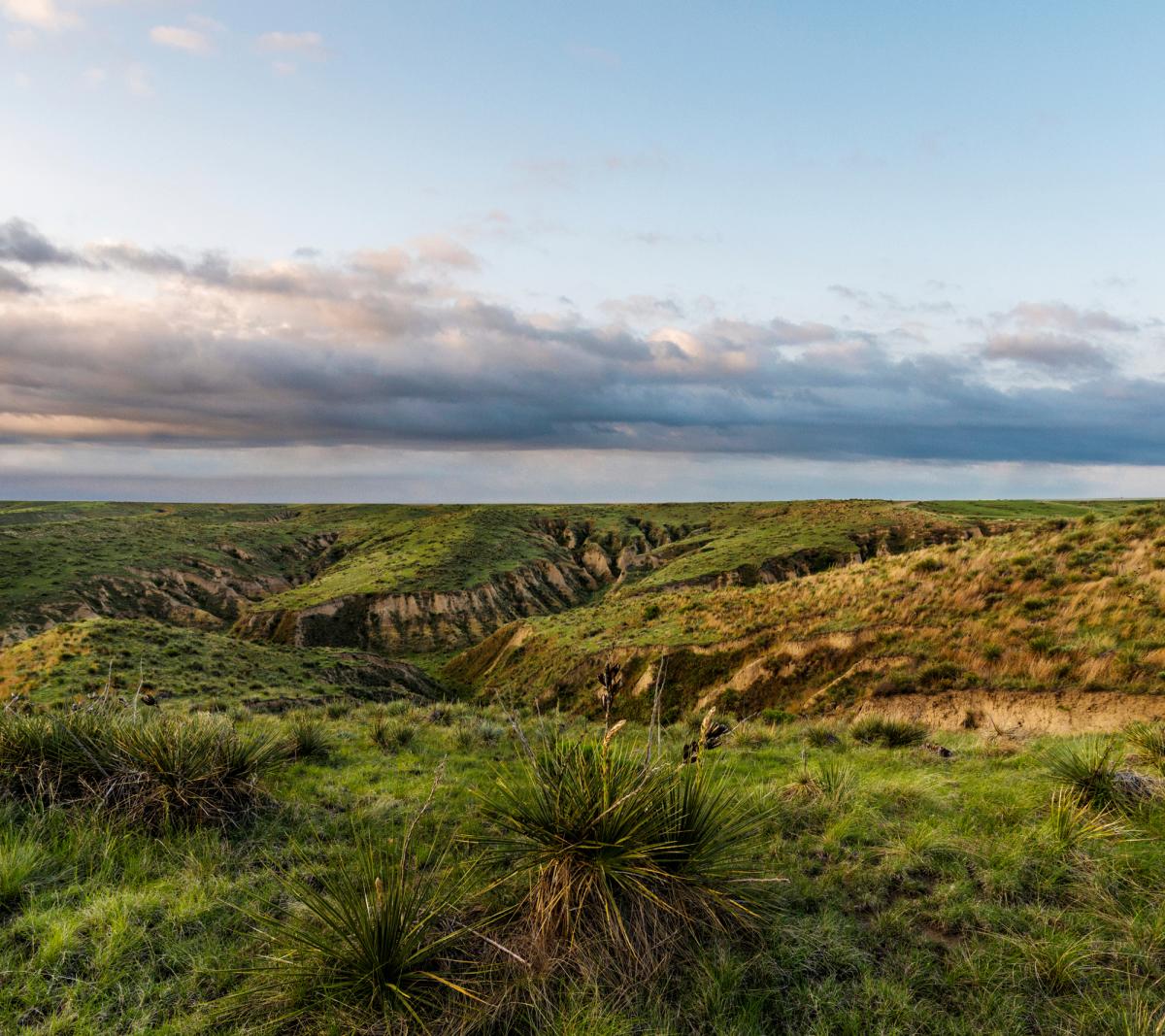 Photography by Doug Stremel
Western Vistas Historic Byway 
102 Miles 
Towns | Scott City, Oakley, Sharon Springs
Monument Rocks and Little Jerusalem Badlands State Park may be the star attractions on this route, but there's plenty more to rock your road trip. 
Children dig for fossils at Scott City's El Quartelejo Museum, which also includes a replica room of the northernmost pueblo unearthed in North America. (It was built nearby by Taos Indians in the 1600s.) The adobe and stone foundation remains at Historic Lake Scott State Park. Drive north to Oakley's Fick Fossil and History Museum to see one of the oldest mosasaur specimens, plus folk art crafted with area fossils and minerals. Plan on Friday or Saturday dinner at the Towns End Tavern in Sharon Springs. Feast on burgers, steaks and prime rib in the century-old building lit by a 45-foot-long chandelier.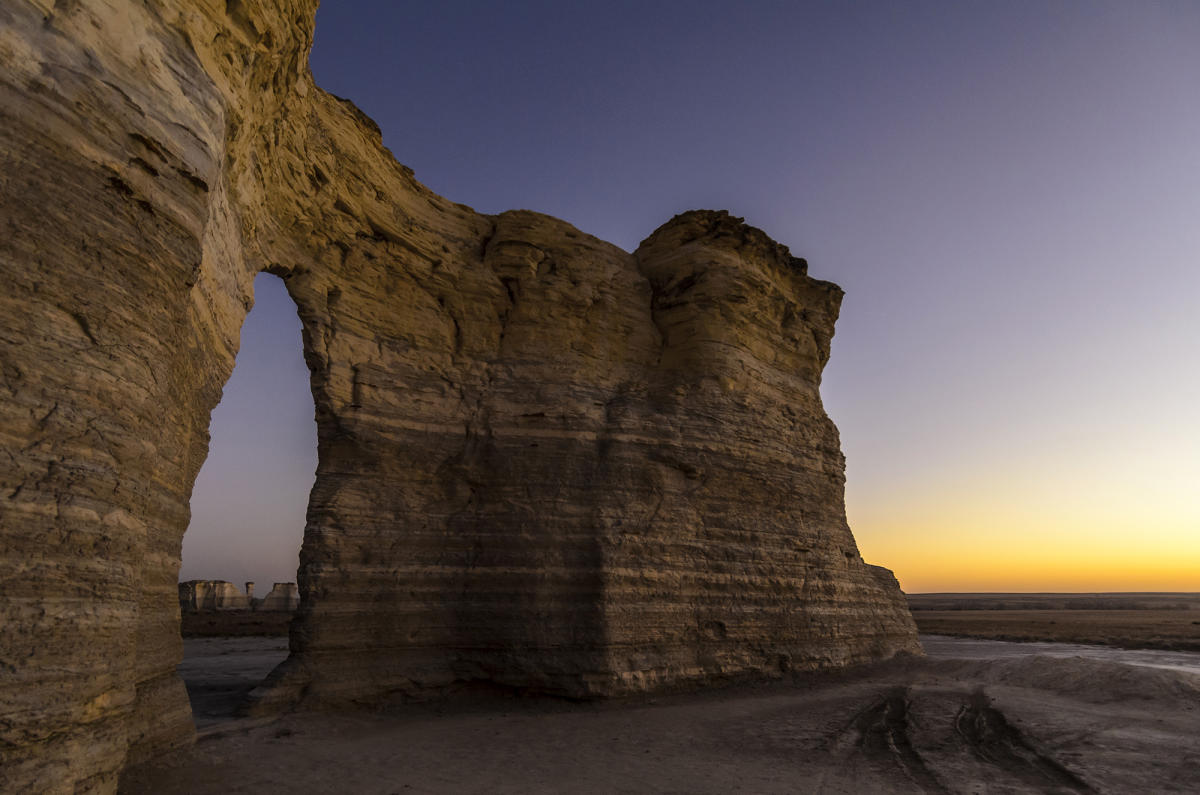 Photography by Kansas Tourism
Smoky Valley Scenic Byway 
60 Miles 
Towns | Wakeeney, Ransom
A rocky canyon with a story to tell, blooming native wildflowers, and chalky badlands abounding with fossils await visitors to the Smoky Hills. 
In 1867, a wagon train ambush led to a fire that destroyed a threshing machine—and took numerous lives—at today's fittingly dubbed Threshing Machine Canyon. Well worth the extra drive, detour west to the tall chalk spire called Castle Rock and its surrounding badlands. To gain insight into other regional relics, view the 50x14-foot mural and a fossil exhibit at the Trego County Historical Society Museum in WaKeeney.
More storytelling murals adorn the Western Kansas Saloon and Grill, located in a restored hardware store nearby. Visit WaKeeney during the holidays to see if the Christmas City of the High Plains lives up to its name.
Photography by Doug Stremel 
Gypsum Hills Scenic Byway 
42 Miles 
Towns | Coldwater, Medicine Lodge
Flat mesas, deep canyons, and buttes complement green cedar trees and prairie grasses in the rusty Red Hills. 
Catch a fish in the pond, take a hike through hilly pastures, or relax and enjoy the view before turning in for the night at the Gyp Hills Guest Ranch, a popular wedding destination. Four miles away in Medicine Lodge, learn about the hatchet-wielding temperance leader who smashed lawbreaking saloons at the Carry Nation Home.
Travel west to Lake Coldwater to cool off with swimming, boating, and fishing. Wildlife lovers may see wintering bald eagles, migrating white pelicans and ospreys, beavers, deer, raccoons, cottontails, and muskrats.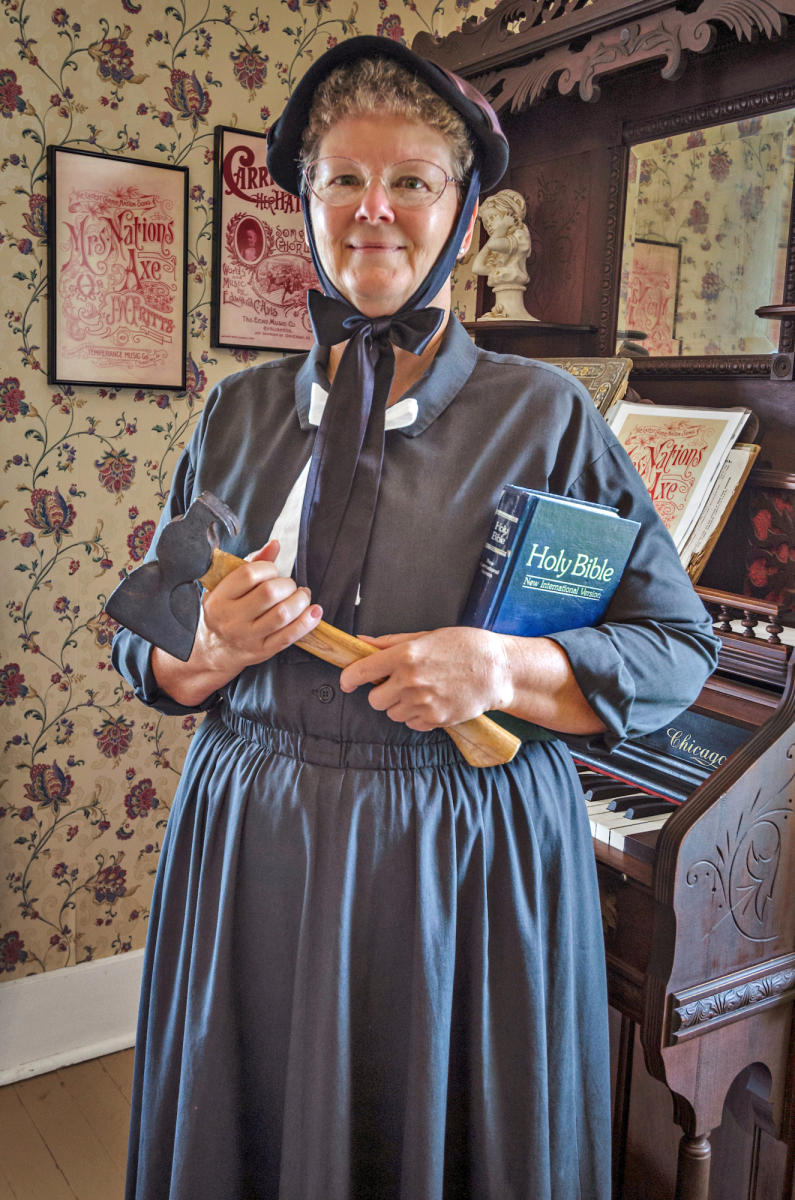 Photography by Doug Stremel
Explore the 4 Byways Below!