Like many others driving across northwest Kansas on Interstate 70, I've often grabbed fast food at a drive-through and continued on my way with hamburger in hand. Sadly, dining on the road became a quick stop necessity in my hurry to get where I was going rather than the experience it should be for travelers. I realized how much I was missing when I stopped in Goodland for lunch at On The Bricks Café, a quaint restaurant with delicious food, a calming atmosphere and friendly staff providing quick service. [[endteaser]]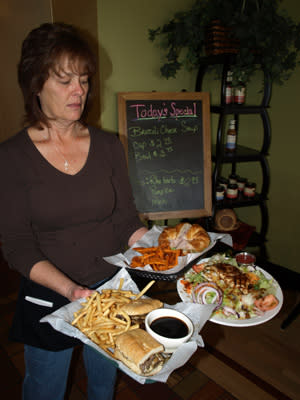 I chose the Raspberry Chipotle Chicken Salad over the popular turkey cranberry croissant and chicken fried steak or hand-breaded pork tenderloin sandwiches served with house-made chips. The large piece of chicken grilled to perfection and seasoned with a roasted raspberry chipotle sauce topped thinly sliced carrot strips, radishes, red onion, red cabbage and cheese on a bed of lettuce and tomato. The warm sauce spilled over the chicken onto the salad and was so flavorful I used very little of the equally delicious raspberry chipotle salad dressing served on the side.
I relaxed as I sat in the tranquil setting inside the historic building with its tin ceiling painted brown, hardwood floor, period light fixtures and large front windows facing the street of red brick for which the café is named. Bright yellow placemats and bouquets of sunflowers sat on the wooden tables matching wooden chairs of black and brown. A large period clock, sunflower sprays, historic photographs of Goodland and other art work adorned the yellow walls.
While savoring a warm piece of homemade peach pie for dessert, I learned the owner/cook, Sonya Vandiver, is known for serving yummy cheesecake in flavors such as raspberry chocolate swirl and banana split.
Next time I'm in Goodland, perhaps visiting the Giant Van Gogh reproduction painting on a big easel or the High Plains Museum, I plan to start my day here with a breakfast of Almond Pecan Crunch French Toast or the French Toast Sandwich (ham and Swiss cheese on French bread dipped in egg and grilled). Or maybe I'll just drive here on a Friday or Saturday night when the café is open for dinner, and bypass the popular liver and onions to order the salmon fillet with dill mustard sauce or the special that might be tuna, alligator or other fresh seafood.
At what restaurant do you like to stop while traveling in Kansas?
Cecilia Harris is a professional freelance writer from Abilene who enjoys discovering fascinating attractions, events and people that reflect the arts, culture and heritage found in Kansas. She has been a longtime regular contributor to KANSAS! magazine and also has written for such publications as Midwest Living, Sunflower Living, Kansas Heritage and The Greyhound Review to inspire others to explore and appreciate her home state. She also has authored two books, "Historic Homes of Abilene" and "Abilene's Carousel."