A Faces & Places Roadie Blog
In spite of the theories surrounding the disappearance of Amelia Earhart, John Cerney's mural, entitled "Amelia Comes Home," captures the spirit of the 16th annual Amelia Earhart Festival experience in Atchison. [[endteaser]]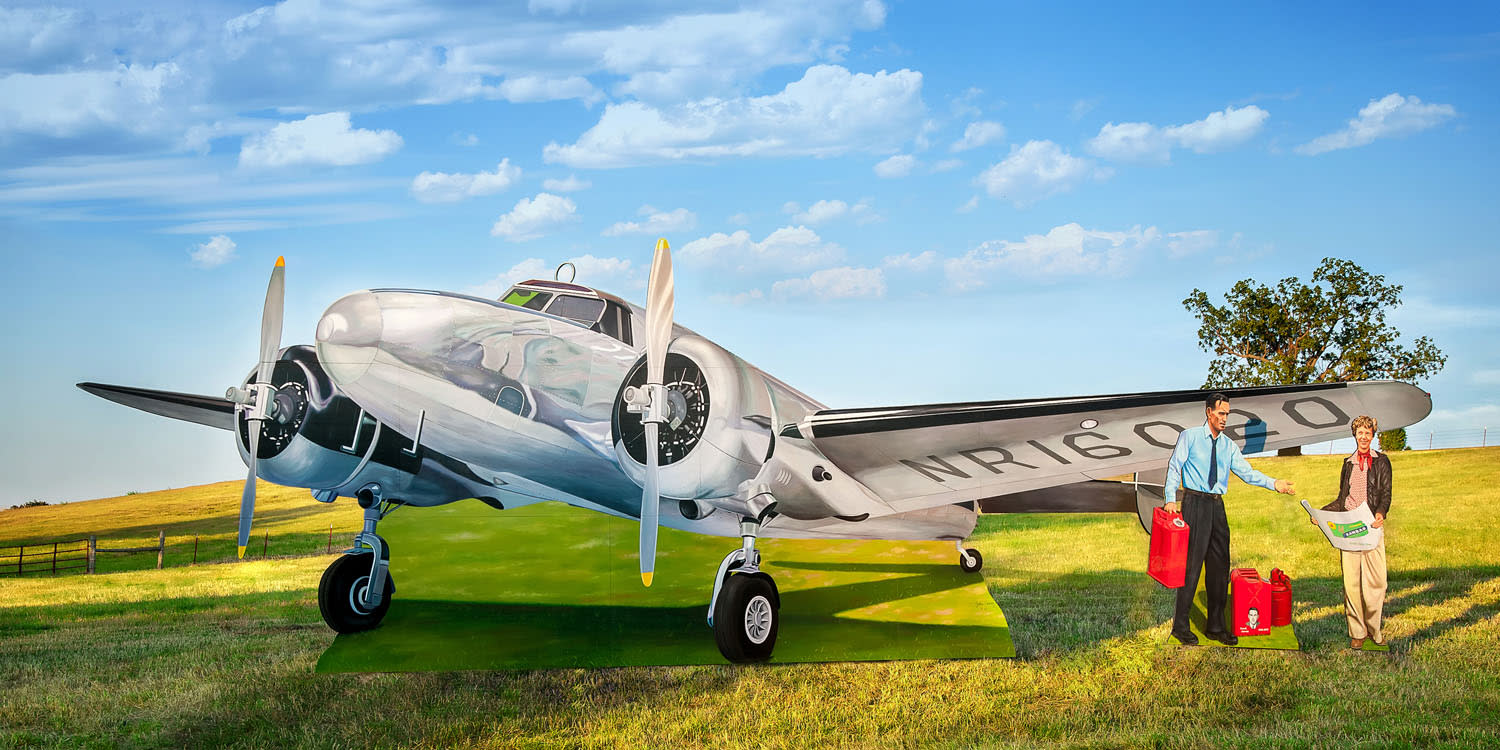 Just in time for the 75th anniversary of her last flight, Cerney, an artist from California, donated a mural to the city of Atchison. According to reporter Patty Moore's interview with Cerney, the mural shows Noonan leaving the plane to run to town and fill gas canisters. Amelia stands to the side, slowly realizing she's arrived back home. In Cerney's idealized account, "They simply got lost and ran out of fuel, and happened to have landed next to a highway just outside of her hometown." Indeed, the young, beautiful Amelia who captured our imaginations that weekend made a homecoming seem nearly plausible.As I painstakingly parked the Kansas Tourism van near the Amelia Earhart Birthplace Museum during our Saturday visit, a neighbor jokingly commented that I better avoid harming his curbside. He remarked, "You know Amelia's dead, right?" I replied that yes, I had heard it to be true. "My grandfather dated her," he added. "Or at least he said he did.
"The birthplace house, originally belonging to Amelia's grandparents, rests on a bluff overlooking the Missouri River. White, angular and relatively modest, it seems the ideal place for a curious, independent young woman to test her boundaries. I've read stories of her early exploits, and it was easy to imagine Amelia launching her sled down the hills surrounding her grandparent's home.
As I nosed around the museum gift shop, I asked the woman working the cash register for some local insight on Amelia. She simply stated, "You should meet my grandmother." Her grandmother, Louise Foudray, a local historian and long-time caretaker of the museum, greeted me as I slipped past a door marked "private" and into her own little apartment within the museum. I didn't notice until the next day as I was reviewing my interview notes that we both used the present tense when discussing Amelia. "What do you think Amelia has to offer our younger generations?" I asked. "She's just such a role model," Louise replied.If museums aren't your thing, the festival offers many other means of connecting with Amelia. Atchison hosts panel discussions, a  "fly-in" at the Amelia Earhart airport, a reenactment and a celebration through dance, just to name a few. My family and I spent hours navigating a city block dedicated to kids' activities. The 100-degree heat didn't deter the musicians, petting zoo or art vendors set up along the downtown walking street.In a town known for its haunted houses, Amelia is a benevolent presence. Her adventurous spirit and persistence lives on through hundreds of community members and volunteers committed to preserving the memory of a unique hometown hero.

Jessica is a teacher, librarian and mom who lives in Holton. She loves all things summertime: Gardening, lazy days at the lake, farmers' markets, and family vacations. Some of her favorite Kansas places include the Art Lab at Washburn University, the Topeka Shawnee County Public Library, the Konza Prairie and Main Street in Newton. She joined the 2012 Faces & Places Tour because it is an exciting opportunity to explore and write about her home state – and drive a really cool van.