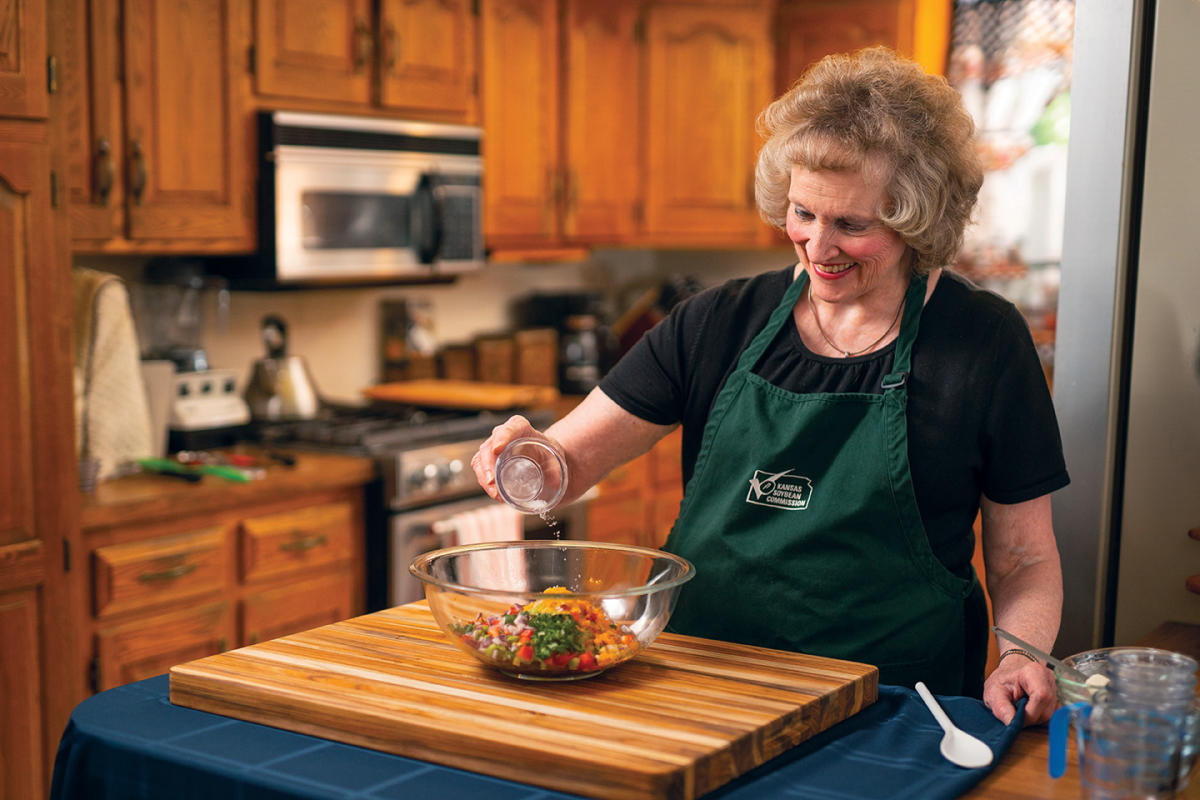 Photography by Nick Krug
The "joy of soy" is more than a catchy phrase for Charlene Patton, the consumer media specialist for the Kansas Soybean Commission. She regularly touts the benefits of soy, explaining that it's a nutrient-rich food containing all the essential amino acids needed to make it a complete protein, a source of healthy fats of the omega-3 and omega-6 variety, and that it contains fiber, isoflavones, vitamins, and minerals.
Patton then translates these nutritional benefits to the frying pan, so to speak, as she appears in person and on television shows to offer innovative ways to serve soy.
Chris Fisher, a producer and anchor at Topeka's WIBW TV, is amazed by Patton's dedication and enthusiasm for soy. He points out, "Soy is anything but flashy. Nowhere in any song is there mention of Kansas' non-amber waves of broadleaves, and people don't flock to soybean fields in the fall to take selfies for social media and family photos, but Charlene does an amazing job shining a spotlight on the importance of soy and soy producers in a state where it might easily be lost in the shuffle."
Patton enjoys creating or adapting recipes such as the soy flour blend that she uses when a recipe calls for all-purpose flour. While wheat flour provides the gluten needed for structure, the soy flour adds protein, boosts browning, helps with moisture retention, tenderizes baked goods and extends their shelf life. 
During public appearances Charlene often quizzes her audience about their soy consumption. "There are a lot of people who don't realize soybean oil is the primary ingredient in most vegetable oils, or that the protein in their favorite energy bars comes from soy," she says, encouraging people to check ingredient lists on food labels as soy is included in packaged foods ranging from breakfast dishes to bedtime snacks. 
The mix of soy in other ingredients come into play as Patton collaborates with the Kansas Wheat Commission and Home Baking Association to promote baking. Since animals consume 97% of the soybeans produced in the state, she also works with the Kansas beef and pork councils. It's a win-win situation that helps promotes agricultural offerings from across the state. 
Patton also develops resources, activities and recipes for family consumer science teachers to implement in their classrooms. Teachers can apply for funding that helps pay for those labs. "It's a chance for our future consumers and cooks to become acquainted with the nutritional qualities, uses and the taste of soy foods," Patton says.
In her role, Patton represents over 16,000 soybean farmers who are associated with the Kansas Soybean Commission. This farmer-driven organization, established in 1977, includes 9 volunteer farmer-commissioners from across the state who are nominated and elected by their peers.
Keith Miller, who represents the central part of the state, explains a few of the specific aspects of the group's work. "Commissioners have traveled to places like Vietnam, the Philippines, Japan, Korea, and Nigeria, opening up new international markets for Kansas soybeans." They also provide educational programs for farmers and FFA chapters and are constantly seeking and supporting the development of new uses for their crops—from food products to printer inks, crayons, candles, plastics and clean-burning biodiesel fuels.
The commission also supports research, a project that has had a direct impact on Miller's Barton County farm. "I started growing soybeans about 20 years ago, but they actually became a viable crop in the last 15 years after a drought-resistant variety was developed at Kansas State University," he said. "K-State is constantly working on new varieties including soybeans that are pest and disease resistant. Kansas University and Pittsburg State are also doing some work, as are seed companies," he adds.
Soybeans have a long, rich history in our state. The progression of that history and predictions for their future are chronicled in an Agricultural Experiment Station publication by Kansas State Agriculture College (now K-State), dated February 1930. It states, "While it [soybeans] constitutes a crop of only minor importance in Kansas at the present time, indications are that it will become more important within the next few years, especially in the eastern three or four tiers of counties. Drought and rabbits are the principal hindrances to growing it farther west." 
It seems those predictions were on target. According to the Kansas Department of Agriculture, soybeans ranked 5th in Kansas agriculture production with 190 million bushels produced over 4.7 million acres in 2020. And, due to decades of research and development, soybeans are now grown throughout the state.
 
RECIPES FEATURED WITH THIS ARTICLE