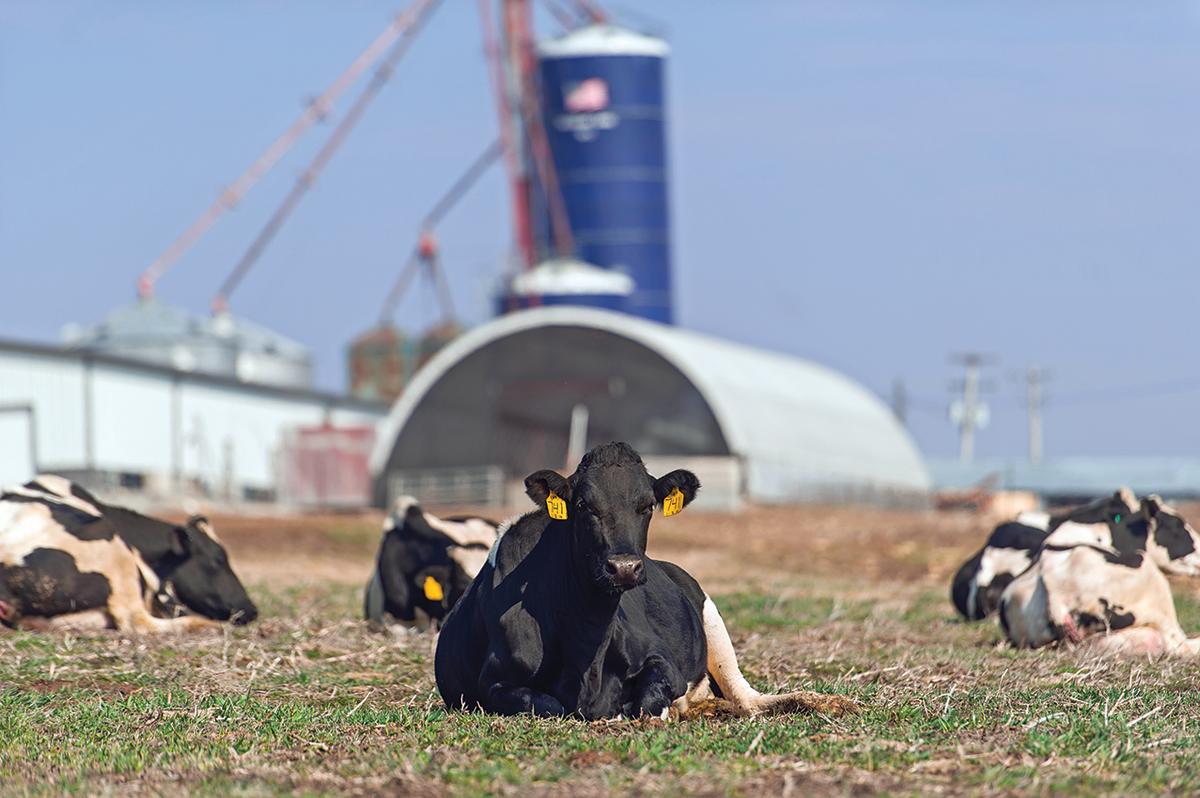 A Kansas family dairy farming tradition since 1930, the Hildebrands expand their reach with a new on-site bottling plant
Successful entrepreneurs often think outside the box. For the Hildebrand brothers Alan and David, third-generation farmers in rural Junction City, this meant combining innovation with tradition as they added an on-site bottling plant to their dairy and expanded their retail sales to 125 Kansas stores. According to Melissa Hildebrand-Reed, plant and marketing manager and fourth-generation farmer, this was an opportunity to take a cue from the past and to sell milk in glass bottles once again.
Those iconic bottles of Hildebrand milk stand out on refrigerated grocery shelves and beckon customers such as Verl and Kathy Coup of Talmage. Verl swears the milk tastes better because the bottles keep it ice cold. And Verl is right. Glass is an insulator, so it does keep milk colder than plastic bottles do. The glass also helps preserve its flavor and its shelf life. Hildebrand-Reed explains that the date on their bottled milk indicates an 18-day shelf life, but she says it "often will last for 25 days if properly refrigerated."
To Verl, the milk tastes like milk he grew up drinking at his family's farm. The Hildebrands credit the difference not only to their signature bottles but also to the quick turn-around time, with milk often going from cow to stores within 24 hours.
 It's not just the bottle that has customers exchanging empties for more Hildebrand milk each week, it's also their unique offerings. Strawberry and root beer are two of Hildebrand's sweeter milk flavors, but they also offer jugs of full-fat milk with cream on top, ice cream mixes and glass jars of churned butter including a cinnamon-sugar variety ready to slather over toast. The Coups recommend the chocolate milk, their preferred flavor to stock for visits from their grandkids.
 "When they visit us, the refrigerator is one of the first places they go," Kathy adds. According to Hildebrand-Reed, a self-proclaimed "milk nerd," their chocolate milk is some of the best because it goes through a three- to four-hour caramelization process. It's so thick and creamy that she suggests heating it for an instant cup of hot cocoa.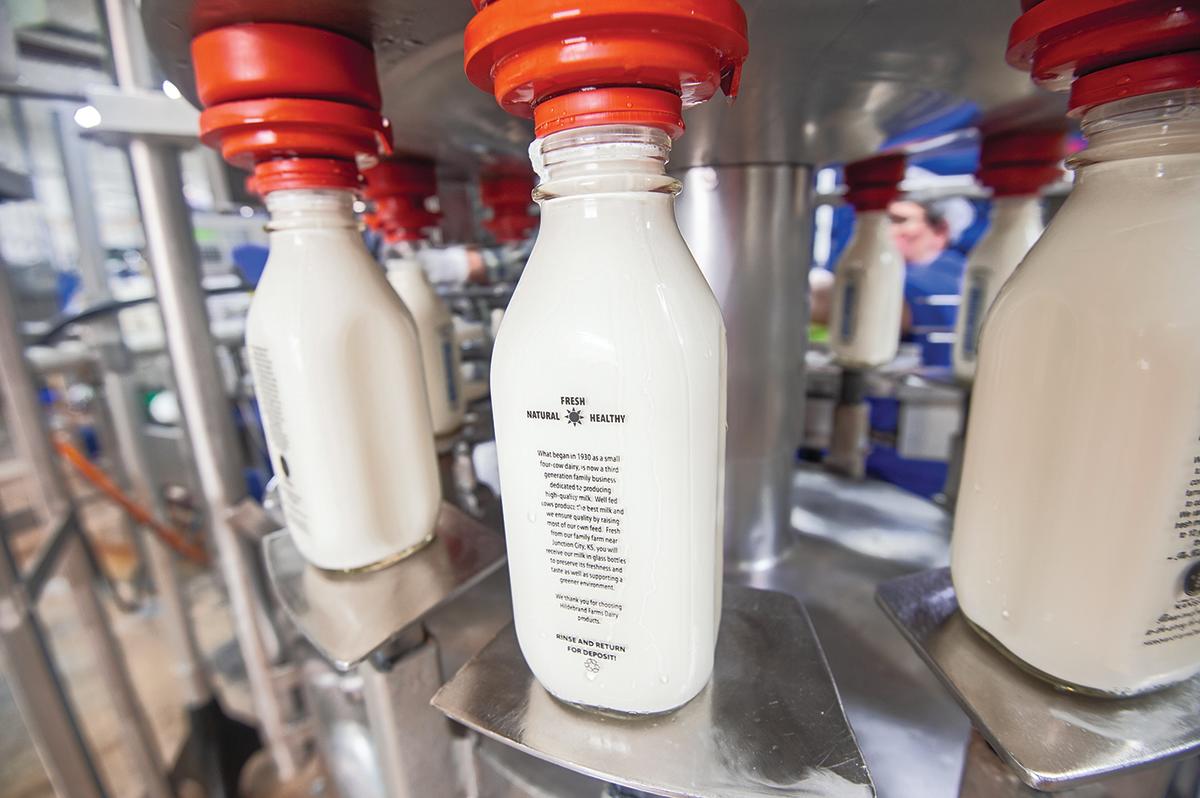 Past to Present
In 1930 Arnold and Rose Hildebrand started with four cows, selling their milk in glass bottles door-to-door in Junction City. As they prospered, they purchased 120 acres on the site of the current dairy. When their son Carl married Margaret in 1949, the business was passed to the second generation. Margaret can certainly attest to the hard work that goes into running a dairy, and she remembers being initiated into the lifestyle almost immediately. Married on a Sunday, the young couple made a quick trip to Kansas City, but they were back milking cows on Tuesday. "Sixteen years later we finally went on our honeymoon," Margaret says.
When Margaret's sons, brothers Alan and David, took over the farm in 1974 they slowly acquired additional land, added a new milking parlor, shop, grain storage system and a new free-stall barn. Even then the farm was mostly self-sustainable, growing the majority of the feed for a herd of between 120 to 150 Holstein cattle.
With an eye to the future, the brothers eventually expanded further. Their first thought was to acquire additional cows so they could produce more milk, but as the herd grew, two of their three wells would deplete in dry years. It became apparent that their well system efficiently supported just 150 cows. "When you think dairy, you must think water, too," Melissa says. "Cows drink an average of 150–200 gallons of water per day."
Research continued, and by 2006 the family began exploring the possibility of an on-site bottling plant. After an extensive feasibility study, they moved forward with that idea and the plant officially opened in September 2008. They also added a farm store where customers can shop for dairy products, Hildebrand-raised beef and other Kansas products such as cheese, free-range eggs, honey, sausage, chicken and pork. Store manager Kathy Hildebrand, David's wife, notes that their soft-serve ice cream, with an array of toppings, is another attraction.
Continuing with their forward-thinking approach, the family also decided to add farm tours as a way to educate the public. Tours begin in the farm store and then move outdoors where guests view fields of prairie hay, soybeans and corn. Then visitors move into the milk barn and calf pens. As they enter the back of the plant, they view the commercial cleaner where returned bottles are soaked and sanitized. Then, they move on to the actual processing area where the milk flows from separator to pasteurizer to homogenizer and eventually to the bottle filler. It's an opportunity to see how science, technology and business come together to produce a bottle of farm-fresh milk. Tours end with samples of flavored milk and an ice cream cone.
For the Hildebrand family, Hildebrand Farms Dairy is a lifestyle that has endured since 1930. Brothers Alan and David's commitment, vision and planning provide day-to-day success, but they also hope their efforts will pave the way for future generations to continue the family legacy.
 
FEATURED RECIPE
More Articles You'll Enjoy