The third-generation owners of Louisburg Cider Mill continue to harvest and expand on their founder's dream.
More than 45 years after Emmett O'Rear began pressing fresh Kansas apples into cider, his Louisburg Cider Mill has become recognized throughout Kansas and across the United States. Each year, thousands of people visit the 80-acre mill and orchard located three miles west of Louisburg in Miami County. The property holds festivals and events, and its Country Store sells cider and specialty goods throughout the year—all tracing back to a small farmhouse, barn and orchard that O'Rear and his family devoted their lives to.
 Born in Missouri and raised in Michigan, O'Rear went on to design cars for Henry Ford, then moved to Arizona where he ran a restaurant, and built homes. He had always wanted to own an orchard, but it was toward the end of his career and with the hard work, determination and fortitude of his family, especially daughter Shelly and her husband, Tom Schierman, who made that dream come true when he bought his acreage in Miami County. The Schiermans were instrumental in the incorporation of the business in 1977 and then later took over ownership. In 2015 their daughter, Alexis, and her husband, Josh Hebert, became the third generation of owners, and they run the operation today.
Josh attributes the mill's nearly half-century of success to the cider's blend of sweet and tart apples. But he further explains, "Louisburg Cider is a product of the '70s, a reflection of the culture of the time, the whole-foods and non-industrial movement." Reflecting this approach, the cider was not filtered. Natural fiber and apple pulp were intentionally left in the cider, resulting in a slightly cloudy look, a trait that is now associated with their brand name. That cloudiness, along with the apple's natural sugars and malic acid, provides the drink much of its flavor.
In the '70s, there were just a few cloudy ciders, but Josh notes, "Now it's become more standard." Some studies have also shown that in comparison to apple juice, the cloudy version of cider contains more antioxidants and benefit to the body.
Another product of the late 1970s, though perhaps less of a health food, was Shelly's now-famous apple cider donuts. The original recipe was created to use the excess cider often available in those early years. Warm from the fryer and dipped in cinnamon and sugar, those donuts are definitely an attraction. "One we cannot afford to be without," Josh adds. These days, the mill's Country Store makes and sells dozens daily—and hundreds of dozens every weekend throughout the fall. It's a process that customers can watch through a window in the Country Store (when donuts are being baked—during fall this goes on all day). Donut mix is even available for those wanting to make them at home. 
By the time donuts were added to the product line, the part-time business had moved from a roadside stand to the barn where the apples were and still are pressed. Back then, customers could fill their own jugs of freshly pressed cider from a
stainless steel vat.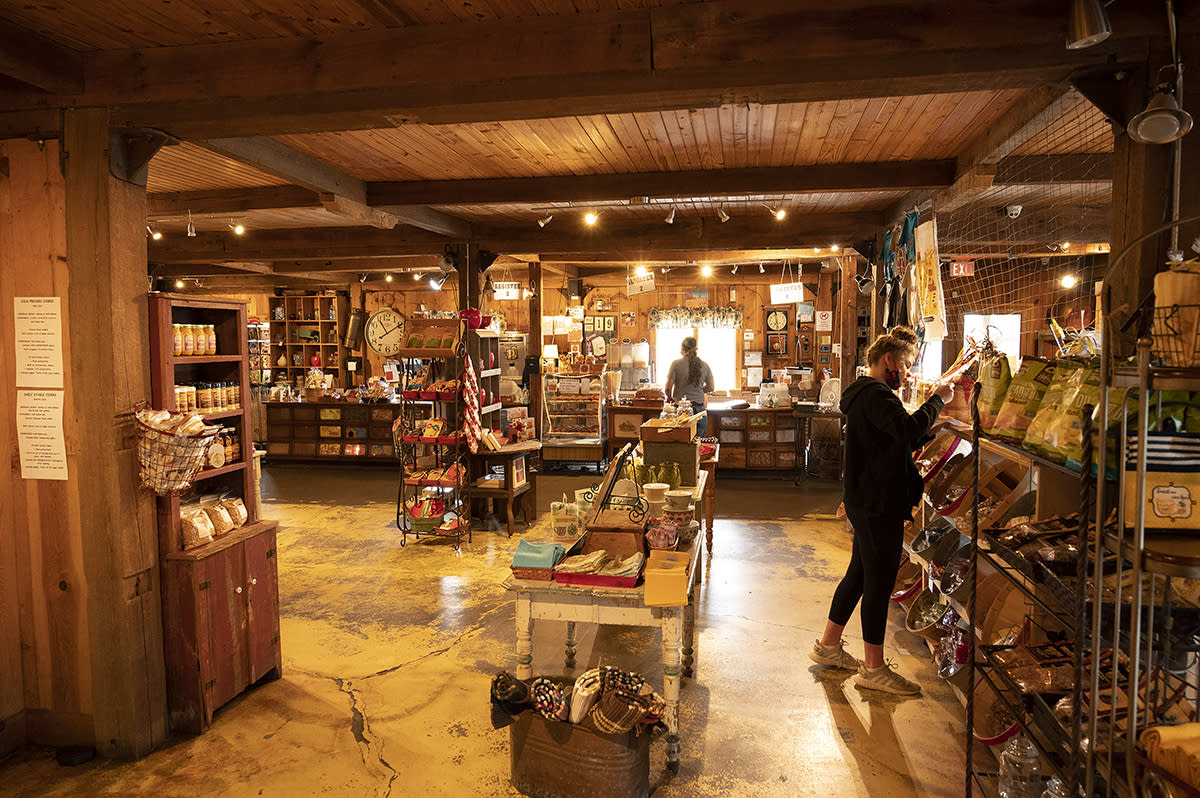 Just one year after its opening, the mill opened an on-site commercial store to sell these donuts along with the cider, and also held its first Ciderfest, a musical family-friendly harvest celebration.
That same year, a favorable article in the Kansas City Times brought droves of regional customers to the mill, helping to put Louisburg Cider Mill on the map. In 1981, a wholesale order from Dillons signaled a need for additional capital improvements and expansions to the infrastructure that would allow the mill's Country Store to operate year-round. The store gradually expanded its product line to include gift items along with a variety of ciders, apple and pumpkin butters, jellies, flavored lemonades, sparkling ciders, and frozen cider slushes. Eventually, the mill introduced a line of craft sodas sold under the brand name of Lost Trail. Starting with root beer made from an old family recipe, the mill's small-batch microbrewery gained national attention when it was featured on Food Network's Unwrapped. The mill now manufactures nine different flavors of craft sodas that use pure cane sugar.
As the store and mill grew, the family added special events; Lost Trail Days, an Easter egg hunt, flea markets and craft fairs.
Fall activities begin the middle of September and run through Halloween. The Family Farm features a corn maze, you-pick pumpkin patch, hayrides and various farm-play activities for kids and adults alike. Meanwhile, the Country Store provides visitors with live music, food trucks, caramel apples, popcorn and fresh-pressed cider and donuts throughout those autumn weekends. Ciderfest now spans two weekends and includes 80 or more arts and craft vendors. And, of course, cider-pressing demonstrations are always a main attraction and offer an opportunity to watch apples being unloaded, cleaned, and sorted, then ground into apple pulp that is then pressed into juice.
It's a process that Emmett O'Rear would likely be pleased to witness so many years after he founded the mill. And the orchard and land that O'Rear bought remain a place where generations gather. Josh becomes a little nostalgic as he says, "I'm always humbled by the way people express their connections to this place. It creates a deep desire and responsibility to carry on the traditions in a way that honors the past."
 
Recipes featured with this article: