In the decades before the Civil War and for a short while after, the U.S. Army established principal forts in Kansas. Their mission was to escort freighters and settlers using the Santa Fe, Oregon and Smoky Hill Trails, protect railroad construction crews, and serve as a staging place for war if necessary. These military installations included headquarters buildings, officers' quarters, soldiers' barracks, stables and storehouses – almost always surrounding a parade ground. The majority of these forts were most active in the 1860s and 1870s and are now historic sites. Visitors can relive history as they tour barracks, watch reenactments and walk through compelling museums.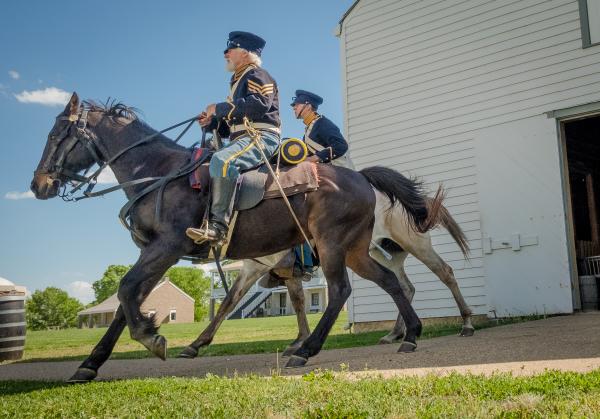 1. Fort Larned
On the Santa Fe Trail a few miles southwest of Great Bend, Fort Larned is the most complete and best-preserved military post of the Indian Wars era on the Santa Fe Trail. It was established to provide protection for travelers on the trail and to distribute annuities to the Native American tribes who had treaty agreements with the U.S. Government.
A National Historic Site, the fort includes authentically restored and refurnished buildings including the barracks, commissary, officers' quarters, blacksmith shop, quartermaster's storehouse and more.
During living history events (and as staffing allows), staff and volunteers dress in period clothing and offer insight into the lives of those who lived and worked at Fort Larned during its peak. You might find infantry members practicing drills on the lawn, blacksmiths forging horseshoes, or an officer's wife crossing the grounds under her parasol's shade.
The visitor center offers a museum collection of artifacts and exhibits related to the Indian Wars and an audiovisual program. Admission is free.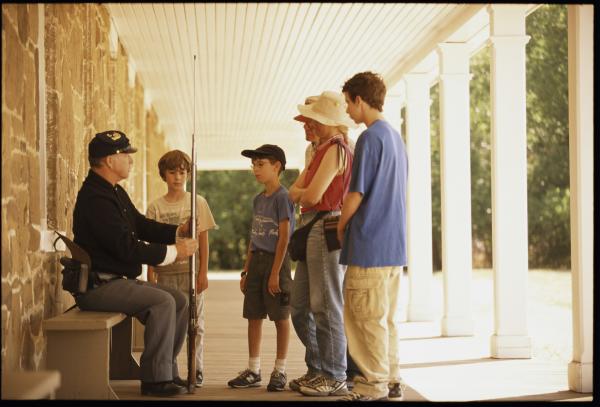 2. Fort Hays
Just south of I-70 in Hays, Kansas, Fort Hays was established in 1867 to protect construction workers building the Union Pacific Railroad. Fort Hays quartered many troops assigned to Western Kansas for this purpose, and from 1867 to 1870 became a key Army installation in the Indian Wars. It served as a frequent home base for units like Custer's 7th Cavalry, and later the 10th Cavalry Regiment, known as "Buffalo Soldiers."
A modern visitor center helps interpret the fort's significance, and interpretive signage provides an overview of the fort and its history.
Kansas Historical Society members receive free admission, and non-member admission ranges from $3-$6 per person.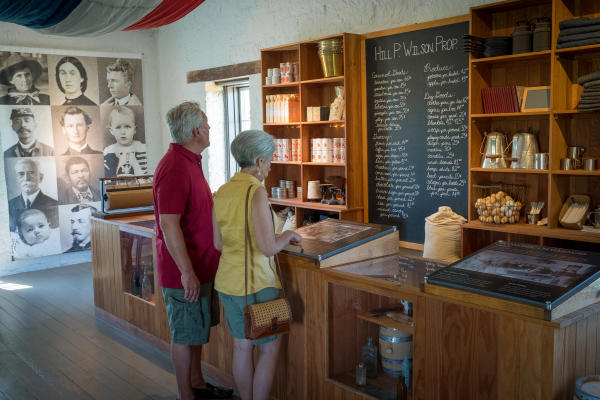 Established in 1827, Fort Leavenworth is the third-oldest active military installation in the nation. Known as the "Post that Opened the West," it's located on the north side of Leavenworth, protected on the east by the bluffs overlooking the Missouri River. Fort Leavenworth played a key role in keeping the peace among various Native American tribes and settlers heading West to make their fortune. Thousands of wagons passed through on the Santa Fe and Oregon Trails by the 1840s, and today visitors can tour several museums and historical sites that honor the fort's history.
Fort Leavenworth actively serves current U.S. military operations and welcomes visitors to their historic post. A government-issued photo ID, such as a driver's license, is required to enter the fort. Vehicle registration and insurance must be up to date. Please stop at the Visitor Control Center at Fourth and Metropolitan for your daily pass before entering the Fort.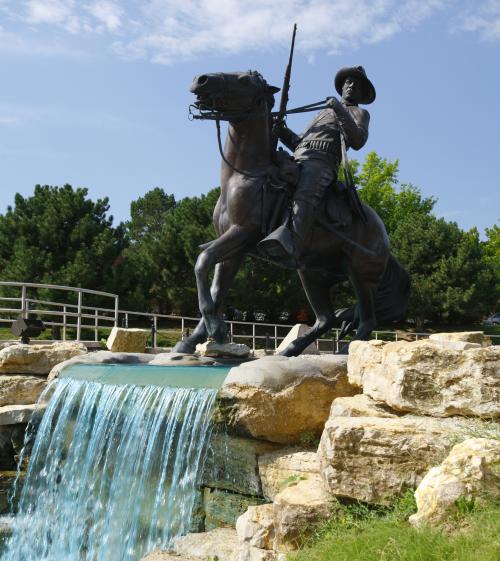 4. Fort Scott
On the Marmaton River in what is now Bourbon County in southeast Kansas, Fort Scott was established in the spring of 1842. Its mission was to protect the military road – now called the Frontier Military Byway – between Oklahoma's Fort Gibson and Fort Leavenworth, 120 miles north. When Fort Riley opened in 1853, Fort Scott's troops transferred out and the fort became inactive. During the Civil War, the U.S. Army reopened it as a Union military installation serving as a supply base, hospital complex, training ground and recruitment center.
The site reflects the 1840s era with interpretive exhibits, period furnishings and living history programs that include soldiers drilling on horseback and artillery demonstrations. Fort Scott is open daily for self-guided tours throughout the buildings. Admission is free.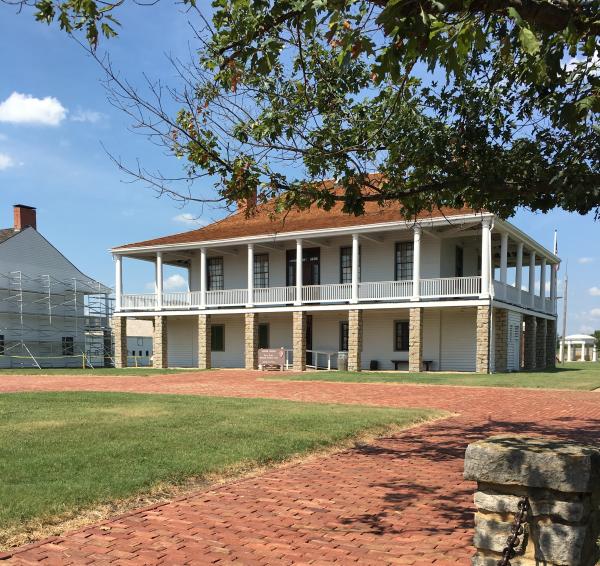 5. Fort Harker
Fort Harker is in central Kansas, just south of I-70 in Kanopolis. It was a major distribution point for all military installations farther west. Although no battles were fought at the fort itself, troops stationed there were involved in the Indian Wars. In 1867, troops stationed at Fort Harker performed more wagon-train escorts in one year than troops from any other frontier fort in the post-Civil War era.
Visitors can stop at the Guardhouse museum and explore military history and native American artifacts. It is within walking distance of the Commanding Officer's Quarters and the recently renovated Jr. Officer's Quarters.
6. Fort Riley
Just north of Junction City and west of Manhattan, Fort Riley is one of two historic military bases in Kansas that remain active. Like many of the other forts established in Kansas, it was created to protect settlers journeying along the Oregon and Santa Fe Trails. Founded in 1853, it was a focal point of activity during the Indian Wars, and its main function became organizing and drilling troops. In 1866 the regiment that came to be identified with George Armstrong Custer of the 7th U.S. Cavalry was organized there. Many other legendary people have been associated with Fort Riley over time, such as Buffalo Bill Cody, Wild Bill Hickok, General Lewis Armistead and General George S. Patton.
Home of the 1st Infantry Division – the "Big Red One" – Fort Riley has several historical museums to enjoy.
· 1st Infantry Division Museum
Fort Riley actively serves current U.S. military operations and welcomes visitors to the base. A government-issued photo ID, like a driver's license, is required to enter. Vehicle registration and insurance must be up to date.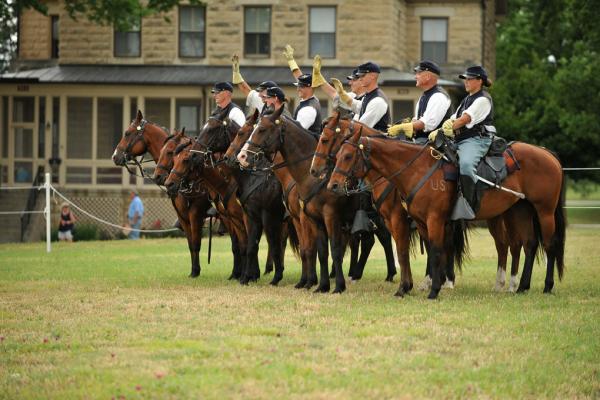 7. Fort Wallace
Known as the "Fightin'est Fort in the West," Fort Wallace was established in 1865 for protection of people and freight traveling the Butterfield Overland Despatch (BOD) and bore the brunt of the conflict during the Indian Wars in Kansas. Many of the prominent pioneer trails cut through prime buffalo hunting grounds. Native Americans, whose livelihood depended on the buffalo, did not treat the trespassers lightly. As buffalo scattered and became scarce, encounters between Native Americans and settlers became more frequent and deadly.
Fort Wallace was decommissioned in 1882, and soon after settlers in the region began removing and repurposing the buildings – since lumber was scarce and hewing rock into bricks took more effort than raiding the existing structures. While no buildings remain standing at the Fort Wallace site, the Fort Wallace Memorial Association hosts a museum and gift shop with artifacts such as stagecoaches, tools, furniture and military memorabilia. The Pond Creek State Station is just west of the museum and is open to visitors interested in touring an original station.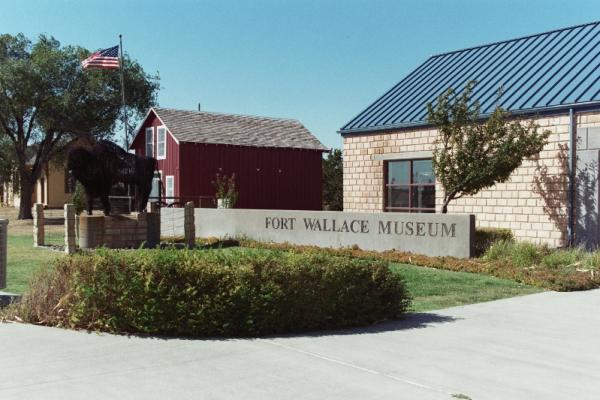 8. Fort Dodge
Located in the Wild West – Dodge City – Fort Dodge was established in 1865 as a supply depot and base of operations against warring Native Americans from 1865-1882. Its primary mission was to protect wagons on the Santa Fe Trail.
Today the fort serves as a retirement community for Kansas veterans. A historic library and museum offer a self-guided walking tour and is open to the public.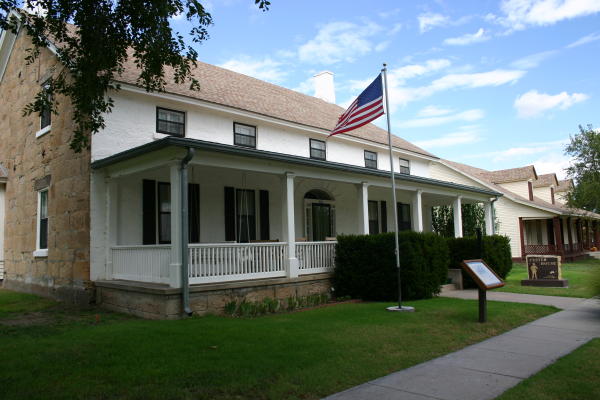 Kansas is a state rich in military history. There are many historic sites that history buffs and time travelers alike will enjoy. From Kansas' forts to historic battle sites and past president's homes, Kansas is a great place to honor military history. Interested in more military history in Kansas? Check out these museums and sites:
· Eisenhower Presidential Library, Museum and Boyhood Home
· Combat Air Museum
· Kansas Aviation Museum