Eisenhower Presidential Library, Museum and Boyhood Home
(785) 263-6700
200 SE Fourth Street, Abilene, KS 67410
Visit Website
Do you still like Ike? Not sure who Ike is? Either way, it's time for you to plan a trip to the Eisenhower Presidential Library, Museum and Boyhood Home in Abilene, Kansas!
Come learn about the 5-star General and 34th President of the United States – Dwight David Eisenhower. Five distinct buildings make up the Eisenhower Presidential Library and Museum housed on 22 acres. Included are the Boyhood Home, Museum featuring multiple galleries, research Library, Visitors Center with gift shop and introduction film, and the Place of Meditation – the President's final resting place.

Open 362 days of the year – closed Thanksgiving, Christmas Day and New Years Day. Parking is free. Spaces are available for tour buses and recreational vehicles.

Show your military ID card and active duty personnel receive free admission. Family members receive discounted admission with military ID card.

The Eisenhower complex is located in the center of Abilene's 5 Star Museum District. The district also includes the Greyhound Hall of Fame, Old Abilene Town, Abilene and Smoky Valley excursion train and Dickinson County Heritage Center, all within walking distance.
History Museum
Ethnic:

Military:

Other Museums:
Museum
History:

Art:
Facility Info
Description

There are a number of room rental options. Please contact the Facility Rental staff for pricing and additional details. 785.263.6700

Reception Capacity

170

Theatre Capacity

135

Banquet Capacity

170

Number of Rooms

5

Classroom Capacity

125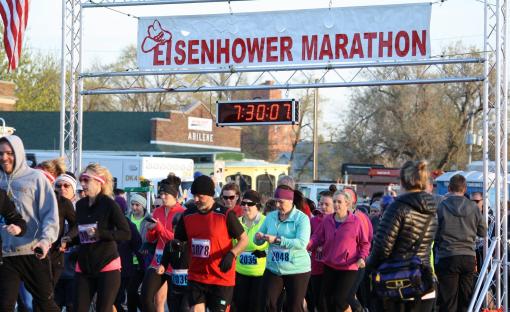 April 8, 2017
•

Abilene

•

Map it

The Eisenhower Marathon is a Boston Marathon Qualifier. It is an all paved course (traffic detoured until 1pm.) There will... Learn more
June 3, 2017
•

Abilene

•

Map it

Symphony at Sunset...Annual D-Day Commemorative Concert with the Salina Symphony at the Eisenhower Presidential Library and... Learn more