For many families, a road trip isn't complete without bringing their four-legged companion along for the ride. Kansas is just as fun for dogs as is it for their human counterparts. Here is a list of locations in Kansas that the entire family can emBARK upon together.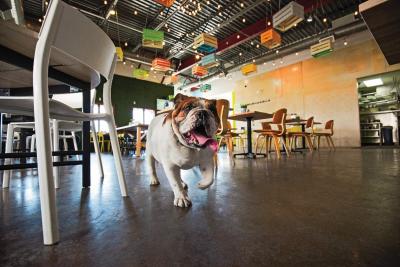 Dog-Friendly Places in Kansas
Dog-Friendly Rest Areas in Kansas
Most rest-areas allow pets. These are great locations for the whole family to stretch their legs and relax.  Travelers really enjoy the Oasis Travel Center in Colby, KS. The Oasis Travel Center Dog Park is specifically built for those on long road trips. It has close proximity to Interstate 70 adjacent to a Starbucks and right off the exit ramp. This makes it perfect for those traveling for a long distance on I-70 with their canines. This park does have separate sections for large and small canines. The Oasis Travel Center Dog Park is fenced and stays clean and well maintained. 
Here you can find a comprehensive list of dog parks in Kansas.
Kansas State Parks
All 28 Kansas State Parks allow pets. Hiking is a perfect addition to your road trip and can be enjoyed by all members of the family. Kansas state parks offer rugged terrains, rock ledges, waterfalls and more. For water-loving dogs, check out kayak rentals at Milford State Lake. Check with each location for the current leash laws and pet regulations.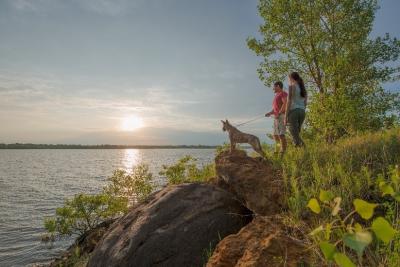 Dog-Friendly Hotels in Kansas
Everyone needs a good night's rest after a long day of exploring. Here are some places the entire family can enjoy, doggos included. There are over 350 hotels in Kansas where pets are welcome. Here are a few of our favorites.
Grand Central Hotel & Grill- Cottonwood Falls
Located in the heart of the Flint Hills. The Grand Central Hotel sits four miles from The Tallgrass Prairie National Preserve at The Z Bar Ranch and one block west of Kansas' National Scenic Byway 177 in Historic Cottonwood Falls. Biking, nature hiking, birding, picnics; horseback riding, fishing...all available through the hotel! A small, elegant hotel with a western flair, the Grand Central Hotel offers ten rooms, each beautifully appointed and oversized, that reflect an extraordinary and unparalleled quality. Each is "branded" with historic brands of our local ranchers.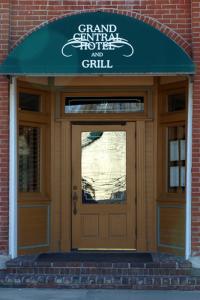 Drury Plaza Hotel Broadview- Wichita
The historic Broadview Hotel opened in 1922 on the Arkansas River banks in Wichita. Their 2011 renovation preserved the large chandeliers, ornate ornamental features in the grand lobby, and the original mosaic mural in the Crystal Ballroom, which was installed by Native American artist Blackbear Bosin.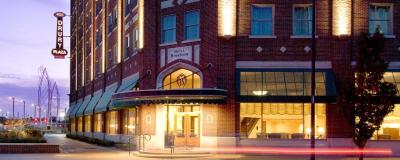 Life's Finer Moments Cabins- Clay Center
A quiet home away from home. Each cabin sleeps up to 6. Enjoy a full-sized kitchen, 2 bedrooms, large RRs, spacious living room with gas fireplace, covered front porch, back deck, fresh country air, walking trails and fishing ponds.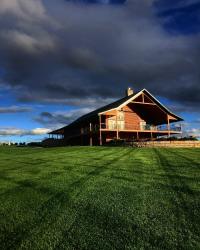 Dog-Friendly Restaurants in Kansas
Some of the best parts of a road trip are the tasty delights and refreshing beverages along the way. Canines are #foodies too. Here are some places for the entire family to dine and cheers together.
Happy Basset Brewing Co-,Topeka-They even serve up "Pup Beer"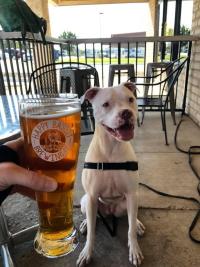 Prairie Fire Winery & Candle Company, Paxico – I hear the Flint Hills is on every dog's bucket list
Somerset Ridge Vineyard & Winery, Paola - Four-legged friends love Southeast Kansas!
Radius Brewing Company, Emporia – Great pit-stop when traveling I-35
Rocks & Brews, Overland Park – They even have a dog menu!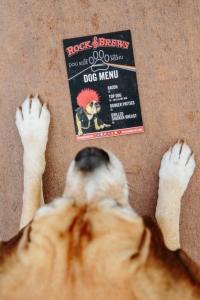 Bluestem Bistro, Manhattan- Pups love this patio
Burger Stand at the Casbah, Lawrence -Great place to people watch. Or dog watch. Or people watching dogs, watching people watch….?
Paisley Pear Cafe, Hays- A quaint stop on I-70
Chicken N Pickle, Wichita- Totally PAWsome for everyone
Trails Days Cafe & Museum, Council Grove – Everyone will want to chow down on their homemade bread
Dog-Friendly Attractions in Kansas
Many family fun-filled attractions across Kansas allow dogs to join in on the excitement. No sad, don't leave me behind, puppy dog eyes here. Below are a few ideas for your travels.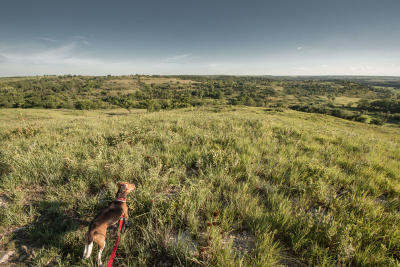 Tallgrass Prairie National Preserve - Strong City
World's Largest Ball of Twine  - Cawker City
Boulevard Drive-In – Kansas City
Castle Rock- Collyer
Monument Rocks- Oakley
Amelia Earhart Birthplace Museum- Atchison
Dorothy's House & The Land of Oz- Liberal
Big Well Museum & Visitor Information Center- Greensburg
Quivira National Wildlife Refuge- Stafford
Fort Scott National Historic Site- Fort Scott
Cimarron National Grassland- Elkhart
Dodge City Trail of Fame- Dodge City
Mahaffie Stagecoach Stop & Farm Historic Site- Olathe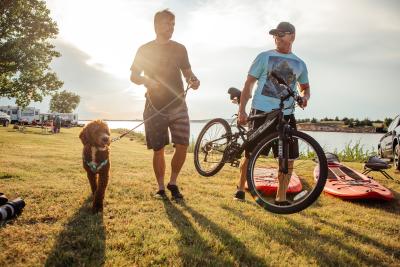 Road Trip Tips for Dogs:
Always verify the animal policy with the lodging company beforehand
Ask for a first-floor room if possible, to avoid stairs/elevators
 Bring more food than anticipated just in case stops along the way do not carry your particular brand
Collapsible water & food dishes work great for travel
Dog toys (pro tip; non-squeaky ones are most tolerable for the car)
To avoid car sickness, place them in the backseat facing forward. We recommend having a nice, comfortable bed for them. Who doesn't like to travel in style?
Make sure your pet is used to being in the car. We suggest taking them on small trips at a time to get them used to being in a car before you head out on a longer journey
Talk to your veterinarian before you travel regarding motion-sickness. They may provide you some medicine just in case
Pro tip; sugar helps dogs with carsickness/upset stomachs. We've found that many families have success with giving their dogs a couple gummy bears (not sugar-free due to the dangerous ingredient Xylitol) before the car ride and during as needed. Always consult your vet before giving your pets any medicine or "people food"
Never leave your canines in a hot or cold car
Always make sure your pets are up to date on vaccinations
Be sure to take lots of rest breaks. They are just as good for you as they are for the furry travel companions
Pack some towels that can be used to get dirty. You never know when you might need to wipe those paws before getting back in the vehicle
Make sure your pets are wearing collars with your contact information should they wander and get lost. Microchips are also very useful.
*Disclaimer: Always check the rules and regulations for pets in the areas you plan to travel. Each location may have different rules regarding leashes, tethered chain length, access and so-on.