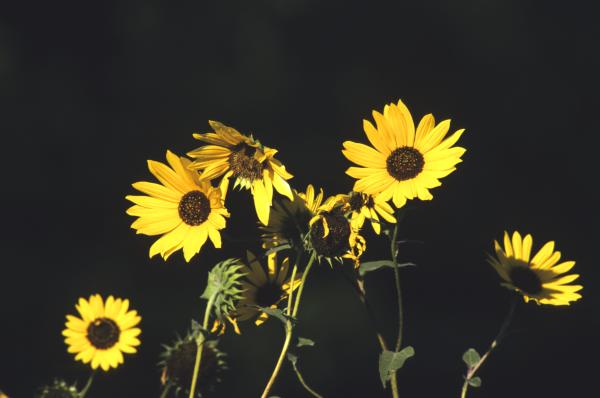 Some days we're in the mood for an educational, refined native plant experience. We want to be dazzled by exquisite placement and proper landscape design. Other days we want to pull on the muck boots and hike miles to scout wildflowers with names like Scarlet Globe Mallow, Prince's Plume and foxglove. Then, there are times we dream of creating our own horticultural adventures at home. Lucky us. Kansans have the appreciation and space to give all the wild and wonderful flowering plants their place to shine. We don't have to decide whether we prefer a more rugged nature hike, or a cultivated jaunt. Kansas journeys split between arboretums, wetlands, prairie reserves and even front yards can keep our inner botanist enraptured for life.
Walk on the wild side:
Spring wildflower walks across the 3,000 miles of trails in Kansas are the perfect way to acquaint yourself with native Kansas blooms. There are walks offered with guides and through organizations if you enjoy sharing your experience with others. But it is also very possible to wander yourself in the solitude and serenity of Kansas trails. Make sure to familiarize yourself with the intensity level of trails beforehand, and take plenty of water. Keep track of the flowers you find so you can plant some at home, or come back to visit them next year. Some of the more popular spots to see wildflowers are on these trails:
Find more trails here! https://www.travelks.com/things-to-do/parks-and-nature/trails/
Create a prairie grassland ecosystem in your own backyard:
Porch gardening and the Lawn-free movement-- More and more urban dwellers are opting out of lawn maintenance and into the no-mow way of life.  Once established, most native flowers and grasses can survive drought easily. Less water usage is a huge bonus in this movement! Hearty native flowering plant clusters also don't need to be rebuilt as often as traditional grass yards, so your time can be spent in awe of your creation rather than in irritation with excessive maintenance. Creating your own prairie ecosystem can be done regardless of the condition of your soil, or size of area you have to cultivate. Go on some wildflower walks or dedicate time online to search out blooms you'd like to introduce into your own backyard prairie. Consider raised beds and get creative with container and pot systems which allow you to add the soil consistency and specific plant nutrition you'll need. 
It can be daunting to jump into whatever flowering project you want to try.  Here is a list of some excellent resources to help you get acquainted with Kansas horticulture:
Feed me, please!
Planting native flowers is a way to provide shelter and nourishment for pollinators. No plants in Kansas can survive without the help of the 3 Bs: bees, birds, and butterflies. Encourage prairie pollinators to visit your outdoor spaces with proper food and shelter sources. Pollinators keep Kansas packed with nuts, berries, seeds, and wildflowers, so look for them wherever you choose to observe blooms.
Millions of Monarch butterflies flutter through Kansas grasslands and forests every year. They are the only butterfly species that make a two way stop through our state, so it makes sense to treat them like royalty. The Kansas Monarch Conservation Plan was established to conserve and create pollinator habitat on private, public, and urban lands throughout the state. Monarchs need one thing during their entire life cycle: milkweed. As caterpillars they need milkweed to feed upon, and as adults they drink nectar from the plentiful blooms on the plant. This perennial flowering plant is a must add for your homebased Kansas ecosystem adventure. 
Stop by these established butterfly gardens for inspiration:
If you build it, they will come:
One of the most popular spots to enjoy Kansas blooms is at sunflower farms.
Thanks to social media, photography in sunflower fields is a must-have late summer selfie stop. Late August through mid-September is prime time for clicking and picking of the gigantic blooms. The biggest fields of crop sunflowers are found in northwest Kansas. Sherman County, the sunflower capital of Kansas, produces more sunflowers than anywhere else in the state-- taking the lead in birdseed production, and in-shell sunflower seed sales. Grinter's Sunflower Farms in Lawrence is one of several farms across the state that encourages visitors and photography. 
Spring Symphony:
Botanical gardens and arboretums are like outdoor museums.  Shrubs, trees, flowers, waterfall installations, and easy walking paths blend in perfect union in these intentional spaces. Like a symphony, they cultivate inspiration and harmony. These polished gems of Kansas were created with education and natural beauty in mind. Generally a mix of native and non-native plants, these spaces fill a more refined horticultural niche for plant lovers.
Here is a list of arboretums and botanical gardens in Kansas. 
What and when are critical questions if you'd like to catch more elusive flowering plants in their glory.  Excellent resources are abundant, but this one may be one of the most useful for native plant identification. This quick guide allows you to search Kansas flowers easily by color.
More education-based resources are abundant as well, depending on how deep you want to dive:
Wildflowers at Tallgrass Prairie Reserve 
A Guide to Kansas Wildflowers by Season
Prairie Bloom Perennial Flowers
We hope you have a blast taking time to smell the roses... and sunflowers... and blue sage... 😍