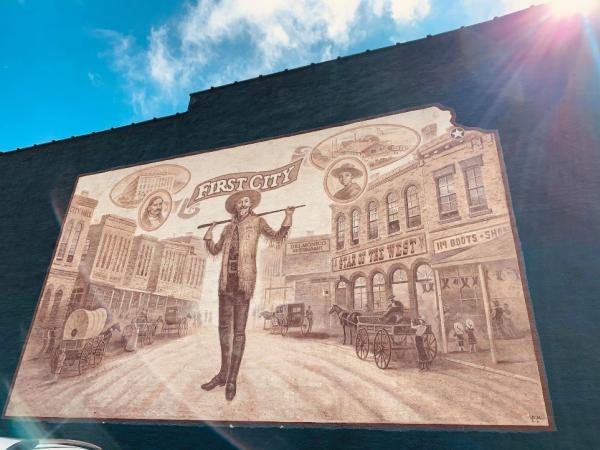 2020 halted travel for most of the world, including the staff here at Kansas Tourism. While our wandering ways were put on hold, it gave us time to put together some epic bucket-list road trips. Myself and Kansas Tourism Marketing Manager, Jordan Roemerman, decided the perfect first work outing would be exploring a little slice of Leavenworth.
We started with breakfast at The Depot, which ran as a train station for nearly 100 years but received new life in 2015 with the opening of the restaurant. The historic building with robust woodwork and dainty accents coupled with an urban vibe really set the tone for our trip. I ordered the "Casey Jones" which was blueberry pancakes, hashbrowns, 2 eggs over easy with bacon. It was delish, but I had serious food envy when Jordan's chicken and waffles arrived. Good thing she believes that sharing is caring, and I got to confirm they were as scrumptious as they looked!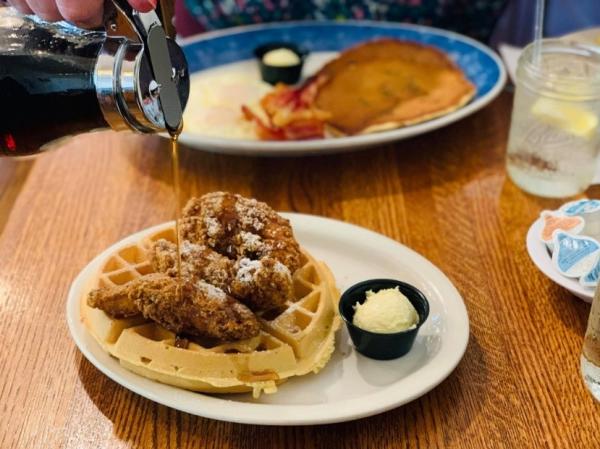 We decided after a hearty meal we needed to move and groove. We found ourselves enjoying a stop on the Lewis & Clark Trail, at Leavenworth's Riverfront Park. It had great views of the Lewis and Clark Centennial Bridge and the Mighty Mo (Missouri River). We stopped and read the interpretive panels at the park to learn more about Lewis & Clark while they were in the area. If you are driving the Glacial Hills Scenic Byway this is a great spot to get out and relax or picnic for lunch.
After our mid-morning break, we decided to explore the historic downtown area. The sun was shining, the weeks' worth of rain had halted and we truly had this perfect morning of exploring, sightseeing, and shopping. The Historic Wayside Tour Kiosks are sprinkled throughout the city and it was neat to read about the people, places and events that made Leavenworth a vibrant city.
As a Victorian house owner myself, Carroll Mansion was a must-see-stop for me. This 1880's Victorian now houses the Leavenworth County Historical Society and boasts an impressive 30,000 glass plate negatives taken by pioneer photographers.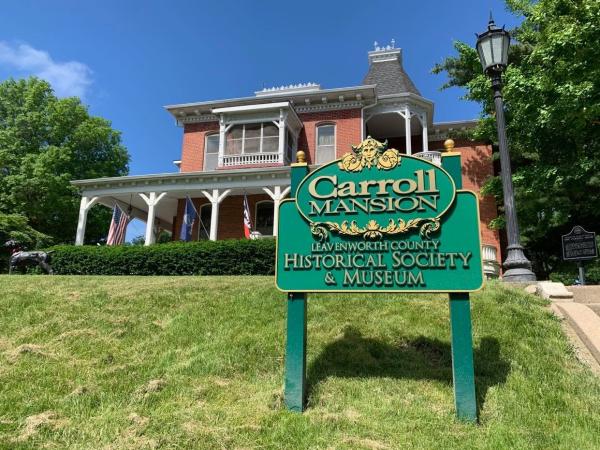 One of our favorite 'in the moment' finds was the Spock mural. Found near the corner of 7th and Shawnee, the "Live Long and Prosper" sign greets you as you approach Gator Games & Hobby. Take time to read the "In This Place" script to see how many references you can identify. You will find several Instagram-worthy murals as you stroll Shawnee Street. The Art Walk on Shawnee Street guide provides information and location details for you.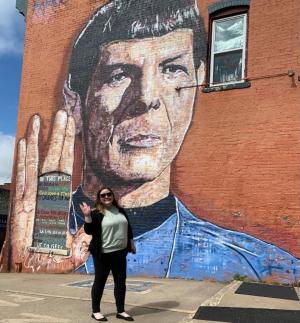 We had about 20 minutes before lunch and decided retail therapy was in order. We both heard of Artistic Works by Lu and the reviews are true, it's awesome. We were both immediately drawn to the handcrafted jewelry that greeted us at the door. There was a huge variety to shop from and we both loved the inclusivity of their sizing.  We both bought some shirts and I fell in love with a custom multi-stone drop-down necklace.
Next stop, lunch. Leavenworth has an incredible international food scene. Much of this is thanks to the diversity of Fort Leavenworth's troops and those that decided to make this place home. We stopped at a quaint, little dive restaurant on Cherokee Street called Saint Sushi and Sake. We were surprised to see such a large menu with half of it being American cuisine. We decided to split it up and order sushi and pizza. The sushi presentation was on point and Jordan's Hawaiian pulled pork pizza was delish. We recommend ordering the pizza with extra sauce, the sweet Thai chili base was perfection.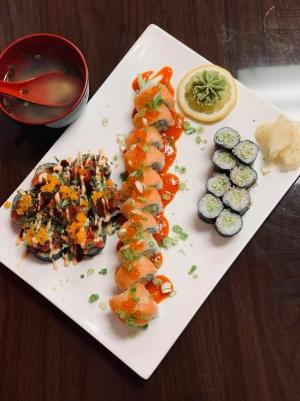 With full bellies we headed to our most anticipated stop, the Richard Allen Cultural Center & Museum There is a suggested $5 admission per person for a tour and we recommend opting for this experience. Our tour guide William was phenomenal. We were both intrigued the entire visit. The museum includes many artifacts that showcase the history of the Buffalo Soldiers, including information on and art inspired by the only known female Buffalo Soldier. Our tour guide also covered how fate brought the museum to life which is a fascinating story. Seeing the family portraits, heirlooms and reading the stories of influential African Americans in Leavenworth's history was inspiring. There is a lot to be seen and learned from this museum, so take your time.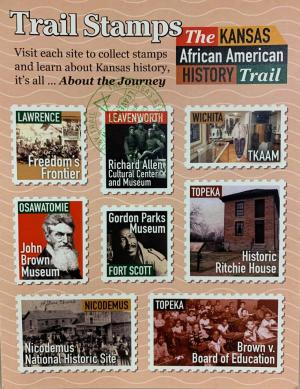 The Richard Allen Cultural Center & Museum is part of The Kansas African American History Trail. You can start the trail at any of the locations on the passport. Each site will give you a stamp when visiting and when you complete all the stops you will get a prize at the last museum you visit.
We ended our day with the museum and a short drive on the Frontier Military Historic Byway so we could pass by Fort Leavenworth. Next time we visit the Fort, Buffalo Soldier Monument and the Fort Leavenworth National Cemetery will be on the itinerary.
We could easily turn this Leavenworth trip into a weekend getaway. There was so much for us to see and do. Here are some places we have on our list for the next time we are here:
Attraction & Activities
The Lumberjack Shack Premiere Axe Throwing- we thought this sounded like a fun night activity
C.W. Parker Carousel Museum- I am never too old to enjoy a ride on a carousel. Especially when the animals are hand carved and one-of-a-kind
424 Lounge – something about listening to jazz downtown soothes my soul
Next to Nature Farm – home to Kansas' only honey tasting bar
Retail
Candle Queen Candles Gift Boutique- judging by the window displays, I think I would want to buy the entire store
Leavenworth Antique Mall – 3 levels of antiques to explore for us junkin' junkies
Queen's Pantry Teas- Midwest's largest selection of British foods, gifts and teas
Food + Drink
Island Spice Jamaican Restaurant- the pictures and reviews have won me over
First City Cheese Market- with a name like Colby, I will travel for cheese!
The Suburban- their patio looks divine
Timbuktu- French & West African good, umm, yes please
Sis' Sweets - This is a town staple! Perfect for anyone with a sweet tooth.
Lodging
Leavenworth Local- this boutique hotel happened to open just a couple days before our visit
Union Park Guest House – super cute 1900's bungalow that can accommodate up to 4 guests
Home 2 Suites by Hilton – located downtown for easy access to the 26-block historic district
Fairfield Inn & Suites – Only a minute away from Fort Leavenworth gates