In 1821, Captain William Becknell and a party of five headed west from the Missouri River to trade mules and horses and to hunt on the plains. They wound up in welcoming Santa Fe, eventually carving a 900-mile trade route that thousands of freighters, military troops, Native Americans and others followed for the next 60 years.
Celebrating its 200th anniversary this year, the pathway—now identified as the Santa Fe National Historic Trail—passes through five states. Kansas claims a significant share of the expanded 1,200-mile route meandering through towns such as Gardner, Council Grove, Great Bend and Cimarron that sprung up along the way. Fort Leavenworth, Fort Larned, Fort Dodge and other Kansas military posts protected the trail.
Retrace the route and join this year's party at local historical sites and events, saluting the commercial highway that bustled until the railroad reached Santa Fe in 1880.
SANTA FE TRAIL TOWNS
Dodge City
Old West spirit still kicks up its heels in Dodge City, where trail ruts indent the prairie and frontier fun carries on at Boot Hill Museum.
Long before Gunsmoke fame, Dodge City defined the Old West, triggered by a stream of Santa Fe Trail voyagers. As H.L. Sitler, the first settler of what became Dodge City, described: "If you stood on the hill above Dodge City, there was traffic as far as you could see, 24 hours
a day, seven days a week, on the Santa Fe Trail." Proof remains in trail ruts carved across grasslands west of town. Visitors can follow a walkway and interpretive signs to view some of the most clearly defined wagon ruts along the trail. Relive Dodge City's notorious heyday at the saloon, jail and general store, as well as through gunfights on Front Street at Boot Hill Museum. At the brand-new interactive exhibit hall, feel the floor shake during a simulated buffalo stampede. Time your visit right, and you can enjoy five days of pro rodeoing, a longhorn cattle drive and a Western parade during Dodge City Days (July 29–August 8).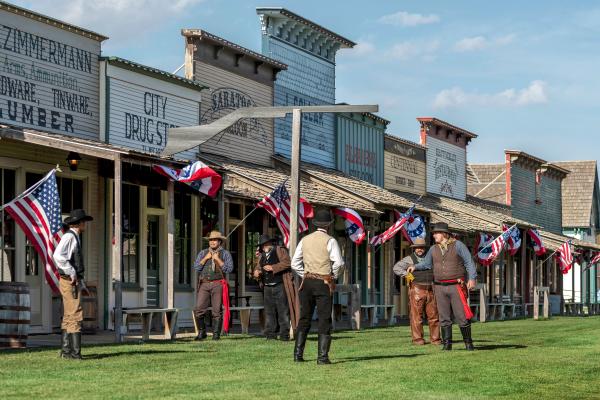 Larned
Once a guardian of the trail, Larned preserves its story at an original frontier fort and Santa Fe Trail museum complex.
Brave the untamed territory with a visit to the best-preserved military fort on the Santa Fe Trail. The Fort Larned National Historic Site and its nine original buildings take visitors back to the 1860s when the post's soldiers patrolled the trail. The Santa Fe Trail Center's extensive collection of photos, artifacts and displays guide visitors through trail days and westward expansion at this complex of 10 buildings. A welcome landmark northeast of town, Pawnee Rock marked the trail's halfway point. Walk the grounds of the sandstone vantage point, now a state historic site with interpretive signs, for a 360-degree view as seen by American Indians and trail travelers. Circle back to Larned to celebrate Santa Fe Trail Days (May 28–30), with live music and an evening glow parade.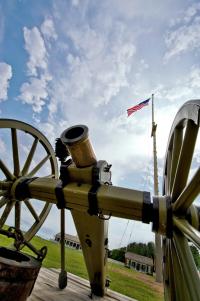 Council Grove
Like early-day travelers headed west, rendezvous in quaint Council Grove and discover the town's rich history at more than 25 historic sites.
Well-preserved Council Grove makes it easy to imagine wagon trains rolling past the 19th- century buildings that still line Main Street. In an 1861 stone home, from-scratch meals of bison pot roast and German schnitzel speak to early culinary influences at the Trail Days Cafe and Museum. A few blocks down the street, the Kaw Mission and Last Chance Store Museums on the Santa Fe Trail State Historic Site combine for a dual history lesson. At Kaw Mission—built to educate Kaw boys—learn about the crossroads of cultures formed by the trail. Both attractions are slated to reopen in early 2021 after extensive reinterpretation work to put personal stories in the spotlight. Council Grove salutes its heritage with a Kaw Nation powwow, concerts and a parade during the annual Washunga Days (June 18–20).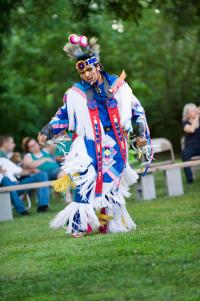 Leavenworth
Troop to the oldest active Army post west of the Mississippi to experience its proud military heritage and peacekeeping role.
Make the Frontier Army Museum at Fort Leavenworth your vantage point for exploring the "post that opened the West." Its exceptional collection of military artifacts traces the 1827 fort's mission to keep peace among Native American tribes and to protect the western frontier and the newly opened Santa Fe Trail. From the museum, a self-guided tour leads to 22 points of interest, including the oldest house in Kansas, one of the first national cemeteries and the Buffalo Soldier Monument.
MORE SANTA FE TRAIL TO EXPLORE
CIMARRON NATIONAL GRASSLAND, ELKHART
Follow a 30-mile auto tour through the native grasses, wildflowers, rock cliffs and sagebrush of these 108,000 acres, Kansas' largest parcel of public land. Score a panorama shot at the Point of Rocks overlook.
HISTORIC ADOBE MUSEUM, ULYSSES
A 1930s adobe-block building sets the stage for this story of life on the High Plains, told through a Native American encampment and artifacts, plus a loaded-up Santa Fe-bound wagon and a sod house.
BARTON COUNTY HISTORICAL SOCIETY MUSEUM AND VILLAGE, GREAT BEND
In addition to the indoor exhibits, a dozen outdoor buildings include a 1950s steel Lustron home, a stone settler's house, a blacksmith shop and others original to Barton County.
MORTON COUNTY HISTORICAL SOCIETY MUSEUM, ELKHART
The county that contains the most miles (33) of the Santa Fe Trail preserves its history with displays of trail, pioneer and local lore, along with a covered wagon. Outdoors, visit a one-room school and old-time church.
GARDNER HISTORICAL MUSEUM, GARDNER
Situated near the junction of the Santa Fe, Oregon and California trails, this 1893 Victorian home-turned-museum recalls trail days with exhibits in its bedrooms, a period kitchen and a timeline mural in the parlor.
SHAWNEE INDIAN MISSION STATE HISTORIC SITE, FAIRWAY
A National Historic Landmark, this site with three original 19th-century buildings recounts early days as a school for Native American children, and later, as a territorial capital and supply point on the Santa Fe Trail.
LAST STOP
In the 19th century, a vehicle's horsepower meant just that. At the Mahaffie Stagecoach Stop and Farm Historic Site in Olathe, ride in a reproduction stagecoach and get a taste of 1860s farm life. It's the Santa Fe Trail's last stagecoach stop open to the public. Help with chores, see what's cooking in the kitchen's wood-burning stove and watch a blacksmith at work.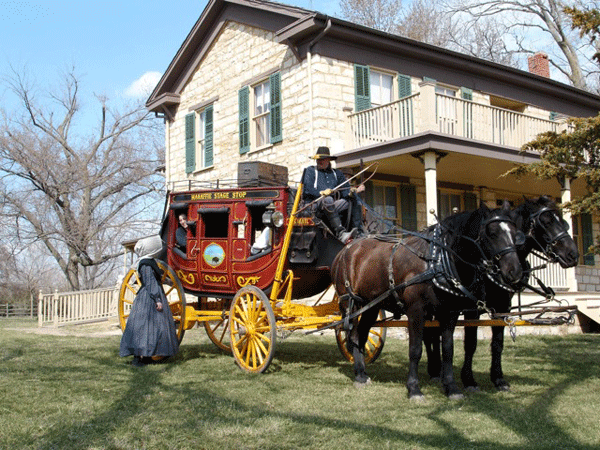 Hit the trail to more outstanding Kansas destinations featured in the 2021 Kansas Official Travel Guide.