There is so much for a farm girl to love in Lindsborg, Kansas! Being married to a German Lutheran I was already set to love this historic town settled in 1869 by a group of Lutheran Swedes. On the lookout for agricultural sites, one of our favorite tours during our stay was the Smoky Valley Roller Mill which is part of the Roller Mills Museum. This museum plays double duty with exhibits of central Kansas history and genealogy research. Our main interest was of the mill itself. Volunteer Jim Malm gave me and my husband, Keith, a guided tour of the Smoky Valley Roller Mill that was built in 1898.
The museum was in operation until 1955, sending flour to places nationwide. "All the big pieces of equipment are all original," Jim shared. The grain was stored near the mill, augured underground then moved to 3rd floor and had foreign matter removed and eventually the grain ran through the rollers until they ended up pounded into milled white flour! Another agricultural site that really caught our attention was beautiful Heritage Square. It is amazing to note that the Swedish Pavilion located at the north end of the square was brought over from Sweden for the 1904 World's Fair in St. Louis. I loved that I read that in 1976 the King of Sweden actually came during the bicentennial tour and rededicated the building!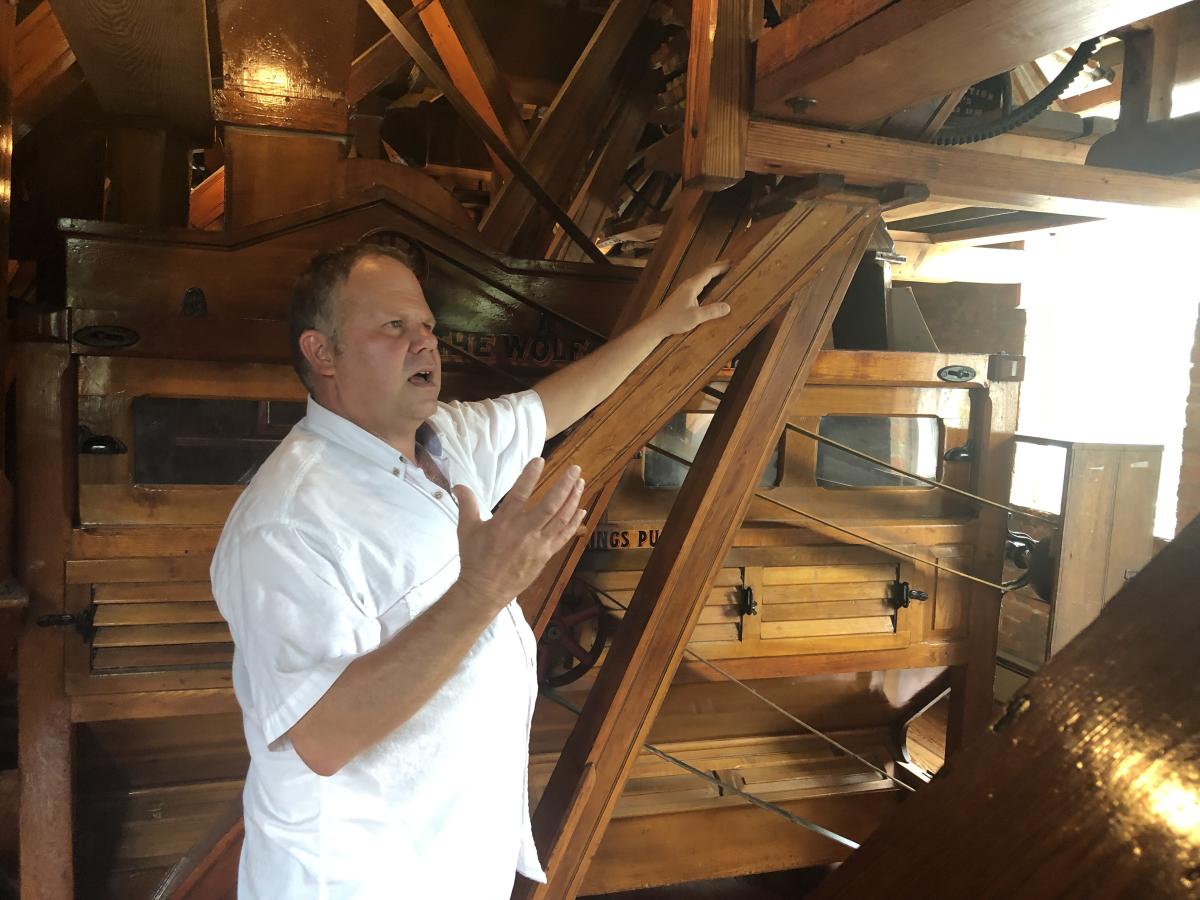 For old iron lovers like us, though what caught our attention in the Heritage Square were the other historic buildings. In these buildings we viewed the Santa Fe Locomotive #735, a wooden windmill and Heritage Center containing business exhibits, a livery stable and farm machinery. The Swedish Pavilion was used as part of Bethany College for a while. The town of Lindsborg has been celebrating their Swedish heritage and agricultural heritage as well by embracing their Swedish Crafts as part of their course choices. While visiting I was lucky enough to be able to take a broom making class with award winning broom maker Justin Burton! Justin came to Lindsborg from Berea College in Kentucky. Broom making has been part of the Lindsborg history as well as part of its future with the college bringing this art back to town. "This was part of the early Swedish Lutheran heritage and one of the sources of income," Justin Burton said.
"It was a big income. There were five broom factories. Swedish immigrants came and had their hand in it," Justin added. Taking infinite patience, Justin showed me how to make a turkey ring broom which now sits in my kitchen in a place of honor!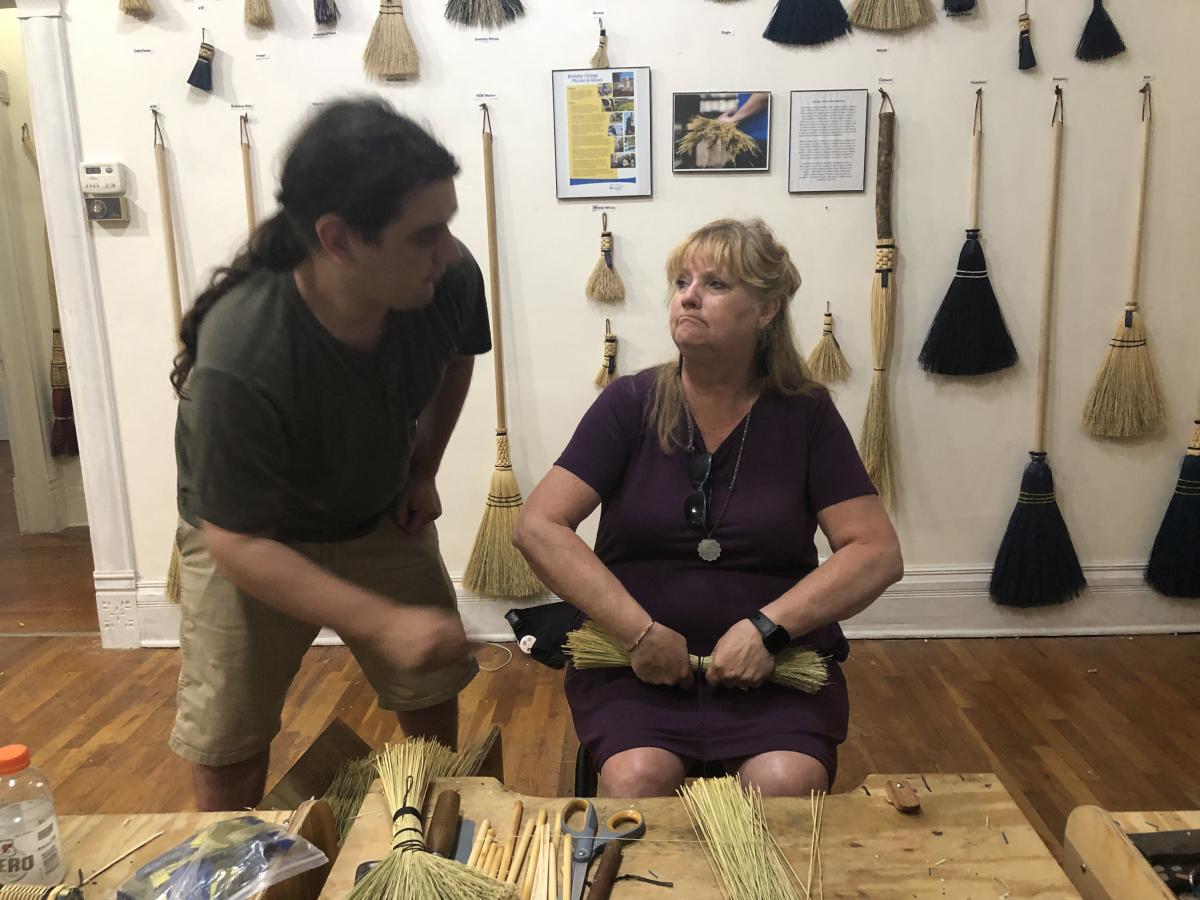 There are many agricultural connections in Lindsborg and one of the most tasteful was our breakfast visit to the Blacksmith Coffee Shop and Roastery. This wonderful coffee shop is a former Blacksmith shop that was started by Jackob Christian in 1874. The John Esping family and their daughter Molli purchased the business in January of 2017, but they have kept the cool Blacksmith vibe. While the quiche, coffee and other food delights are wonderful, you can also enjoy the agricultural history as well. After a meal, a walk on the Välkommen Trail offers not only a bit of exercise, but some other agricultural sightings and a bit of local history. The Välkommen Trail is a 4.5-mile all-weather bicycle and pedestrian trail. We loved that this trail was converted from the abandoned Missouri-Pacific and Union Pacific rail beds. The trail, meanders through Lindsborg. While we didn't walk the whole thing, it provided us a nice tour of the town providing a totally different view, but best of all they have historic signage sharing the history of different items. During our walk we viewed grain elevators, old iron, and read about Coronado Heights which was unavailable to tour during our visit.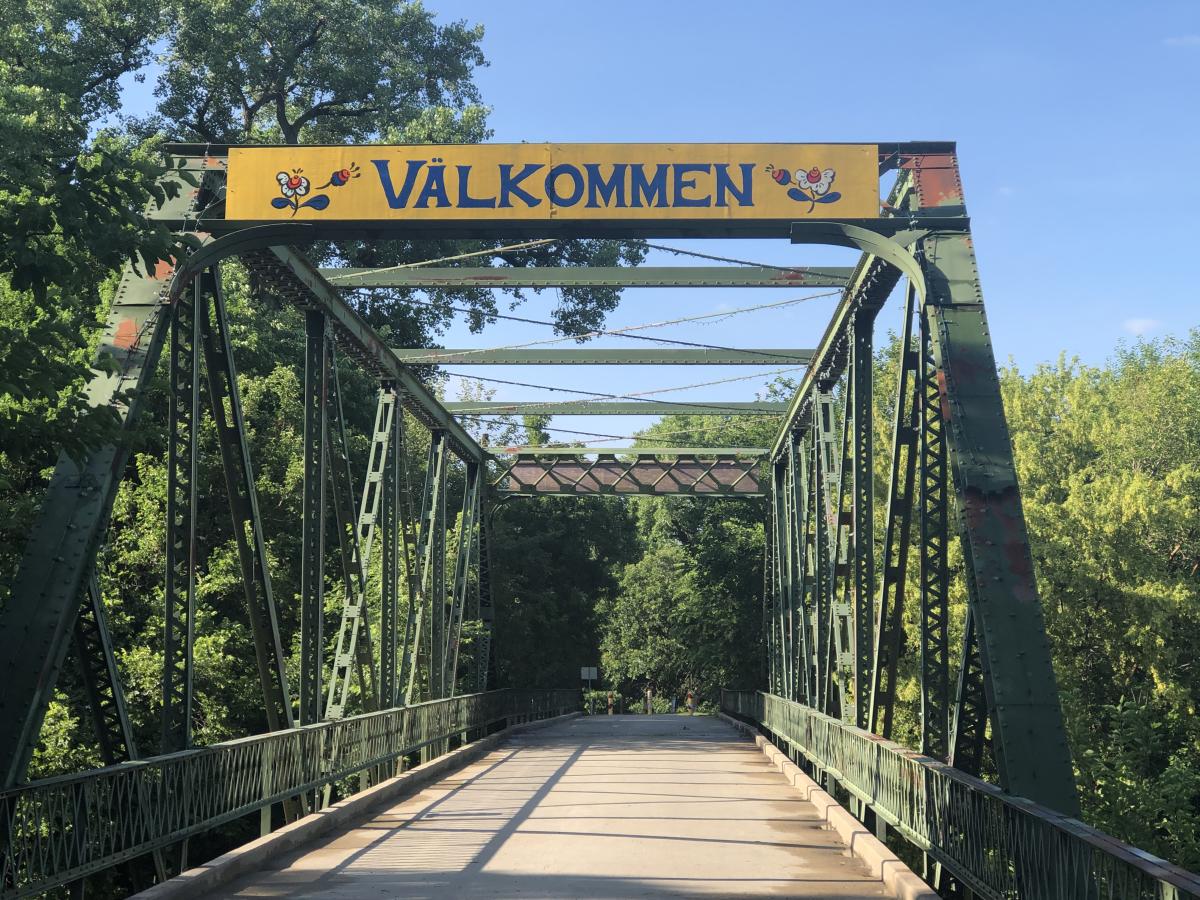 Many pieces of art decorate the lovely town of Lindsborg that reminded me of agriculture as well like the Dala horses which are everywhere. Each horse we saw was decorated differently and had a plaque explaining its story. We stopped in the store Hemslojd, which in Swedish means handicraft. This Swedish gift shop is also the Dala Horse factory! While in the store we were able to see an artisan working on the beautiful Dala horses there.
These were a few of the agricultural connections we came in contact while visiting this lovely Swedish community. We only touched the tip of what Kansas has to offer with it rolling hills, open land and agricultural bounty!