Senator Bob Dole found strength in a modest Midwestern background to overcome devastating war wounds and become a towering figure in American politics. Dole was elected to the House of Representatives in 1960, where he served until he won a Senate seat in 1968. His Senate Republican colleagues elected him Senate Leader in 1985, a position he held until he resigned to run for president in 1996, making him the longest serving Republican Leader in the history of the Senate.
A master in the art of practical politics, Dole worked across the aisle to save Social Security, reform America's hunger and nutrition programs, reduce the federal deficit, and pass the landmark Americans with Disabilities Act. Dole's activity as a senior statesman includes spearheading the creation of the World War II Memorial, being awarded the World Food Prize, and serving on the advisory board of the Bipartisan Policy Center, which is dedicated to creating bipartisan solutions to national problems.
The Robert J. Dole Institute of Politics celebrates public service, promotes civil discourse, and honors the legacies of Senators Bob and Elizabeth Dole by providing public programming, research opportunities, galleries and exhibits, a congressional archive, and other offerings. Check out their website for a calendar of events, special online resources for all ages, and more!
If you're in the Lawrence area this summer, be sure to stop by for a visit! With its unique and stately architecture, the Dole Institute is a sight to see and home to a variety of other stunning features. These include:
The world's largest stained-glass American flag. Towering nearly 30 feet over its viewer, this 2,000-pound work of art is beautiful to behold. Imagined by the Dole Institute's first director Richard Norton Smith, in collaboration with Split Rock Studios Museum Outfitters of Arden Hills, Minnesota, this spectacular window is a not-to-be-missed feature of the Institute. Pass by at night for a striking view from the outside!
Walk across the foyer and see another impressive piece of stained-glass work.  A landscape, depicting Senator Bob Dole's hometown of Russell, Kansas, is infused with red, golds, and greens--the hues that dominate the Kansas farm fields each fall--and features a Kansas storm just creeping over the horizon.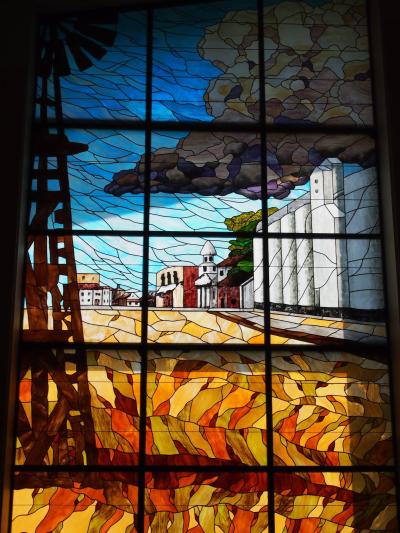 Then, explore the World War II Veterans Wall. Senator Dole had a desire to honor his late brother, Kenny, and other Kansans who fought overseas and worked for the war effort at home. A veteran himself, Dole understands the sacrifices that were made by others and has remained a committed advocate for veterans and their families. This led to the Kansas Veterans Database. This online database features over 4,700 portraits, submitted by friends or family, of Kansans who either fought in World War II or served on the home front. While this is an online database, many of the portraits are now displayed on the WWII Memory Wall in the Dole Institute's main gallery. Watch for more information coming soon about an initiative to expand our features to Kansas veterans from WWII to the present!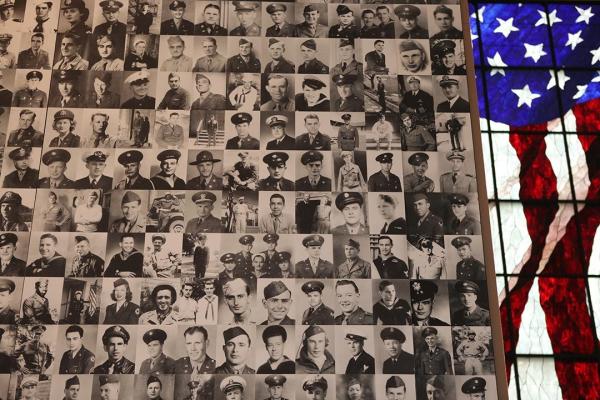 Finally, don't forget to visit the beams from the World Trade Center that collapsed after the 9-11 attacks in 2001.  These beams were given to Senator Bob Dole by New York Mayor Michael Bloomberg in thanks for his work with President Clinton on the Families of Freedom Scholarship Fund, which provides post-secondary scholarships for the children of September 11 victims. This memorial to those who lost their lives that tragic day is a moving experience that should not be missed.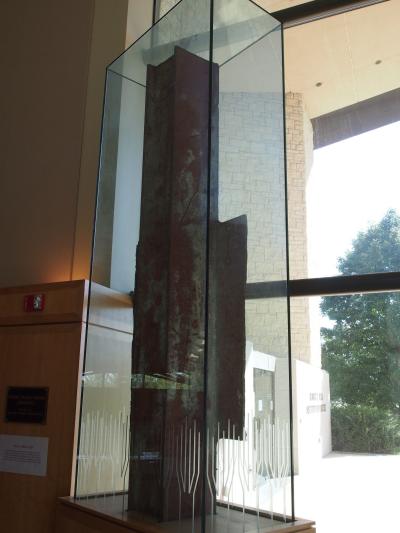 As if that wasn't enough, the Dole Institute is also the home of the Robert and Elizabeth Dole Archive & Special Collections. Free tours of the Institute and Archives are available during business hours with advance arrangement. Reach out to doleinstitute@ku.edu to plan your visit.