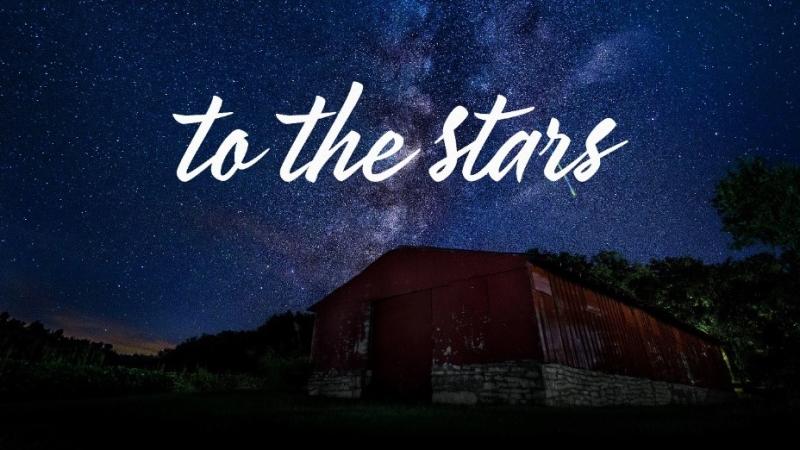 Kansas Day
Kansas has seen its fair share of struggles since joining the union as a free state on January 29, 1861. 2020 was no exception to how Kansas and its people can triumph over tragedy. In 160 years, Kansans have shown the world our pioneering strength and what it means to overcome strife with grit, grace and gratitude. We look to the sky, to the stars, to each other.
This is a tribute to a few of my favorite visionaries and movements in Kansas history; 160 years of remarkable people, places and moments in time. From notable Kansans to extraordinary personalities, where national renowned businesses first got their start to world-class attractions and destinations.
Kansas' Shining Stars
Kansas' daughter, Amelia Earhart, has inspired young pilots across the world since her 1928 trans-Atlantic flight that elevated her career. The Atchison born pilot was an empowering voice to young girls during public speaking tours, encouraging them to follow their dreams, as she did. Earhart went missing on July 2nd, 1937 but her legacy will live on forever. You can learn more about Earhart by visiting the Amelia Earhart Birthplace Museum, Amelia Earhart Hangar Museum or by celebrating her during the Amelia Earhart Festival.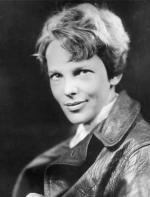 Bleeding Kansas. To say a severely violent time in Kansas that led to raids, fires and murder is one of my favorites, is admittedly odd.  But it's what that movement started that intrigues me.  Since its inception, Kansas has stood as a free state.  It says, Kansans have and always will stand up to racial adversity.  That mantra has led us to be a prominent voice in the enduring struggle for freedom. It led us to Topeka in the Brown V. Board of Education suit that ruled segregation in public schools as unconstitutional.  It led freed slaves after the Civil War to Northwest Kansas, creating the first black community west of the Mississippi River and the only predominantly black community west of the Mississippi that remains a living community today, Nicodemus.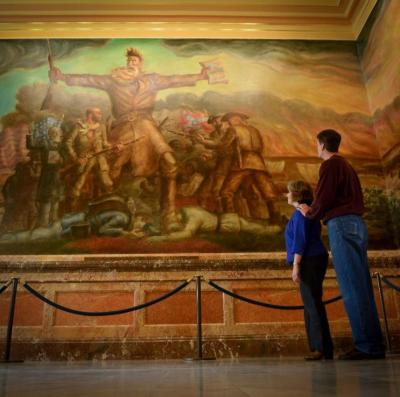 Preservation of the Flint Hills- The original tallgrass prairie spanned 150 million acres from Texas to Canada. Today, only 4% of the tallgrass prairie remains, with the largest portion in the Flint Hills of Kansas. Who saved this prairie in Kansas? The Flint Hills herself. Surface layers of limestone and chert stopped the plow and saved the soil. Early settlers struggled to farm the land due to the rocky soil. After observing the healthy bison grazing the prairie, they started to introduce cattle to the Flint Hills. Over 150 years later, that tradition continues. Today, we get to enjoy this unique eco-system because of the hard work, dedication and resilience of the ranchers and farmers who steward this land. The Flint Hills Discovery Center in Manhattan is a great way to learn more about this vast prairie. Tallgrass Prairie National Preserve lets you emerge in the native grasses, flowers and abundant wildlife, including the bison that call Tallgrass home.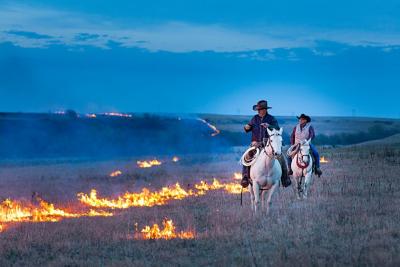 Rural visionaries, Milfred Penner and his daughter, Marci Penner- In the early 1990's Milfred and Marci began their research for their first Kansas guidebook. Their driving force; ways to network, create sustainability and identify economic drivers for rural Kansas. In 1993 they formed the public, non-profit, Kansas Sampler Foundation. Over 25 years later and Marci is still a leading voice for prosperity in rural Kansas. What started out as a father-daughter dream in small Inman, Kansas has transpired into a supportive, collaborative and influential network. The Kansas Sampler Foundation has produced 2 Kansas Guidebooks , 8 Wonders of Kansas , founded the Kansas Explorers Club, The Big Kansas Road Trip, and the We Kan Network.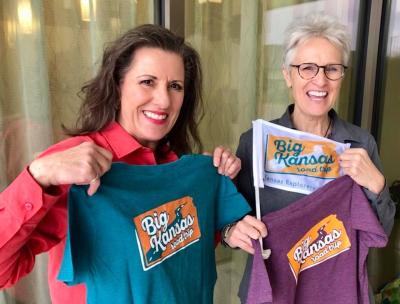 Quirky Kansas artists M.T. Liggett and S.P. Dinsmoor- These two extraordinary artists have provided Kansas with some of its most unique roadside attractions. M.T Liggett was born and raised in Mullinville, Kansas. This self-taught folk artist used a plasma cutter and arc welder to turn old machines, farm & car parts, signs and railroad equipment mounted on poles into his famous sculptures, signs and whirligigs. Travelers along U.S. Highway 400 & Kansas Highway 54 can drive along Liggett's property to view his artwork, often stopping to take pictures with the eclectic metal gallery. In Spring of 2021, visitors can experience the new M.T. Liggett Visitor's Center  that sits on M.T.'s property in southwest Kansas.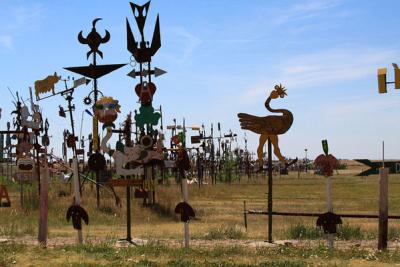 S.P. Dinsmoor, like many folks in the 1880's came to Kansas to farm and raise a family. S.P. landed in Lucas, Kansas in 1888. In 1907, at the age of 64, Dinsmoor began building the Garden of Eden and Cabin Home. For 22 years he constructed the log cabin and surrounding sculptures with cement and limestone. In his 1927 guidebook to the Garden of Eden he declared his craziness, "I am bughouse" he wrote. While most of the town agreed, Dinsmoor knew his creation had value as a tourist attraction, so he would charge visitors that came to town a fee for a tour. After Dinsmoor passed away, his widow sold the property. The new owner couldn't find anyone to demolish the property, so it sat vacant for years, until in 1969 it was opened as an attraction again and accepted by the community. Today, Lucas, Kansas is the grassroots art capital of Kansas. The Garden of Eden is just one stop in this art-centric town displaying visionary arts and culture.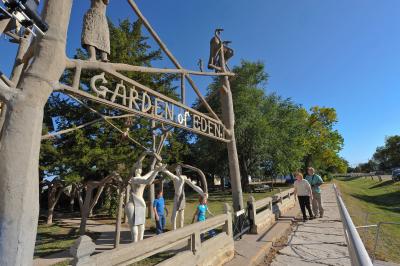 Gordon Parks. Photographer turned writer, director, author, songwriter and composer; Parks documented the experiences that African Americans faced throughout the Jim Crow era. The first African American photographer for Life Magazine, he captured never seen accounts of segregation in America. His work was influential during the civil rights movement, bringing the plight of the black poor in the segregated south to the northern whites. From homelessness to world prominent lifestyle photographer, Gordon Parks overcame racial barriers and became an influential voice in black culture and history. A true Kansas legend.
You can learn more about Gordon Parks, including his work at the Gordon Parks Museum in Fort Scott.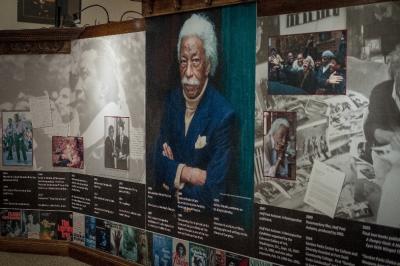 To The Stars...
Kansans are innovative leaders and futurists. To name all the extraordinary events, people and places would become a daily, life-long contribution. We look to these important figures and moments in history and their idealist values and notions for inspiration. We look at Dennis Ruhnke, retired Kansas farmer that mailed his spare N95 mask to New York Governor, Andrew Cuomo  . We look at Hesston raised Katie Sowers, the first woman to coach in a Super Bowl. We look at the nation-wide businesses that got their start here such as Garmin, Coleman, Pizza Hut, Cessna, Freddy's Frozen Custard, Hill's and the list goes on.
Kansas is not a fly over state. We are rich in beauty, culture and experiences. Our history and movements tell a story of a state that helps lead the nation. Of people that have changed the world and farmers that feed the world. 
From a dispatch to the Leavenworth Times when Kansas was admitted to the Union:
 it will [be] seen that our hopes have at last been realized, and Kansas admitted, a bright, new star to adorn the glorious constellation.
I think since that January day in 1861, Kansas has been a shining star to the nation. We are that bright light. We are Kansans. Ad Astra Per Aspera.