On Wednesday I drove an hour to Topeka from Manhattan, just as I had done every weekday for the majority of my summer. For 10 weeks I had the opportunity to intern with the Kansas Department of Wildlife, Parks and Tourism's tourism division. When I pulled into the parking lot, I was met by the other intern in the department, Lisa. Due to an event, most the other tourism employees were gone and the office had been pretty quiet. So rather than stay in the near empty office, we decided to trade our 9 by 7ft cubicle for my 6 by 15ft Hyundai Elantra. For weeks we had been staring at the large Kansas map above our desk and talking about all the places we would like to see, and finally we hit the road to visit a few.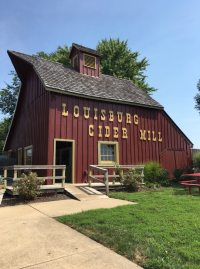 After a quick breakfast of pancakes, hash browns and bacon at Wake the Dead in Lawrence, we hit the road towards the southeast corner of the state. As we drove towards our first stop in Galena, we found ourselves drawn off the road to stop at the Louisburg Cider Mill. The mill includes a few different attractions like the country store, which sells their cider as well as many other tasty treats and unique gifts. As we walked into to the country store, we noticed a sign for fresh peaches on the front door. Once inside we were greeted with samples of the previously mentioned peaches, and boy were they good. We strolled around the store looking at all the jams, jellies, butter and novelty items the store offered. I definitely was most interested in the cider, as it was a cider mill. At the cash register they offered cups of it hot, cold and in slush form. Another cider item the mill is known for is their cider doughnuts. Still a little full from breakfast, but reluctant to miss the opportunity to try them Lisa and I decided to split one. I ended up purchasing a small bottle of cider and Lisa bought a bag of peaches. After a few pictures we were back on the road.
For the next several hours we spent driving our topics of conversation were not wildly different than those we carried on at the office. We talked about country music, celebrity gossip and what we still had on our Kansas Bucket lists. It had been our Kansas bucket lists that ultimately drove our selection of our road trip destinations.
Around 1pm we arrived in Riverton at Nelson's Old Riverton Store.
Built in 1925, Nelson's Old Riverton Store has been in continuous use since before Route 66 became the official cross country highway between Chicago and Los Angeles according to the store's website. The store looks and feels just as it did when it was a central hub on Route 66. One room of the store is occupied by an old-fashioned deli and grocery store. The other room is occupied by a gift store full of Route 66 memorabilia and even a few copies of the Kansas Travel and Byways guides. In the back of the gift shop Lisa and I were excited to find the Disney movie "Cars" playing as it reminded us of our next stop at Cars on the Route in Galena.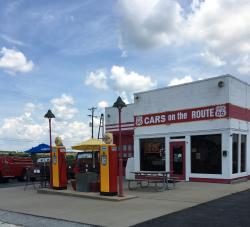 It was just a short five-minute drive on the mother road from Riverton to Galena. As we pulled into Cars on the Route Lisa and I were filled with childlike glee, as we were about to see the tow truck that inspired Pixar's "Cars" director, John Lasseter and Joe Ranft to create the character Tow Mater. I'll admit the people at Pixar were able to create a character very similar in likeness to the rusty tow truck sitting in front of the historic garage. To prove it there was a life size model of Mater complete with eyes and teeth next to the original truck. Inside the garage there is a gift shop filled with cars and Route 66 memorabilia and even a restaurant. After taking plenty of pictures, and a selfie with the famous tow truck we were back on the road again. We didn't make it far because we stopped for another quick photo-op at an old Pepsi advertisement on the side of a boxing gym.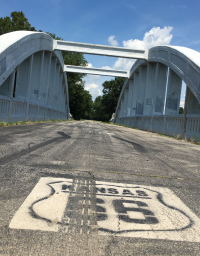 Our next stop was the Rainbow Bridge over Brush Creek. This Marsh arch bridge is now the sole surviving of its kind on the route. Built in 1923, you can still drive over the bridge, now a one way on a county road, which was part of the old Route 66 highway. After crossing the bridge, to the right there is a small patch of gravel you can park your car if you want to continue to look at the bridge and maybe even snap a few photos.
Next we headed north to Fort Scott to see the Fort Scott National Historic Site. Built in 1842, the fort's 175th anniversary is going on in 2017.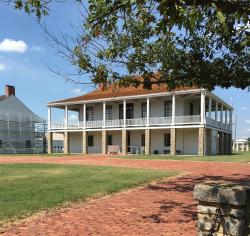 Approximately 14 of the original structures of the fort are still standing and many of them are can be toured while visiting the fort. Lisa and I were in awe of the tall white buildings with beautiful staircases. We quickly walked around the old Fort Scott business district, which had an array of charming and unique shops, museums and restaurants. As our stomachs started to rumble it was tempting to stay a little longer in Fort Scott for dinner. Since we had selected the location of our dinner days before we decided we should probably get back on the road, but Lisa and I both agreed Fort Scott would be worth a second trip.
Kansas State University may be both Lisa and I's alma mater, but our next two stops were courtesy of our friends attending Pittsburg State University. These friends told us about the great Crawford County chicken debate over which restaurant has the best fried chicken, Chicken Mary's or Chicken Annie's?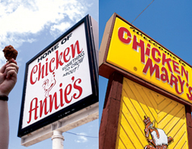 Crawford County is known as the chicken capital of Kansas, boasting six fried chicken restaurants. We would have loved to sample all six eateries, but we decided to give our arteries a break and stick to the two most often argued about. Chicken Annie's and Chicken Mary's are located just a few hundred feet from each other and have similar menus and origin stories. No matter how similar, everyone has a favorite, so Lisa and I shared a small plate at both places to decide which sides we were on. Keep an eye out for an upcoming blog with the results of our taste test!
After our bellies were filled to the brim with comfort food we buckled up for the long drive home. On the ride home after much discussion about our Chicken Annie's and Chicken Mary's experiences, our conversation turned back to our Kansas bucket lists. Though we had crossed quite a few items off of our bucket list, after an entire summer learning about/promoting all the great attractions in Kansas we were both unsure if the list would ever end.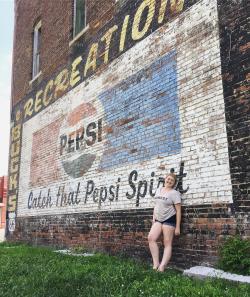 To be quite honest, mine probably never will, and that is one of the coolest things about Kansas, there is always something else to see. Every time I get on TravelKS.com I add new sites to my bucket list, which is great. But sometimes we get so wound up in making the list that we forget to actually get out there and do the things on our list. So do your research and make a list, but once you do be sure you get out there and cross them off.
Click on our photo below to check out our adventure!