An entire town – underground. That's the bygone era you can experience at the Ellinwood tunnels. In the late 1800s, practical concerns sent many businesses into the basements of their main-street counterparts. These "underground" businesses were connected by a series of boardwalks and tunnels creating a separate underground town. The set-up also helped early settlers survive rough Kansas winters and tornado season.[[endteaser]]
The downtown developers came up with the idea to build boardwalks, tunnels and businesses catering to the needs of travelers in the basements of their shops. It became a separate town underneath the main street. In Ellinwood, at its peak there were saloons, bath-houses and barbershops that could all be reached without stepping above the boardwalk. There was even a tunnel out to the brewery to make sure all of those saloons could be easily stocked.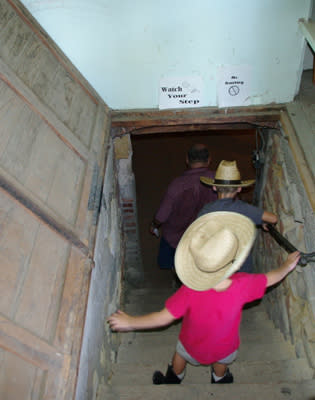 Of course, as life progressed, these businesses slowly became less practical and were literally forgotten by many of the town folks. Concrete sidewalks replaced the boardwalks, and decades later, most of the tunnels were filled in when the sidewalks began to sag. However, there ARE a few that remain, and they can be visited today.

Our trip into three of the preserved businesses provided a fascinating glimpse into this time. It is a piece of the Kansas story that I can't remember seeing anywhere else. While our guide explained that several towns in Kansas had similar undergrounds, Ellinwood is the only place where they have been preserved in this way.

You don't get to see a very large area, but it IS really interesting and worth a visit if you are in the area.  It provides a unique glimpse into life in the early decades of Kansas history.
Ellinwood is very family friendly and the tunnel itself is really fascinating. Great Bend is nearby with some really interesting stops in itself that can make the whole trip worth your while.

Karen Ridder is a freelance writer living in Topeka. A former News Producer for KSNW-TV in Wichita, her work can also been seen in print publications including: Topeka Magazine, TK Magazine and the Topeka Capital-Journal. She has written for several national blogs and was recently recognized as one of the 2011 winners in the Annual Kansas Factual Story Contest. Karen has lived in Kansas for 15 years and married a native Wichitan. Together they are raising three little sunflower boys and a dog named George.