Updated in 2020 from a 2016 blog by Shae Blevins
Bison is a Kansas staple, and Kansas restaurants across the state are cooking up this lean red meat for signature burgers. Find a bison burger on the menu at these four restaurants -- from the simple to the extravagantly topped and from the locally-sourced to the newest recipes.
You won't just find bison in the name of this establishment, but you'll find a great selection of bison on their menu! The Black Bison Pub supports local and regional businesses by offering locally-produced bison and beef, as well as some great beer, wine and spirits. While you can substitute bison for any burger on the menu, we recommend the 'Bama Burger, topped with Pepperjack cheese, two onion rings and some spicy Joe's 'Bama Sauce. Also be sure to try the bison chili if it's available!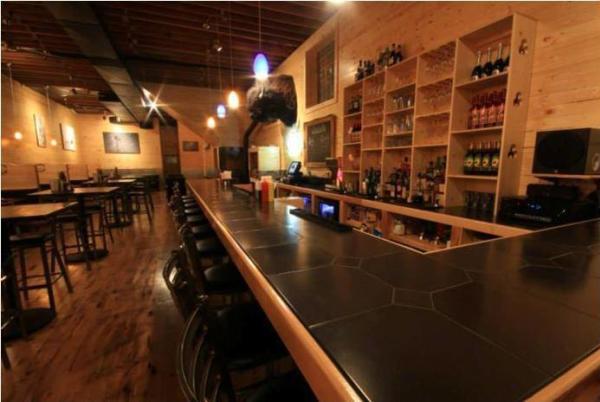 BLIND TIGER BREWERY AND RESTAURANT
Topeka, Kansas
The Kansan Burger at Blind Tiger Brewery is the ultimate Sunflower State Burger. The bison meat they serve is raised in Shawnee County and makes for a delectable, prepared from scratch meal for even the pickiest of burger eaters. This restaurant also takes their namesake big cat very seriously with a unique sponsorship of the Sumatran Tigers at the Topeka Zoo. Not only is a portion of the proceeds from the Tiger Bite IPA donated to the zoo, but the bones from the local bison used at Blind Tiger are donated to the Topeka Zoo for the enrichment of the tigers on display.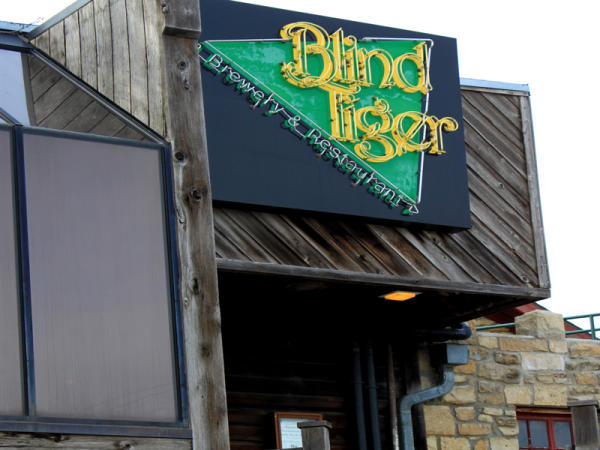 AD ASTRA FOOD AND DRINK
Strong City, Kansas
This may be the most Kansas restaurant name out there! You can sub out a bison patty on any of their burgers, but we highly suggest trying the Badger Brothers Sliders! They are two beef and bison sliders topped with arugula, goat cheese, grilled onions and apricot jam on potato slider buns. This fresh take on a traditional dish is a crow pleaser! But be ready with a napkin on hand... These burgers are juicy!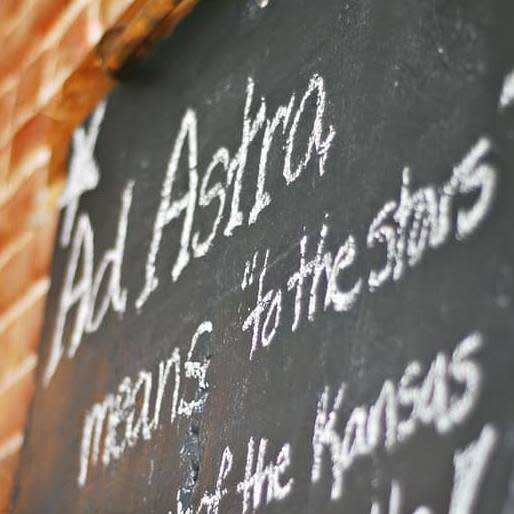 Lawrence, Kansas
 
An old bank building on Massachusetts Stree in Lawrence, Kansas, houses Merchants Pub & Plate. They showed off their newest bison burger recipe while I was in town. Cottonwood River aged cheddar, locally-sourced arugula and (the largest) tomato (ever), roasted garlic and shallot puree and dill mustard aioli top the ground local bison patty sandwiched in a lightly toasted bun for the first time at Merchants. Served with a side of fries or daily featured vegetables you won't be able to finish after polishing off the lavish and delicious recipe created by Owner and Chef TK Peterson.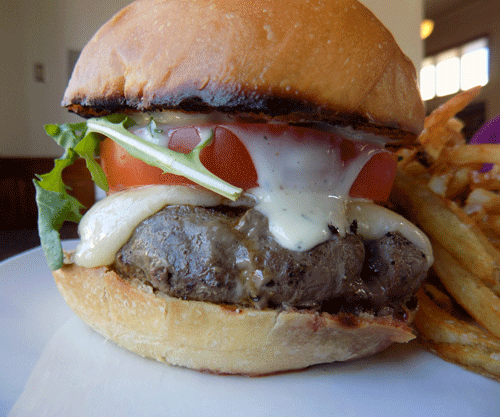 Order one of 30 local beers on tap -- I recommend the Free State Ad Astra -- to go with your burger and fries and ask for the table by the window.

It's the best seat in the house.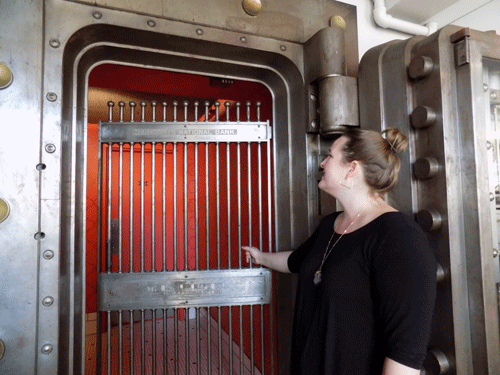 Traveling soon? Stop at these four locations for a road trip full of flavor! Can't make it out? Get ground bison at a number of local grocers across the state, and grill up your own at home!