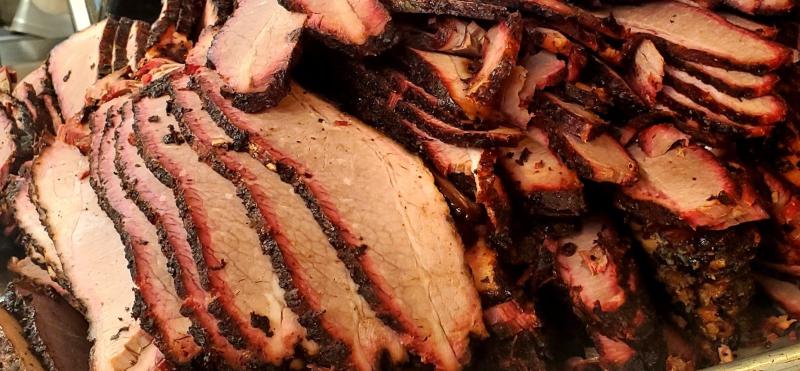 This open love letter is not of my usual nature and is my sauciest writing to date. Folks, I am in love with sweet, smokey and unbelievably tender, Kansas barbeque. I realize this love affair is shared with many, and rightfully so. Kansas is home to some off the best barbeque in the world. Naturally, Kansans are humble and modest, except when it comes to our smoked meats. We are loud, proud and willing to share. Innovation has always been a Kansan's creed, so we didn't stop with beef or pork like some other not-to-be named states. We slow cook chicken, sausage, vegetables and even fruit. It's safe to say nothing is off limits (or the smoker) here in Kansas!
Kansas City became world renowned in BBQ starting in the early 1900's when Henry Perry began serving his slow-cooked ribs on newspaper pages for 25 cents a slab in the historic 18th and Vine district just over the border in Kansas City, Missouri. Charlie Bryant began working for Henry Perry and brought his brother, Arthur Bryant into the business. In 1940 when Perry passed away, Charlie Bryant took over the restaurant until 1946 when Arthur Bryant assumed the business. Arthur eventually moved the eatery to the infamous location of 1727 Brooklyn Avenue where Presidents Truman, Carter, Reagan and Obama have all dined to feast at the iconic Arthur Bryant's. While the history of KC BBQ may have started in Missouri, Kansas restaurants have perfected this slow smoked tradition.
The KC metro area alone is home to over 100 BBQ restaurants. Like the original king of smoking meats Arthur Bryant's and local favorite like The Z-Man at Joe's Kansas City Bar-B-Que  (Anthony Bourdain even put Joe's KC in his book, 13 Places To Eat Before You Die) and the renowned burnt ends at Jack Stack. Kansas City is also the new home of the American Royal , host of The World Series of Barbecue, the largest barbecue contest in the world. The new 115-acre complex is set to open in winter 2021.
Kansas BBQ Restaurants
You don't have to be traveling through the metro areas to find our famous smoked meats. Barbeque joints are sprinkled throughout Kansas like spices on a pork butt. Here are 10 Kansas barbeque restaurants to try outside of the KC metro. After eating at these places you'll sure be ready to join me in officially commissioning Kansas as the Sunflower and BBQ State.  
A true Kansas favorite, Roy's has served central Kansas since 1982. Well-traveled barbecue enthusiasts will tell you that Roy's has the best ribs and is worthy of a road trip to try it. Other fan favorites are the hot links and smoked turkey.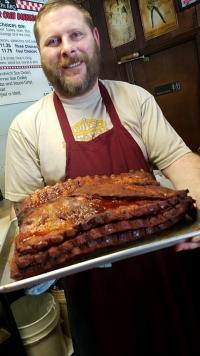 Talk brisket to me, baby! Bite Me Barbecue lovers boast the best brisket is served right here in northeast Kansas. They don't stop with the cue', they also specialize in fried chicken (watch out Pittsburg) and Bierocks.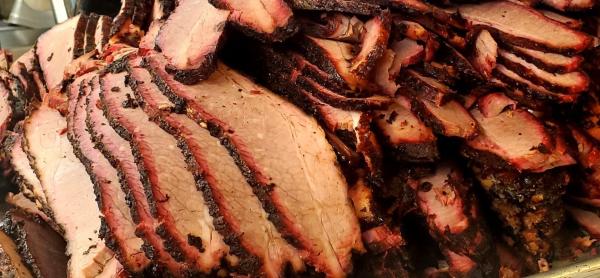 Home to perfectly smoked brisket, burnt ends, and more, you can find the Ole Cook Shack traveling from town to town around Syracuse. This juicy BBQ joint is Kansas barbecue at its peak and is a great place to chow down on fantastic food.
3 generations strong, Guy & Mae's Tavern has been serving perfectly curated sauce, seasoning and world-famous ribs since 1973. In true Henry Perry fashion, these delectable ribs are served in newspaper. That's not the only paper clad aesthetic in this restaurant, the interior is decked with $1 bills displaying the names of happy customers from near and far.
The Blake family has been serving up delicious BBQ to central Kansas for 40 years. They started out as a traveling food hut and in 1983 they built their first permanent structure in Salina. Hickory Hut quickly became a favorite at the Salina Smoky Hill River Festival and for generations festival goers feasted on the famous BBQ turkey drumsticks and polish sausage sandwiches. People still favor the polish sausage to this day and highly recommend The Slammer Basket, polish sausage topped with a mix of beef brisket, pulled pork and their secret Slammer Sauce.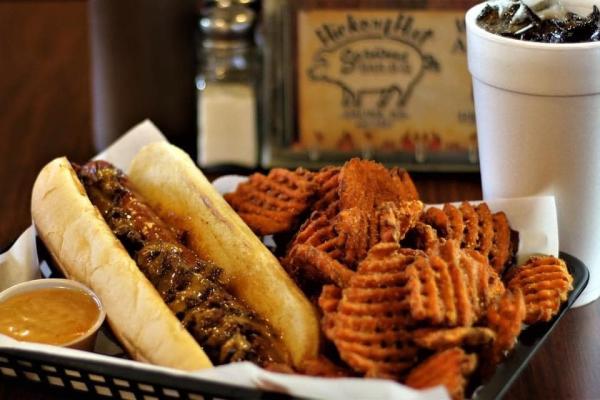 Owning the term Bear-B-Cue, Knackies has been a local favorite since the early 1990's and the beginning of the bear bottle barbecue sauce, which are still used and sold to this day. You can't go wrong with the BBQ Rib Dinner which includes a half rack of ribs, choice of baked beans or cheesy potatoes, homemade dinner roll and a trip to the salad bar. Go ahead and check of all the important food groups with a trip to Knackies!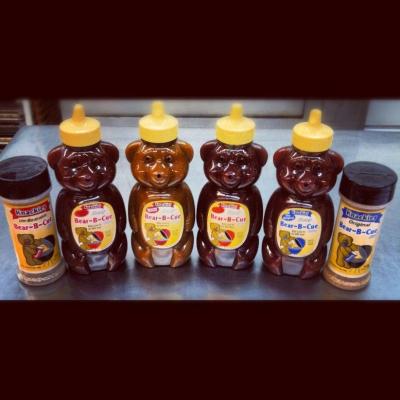 You can't talk about Kansas BBQ and not mention BobbyD's in the Flint Hills. Rave reviews will tell you the prime rib dinner, burnt ends and the smoked meatloaf are must haves. As an opportunist, I suggest trying all 3. While you're at it, add their award-winning St. Louis style ribs to the list. You can thank me later.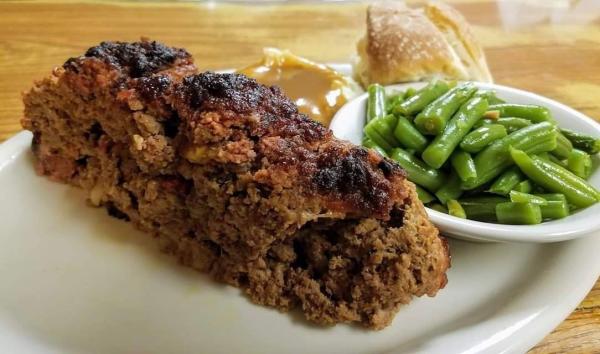 When a line forms before a restaurant opens its doors for the day, you know it must be something special. That's the case with Lonnie Q's in northeast Kansas. Don't worry, that long line moves quickly, they are BBQ slinging experts. Their juicy, flavor-rich, smoked turkey and cheesy potatoes always end up on my plate. Many Lonnie's fans tote the coleslaw (which is made fresh every 30 minutes) and the Q-Cup!
This savory smokehouse in Pratt serves everything from tender and juicy pulled pork to mind-blowing ribs. Some popular dishes include savory loaded nachos topped with pork, sausage, or other meats. Stop by and treat yourself to some of the best BBQ around.
Fall off the bone ribs, melt in your mouth tender KC Strips, um yes please! Brady's has quickly become a favorite in northwest Kansas. The menu offers ribs, steaks and burgers daily and they feature a specialty dinner on Saturday's, dessert included!
*All images used in this blog have been pulled from the businesses' social media accounts
Ready for a BBQ Road Trip? So are we! Follow along as we explore some of Kansas' iconic BBQ, from Syracuse to Kansas City.