Pack the camera (and good hiking shoes) to capture sand dunes, sandstone cliffs and pristine waters.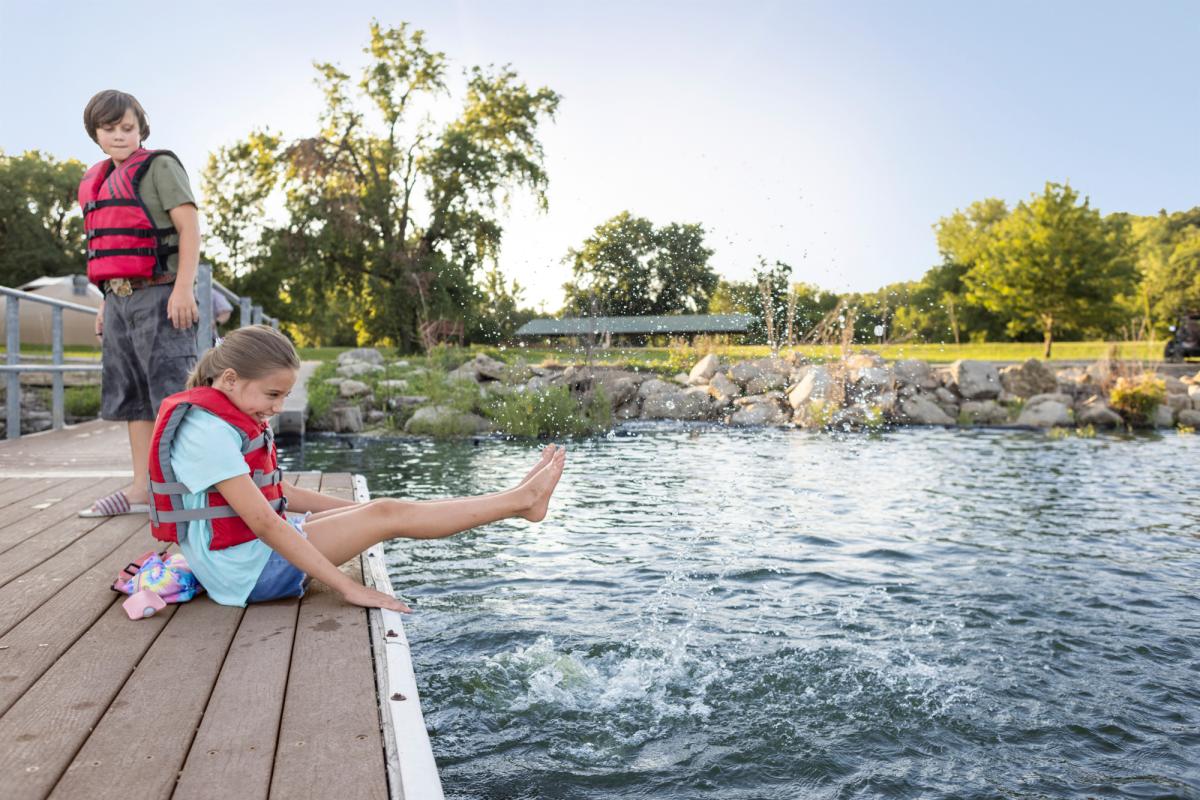 Photography by Aaron Patton
NORTH CENTRAL 
ROCKY SHORES 
Have a field day exploring the sandstone cliffs, jagged shores, and mushroom-shaped rocks at parks strewn across the region.
The going gets rocky in the best ways here. At Wilson State Park near Sylvan Grove, red sandstone formations with 40-foot drop-offs interrupt the shoreline of the oft-touted clearest lake in Kansas. Mountain bikers tackle the 25-mile Switchgrass Trail that climbs through canyons. Kanopolis State Park near Marquette puts bikers to the test, too, with its 5½-mile Horsethief Canyon Trail that loops across streams and into canyons. 
Formations resembling towering toadstools star at Mushroom Rock State Park, the smallest state park in Kansas (5 acres). Along the northern border near Webber, Lovewell State Park treats guests to a full immersion in nature with fishing, boating, and wildlife watching, plus tasty homemade fare at the popular-with-locals marina grill. 
North Central Kansas claims three of the state's largest lakes: Milford, Glen Elder, and Tuttle Creek.
The fishing's excellent at Milford State Park, home to the biggest lake and a fish hatchery. Reel in crappie, catfish, bass, and walleye from the 15,700-acre waters. You can also count on good fishing—plus great boating and camping—at Glen Elder State Park's reservoir. Tuttle Creek State Park rambles along 100 miles of shoreline near Manhattan. Rent kayaks for a float on River Pond, or get a workout on the 14.7-mile Randolph Area Trail that snakes through the Flint Hills. 
ALL-ACCESS:
The concrete Western Heritage Trail at Tuttle Creek State Park wanders 1.25 miles through the Rocky Ford fishing area. Expect pastoral scenes of cattle and shaded stopping points along the Big Blue River.

Photography by Kansas Tourism 
SOUTH CENTRAL 
Giant Sights
Navigate to acclaimed sailing waters. Discover room to roam at Kansas' biggest state park. Or saddle up for a horseback ride across sand dunes. 
Anchors aweigh for Cheney State Park, a launch point to one of the country's top windsurfing and sailing lakes. West of Wichita, the park's reliable breezes make for speedy floats. For a multiday lesson or a sailboat ride, check out SetSail Kansas on the west side of the lake. Ancient winds whipped up an entirely different landscape at Sand Hills State Park on the outskirts of Hutchinson. Its 1,000-plus acres preserve dunes blown in from the Arkansas River Valley long ago. Eight trails take visitors by horseback or on foot to 40-foot-tall dunes, grasslands, wetlands and woods. At El Dorado State Park, impressive stats lend insight to the popularity of Kansas' largest state park: 8,000 acres of water, 98 miles of shoreline, and 4,000 acres of land. On the fringes of the Flint Hills, fan out for hiking, biking and horseback riding on seven trails. Fish for crappie in standing timber and overnight at one of 1,100 campsites or 10 cabins.
ALL-ACCESS:
Keep watch for migrating waterfowl, bald eagles, deer and other critters along the ADA-accessible Spring Creek Nature Trail at Cheney State Park. A boardwalk leads over a marshy beaver observation area.

Photography by Robin Lorenson 

Get an overview of all 28 Kansas state parks in the 2023 Official Kansas Travel Guide.