LITTLE JERUSALEM BADLANDS STATE PARK, OAKLEY
Tread lightly amid this fragile yet ruggedly spectacular mile-long stretch of Niobrara chalk formations. Two trails (1⁄4 and 1 1⁄2 miles) skim a ridgetop for overviews of the 100-foot-tall spires and cliffs left behind by an inland sea. Ferruginous hawks and rock wrens inhabit Kansas' newest state park. Fossils are common, but no collecting allowed.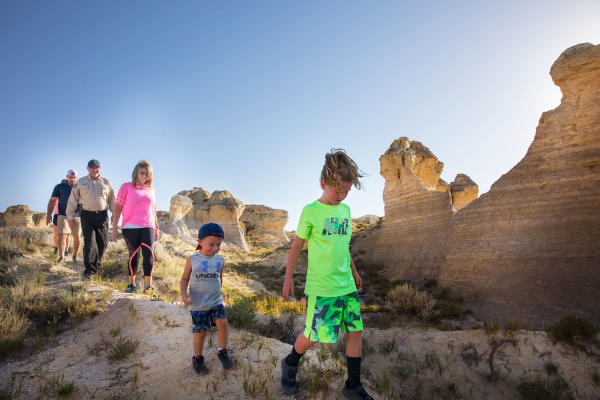 KANOPOLIS STATE PARK, MARQUETTE
At Kansas' first state park, wade through water crossings, scale sandstone bluffs and narrow canyons, and soak up prairie landscapes along 27 miles of biking, hiking and equestrian pathways. For starters, observe native plants, wildlife, Native American history and geology on the 1-mile Buffalo Tracks Nature Trail. Trickier 5 1⁄2-mile Horsethief Canyon Trail loops through craggy canyons, rock-hops across Buffalo Creek and passes caves.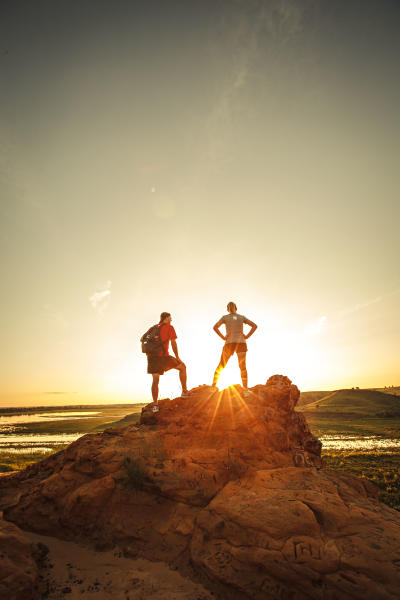 ELK CITY STATE PARK, INDEPENDENCE
Where dense woodlands meet open prairie, trek up the Table Mound Trail for a panorama of Elk City Reservoir, or explore the other diverse hiking, nature and bike trails in this compact park. For more, connect with 15-mile Elk River Hiking Trail that leads to limestone bluffs and through narrow canyons. A birders' bonus: spottings of the striking pileated woodpecker.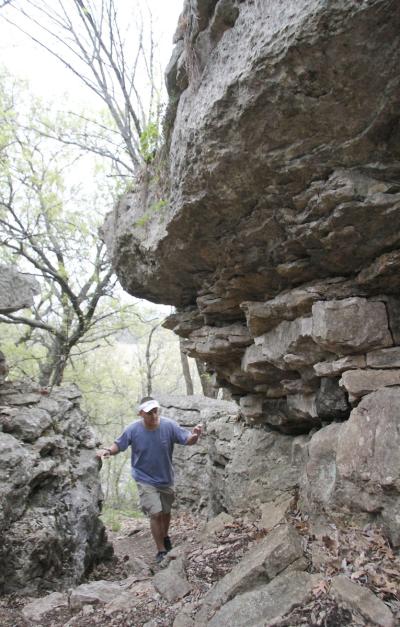 SAND HILLS STATE PARK, HUTCHINSON
Sand blown in from the Arkansas River Valley long ago forms the distinctive dunes preserved in these 1,125 acres. On the 1-mile Dune Trail, weave through the dunes and to the top of a 40-footer for a view of the surrounding sand, prairie and woodlands. Connect to the Prairie Trail— one of eight—for more dunes and diversity.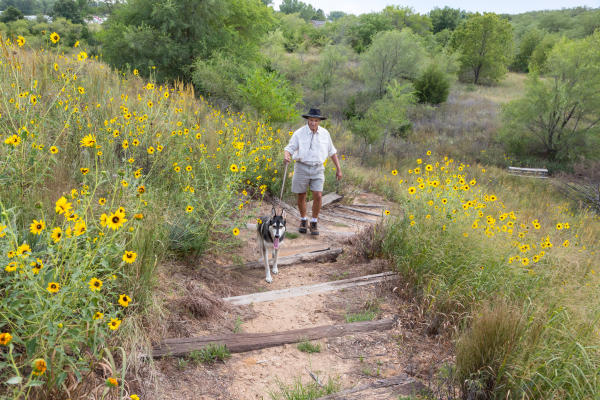 TUTTLE CREEK STATE PARK, MANHATTAN
An intense cardio workout, the 12-mile Randolph Area Trail and its rugged switchbacks and elevation changes pay off with vistas of immense Tuttle Creek Reservoir and the Flint Hills. ADA-accessible options in the park include the Western Heritage Trail and the forested Cedar Ridge Trail.
Discover more state park treasures and outdoor adventures in the 2021 Kansas Official Travel Guide.