The renovation of The Volland Store has saved as much of the Kratzer brothers' original structure as possible, and present-day "storekeepers" hope that the Store can reclaim its role as a center of community life where news and ideas are exchanged, and a place where descendants of homesteaders and visitors from Anywhere, USA, can stage meetings, reunions, workshops and weddings, art exhibits, musical performances, equestrian events, and hoe-downs.
INDOORS
The Gallery
The Gallery is an open space that rises to the roofline, revealing the original second-story windows. Adjustable lighting creates a comfortable atmosphere in which available tables and chairs allow a maximum seating of 80 for dining, 100 for a reception, or approximately 75 for a presentation. Moving an event or part of your event out of doors can substantially expand your guest list. A digital projector is capable of reproducing guests' imagery on the Gallery's BigWhiteWall, including content from a laptop computer, BluRay and DVD, as well as DirecTV. A catering kitchen and two restrooms serve this level. ADA access is available.
The Loft
The Loft is a private guest room with its own bath, kitchen and temperature controls. It overlooks the Gallery and the Flint Hills beyond.
The Lower Level
The Lower Level retains the original stone walls and windows. It has plenty of open space for workshops, construction projects, art-making, a small business start-up, or anything else that requires well-lighted, mess-proof accommodations. Two restrooms with showers on this level suggest that this space could be used by youth, family, or hunting groups for informal sleeping arrangements with bring-your-own cots or inflatable beds.
OUTDOORS
The Lawn will accommodate rental tents for large groups.
The Clearings in the woods south of the Ruin are places for dancing and merriment.
The Ice House Garden welcomes visitors with flowers, herbs, and vegetables that may be harvested for use at events.
The Blacksmith Shop adjoins a shady picnic area with a barbecue grill close by.
Wildflower trails lead through The Meadow to the West Draw, a branch of Mill Creek.
The Pasture accommodates guests' cars, equestrian events, and field games.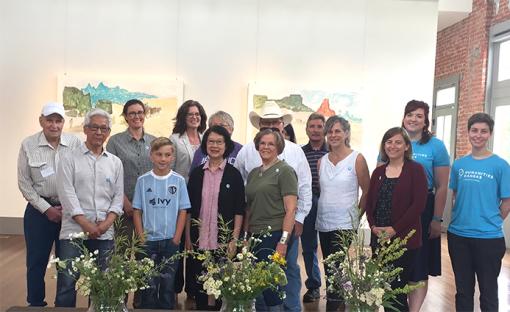 Recurring weekly on Sunday, Saturday until April 25, 2021
•

Alma

•

Map it

Crossroads: Change in Rural America

Deep Roots and New Growth in Wabaunsee County 

 

The Volland... Learn more