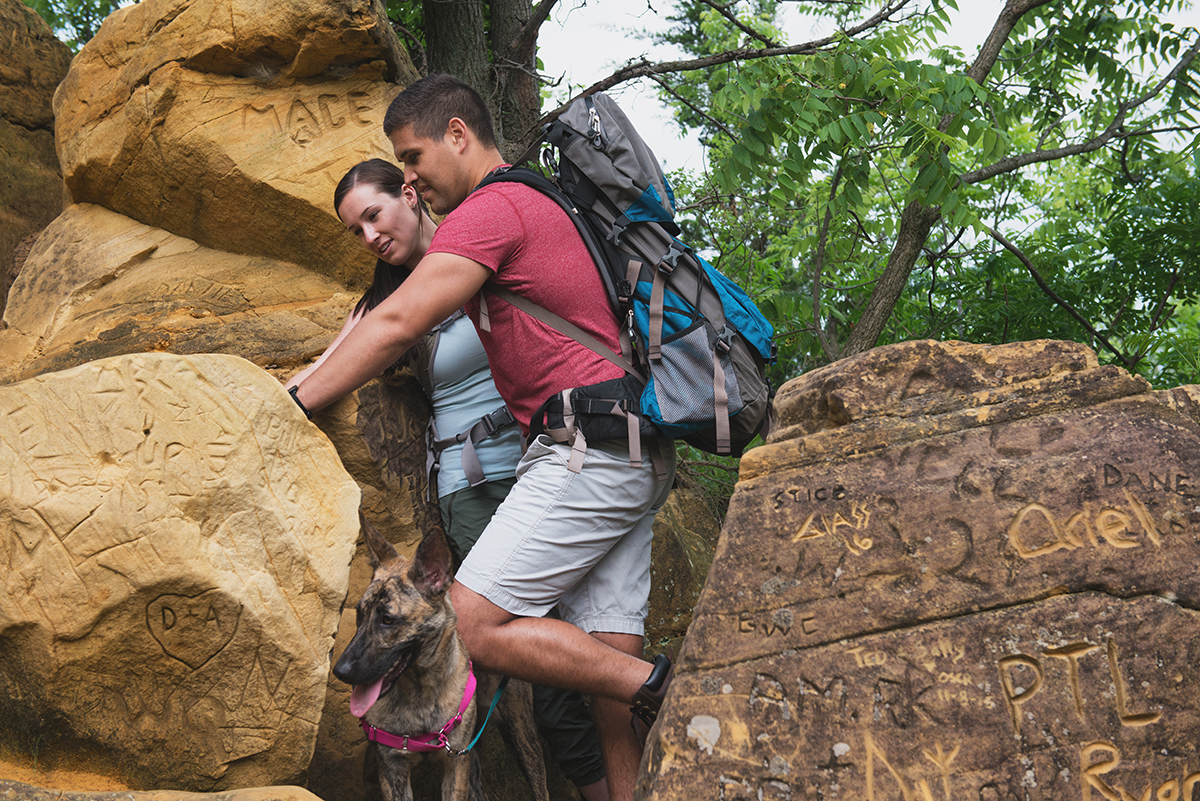 The state's official safety dog breaks down the essentials of traveling with your pet
When preparing for a trip, whether solo or with a co-pilot of the animal variety - it's always good to think about safety. We thought it was important to check in with an expert for tips on traveling with a family pet, and fortunately, Kansas has a resident expert—Fred the Preparedness Dog. In his official capacity, Fred regularly travels across the state with his associate, the Kansas Department of Health and Environment's deputy director of preparedness, Mike McNulty. Here is Fred's advice (dictated to and transcribed by McNulty).
KANSAS: What are some of the most important things to remember when traveling with a pet?
Fred: First of all, wherever you plan to travel, you need to make sure your pet will be accepted. Hotel pet policies vary; some hotels have size limitations; others charge a pet fee. If we stay at a hotel, Mike usually asks for a first-floor room so I don't have to take the elevator or stairs. But wherever we stay, we always abide by their policies.
KANSAS: What kind of things should people take along for their pets?
Fred: Definitely make sure to take plenty of water and something their dog can drink from. Also, make sure to take enough food along for your dog in case stores along the way don't have the type your pet is used to. Since we travel so much, I have my own bucket in our vehicle, but Mike has to stop often and check my water. I also carry a folding dish with me.
KANSAS: Water and food—essentials. Anything else?
Fred: Be sure to take some toys along if it's a long trip. Try to find some quiet ones your dog likes so you don't have to listen to squeaky noises for hours at a time. Luckily, I love to chew on tennis balls, so Mike always makes sure I have some of those along.
KANSAS: We know you are used to traveling, but do you have suggestions for owners whose dogs don't travel much?
Fred: Yes. Make sure they are used to the car—even let them get into it just while it's sitting in the driveway or go for some short trips. I love to travel and don't have any problems, but some dogs get carsick. If yours is one of them, check with your veterinarian for some medicine for motion sickness. But do this in advance.
KANSAS: So you wear a bright purple collar with an identification tag. Are there any other travel documents you need?
Fred: I have a microchip too. Every dog–especially those traveling—needs to have identification tags on their collars and should be microchipped. I hate to think of getting lost, but I know if I do, these will help me get back to Mike.
KANSAS: What are some other safety essentials? Of course, everyone knows not to leave a dog or a child in a hot car, but we hear of this happening every year.
Fred: Unfortunately, we do. Children and dogs should never be left in a hot car—or a cold one either. Hypothermia can be just as big of a problem. Also, be sure to take lots of rest breaks; they are good for you as well as for your dog. Be sure your dog is up to date on shots. And it's a good idea to take a medical record with you. There are also several apps, even one from the Red Cross, that offer first aid tips for your pet. You might want to put your dog in a carrier or possibly one of the restraints made for dogs so your dog doesn't hinder your driving. Always be mindful of safety, but enjoy your trip and have fun!