As far as I can see, the golden glow of freshly-cut wheat fields meets impossibly blue sky. My view is interrupted only by a grain elevator as I step out of the van to take photos of the "Wheat Capital of the World." Wheat has played an important role in the Sumner County economy for decades. Agricultural technologies have changed, yet there is something timeless in this view. I wonder, when the citizens of Wellington decided to hold a festival in celebration of a particularly successful crop in 1900, if they imagined we would still be celebrating 113 years later. [[endteaser]]
Seriously, Wellington has been celebrating wheat for a lot of years, and they have the formula for festival fun down to an art form. I'm not sure you could name a summer fest activity that isn't included on the Wheat Festival schedule. Imagine a car show, barbeque competition, parade, bed race, donut eating contest, carnival, softball tournament, talent show and live music - all delivered by a host of especially kind, organized community members- and you've got the Wheat Festival.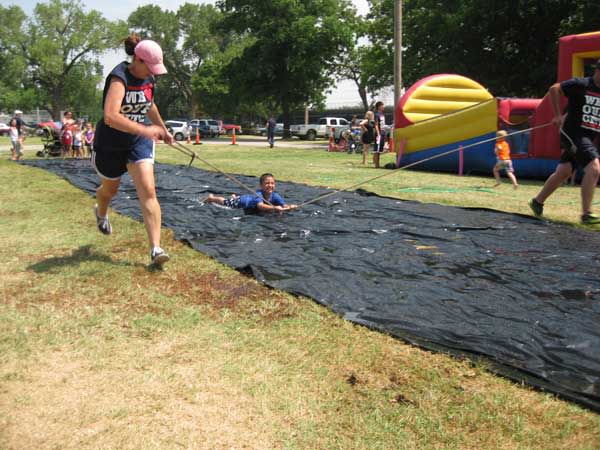 It was Kansas summertime hot the day we arrived at the festival.  Volunteers plied festival goers with free water and kids stayed wet on a giant slip and slide. Needing a break from the heat, I drove downtown to visit the art exhibition and the Chisholm Trail Museum. The museum, which occupies three stories of a former hospital, is quirky and fantastic. Using the hospital layout to its advantage, museum exhibits are organized by themed rooms (music, dentistry, business, cars, tools). Feeling somewhat like I was nosing around in the basement of an interesting acquaintance, I visited over 40 rooms and discovered mammoth tusks, a moose with a bowler hat and a tool for removing tonsils. I learned that a notable Wellington musician founded the famous Interlochen Arts Camp and that it's possible to weave human hair into impossibly intricate wreaths. The staff is very willing to answer questions, and admission is free.
 The arts exhibit, temporarily housed in a local dance studio, featured local artists of all ages. I browsed, enjoying the cool air, but was stopped short by a photograph taken by Wellington artist Susan Treft. The black-and-white picture simply features two hands cradling grains of wheat. They are old hands. And they could be my grandfather's hands. He grew Kansas crops other than wheat, but still, they shared the hard-working calluses and sun-mottled skin.  I am not an impulse shopper. My home décor is almost exclusively castoffs from friends and relatives. Inexplicably, minutes later I was writing a check - delighted the photo would soon be hanging over my hand-me-down couch.
The way those hands cup the wheat, carefully, for inspection, makes me know the effort the farmer gave - and the subsequent pride he took in his yield. My family and I live on the farm where my grandparents ran their farming operation. We're not farmers, but as a gardener I think I understand the joy of the changing seasons and the potential for a bountiful harvest.  I met many people at the Wheat Festival who aren't involved in wheat production, yet, year after year, they are captivated by the wheat harvest, its beauty, and its ability to bring the community together in celebration.  

Jessica is a teacher, librarian and mom who lives in Holton. She loves all things summertime: Gardening, lazy days at the lake, farmers' markets, and family vacations. Some of her favorite Kansas places include the Art Lab at Washburn University, the Topeka Shawnee County Public Library, the Konza Prairie and Main Street in Newton. She joined the 2013 Faces & Places Tour because it is an exciting opportunity to explore and write about her home state - and drive a really cool van.