With a riverfront museum district and the beautifully restored Old Town neighborhood, it's easy to turn a Wichita weekend into a getaway packed with new discoveries.
Park the car and explore Wichita's compact Old Town—and beyond—on foot. Stroll more than 30 theme gardens at Botanica or follow the nearby Arkansas River Path to the Keeper of the Plains monument. For 15 minutes each night, flames surround this icon honoring Native Americans.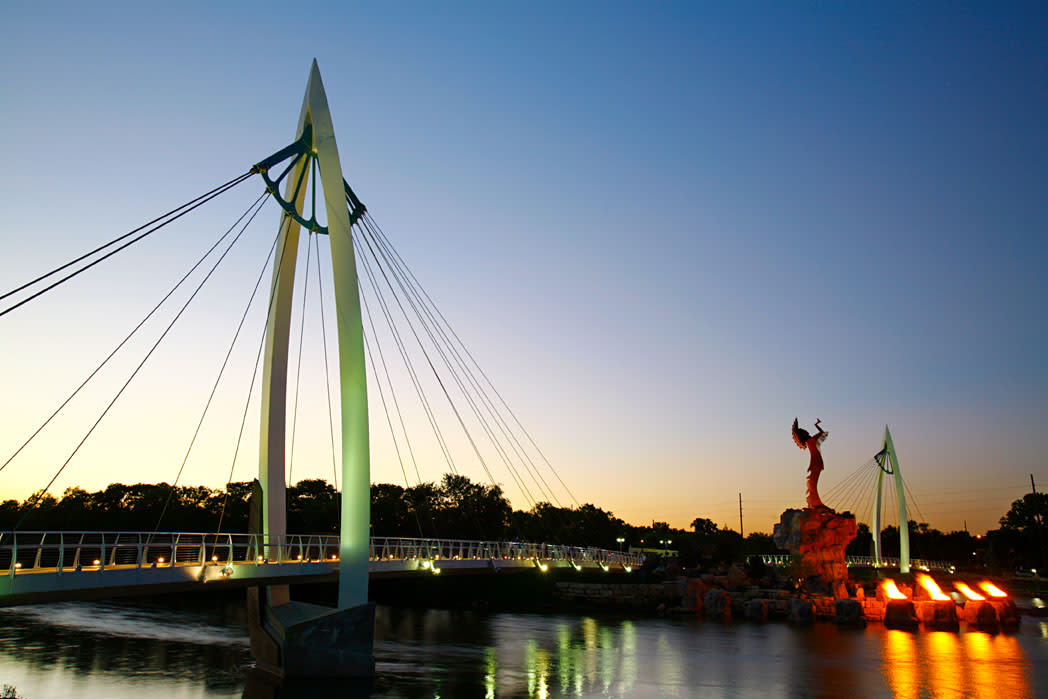 Credit: Harland Schuster
The Museum of World Treasures conjures oohs and Oz (as in The Wizard of Oz). See part of the Berlin Wall and the Scarecrow's pitchfork from the classic Kansas film. Get your fill of paella, tacos and pupusas at Sabor Latin Bar and Grille. Inventive apps like crispy plantain chips with chimichurri start meals off right. Need just a snack? The Nifty Nut House satisfies salty and sweet cravings with 3,000 items. Food Network star Alton Brown called it "a national treasure."
Spend the night at another treasure, the Ambassador Hotel Wichita, with its neoclassic 1926 exterior that hints at elegance inside, including a swanky speakeasy bar.
12 More Wichita Gems
CityArts
Local and regional artists present themed exhibitions on both lighthearted and serious topics inside this three-story Old Town arts center. Exhibits rotate monthly.
Sedgwick County Zoo
Safari through one of the country's largest elephant exhibits and other spacious habitats, where more than 3,000 animals of 400 species roam.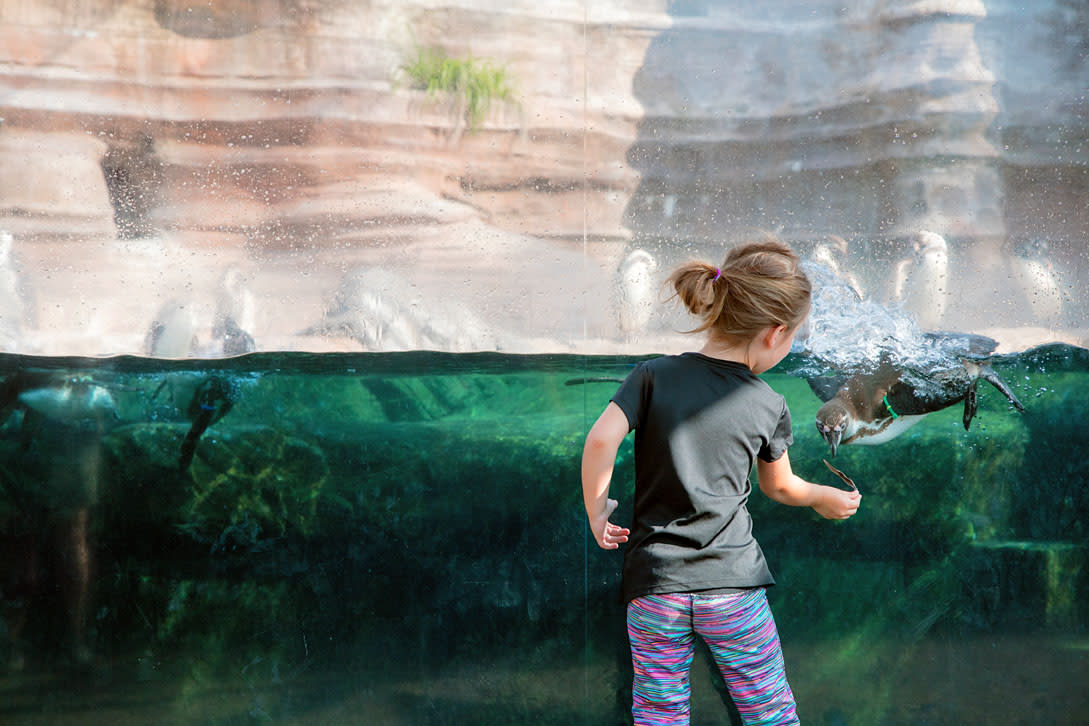 Credit: Ryan Donnell
Exploration Place
Design an airplane seat, peek inside a luxury jet and test landing gear at the Design Build Fly exhibit inside this interactive museum that also houses a planetarium.
Old Cowtown Museum
A blacksmith shop, saloon and 50 other buildings with period furnishings line the dirt streets of this 1800s living-history museum along the Arkansas River.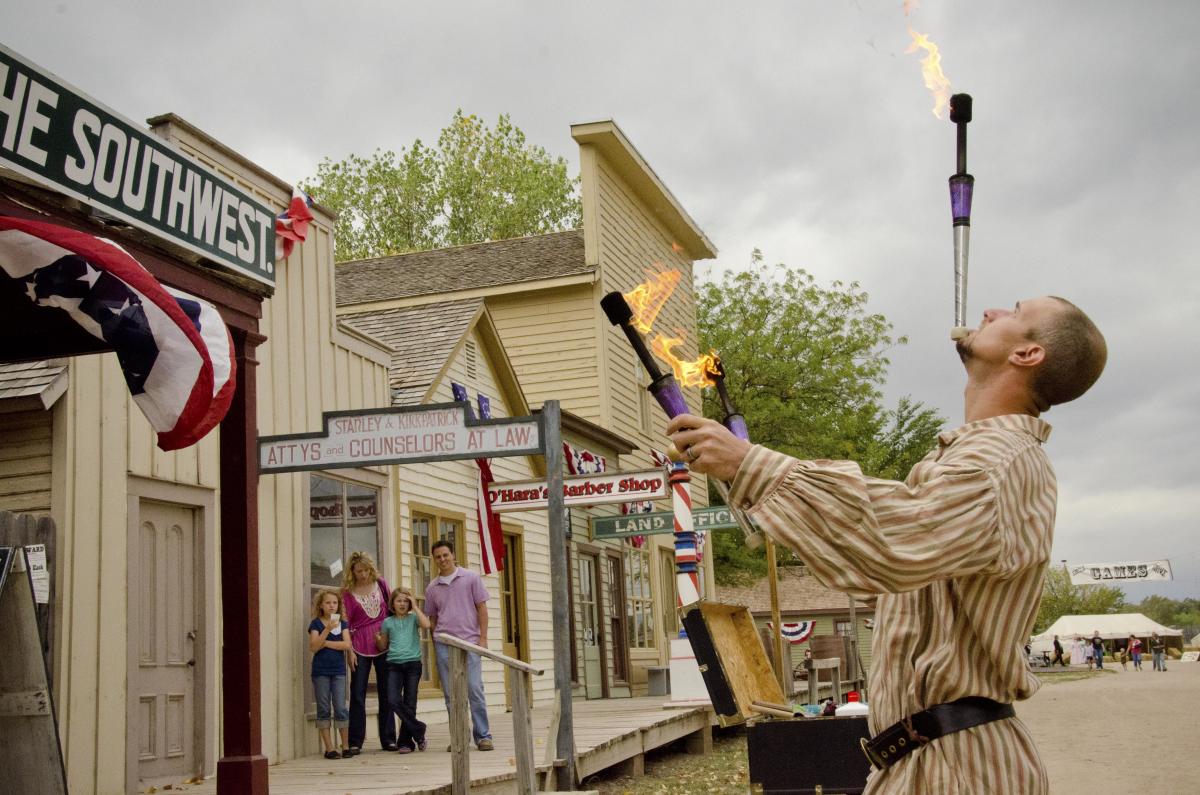 Credit: KDWPT
Mid-American All-Indian Center
See a collection of works by renowned Indian sculptor Blackbear Bosin. A museum of American Indian art tells the Plains Indian story.
Wichita-Sedgwick County Historical Museum
The 1890 old city hall, with its landmark clock tower, recalls Wichita's frontier-to-modern-day history with four stories of artifacts.
With more than 40 flavors, this doughnut diner keeps things locally sourced whenever possible. Pair your treat with freshly roasted coffee from The Spice Merchant down the street.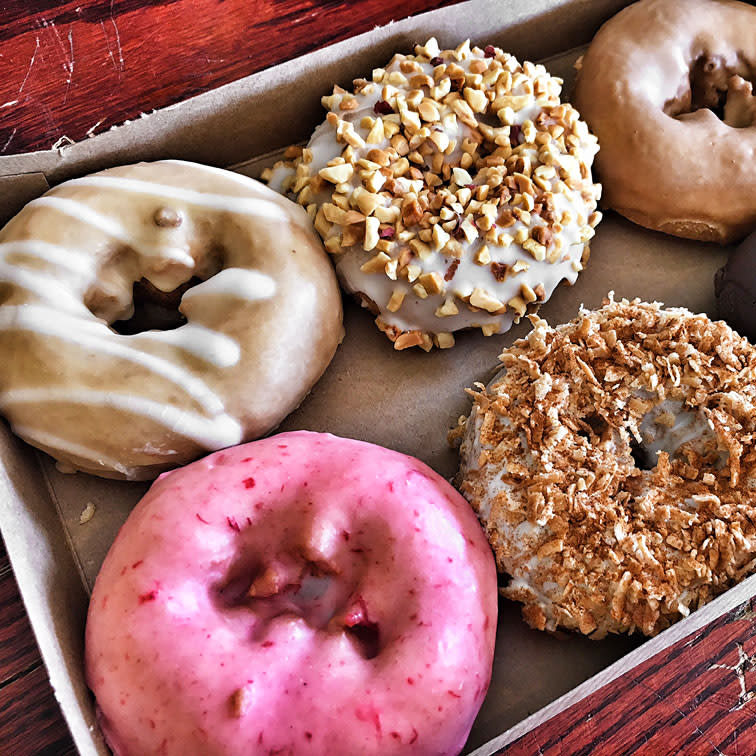 Credit: Jess Hoffert
Pop-Up Urban Park
Food trucks appear between downtown office buildings each weekday at noon (and around the city on weekends). Nosh on Korean street tacos and other gourmet eats amid mismatched tables.
If the 350-plus bottles and 40 by-the-glass selections get overwhelming, start with a wine flight of 2-ounce pours. Pair it with ahi tuna nachos for starters, or the crab mac 'n' cheese entree. Happy hour features half-price starters on Happy hour features half-price starters on weekdays from 4–6 p.m.
Bite Me BBQ
Start (and likely finish with) the bloody mary that comes with a sparerib, hot link, burnt end, spicy cucumber and more. Giant fall-off -the-bone ribs, cooked 16 hours, are a standout for those who don't want to drink their dinner.
Hotel at Old Town
This 1906 Old Town warehouse-turned-hotel preserves its vintage charm with exposed brick walls, classic furniture in the atrium and an original water tower on the rooftop. Jazz plays in the bar on weekends.
The Inn at Tallgrass
Stay near the popular Rock Road shopping and dining hub in mod studio rooms or apartment-like bedroom units with full kitchens and fireplaces. Be sure to make time for lounging at the spa or in the outdoor pool.
Discover even more Wichita favorites at https://www.travelks.com/regions-cities/cities/wichita/, then explore the rest of the Sunflower State with the 2019 Official Kansas Travel Guide.