The only thing better than exploring the delightfully unexpected landscapes of Northwest Kansas is connecting with the people who surround them. 
Monument Rocks & Castle Rock, Little Jerusalem State Park, and Battle Canyon are all remote places with limited services, lodging, and food options. Fortunately, getting to them does mean passing through some exceptionally awesome small towns, too.
We urge you to check 'em out because it doesn't get much more charming than small-town Kansas.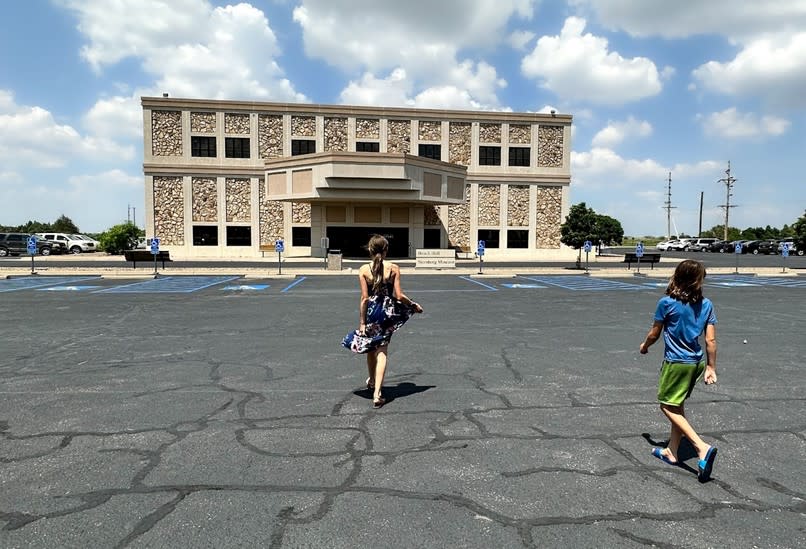 Check out this guide for the best things to do, places to stay, and eat in Northwest Kansas:
Hays is the main city in Northwest Kansas, it's a charming college town full of diverse attractions, activities, food, and lodging options. Not big enough to lose its small-town charm, not small enough to get bored, the tiny city of Hays makes a great day trip or overnight stop on the way to the natural landmarks of Northwest Kansas.
THINGS TO DO IN HAYS, KANSAS
Don't mistake Hays for a place to grab a bite to eat and go. There is so much to do, you'd be hard-pressed to fit it all into a full day.
Sternberg Museum of Natural History
This impressive natural history museum is themed around the findings of famous American paleontologist, Charles Sternberg. Please don't come through Hays without ducking your head in! We think  it'll be one of the best natural history museums you've been to in a long time.
Sternberg Museum of Natural History features 3 million plants, animals, rocks & fossils found in the Great Plains

Notable attractions include seasonal LIVE animals exhibits. For summer 2023, check out "Tarantulas: Live & Up Close."

5 permanent exhibits include LIVE regional rattles snakes, sea life fossils from Kansas' oceanic period, a pteranodon fossil, animatronic t-Rex, mammoth skeleton & so much more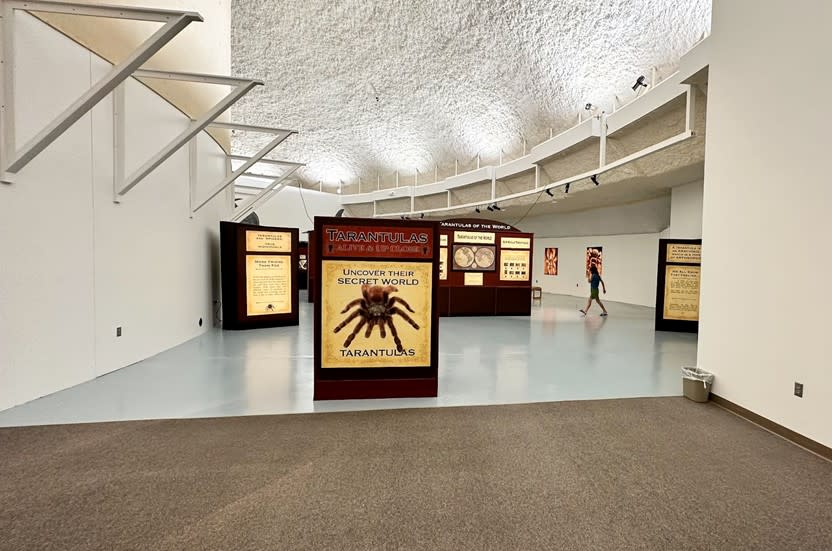 Sternberg Museum Hours & Admission
Admission:
Youths ( 4-12) $7 
Adults (13-59) $10
Youths ( 4-12) $7 
Senior Citizens (60+) $9 
FHSU Students (w/valid ID) $6
Summer Hours (March - September)
Monday-Saturday 9 am-6 pm
Sunday 1 pm-6 pm
Winter Hours (October - February)
Tues-Sat 9 am-6 pm 
Sunday 1 pm-6 pm
Closed Mondays
Historic Fort Hays
Fort Hays is a former U.S. military fort established in 1865 during the American Indian War, it's located just south of town off Highway183. The expansive site is the perfect interactive experience for history lovers of all ages.
Historic Fort Hays is linked with historical figures including Buffalo Soldier John Denny, General Custer, Buffalo Bill Cody, and The 7th Calvary

Step inside the 4 remaining buildings original to the fort and imagine what life like on the High Plains was like in the late 1800s

Tour two Victorian-era homes of military officers complete with family heirlooms and period decor

View military artifacts including war era clothing and toys, plus soldiers uniforms, rifles, and revolvers

See "Monarch of the Plains" limestone Buffalo Statue by artist Pete Felton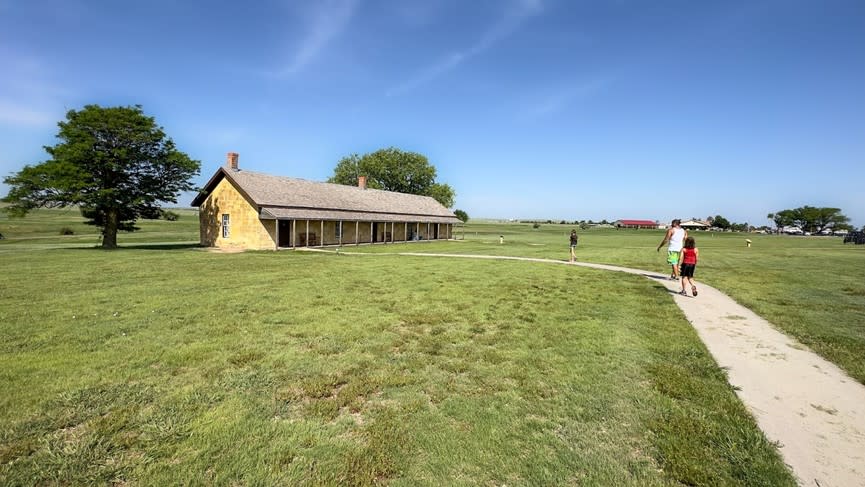 Historic Fort Hays Hours & Admissions
Admission: FREE!
Wednesday- Saturday 9 am- 5 pm

Closed Sunday, Monday, Tuesday
West Frontier Park
Across the street from Historic Fort Hays, West Frontier Park is most famous for its local bison herd that can be seen grazing in the pastures year round.
The 89-acre urban park was founded in 1983 as an extension of the Historic Fort Hays experience. 

In the 1950's, the Hays Historical Society introduced a bison herd that has been thriving in the park ever since. Each spring the herd welcomes new babies, a popular attraction for locals and bypassers alike. 

In 2017, the herd became even more special after a local farmer brought in a white bison to join the group.

 West Frontier Park also has a 1.7 mile nature trail, historic bridges, a waterfall dam, playgrounds, picnic shelters, and a disc golf course
Hays Aquatic Park
Who doesn't love a good waterpark come high summer on the high plains?! The Hays Aquatic Park is the perfect place to escape the heat from late May through mid August. It's a local spot that gladly welcomes travelers of all ages.
Hays Aquatic features 3 water slides, a lazy river, dump bucket play area, competition pool with diving boards and swimming lanes ,a leisure pool of varying depths, an upper deck sunbathing area, shaded lounging areas, concessions, and locker rooms with showers.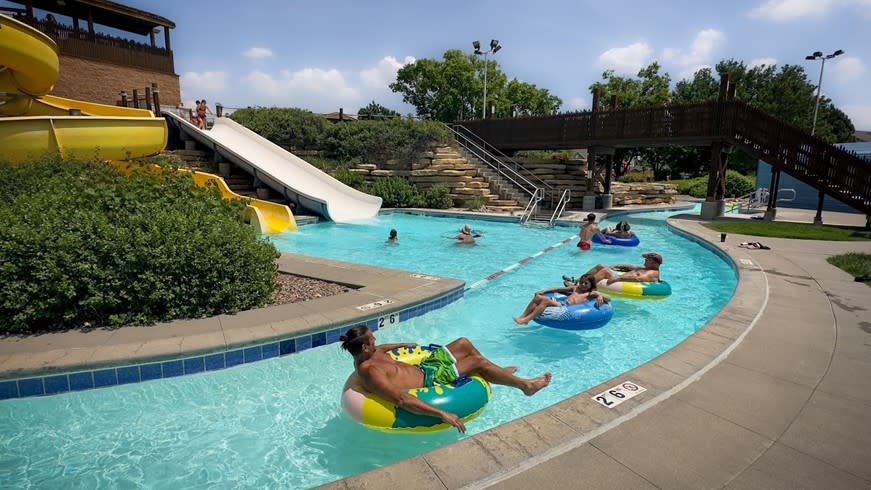 Hays Aquatic Center Historic Hours & Admissions
Admission:
FREE for kids 2 & under
$3 for kids 3-17
$4 for adults 18+
Hours: Monday-Saturday 12-7, Sundays 1-6
Where to Eat in Hays
There are plenty of places to eat in Hays, but we're highlighting a family-owned restaurant with an adorable location and delicious food!
Tiger Station Fish'n'Chips
This former burger joint now serves fish'n'chips, shrimp'n'chips & chicken'n'chips
Local family-owned & yummy

Just down the street from Hays Aquatic Center

Meals range from $11-14 per basket
WHERE TO STAY IN HAYS, KANSAS
Hays has several lodging options! We're giving a shout-out to one of the newer spots in town with diverse options including RV sites, camping, cabins, and suites.
CREEKSIDE HAYS RESORT
The newest lodging option in Hays includes RV parking, cabins, suites, and campsites
Locally owned RV Park includes 69 water/electric sites

They also have 3 tent sites, 5 single story cabins & luxury lofted suites

The on-site Fireside Fort includes laundry machines, a gym, bathrooms, and common areas

The resort also has a playground, dog park, outdoor theater, RV supply store, duck pond, and fire pits

RV sites range from $41-57 per night

Cabins, Suites & Tents, call for availability & rates
Quite honestly, Goodland is the quintessential smalltown we all wish we came from. It's undoubtedly the last pit stop if you want to turn south for Monument Rocks, and this rural community has risen to the occasion by offering a quirky array of roadside attractions.
Things to do in Goodland
Exploring around Goodland is as simple as hopping from place to place, mingling with the locals, and maybe even heading down a dirt road or two.
The Big Easel 
Don't miss this larger-than-life public display tucked behind the Goodland Welcome Center.
It's a 80-foot tall replica of the Vincent Van Gogh painting, "Vase with 3 Sunflowers." Find it on Google Maps as "World's Largest Easel."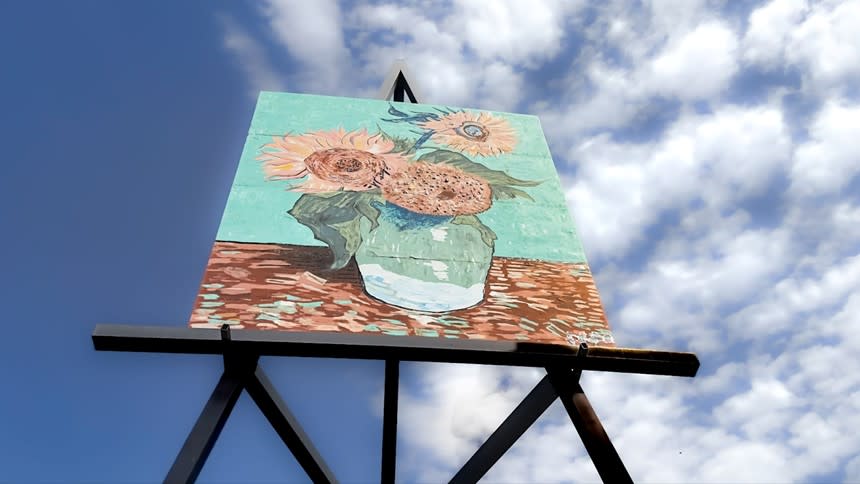 High Plains Museum
The Highs Plains Museum is located just down the road from The Big Easel, on Cherry Ave. This small-town museum is free to visit and is brimming with local memorabilia from families of ranchers, railroad workers, soldiers, Native Americans, and more. It's all quite fascinating, but arguably, the key attraction is an interactive replica of the first patented helicopter created in 1909 by Goodland residents, William Purvis and Charles Wilson.
1911 White Eagle Gas Station
Credited as one of the oldest gas stations in the USA, the 1911 White Eagle Gas Station stands proudly restored just minutes from The Big Easel and the High Plains Museum.
It's listed as "Permanently Closed" on Google Maps but still operates as a bit of an open-air museum. Just don't expect to fill the gas tank here! Do feel free to peek through the windows and wander through the yard to appreciate the unique collection of gas station memorabilia.
Grasshopper Invasion
As if a Van Gogh painting, the first helicopter, and the oldest gas station in America weren't enough, Goodland also has a very creative farmer! Goodland area farmer Lloyd Harden started creating junk tractor masterpieces in 1972. His most recognizable creation is the Goodland Grasshopper, found along Highway 27 about 3 miles north of town.
Where to Stay in Goodland, Kansas
If you're stopping in Goodland, chances are you have an affinity for quirky and memorable attractions. Likely, the most memorable place to stay is at a tiny AirBnB cabin perched on farmlands north of town. It's very remote, very quiet, and very comfortable for those willing to make the effort to get there.
Wakeeney is a smalltown in Kansas that serves as the half-way point between Kansas City and Denver. The town itself has a population under 2,000 and proves to be a wonderfully quiet place to stop and relax. It's a great base for exploring Castle Rock, Cedar Bluffs Reservoir and Wilson Lake. However, its newest attraction is the Kirch Haus AirBnb, a former church turned into a breathtaking AirBnb.
Things to do near WaKeeney
After checking into the Kirch Haus AirBnb, put on your adventure shoes and set out to see some of the best hidden gems in Kansas.
Castle Rock
Not to be confused with Monument Rocks, Castle Rock is a different Niobrara rock formation. The singular structure rises 70 feet into the air and resembles castle ruins from a distance.
Castle Rock is located about 30 miles southwest of WaKeeney from Highway 523 to Banner Road.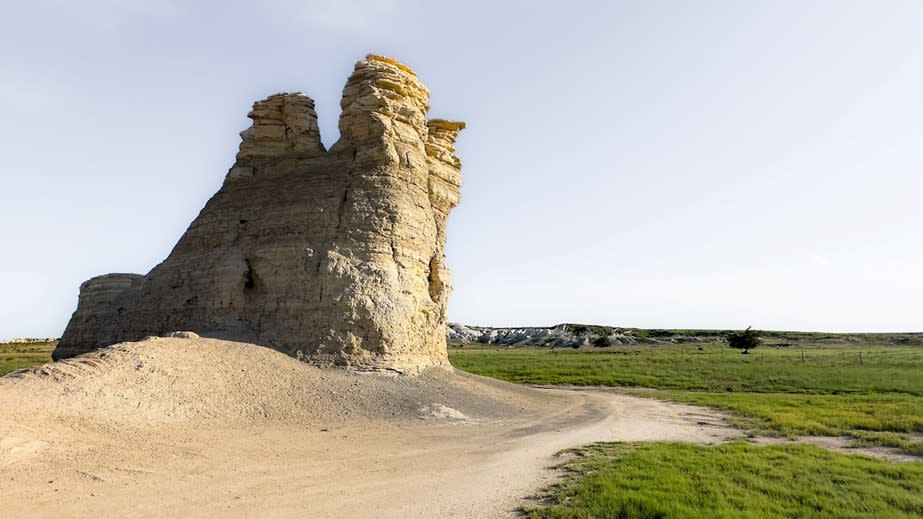 Cedar Bluffs Reservoir aka Cedar Bluffs State Park
Cedar Bluffs Reservoir is one of the most scenic lakes in Kansas, most famous for its regal limestone bluffs, and 50 miles of white, crushed rock shorelines. The best views are found from the Cedar Bluffs Overlook on the southwest side of the lake.
The Cedar Bluffs Overlook is located 25 miles south of Wakeeney, heading south on the 283 south to 474 east and turning towards the reservoir at 290th Ave (before the Page Creek Area).
Rock Town at Wilson Lake Through Lucas Park
Rock Town is a set of sandstone towers jutting up from the remote shorelines of Wilson Lake.
To get there, you must enter Wilson Lake through Lucas Park and take the 2.5-mile Rock Town Trail loop. The Rock Town Trailhead is 90 minutes northeast of WaKeeney, heading east on I-70 and north on the 232.
Where to Stay in WaKeeney, Kansas
WaKeeney is home to the iconic church AirBnb, the Kirch Haus. This very memorable place to stay in Kansas is the creation of a local couple who bought a historic church and converted it into a cozy and remarkably beautiful home. It features an open floor plan, cathedral ceilings, stained glass windows,a full modern kitchen, four bedrooms that sleep up to 14 guests.
Let your journey guide you here, the place that's perfect For The Curious.