You'll love the holiday season in Kansas! Communities around the state come together and put on incredible light displays and events to celebrate our festive holidays. While these events may look a little bit different in 2021, joining in on the festivities is a perfect way to "wrap up" another wild year. 
And remember, who knows what the holiday season may look like, so take the time to double and triple-check that the event is still occurring before your road trip!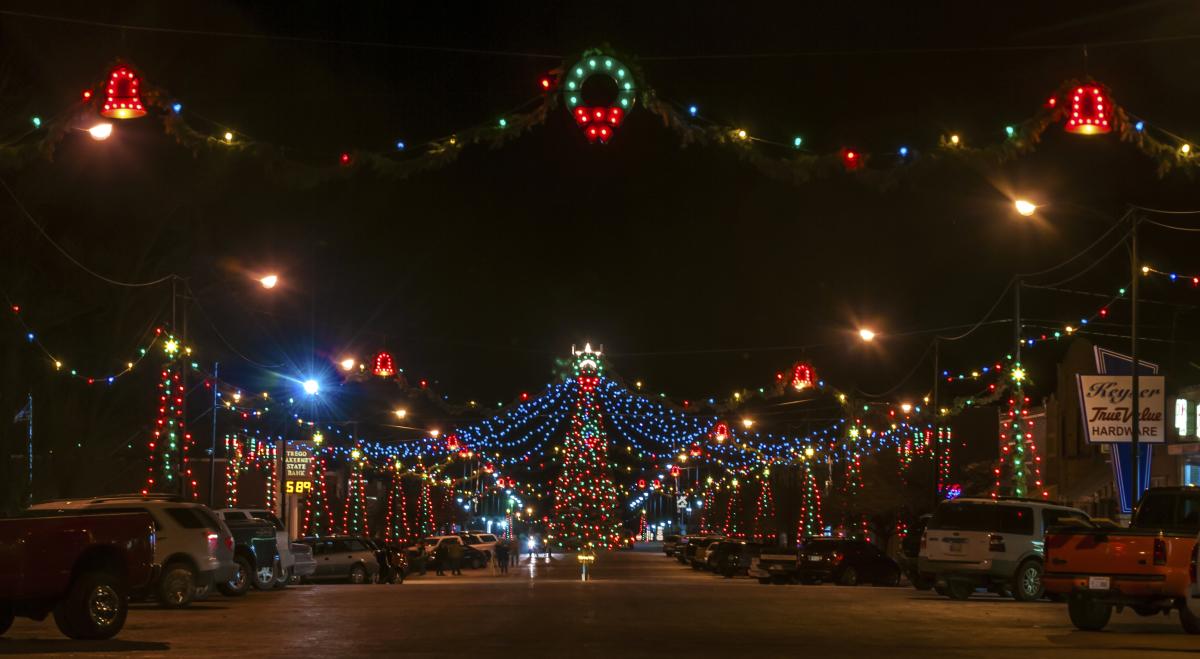 1. Christmas City of the High Plains Tree Lighting Ceremony
WaKeeney
Considered the largest Christmas tree and light display between Kansas City and Denver, since 1950 the Christmas-made town of WaKeeney, has held the title "Christmas City of the High Plains." From the Saturday after Thanksgiving through New Year's Day, the town magically transforms into a holiday wonderland. Make WaKeeney a tradition – see the 35-foot tree of fresh pine, thousands of lights, handmade decorations, fresh greenery, and the North Pole that will make you think you're not in Kansas anymore. This year will be the 71st celebration of this twinkling event, so it's not one you'll want to miss! The town will host a tree lighting ceremony on November 27th to kick off the holiday season complete with a visit from Santa Claus himself, but don't worry if you can't make it to the kick-off event... These decorations will stay up all season long! 
2. Christmas in Colby
Colby
Should you choose to enjoy your Holiday season in Western Kansas, then stop by sometime between December 2nd - 4th, 2022, for Christmas in Colby. This year's early celebration of Christmas kicks off with the Denver Mile High Orchestra's wonderful Christmas Concert on Friday. The following day, Saturday, December 3rd, will begin with the Christmas Marketplace, which will allow you to get all of your Christmas shopping done! The events in the afternoon are packed with fun as they feature the Bells & Bags Cornhole Tournament in the Event Center at 2 PM and the Christmas Light Parade in Downtown Colby at 5 PM. On Sunday, the Christmas Marketplace will re-open at 1 PM. and the event concludes with a Christmas Movie on the Court at 6 PM. 
3.  Candlelight Tour Fort Scott
Fort Scott
Fort Scott National Historic Site is again hosting their Candlelight Tour. During the Candlelight Tour, over 1,000 candle lanterns illuminate the site and over 100 reenactors bring the fort to life as you travel back in time. The 40th Annual Candlelight Tour is December 3 and 4, 2021. Tours on December 3 will begin at 6:30 pm and leave every 15 minutes until 9 pm. On Saturday, December 4, the tours will start at 5 pm with the final tour leaving at 8:45 pm. Remember, this will be a chilly event, so bundle up! Monday, November 1, 2021, tickets for Fort Scott National Historic Site's 40th Annual Candlelight Tour go on sale. Tickets are available by calling the Fort at 620-223-0310 (with a major credit card) or by stopping by the Visitor Center on Old Fort Blvd. They are $8.00 per person and non-refundable, children 5 and under are free. It is recommended that you get your tickets early for your choice of tour times as this event frequently sells out.
4.  Hyde Park Luminaria
Hutchinson
Stroll, drive or ride through Hutchinson's Hyde Park Neighborhood for the annual Hyde Park Christmas Luminaria. Scheduled annually for the Saturday before Christmas, visitors can expect an old-fashioned celebration in the decorative and historic neighborhood. Enjoy musical entertainment, horse-drawn wagon rides, along with cider and cookies in Hyde Park. Don't forget to share your wish list with Santa at the corner of 20th and Washington in Hutchinson! This year's celebration will be on December 18.
5.  Brown Mansion Candlelight Tour
Coffeyville
35 exquisitely decorated Christmas trees fill the halls of the stately Brown Mansion and believe us, there's nothing more stunning than that! The Brown Mansion Christmas celebration extends through select dates in December. Guests are able to wander all three floors of historic halls by candlelight, a journey that is sure to leave you in the holiday spirit. If you love holiday homes tours, this is definitely the event for you. 
6.  Chase County Country Christmas
Chase County
Chase County Country Christmas hosts everything from their famous fruitcake toss to horse-drawn carriage rides. Music and entertainment can be found alongside holiday shopping. This year's celebration will be slightly scaled back, but we promise it will be as charming as ever! Discover the small-town hospitality and holiday cheer in Cottonwood Falls, take a scenic drive down to Pioneer Bluffs for beautiful decorations and the perfect Christmas Card Photo Op, and watch the lighting of the Historic Caboose in Strong City. This year's festivities take place on November 28.
7. Saint Lucia Festival
Lindsborg
Lindsborg's Saint Lucia Festival is inspired by Swedish lore... Centuries ago, many Swedes were starving during a bleak, cold winter. One dark night, the people of a hard-struck village saw the light of Saint Lucia across the lake as it moved into their town. Lucia brought the people food and reignited hope to fuel them through the rest of the winter. The legendary event is celebrated in Sweden on December 13th, but the people of Lindsborg have made a tradition of celebrating on the second Saturday of December. The community re-creates the legend as a young woman clothed as Saint Lucia brings joy and light once again into the community. Participants will find a day of Swedish folk dancing, live music, food, children's crafts, and most importantly a shining light of hope and joy to fuel you for the season. 
Lindsborg's Saint Lucia Festival, commonly celebrated in Sweden on December 13 but will be celebrated in Lindsborg on Saturday, December 10, comes highly recommended. The story of Lucia sparked centuries ago in the darkest cold of winter when many Swedes were said to be starving…
8.  Illuminations at Botanica
Wichita
Grab your coat and cold-weather accessories to take the family through an enchanted Christmas forest at Illuminations at Botanica. More than two million lights are strung atop trees in 30 holiday-themed gardens. November through December, Botanica Wichita transforms into a winter wonderland filled with dazzling lights, festive music, and a visit from the man of the hour – Santa Claus. Don't forget to bring your letter for Santa to be mailed to the North Pole! It's always easier for Santa to keep track of your kiddos' requests with a follow-up letter. Keep warm with hot chocolate and s'mores as you celebrate the season. And remember, the walk-through does require a ticketed time slot that must be purchased online ahead of time in order to keep crowds low! Learn more at the link below.
9.  4th Annual Festival of Lights & Lighted Christmas Parade
Yates Center
One newer event that has been gaining some serious attraction is the Festival of Lights and & the Lighted Christmas Parade in Yates Center. Going into its 4th year, this year's free event will feature Free carriage rides on the red brick streets of the Historic Town Square. In search of unique holiday gifts? Visit the local Town Hall for holiday vendors with new antiques, boutiques, and sweets. Grab some photos with Santa & Grinch and enjoy caroling along with the Festival of Lights' royal special guests. Of course, you won't want to miss the Festival of Lights Christmas Parade. This bright and cheery spectacle of Historic Yates Center Town Square is a truly magical moment. There will be prizes for each float category. Oh yeah, and you are free to enter a lighted float for the parade!
10. A Country Christmas at Fulton Valley Farms
Towanda
A Country Christmas at Fulton Valley Farms may just be your newest family tradition. It's a magical place where you can stroll through hundreds of thousands of lights scattered around the farm, meet Santa AND his reindeer, view a living nativity and even have a Christmas dinner. The magic kicks off on November 26th and continues every Thursday, Friday, Saturday and Sunday night until December 19th. This is a ticketed event, so we recommend purchasing them ahead of time at FultonValleyFarms.com.
11. Luminary Walk 
Overland Park
Take a step into a magical holiday oasis! Meet your neighbors at the gnome and fairy villages, wander the serene winter woods, enjoy musical performances and meet Santa during your excursion to the Luminary Walk at the Overland Park Arboretum. Don't forget, there's also an Adults-Only Candlelight Stroll on December 2. Remember the walk requires for tickets to be purchased in advance, so don't arrive without having tickets in hand or on your phone!
12. Isle of Lights at Milford State Park
Milford
Ready for a nature-filled Christmas? Make your way to Milford State Park and enjoy photos with Santa, a drive-through light display (including some lasers), cookies and cocoa, and a petting zoo! Don't forget you will need a daily park pass to enter the park ($5). The park also asks for a suggested donation of $10 per vehicle to benefit Milford Friends Group to add even more lights in the coming years!
13. Snowglobe Illuminated Christmas Train Ride
Baldwin City
A journey aboard  The Snowglobe Express is sure to be a core memory for your little one! You'll enjoy 12-mile Christmas Train Ride that will transport passengers from the Baldwin City Train Depot to the magical world of Snowglobe, where Santa's herd of Reindeer live!

The SNOWGLOBE EXPRESS train is a one-of-a-kind magical train with OVER THE TOP decor and an unforgettable "Santa's Mail Car" experience where children will hand deliver their letter to Santa's elves in a U.S. Postal Mail Car DURING the train ride! Once dropping off their letter on the train ride, passengers will exit the train ride at Santa's Reindeer Ranch in Snowglobe, KS...where they will help Santa feed his herd of Reindeer before returning to Baldwin City!
14. Abilene Cowtown Christmas
Abilene
Abilene's small-town, Hallmark movie-esque vibes are a holiday must-do! Here you'll find the Heritage Home's Association's 45th Annual Homes for the Holidays Tour, Night of Christmas Magic downtown Christmas shopping, Santa visits, Christmas Cruise for Food holiday light tour, Cowtown Christmas Light Showdown decorating contest, Turkey Toss and Snowball Drop, and much, much, more!
See a list of activities at www.AbileneKansas.org/Christmas.