Food trucks around Kansas are serving up fantastic food that ranges from savory breakfasts to decadently sweet deserts. If you haven't tasted what these mobile kitchen trailers have to offer, you're definitely missing out. These gourmet kitchens on wheels are part of the statewide community – it's a journey through a variety of foods, the people standing in line, and the location of the truck. Here is a list of 10 Kansas food trucks that are giving people something to talk about. When you have a great Kansas food truck experience, be sure to tag your social posts with #ToTheStarsKS so people can see why there's no place like Kansas for great food. Eat hearty and enjoy!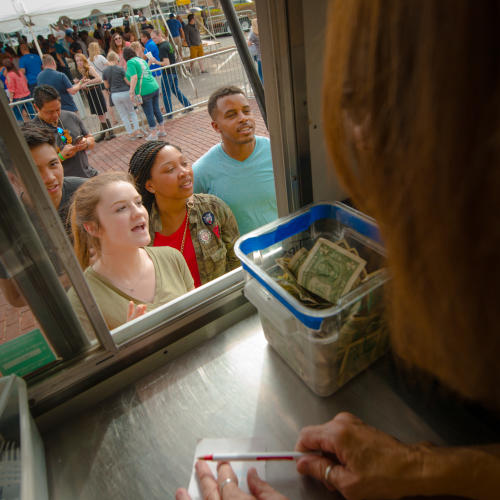 Barbecue Restaurant. People talk about their good brisket sandwich, pork ribs and potato salad.Serving fresh, exceptional, 100% wood-fired Kansas barbecue, Angry River is dedicated to serving only the finest cuts of meat directly from their smoker. They stand behind the philosophy that barbecue is best when eaten the same day it was cooked. Word is getting out, they're the BBQ to try.
Facebook: @angryriverbbq
2.  Crazy Burger, Dodge City
Fast Food. People talk about their crazy (good) burgers. A local favorite, Crazy Burger was voted Best Food Truck Dining in 2018 in the Dodge City, Kan., newspaper. It's a greasy-spoon food truck with great burgers and fries, and more – eats for the entire family.
Facebook: @crazyburger
3.  Dry Creek Buffalo Chuck Wagon, Wamego
Fast Food. People talk about their buffalo burgers, tacos and nachos, and hand crafted root beer. This is the truck you seek out for a good bison burger – get it naked, cheesy, topped with mushrooms and Swiss, or extra hot. More than just burgers, they offer bison brisket tacos, homemade root beer and other great savory bites.
Facebook: @drycreekbuffalo
Crepêrie. People talk about their great crêpes and cranberry chicken salad. Fine Thyme Foods uses high quality ingredients and a unique menu to exceed customer expectations. Known for their blissful flavor combinations – blueberry BBQ – patrons also boast about the top-notch food presentation.
Instagram: @finethymefood
5.  Kind Kravings, Wichita
Multi-Cuisine. People talk about their vegan menu, tempeh Reuben and delicious cauliflower tacos.The Kind Kravings food truck offers healthy choices for customers and the environment. An eye-catching double decker bus that delivers good old fashioned home-cooked comfort foods with a healthy twist. They live by the rule of reducing, reusing, and recycling.
Instagram: @kindkravings
6.  LoLo's Crêpes, Wichita
Crêperie. People talk about their Nutella Lover and Bacon Lover crêpes. Due to a craving for crêpes in Wichita, Kan., LoLo's Crêpes was born. Savory or sweet, meal or dessert, or both, LoLo's gourmet mobile kitchen provides a unique variety of French and Japanese style crêpes.
Instagram: @loloscrepes
Sandwiches. People talk about their artisan grilled cheese, chicken enchilada sandwich and Italian sodas. A welcomed addition to Garden City, Kan., locals rave you can't go wrong at Pinky's. The bistro style food truck offers fresh and original sandwiches, salads and must-have Italian sodas. The Twisted Cristo comes highly recommended – it's even painted on the truck!
Instagram: @pinkysgc
8.  The Flying Stove, Wichita
Multi-Cuisine. People talk about their pork fried rice, bacon bleu burger and French onion burger. Specializing in real, organic, seasonal, local and delicious street food, The Flying Stove provides a unique menu with the freshest ingredients. A truck on the go, locals know to watch their Facebook page for their next location. With vegetarian options and truffle fries "to die for," The Flying Stove receives high praise.
Instagram: @theflyingstove
9.  The Mad Greek, Lawrence
Greek and Italian. People talk about their gyro platter, tzatziki and flaming saganaki. The Mad Greek has called Lawrence, Kan., home for over two decades. Like the restaurant, the truck is family owned and operated – they bring customers original family recipes from villages in Greece and Italy. Customers rave about the delicious food and traditional baklava!
Instagram: @themadgreektravelingtaverna
American Restaurant. People talk about their amazing pulled pork, crème brulee and penne pesto pasta. Bringing decadence to the streets. A gourmet dessert truck, owned and operated by a Le Cordon Bleu trained Chef with over 20 years experience. Known for their crème brulee – hand torched to order – traditional and flavor of the day.
Instagram: @torchedgoodness_